We all know that lead generation is a vital aspect of any company's growth strategy. And, sales intelligence tools can be incredibly useful in this process. With the abundance of sales intelligence tools on the market, choosing the right one for your company can be overwhelming. That's exactly why we put together this list of the top 10 sales intelligence tools for lead generation.
The tools mentioned in this list are designed to help companies of all sizes find new prospects, build targeted lists, and gain valuable insights to improve their sales and marketing performances. Whether you are a small business owner or a sales professional, sales intelligence tools can help you streamline your lead generation processes. Before we jump right into the top sales intelligence tools, let's go over what sales intelligence even is.
What is Sales Intelligence?
At its core, sales intelligence is the process of gathering and analyzing data to gain insight into your prospects, customers, as well as market trends. Then, this information is used to make informed decisions about what to do next. It can be used to make decisions about sales strategies, customer engagement, as well as lead generation. Sales intelligence can involve a range of tools and techniques including data mining, social media monitoring, and predictive analytics. Using sales intelligence can help your company gain a deeper understanding of current clients and prospective clients, and anticipate their needs. By doing this, you can drive revenue and improve customer satisfaction. While this may sound difficult to do, there are a number of sales intelligence tools on the market that can make this process much easier, so let's dive in!
As a sales or marketing professional, if you are not using LinkedIn Sales Navigator, you're missing out. It is continuously praised for being one of the top sales intelligence tools on the market, and for good reason. Sales Navigator makes it simple and effortless to establish and grow relationships with both prospective and current clients. You can gain access to LinkedIn's vast contact and company database, and then narrow it down based on specific filters to find your ideal demographic. Connect with them, start social selling, invite them to like your company page, and form a relationship. Fill your sales funnel in minutes, and send all of your new leads straight to your CRM to follow up. Sales Navigator offers three plans, starting at $99 USD per month, and going all the way up to $1,600 USD per year. They have 4.3 out of 5 stars on G2 Crowd.
Do you ever wonder who is visiting your website? Well, with Visitor Queue, you can find out! Visitor Queue is a B2B lead generation and data mining software that can help your company generate the highest-quality leads possible through a unique form of IP address reversal. Our software can identify the anonymous companies that visit your website, and provide your team with a company overview, industry information, employee account, and more to help you qualify them as a lead.
We also provide employee contact information like email address, phone number, and LinkedIn profile. See exactly what pages each company viewed, how they were acquired, and more visit information. All of this information can help you get a better understanding of what your prospects are doing on your website, and which channels are the most effective at generating the highest quality website visitors. We offer a 14-day free trial as well as paid plans starting as low as $31 USD per month. We also have a 4.5 out of 5 star rating on G2 Crowd.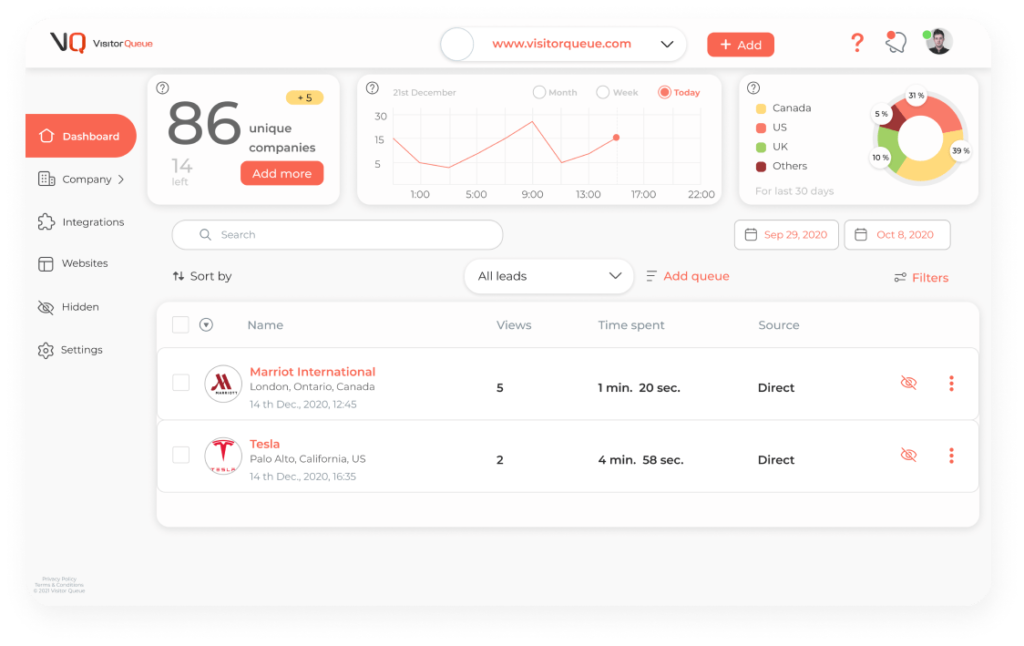 From prospecting to deal management to forecasting, Outreach can do it all. Their platform uses automation and AI to help increase the efficiency and effectiveness of your marketing activities. They offer a wide variety of tools within their software to help optimize your funnel at every stage. A few of their key clients include Zoom, Snowflake, Adobe, and BetterUp. Outreach has a 4.3 out of 5 star rating on G2 Crowd. Pricing is gated, so you'll have to request pricing from their team.
Adapt is a sales acceleration software that provides B2B contact bases for sales and marketing teams. This information can be used for tailored marketing campaigns, lead generation, or even website personalization. They have a Chrome Plugin that can help you enrich your contacts and companies straight from LinkedIn. In addition, Adapt also offers an API to give your company even more opportunities to dive into their databases. Adapt's pricing is also gated, but they have a 4.6 out of 5 star rating on G2 Crowd.
UpLead proclaims that they provide 95% accurate data to help you enhance your prospecting initiatives. They offer a wide variety of products, including email verification, data enrichment, a Chrome Extension, and even an API. This can help your company not only identify leads, but discover untapped areas that might bring you a lot of value. Uplead offers a free trial, with paid plans starting at $74 USD per month. They have an impressive 4.7 out of 5 stars on G2 Crowd.
ZoomInfo SalesOS offers solutions to accelerate your sales pipeline. They start by identifying your ideal customer profile (ICP), and using this to generate and identify leads that match this profile. They will also use AI to go beyond your set ICP and identify prospects that share similarities but may be in different industries than your original profile. By doing this, they can help your company identify untapped markets and use cases for your product. ZoomInfo SalesOS has 4.4 out of 5 stars on G2 Crowd. Their pricing is gated, so you'll need to request this from their sales team.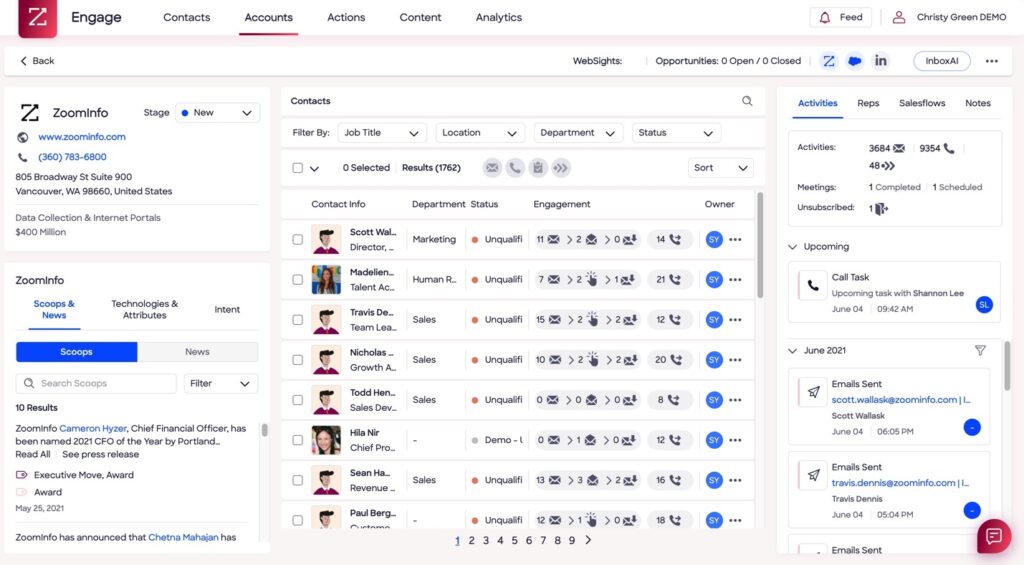 Apollo.io proclaims that they will ensure that your sales reps reach the right person, at the right time, with the right message. They have over 220 million contacts that your company can dig through to find highly qualified leads. Then, you can send them directly to your CRM. Expand your reach, hit goals, and streamline your marketing efforts with Apollo.io. Apollo.io has an impressive 4.8 out of 5 star rating on G2 Crowd with over 4,130 reviews. They have a free plan and paid plans starting at $39 USD per month per user.
We enable B2B companies to identify the anonymous businesses that visit their website and personalize their experience. Your sales team can now follow up with the visitors that don't convert, while marketing can personalize your website based on firmographic information to drive up conversion rate.
Start your 14-day free trial today!
UserGems is a sales intelligence tool that allows you to track contacts so you can reach out to them at key points in their sales journey. An example of this that they share is a customer changing jobs, so you can use this relationship to sell to their new company. In addition, they can help you find out information on decision-makers in a company. Their technology is AI-based, meaning it is always improving and finding better information for your specific needs. A few of their key clients include UserTesting, GONG, and Cobalt. Their pricing is gated, so you will need to contact their sales team for pricing information. They have an impressive 4.7 out of 5 star rating on G2 Crowd.
Seamless.ai proclaims that they can find verified cell phones, emails, and direct dials for anyone that you need to sell to. Their search engine helps you connect with your ideal customers so you can fill your sales pipeline while shortening your sales cycle. This can result in closing more deals, for less. Seamless.ai offers a free plan with paid plans starting at $147 per month. They have a 4.2 out of 5 star rating on G2 Crowd.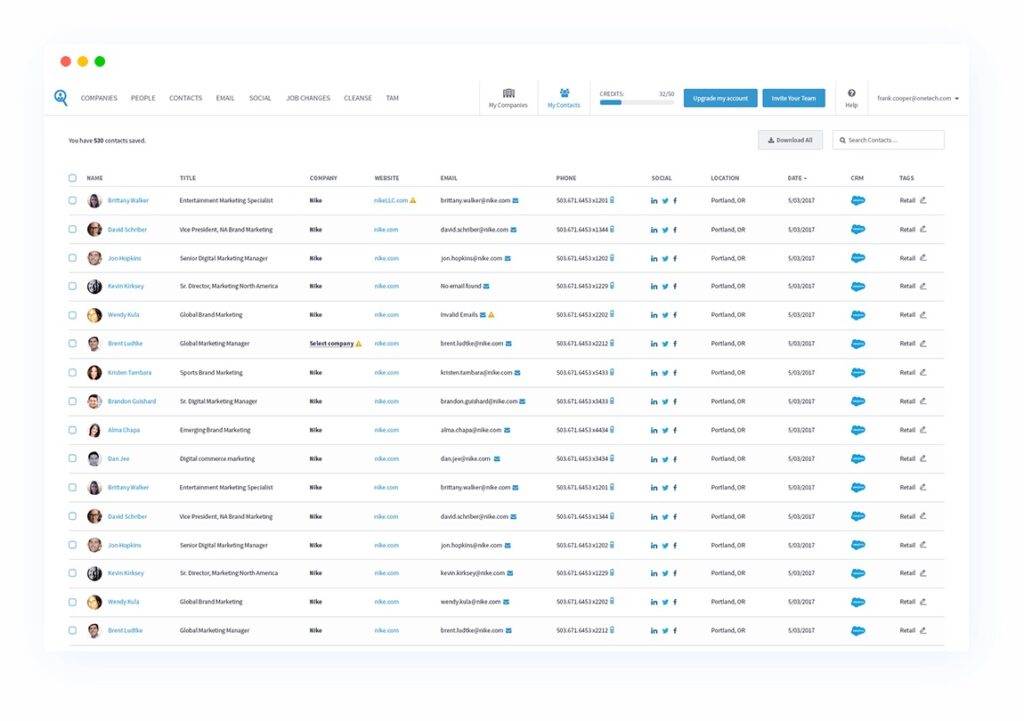 Cognism is a leader in sales intelligence. With this tool, you can build customer email lists, phone number lists, or extract contact information from websites with their Chrome Extension. This can help you fill your sales funnel and get more conversions. They are fully GDPR compliant, so you don't have to worry about privacy laws when using their software. They have a 4.7 out of 5 star rating on G2 Crowd. Their pricing plans are gated, so if you are interested you will need to contact their sales team for a quote.
Using a Sales Intelligence Tool
Using a sales intelligence tool or software for B2B marketing can provide a lot of benefits to businesses. You can gain valuable insight and analytics about your company that can help you generate leads, know their needs, and tailor your marketing strategies according to their needs. Sales intelligence tools can offer information about market trends and customer behavior to help you stay agile and competitive. By using these tools, you can save a lot of time and money by automating tasks and leaving tasks like lead generation to happen automatically. Overall, sales intelligence tools are a huge asset for B2B companies and can help you grow and exceed sales targets.
Conclusion
In conclusion, having the right sales intelligence tool or software can help your company grow and stay competitive. The tools that we've covered in this article provide a variety of benefits to help you streamline your lead generation processes, gain valuable insight, and improve your overall sales performance. By using one of the tools mentioned on this list, your company can save time, money, and other resources. As always, if you have any questions about Visitor Queue, and how we can help you generate 20% more revenue, don't hesitate to reach out.