In 2022, lead mining is one of the best ways for B2B companies to drive growth and revenue. With the help of a B2B lead mining software, your sales team will be able to fill your sales funnel without spending time trying to generate cold leads. By investing in a lead mining software, your sales team will be able to focus on more important tasks, and your marketing team will get a unique insight into prospects. Before we go over the best B2B lead mining software to use, we are going to review what B2B lead mining is.
What is B2B Lead Mining?
When you think of lead mining, lead generation might be the first thing to come to mind. While there are some similarities between the two, there are a number of differences that you need to keep in mind. Like the name implies, lead mining is the process of digging up leads that are hidden. This means that the leads leave your website without a way to contact them, like filling out a form, signing up, or contacting you. By using a lead mining software, you are able to gain vital contact information and feed it to your sales team to follow up. If you want to learn more about the basics of B2B lead mining, check out this article. Now, let's jump into the 12 best lead mining software to use in 2022.
12 Great Lead Mining Software for 2022
Visitor Queue comes in first place for the best lead mining software. We are a website visitor identification software that uses IP address reversal to identify the companies that visit your website. We are able to tell you how the company is acquired, what pages they viewed on your site, and how long they spent viewing each page. Gain access to company information like their history, industry, size, and any social media channels that they use. In addition, you also gain access to employee contact information like email addresses, phone numbers, and LinkedIn sites. You are able to send these companies straight to your CRM to follow up. Plans start at $49 USD per month with a rating of 4.5 out of 5 stars on G2.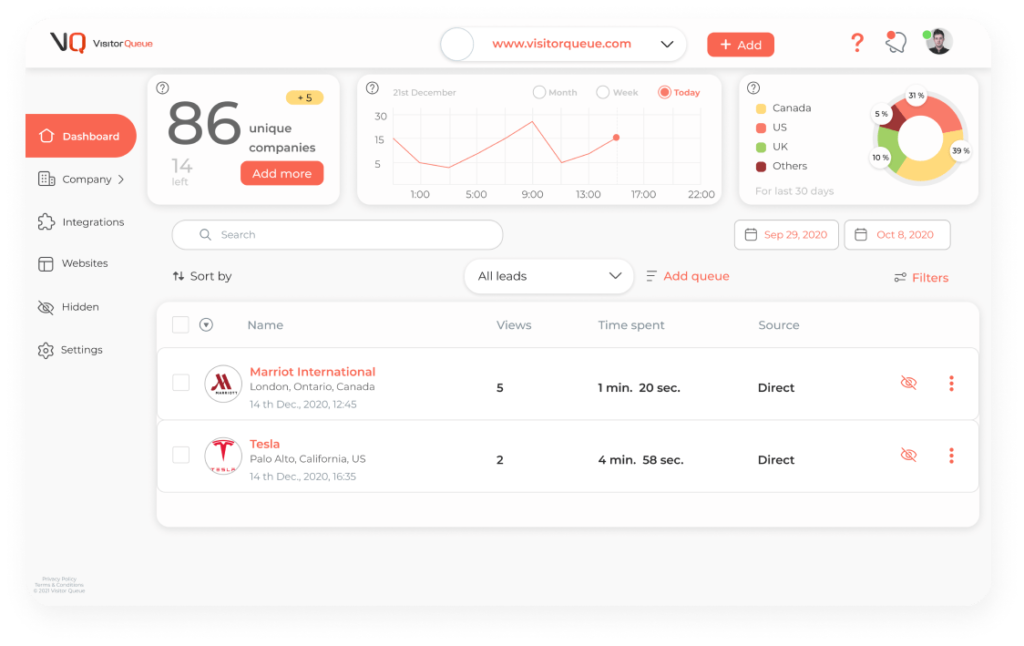 LeadIQ pulls data from LinkedIn Sales Navigator to provide your sales team with targeted lists of contact information. Then, you are able to send it directly to your CRM to follow up. While Sales Navigator is a great tool on its own, it doesn't provide email addresses or phone numbers of prospects. This can save you time searching Hunter.io or other email address generators. LeadIQ offers a free plan for 15 email addresses, and has a rating of 4.2 out of 5 stars on G2.
AeroLeads offers a few different ways to find contact information. The first is with their Google Chrome Extension. When you visit a website, their extension will pop up with email addresses of people that work at that company. They also have an email finder if you enter in a single website URL, similar to Hunter.io. AeroLeads works to verify email addresses to ensure they are all active. Plans start at $49 USD per month with a rating of 4.1 out of 5 stars on G2.
With BuiltWith, you just have to enter in a website, keyword, or company name into their search engine, and they will return relevant information. This is a useful tool if you're wanting to generate leads, or if you're wanting to gain a competitive advantage over other companies in your industry. Information that they return includes contact information, social media channels, and company history. Prices start at $295 USD per month and they are rated 4.3 out of 5 on G2.
With Adapt's software, your sales team can unearth ideal prospects, harness sales intelligence, and generate phone numbers and email addresses with high delivery rates. They offer integrations with your favorite CRMs so you can send contact information there for a quick follow up. Additionally, Adapt offers marketing tools like lead form enrichment and account insights to help you optimize your initiatives. They offer custom plans based on the features that you want, and have a rating of 4.6 out of 5 stars on G2.
Wappalyzer provides you with access to a website's tech stack, company and contact information, social media sites, and more. Their technology lookup is a great tool for software companies wanting to see if a prospective customer is using one of their competitor's software. Then, with the contact information they provide, you can easily reach out and explain how your software is superior. Their starter price is $149 USD per month with a G2 rating of 4.5 out of 5.
Tech Target is specifically made for enterprise companies as they have a hefty price tag of $4,000 USD per month, however, their insight is amazing. They offer a wide range of features including AI, networking, prospecting, and more. Tech Target also offers unique features specifically for healthcare companies to take advantage of. Tech Target ranks 4.4 out of 5 stars on G2.
We enable B2B companies to identify the anonymous businesses visiting their website so they can follow up with them and increase revenue. 98% of website traffic leaves without converting -
start your 14-day free trial
to identify who they are today!
Similarweb is often referred to as the better version of Google Analytics. This is because it provides a lot of similar stats, like bounce rate, acquisition, conversion tracking, and more. But, they also offer lead generation, visitor identification, and insight about your customer journey. Similarweb is also able to scan your competitor's websites to get even more insight and gain a competitive edge. They offer custom plans depending on the features you want, with a free trial to help you choose. They have 4.7 out of 5 stars on G2.
ContactOut proclaims that they have more than one billion active email addresses, which equals over 75% of the world's working professionals, available to their users. In fact, 76% of Fortune 500 companies use ContactOut! They have a Chrome Extension that will identify email addresses, phone numbers, and more from LinkedIn profiles. ContactOut offers a free account that works with standard LinkedIn, or a premium account for $99 USD per month that works with LinkedIn Recruiter and LinkedIn Sales Navigator as well as standard LinkedIn. They have a 4.6 out of 5 star rating on G2.

Lusha is another company with a Chrome Extension that allows you to scan a website or a LinkedIn page for contact information. They say that it only takes 60 seconds to set up and start finding qualified leads. Their prices start at $29 USD, which makes it one of the more affordable B2B lead mining software mentioned on this list. If you're wanting to integrate with your CRM, you'll need to opt for one of their premium or enterprise plans. They have 4.3 stars out of 5 on G2.
Lead 411 is a source for verified email addresses and phone numbers. They offer sales services, tech stack identification, recruiting, and more to help your company. Lead 411 offers a Chrome Extension to help you gather information about the websites you visit. Their prices start at $99 USD per month per user, including 200 contacts per month. They have a rating of 4.5 out of 5 stars on G2.
With the help of Swordfish, you can find phone numbers, email addresses, and other information from LinkedIn, Facebook, and Twitter profiles. They offer contact information validation to ensure you are reaching out to the right person, and that it will go through. They offer custom plans, or paid plans starting at $3.19 USD and have a rating of 4.6 out of 5 on G2.
How Do I Choose?
As you can see, a number of these lead mining software need you to have a general idea of what companies are interested in your company. If you're not sure what companies could be potential leads, Visitor Queue is a great option as you are able to identify the companies that visit your site, so you know that they are interested in your software. When you are looking at which lead mining software is the best fit for your company, I always recommend taking a look at their reviews on G2. Try to find reviewers who are of a similar company size and industry as yours, and see the positive and negative things that they have to say about the software. Additionally, if you are down to a handful of software, compare their prices, features, and customer support to help you make the best decision for your company.
Use a CRM
When you are choosing a lead mining software, another important factor to consider is if it integrates with your CRM. Whether they directly integrate with your CRM, or they can integrate via Zapier, this can enhance your lead mining tactics. You are able to automate follow up emails, and keep up with where they are in your sales cycle. Using your CRM will ensure that your team stays organized, and remembers to follow up with your new leads at the right time.
Last Words
B2B companies can benefit a lot from using lead mining software to generate contact information. Companies can drive an impressive ROI from using any of the software mentioned on this list, and gain a unique insight on prospects. If you have any questions about how Visitor Queue can help you generate more hot leads, don't hesitate to reach out.