Redesigning your website is a great way to impress your current customers while enticing prospective customers. But, we all know that a website redesign is no easy task. A lot of time, money, and effort go into creating the perfect website. With all of the tools and resources out there, it can be very difficult to know what parts of your website are in need of improvement. That's why we put together this list of the top 12 tips for a website redesign. Before we jump right into the 12 tips for a website redesign, let's go over why a website redesign is necessary for your business.
Why is a Website Redesign Necessary?
Redesigning your website can have a huge impact on your company. If done right, you can improve your site performance, customer journey, and save you money in the long run. On average, a website redesign can lead to a 34% increase in revenue. Keeping your website fresh and modern can help you stand out from your competitors, which is essential because most of your leads are probably checking out your competitor's websites. A website redesign can also prevent future errors, increase website speed, and optimize your website for mobile users. These can help your website rank better with Google, in turn helping your company increase its website traffic. But, how often should you redesign your website?
How Often Should You Redesign Your Website?
Ideally, you should update aspects of your website regularly. This includes small changes like updating text, adding a new page, or changing call to action buttons. These updates can help prolong a complete website redesign as you can stay competitive. As for a complete website redesign, this can be done every few years based on your industry and needs. If you plan on rebranding your company, update your website to match your new branding. How often you redesign your website will depend on your circumstances, but it's better to do this sooner rather than later. Now, let's dive into the top 12 tips for a website redesign.
1. Build a Timeline
Redesigning your website is no easy task. It can take months to perfectly design, implement, and optimize your website. Before you start the process of redesigning your website, take the time to build a timeline for your team to follow. This can help everyone stay on the same page, and know exactly what they are doing each day. Without a timeline, it's virtually impossible to keep track of what has been done, what still needs to be done, and any hiccups that come up. Additionally, using a project management software like Asana or Trello can be extremely helpful at keeping your team organized.
2. Review Marketing Analytics
Before you start redesigning your website, it can be helpful to review your current website's marketing analytics. Take a look at what pages have a high bounce rate, exit rate, and compare these stats to how they were acquired, what call to action is used on these pages, and other considerations. If you notice that your competitor comparison pages all have very high bounce rates, it might be a good idea to review how those visitors are being acquired, and update both your marketing and page design. Once you have done this, keep a close eye on these pages to ensure that their bounce rate is decreasing.
3. Branding, Branding, Branding
When you are doing a complete website redesign, it can also be a good time to rebrand. Even slight color changes or a revamped logo can make a big difference to your online presence. Check out this article if you're interested in learning more about successfully rebranding your company. If you are not going to rebrand, it's still absolutely essential to align your website with your current branding strategy. Ensure that your website is using colors that make sense and look good with your logo and messaging. If you're not sure about how accurate your website branding is, ask for opinions outside of your company. This can help you see flaws in your website branding that you may not have noticed yourself. On the same page as website branding, ensure that your website and content is using an omnichannel strategy.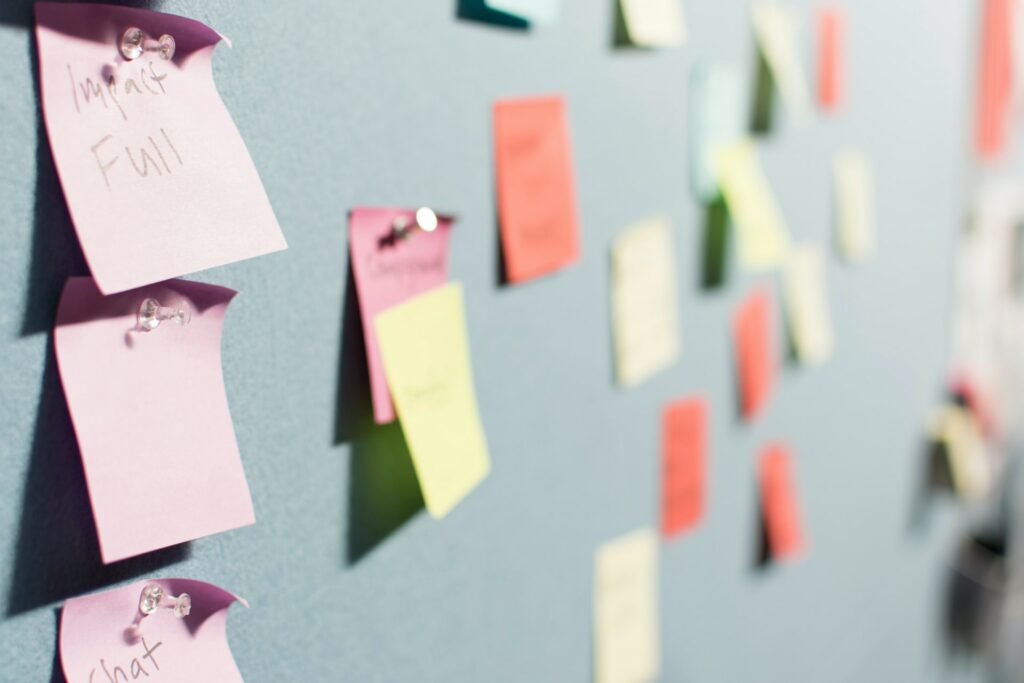 4. Keep it Omnichannel
Omnichannel marketing is the practice of aligning your branding, messaging, and marketing tactics with one another. Whether it be your website, LinkedIn, Facebook, webinars, email marketing, or any other form of marketing, it needs to be aligned with your branding strategy. If you are not using omnichannel marketing, it often results in high bounce rates. This is because if you are sharing something on your company's LinkedIn page that doesn't align with your website, it can be extremely confusing for your website visitor and they might even think that they clicked on the wrong thing.
5. Compare Your Competitor's Websites
One of the best ways to get ideas for your own website is to look at your competitor's and industry leader's websites. Review what you like and what you don't like, and try to implement these improvements on your own website. As an example, if you notice that an industry leading software, like Hubspot, is using a certain type of pop up on their website, then your team can explore using a similar pop up. A company like Hubspot has some of the most talented individuals on their team, so it's likely that this pop up is benefiting their website visitors.
6. Keep it Simple
In 2022, it's important to keep your website simple and straightforward. Your website visitors shouldn't have to visit four different pages in order to understand what your company is all about. Your website visitors are likely very busy with a short attention span, so if your website is over complicated with too many options, there's a good chance they'll bounce. Additionally, it's helpful to have white space on your website, as this will ensure that your visitor isn't getting bombarded with text and information.
We enable B2B companies to identify the anonymous businesses that visit their website and personalize their experience. Your sales team can now follow up with the visitors that don't convert, while marketing can personalize your website based on firmographic information to drive up conversion rate.
Start your 14-day free trial today!
7. User-First Design
Far too often websites get cluttered with unnecessary information, aren't visually appealing, or don't have a good flow throughout the site. Without these aspects, there is a good chance that your website visitors will get confused and bounce. So, it is essential to design your website with your user's needs in mind. If you're not sure what you can change or add to your website to make it easier for your visitors, check out a service called UserTesting. By entering in your website and target demographics, UserTesting will match someone that meets your target demographics to go through your website, complete certain tasks, and give their honest feedback. It's also important to keep in mind that you are designing your website for your prospects, not your CEO. So, listen to their requirements, but ensure your prospect's needs are met first.
8. Optimize Your Landing Pages
Your landing pages are some of the most important pages on your website. The vast majority of the time, your landing pages are one of, if not the first time a prospect is interacting with your company. So, it's essential to give them a positive and lasting impression. Include enticing visuals, stats, supporting information, and more to ensure your landing pages have the perfect amount of content. Discuss with your marketing team what landing pages they will use in their marketing initiatives so you know exactly what they are looking for.
9. Consider Aesthetics
In this day and age, having a visually appealing website is crucial to the success of your website. If your website looks outdated or is not attractive, it can easily look like a scam website to your visitors. Even if your written content is perfect, if you are not supporting it with creative visuals, your visitors can bounce. Ensure that your website redesign uses colors aligned with your logo, as well as complimentary colors. Include high-quality images that are not blurry, as well as videos that are high-quality.
10. Mobile Friendly Pages
Every year Google increases the importance of mobile optimization. If your website is not optimized for mobile, there is a good chance that you won't rank on the first page of search results. This means that your website will have a less than 6% chance of getting clicks. A few things to keep in mind is keeping your font size above 16 pixels, not having clickable elements too close together, and loading speed. If you're not sure how to make your website more mobile friendly, check out Google Search Console. Google Search Console will crawl your website for desktop and mobile issues that may be preventing your website from ranking as well as it could.
11. SEO
SEO, or search engine optimization, is the process of improving your website to increase your chances of appearing on search engines like Google. Having a website that is optimized for search engines can greatly increase your website traffic and help you compete against similar companies on the market. Your on-page SEO includes using well-researched keywords, writing content that is a good length, and writing content that is readable. Additionally, using your keywords in your ALT text, page title, URL, and meta description can help boost your website's rankings. There are a ton of different factors that go into SEO. If you need help with your SEO, check out this article.
12. A/B Testing
Finally, if you are between two ideas and not sure what is going to work the best, try A/B testing. The process of A/B testing refers to comparing two similar, but different features. The goal is to see which option your prospects respond the best to. Even small changes can end up making a big difference. As an example, on one of your main landing pages, test out different call to action buttons, like "Start Free Trial" and "Try For Free". You might be surprised how such a small change can make a big difference.
What's Next?
Now that you know how and why you should redesign your website, you might be asking what's next? Well, once you redesign and optimize your website, there's a good chance that you'll see an increase in your website traffic. Wouldn't it be nice to know who those visitors are? With Visitor Queue, you can. Simply by adding a tracking script to your website, you are able to identify the companies that visit your website through a unique method of IP address reversal. Our software can tell you how each company was acquired, what pages they viewed, and how long they spent on each page. We can also tell you firmographic information about the companies, like their industry, size, location, and more. Additionally, gain access to employee information to help you reach out and close the deal. With only 2% of website traffic converting, it's time to find out who the other 98% is. Start your 14-day free trial of Visitor Queue today and stop losing leads.
Wrap Up
Every website redesign will be different based on the industry you're in, your ideal customer profile, as well as the talent that you have on your team. Updating your website is a huge task, which can take months to complete. It's best to start with planning out and brainstorming ideas for your website redesign, and taking the time to properly execute the revamp. If you have any questions about how Visitor Queue can identify your website traffic, don't hesitate to reach out.