Every marketer and salesperson is constantly trying to think of new and innovative ways to generate leads for their business. But, we all know that it's not as easy as it sounds. When you have to take into consideration budget constraints, time constraints, other priorities, and more, on top of keeping your target audience at the forefront of your mind, it can seem almost impossible. We've all been there. Fortunately, we have put together this list of fool-proof lead generation tactics. Keep reading for the 12 best ways to generate leads for your business.
1. Trade Shows
Trade shows are not the best way to generate leads for every company out there. You have to keep in mind that they take a lot of time, money, and resources to attend. But, if your company is able to attend one, you can get your company in front of thousands of businesspeople, and it can result in potentially hundreds of very high quality leads. Creating a booth that is full of games, prizes, and other interactive activities will attract leads and make sure that they remember you. Remember to align all of your activities with your company values and ensure they are optimized with lead generation in mind. If trade show marketing sounds interesting to you, check out this comprehensive guide to learn how to generate the highest quality leads with trade shows.
2. Target Your Competitor's Brand Name With Google Ads
If you do a Google Search for "Keap CRM" you will see that Active Campaign ads also appear. This is because they are using Keap's name in their keywords. This is a great way to generate leads in a competitive market. You can target their current customers as well as prospects that are researching the best solution for their needs. And, almost every company is able to do this in some capacity. Keep in mind that you might not be able to use your competitor's name in your actual ad if it's trademarked, but you are still able to target it with keywords. This is a strategy that we have used for years at Visitor Queue and have seen an incredible ROI.
3. Gated Content
Gated content refers to a resource that is only accessible once the prospect provides their contact information. It's most commonly used in the form of eBooks, webinars, videos, and learning resources, but you can turn pretty much any piece of content into gated content as long as the information will provide insight or benefit your lead. Because the lead is exchanging their contact information for the content, the content must provide them with useful information that they wouldn't be able to find with a quick Google Search. Once the lead provides their contact information, you can use it to follow up and hopefully make a sale. Because you are trying to sell to the lead, ensure your gated content closely aligns with your company so you know the leads that you generate from it are qualified.
4. SEO
A strong search engine optimization strategy can drive a lot of high-quality leads for your business. SEO refers to the practice of optimizing your website based on guidelines that search engines, like Google, provide. Common optimizations include metadata, keywords, ALT text, page speed, and mobile optimized content. Having your website optimized for search engines will improve your chances of appearing first on a search results page. This way you're more likely to get a sale. Improving your SEO can take time, but in the long run it can have a huge impact on your website's traffic and conversion rate. Plus, it's free!
We enable B2B companies to identify the anonymous businesses that visit their website and personalize their experience. Your sales team can now follow up with the visitors that don't convert, while marketing can personalize your website based on firmographic information to drive up conversion rate.
Start your 14-day free trial today!
5. Quora to Generate Leads
I find that Quora marketing is often overlooked, but it can be another great way to generate leads for your business. Quora is a website that you can ask and answer questions from your peers. Create a personal profile, and join relevant marketing, business, sales, or other groups that your target audience would be in. Then, scroll through the group feed to see if you can answer any of their questions. When answering their questions, try not to be too direct with promoting your company. You can plug your company, but provide other information that supports your response. Check out this guide for a more in-depth guide for more information about Quora marketing and how to use it to generate leads.
6. Website Personalization
Every single person that visits your website will see the exact same version of your site. But, with website personalization software, like Visitor Queue, you can show each visitor a tailored view of your site based on the criteria that you set. As a result, you can easily increase your website conversion rate. As an example, if someone from a marketing agency were to visit your website, you could show them use cases, case study, and other key data points from your current marketing agency clients. Pairing this relevant information with a strong call to action will be sure to entice. By seeing proof of how they will benefit from your company, they will be more likely to convert.
7. Live Chat
Adding a live chat to your website will not only allow you to provide better customer service to your current clients, but it can also help you generate leads. When someone is on your website and they submit a live chat question, you can choose to have them provide their contact information. If you choose to require the contact information, explain how it will help you follow up if you get disconnected. Or, you can make the contact information optional when you have agents available, and require it when all of your agents are unavailable.
8. Use a Quiz or Calculator
Using a quiz or calculator on your website is a great way to stand out from your competition and engage your visitors. With the help of a software like Involve.me you can easily build beautiful and interactive quizzes, calculators, and other pop ups that will entice your website visitors. At Visitor Queue, we use both a quiz and a calculator to generate leads. We use a quiz as a pop up and in our advertisements, and a calculator as an interesting web page for prospects to visit. You want to use a quiz or calculator that will show users what benefits they will get by using your services. Since we identify leads for B2B companies, our quiz and calculator tells the user how many leads they are missing out on monthly. Take a look at this short video to learn more about lead generation with a quiz or calculator.

9. LinkedIn
Whether you're social selling, generating leads, advertising, or simply engaging with your followers, LinkedIn is one of the most important channels that your company should be using. You'll need to start out with optimizing your business and personal LinkedIn sites so you seem trustworthy and legitimate to followers. Then, organically post content on your business' LinkedIn page. Once you have posted a few times, invite your LinkedIn connections to follow your business page. At this point, you're ready to explore different types of LinkedIn lead generation. Whether you continue to organically grow, you start running advertisements, messaging prospects, or you invest in LinkedIn Sales Manager, you can take advantage of LinkedIn's extensive network of businesspeople to try and generate leads. Paid LinkedIn marketing can get pricey because LinkedIn users are a niche demographic, but it can be well worth the investment.
10. Influencer Marketing
Influencer marketing might seem intimidating, but if done right, it can help you generate leads quickly. I'm sure you follow a handful of influencers, whether it be on Instagram, LinkedIn, Facebook, or pretty much any other social media platform. And if you do follow influencers, you've probably seen them share sponsored posts, stories, exclusive discounts, and other forms of promotional content. While companies can be hesitant to start influencer marketing, you can get your brand in front of potentially thousands of people that could be interested in your company. If you're not sure where to start, there are marketing agencies that specialize in influencer marketing to help you with your first partnership.
11. Use a Software to Generate Leads
With Hunter.io, all you need to do is submit a website link, and they will return email addresses of employees that work at that company. You have to do a little digging to find a list of company websites that you think could be a potential lead. Even if you can't find the exact person's email address that you're looking for, Hunter.io will give you format suggestions to help you guess the email address. This is a great way to find a few email addresses, but it can be pretty time consuming to find more than a few.
Visitor Queue is a B2B lead generation software that can identify the companies that visit your website. Through IP address reversal, we are able to identify the companies that visit your website, along with company information like history, head quarters, and website. In addition, we provide visit information including how they were acquired, the pages they viewed, and how long they spent on each page. But, the information doesn't stop there. We are also able to provide you with employee contact information like email addresses, phone numbers, and LinkedIn channels to help you reach out. With our CRM integrations, send your leads straight to your CRM of choice to help you follow up easier than ever. Start your 14-day free trial of Visitor Queue today and stop losing leads!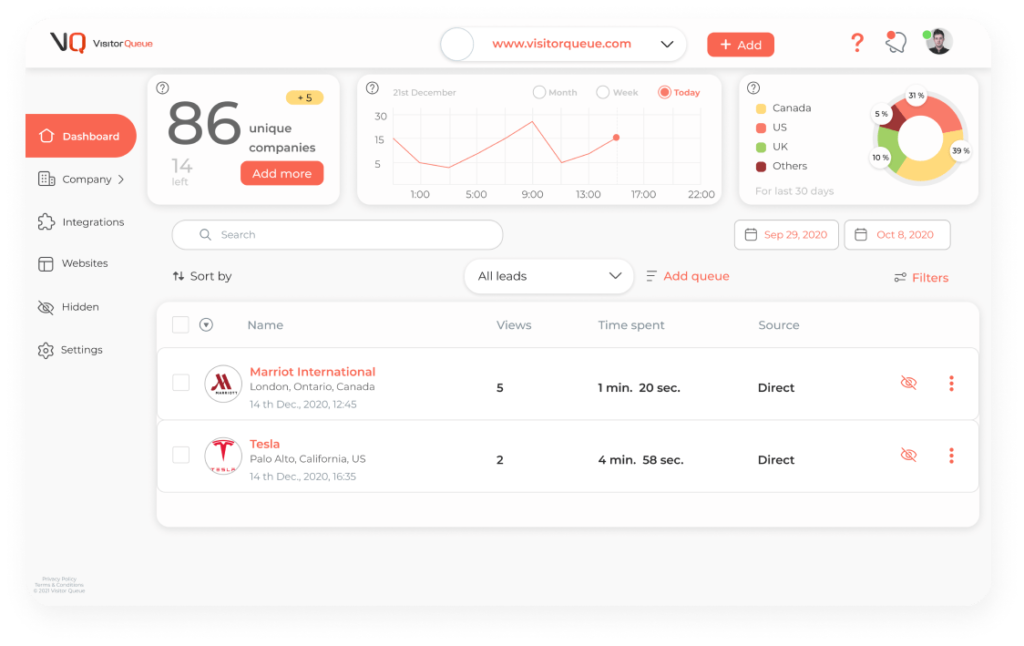 ZoomInfo has a number of abilities wrapped up in one platform. With almost 4,000 five star G2 reviews, there's no question that ZoomInfo is a great software for many companies across the globe. They have four main software solutions, marketing, sales, recruitment, and operations, as well as smaller tools like live chat that can help your company generate, follow up, and manage leads. Depending on your company needs, ZoomInfo can get pretty pricey. But, it can be well worth the investment to organize your sales and marketing efforts.
12. Use a CRM
I have mentioned a few times throughout this article that a CRM can help you manage your leads. But, it can do so much more than that. Some CRM softwares can help you generate leads, post on social media, qualify prospects, and other tasks that will make your life so much easier. By using a CRM, you can automatically follow up with your new prospects, and increase the likelihood of them becoming paying customers. With their analytics, you can see exactly where prospects drop out of your funnel which will help you improve future lead generation campaigns.
Final Words
There are so many lead generation tactics out there that will help you drive conversions. But, with so many options it can quickly get overwhelming to try and find the right tactic for your needs. If you're not sure where to start, I would recommend comparing what your company is already doing in terms of marketing and lead generation tactics. Next, consider your company goals and what you want to achieve versus the time and money that you have to invest in a new lead generation strategy. Of course, if you are a small company with a limited budget, you might want to consider a lead generation software instead of attending a trade show. If you have any questions about how Visitor Queue can help you generate leads, let us know.