Creating a well-rounded sales cycle on your own takes a lot of time and effort. Plus, it requires constant upkeep and monitoring to ensure that it's continuously turning leads into paying customers. Because it's so tedious to create it on your own, a lot of companies turn to sales outsourcing companies and software to help them achieve their goals.
In this post, we'll start by defining how a sales funnel works, what it means to outsource key aspects of the sales process, and how they can work together to increase the number of sales you are able to earn. Then, we'll provide some of our top picks for new and existing companies that provide these services.
What is a Sales Funnel?
I'm sure you have heard of the term "sales funnel" before, but do your sales and marketing teams refer back to it when making decisions? A sales funnel represented below, represents the journey that your potential customers take to become paying customers. The steps that a potential customer takes to become a paying customer are awareness, interest, decision, and sales. As you can see, the funnel gets smaller and smaller the further down it goes. This is because there are going to be customers that drop off. They can drop off for various reasons including budget cuts, no longer interested, or have found another option.
Every business will struggle at some point in its sales process to keep its potential customers engaged. That's where your outsourcing team comes in. People that are hired to outsource sales are professionals at understanding the funnel. Now that you are more familiar with a sales funnel, let's jump into what sales outsourcing is.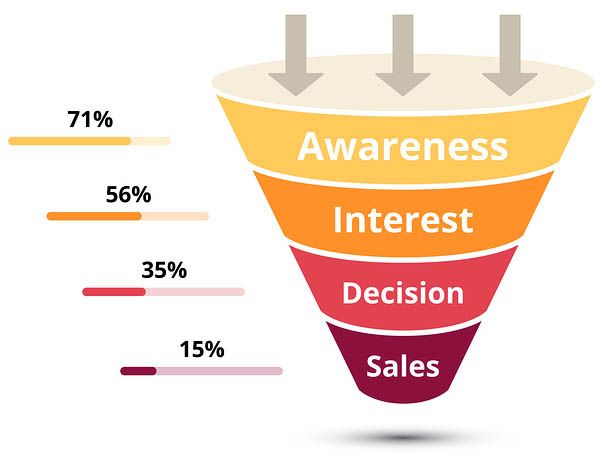 What is Sales Outsourcing?
Sales outsourcing refers to the use of external resources to help manage your sales funnel. This could include a software, hiring a company, or one individual, to fulfill a portion of the sales process by exploring untapped potential. Both inbound and outbound sales channels can be used in your plan. This may include lead generation software or even sales activities that are more manual in nature. Such as implementing an outbound call center or direct mail services.
Benefits of Sales Outsourcing Companies
Are there any benefits of this strategy? Of course. For starters, an outsourced sales team can help a company explore the untapped potential in new markets. It's hard for your already busy team to overcome hurdles of technology or maybe you don't have enough manpower to compete. It also may promote savings in time or money for businesses that want to scale quickly without hiring more full-time employees. Plus, an outsider's opinion can always be beneficial since it can be hard for your staff to try something new.
Additionally, some outsourcing opportunities can help businesses expand into new markets or get a foothold in new geographical regions. When there are language or cultural barriers at play, outsourcing may prove to be beneficial. An outsider's opinion, either as a short-term bridge or a long-term solution, can help you with any differences that you're not aware of. Companies may also go the outsourcing route if there is a need to pitch new, cutting-edge products or services that haven't come to market yet.
21 Best Sales Outsourcing Companies and Software
As sales outsourcing becomes more popular, sales outsourcing companies have risen to the occasion, particularly in the B2B world. If you're interested in outsourcing a portion of your sales process, this list of 21 top companies provides a great place to start as you weigh the costs and benefits.
SalesEvolve
JumpCrew
Sales Partnerships
Sales Outsourcing Pros
CloudTask
Overpass
Top Lead
Callbox
Upcall
Aloware
Data Axle Genie
Accordium
Drift ABM
ZoomInfo
Lease A Sales Rep
Salespanel
SaaSBoost.io
Belkins
Operatix
The Sales Factory
With a user-friendly dashboard, Visitor Queue users can identify new leads and quickly spot important company data that can be beneficial when closing a deal. Visitor Queue is helpful for both new and existing business development opportunities.
The software takes care of the basics, such as identifying contact information, social profiles of decision-makers, and employee counts. It also goes one step further by tracking existing clients. As a result, your team can ensure that follow-up happens at a perfect time, based upon available insights.
With a robust list of integrations, Visitor Queue makes it easy to connect to your CRM or other popular tools. When you start a free 14-day trial, you have the ability to see who is interested in your service.
2. SalesEvolve
3. JumpCrew
4. Sales Partnerships
5. Sales Outsourcing Pros
6. CloudTask
7. Overpass
This complete end-to-end process helps business owners locate and hire the right sales team members, set up campaigns, keep an eye on analytics, and even distribute payment with peace of mind. In addition, overpass offers an all-in-one solution for businesses that have doubts or worries about outsourcing sales components.
8. Top Lead
Communication is vital, and Top Lead offers weekly check-ins and training sessions to ensure that you're getting the most bang for your buck. Top Lead markets its services as an extension of your own company. As a result, you get to keep more of the profits.
9. Callbox
10. Upcall
With a detailed dashboard, you have full access to calls made on your company's behalf, and you can track results in live time. Following up with leads through phone and text is often time-consuming work, requiring a good deal of manual effort for sales team members. By using Upcall, sales teams can scale results without using valuable work hours, which means that closed-won rates improve drastically.
11. Aloware
It has a smart power dialer that automatically calls through a list of leads while providing a more personalized experience for both the users and their customers.
12. Data Axle Genie
Data Axle Genie pulls from over 60 million business leads and over 300 million consumer leads to generate top-quality lists built on relevant data. The company offers personalized advice and a free 3-day trial.
13. Accordium
Ready to see what the power of video can do for your sales outsourcing efforts? Start a free 14-day trial or book a demo with the Accordium team.
14. Drift ABM
Through playbooks and routing features, Drift helps ensure that sales team members never miss an opportunity to connect with a buyer (without having to sit on chat waiting around for prospects to visit a website). Real-time notifications and intuitive analytics provide deeper insight into how sales members are interacting with prospects.
15. ZoomInfo
When you implement ZoomInfo's software, you'll get access to intent signals. As a result, this means smarter, more intelligent sales data that leads to better conversions.
16. Lease A Sales Rep
Moreover, the organization offers a white label sales service to partners. As a result, this can help save money and time on recruiting, onboarding, and training skilled sales team members. In addition, if building your own team is a pain point, Lease a Sales Rep can promise a tangible and timely fix.
17. Salespanel
Salespanel is an all-encompassing tool that is ready to help both your sales and marketing teams guide prospects further down your sales funnel. They have a free plan available for startups, or paid plans starting at $49 USD a month.
18. SaaSBoost.io
A few of their most reputable clients include Mailchimp, Microsoft, and Monday. SaaSBoost.io works in phases, which allows them to set short-term goals and metrics that they'd like to achieve. Prices start at $8,000 per month, plus commission where applicable, with the option to add additional sales reps depending on your company's growth and projection goals.
19. Belkins
Belkins is a very organized and professional company that will generate leads, follow up with them, and try to convert them into paying customers with demos, trade shows, and more. They work with a wide variety of companies, including B2B and B2C, and can even help LinkedIn influencers reach a wider audience. Contact Belkins to view their pricing information.
20. Operatix
Operatix focuses on European and North American markets. Whether you're an enterprise-sized software company or a startup, Operatix will have a package perfect for your needs. Contact their sales team to build a custom plan for your company.
21. The Sales Factory
With their coaching and consulting services, even once you end your partnership with The Sales Factory, your team will have a better understanding of how to generate high quality leads and how to convert them. Reach out to The Sales Factory for a personalized plan based on your company's goals.
A Trend for Future Growth
As more companies realize the potential for enormous savings in time, money, and effort, sales outsourcing is be here to stay. As this list of 21 service providers proves, there are many customizable solutions available at just about every level of the sales funnel. Whether your business needs more lead generation, nurturing activities, or closed deals, outsourced models could prove to be both beneficial and profitable.
Final Words
Does your team have significant sales goals to reach in 2022? Are you struggling to make your sales goals and don't know what to change? If so, now could be the perfect time to invest in a sales outsourcing company. We hope that you were able to find the solution that helps you grow and scale. In addition, make challenges a thing of the past.
Are you ready to make headway on those goals by adding better leads to your pipeline? If so, make sure to start your free 14-day Visitor Queue trial today!