As your company grows, so does your sales team. This, in turn, means that your tech stack and sales tools should as well. However, choosing the best tool for your team is challenging. And, not every tool will work for every business.
This seemingly impossible task is only made harder through the 1000+ vendors out there. How can you navigate this long list of vendors to determine which are the best choice for your sales team? You can't free trial all 1000+ vendors, your business would have either closed, or you would have sold it by then.
Which Does What, And What Is The Right Choice For Me?
When determining which tools to utilize with your team or even which tools to spend time trial, you must first figure out what your end goal is and how you would like to get there. When you figure out your path to success, you can then determine which tools will get you there and try to find the ones that work together for simplicity. This is not a "one ring to rule them all" solution; all companies have different goals.
The key to finding out which tool is best for you is finding the tool that addresses your specific needs and ones that do not force you to change or bend your ways to fit them. You can not build your sales tool chest on "what is nice to have" or "that was helpful to them". Not all tools are made equal as not all companies are created equal.
More Sales Tools, More Problems
Browsing for new tools to help your sales team (and hey, all of your other teams too), can put you on a shopping high. It is like being a kid in a candy store again. Browsing all the shiny new tools and playing with all the new tech makes you feel powerful wielding your new software. Do not fall into this trap of "more tools, more growth."
It seems easier and cheaper to implement a new tool than to hire a rep, but do not believe the common notion of automation always improves efficiency and progress. Just because you have automation in place does not equate to your day-to-day business working better than it did yesterday. In many cases, if implemented correctly, in the correct environment, in tandem with a sales team, and working with other tools, it will significantly improve efficiency. This is not to be taken as an "instead of this sales rep, add that sales tool".
Sales teams have been sinking ships with the overuse of sales tools that have overlapping functions or that simply do not talk to one another. Choose your tools carefully; fewer tools may create a more simplistic environment and easy-to-navigate dashboards to allow your team to follow up with leads and convert sales more naturally. Make your workstream easier to navigate. Don't go white water rafting with a boatful of tools and supplies that weigh you down.
Now, let's dive into the main categories of sales tools that we are going to discuss.
The Main Categories Of Sales Tools
Customer Relationship Management (CRM)
Sales and Marketing Development
Analytics
Training
25 Top Sales Tools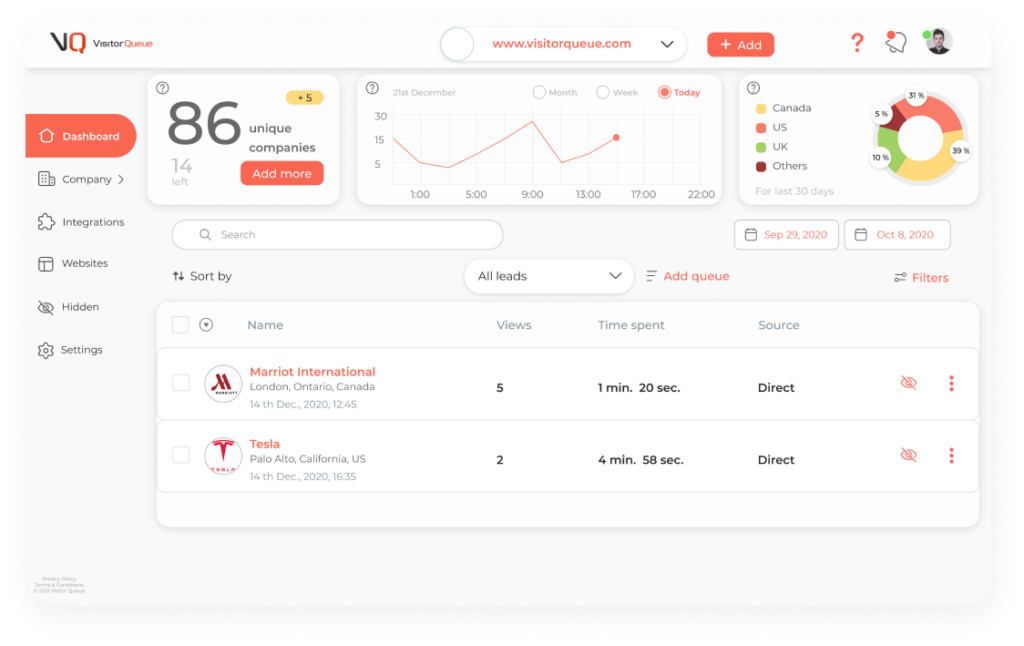 Firstly, our own tool, Visitor Queue is a B2B lead generation software. All while offering an abundance of features that create a seamless user experience. We built with end-users (you!) in mind, Visitor Queue is easy-to-use. It allows you to generate high-quality leads directly from your website automatically.
When a user visits your website, Visitor Queue tracks their activity. It adds their information into your "queue" of new leads. You'll get company contact information, a website activity report, and a list of the company's social media channels so you can follow up with them right away.
There's no better lead than someone who has already visited your website and has expressed an interest in what you have to offer. Try Visitor Queue free for 14 days to start generating new B2B leads right away.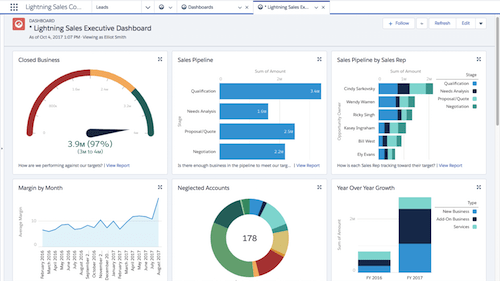 Secondly, Salesforce is an online CRM tool and is quickly the most popular among companies. It gives all your business departments a view of your customers with one integrated CRM. Salesforce you to work as a team, all driven to a common goal with a clear understanding of your entire team's strategy.
Hubspot is easily one of the most popular lead generation (and sales and CRM) tools out there – for a good reason. They offer a wide range of features to help you generate, organize, and close leads.
One of Hubspot's best features is its ability to track email opens. If a subscriber opens an email, you can follow up with them directly or add them to a segmented email campaign. That way, you can reach out to them as quickly as possible and with the right content that will entice them to convert into a new customer or client.
Demodesk is a meeting platform built for sales. It coaches reps live during the call, automates manual non-selling tasks, and enables revenue leaders to create a standardized sales process – helping hundreds of fast-growing sales teams boost sales productivity and increase close rates.
Its powerful scheduling suite helps revenue teams automate scheduling workflows, ensure fair lead distribution and improve customer experience. You can automatically load the perfect playbook into every meeting – slides, web apps, talk tracks, and battle cards on the spot which will increase close rates, shorten ramp time, use consistent messaging across the team, and coach reps at scale. Demodesk also automates your CRM update after every meeting with event activity, call notes, recordings and follow-ups.

Pipedrive is a simple yet effective lead generation software that tracks all of your interactions with your leads. You can pull in new contacts from your marketing campaigns and automate follow-up to turn those contacts into leads. Plus, Pipedrive makes it easy to see all of your lead data in one place with their user-friendly dashboards. Take the right action at the right time to turn cold contacts into hot leads.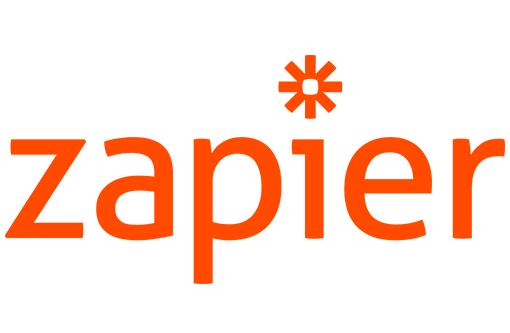 Zapier is one of our favorite tools because you can create automated workflows for just about anything. From lead generation to social media posting to call scheduling and more. It will integrate with hundreds of apps to help you streamline your business processes. Use Zapier to collect contact information from Visitor Queue, send new leads a follow-up message, schedule a call, and close deals, fast.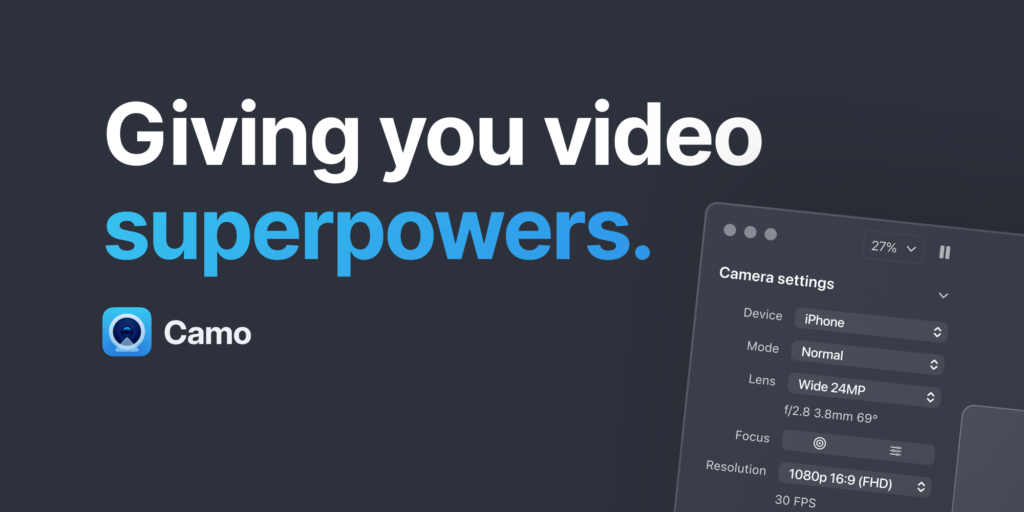 Tired of looking terrible on sales calls? Camo unlocks the incredible video capabilities of your phone by using its cameras as a webcam on your computer, enabling you to look your best. It integrates with all the major video conferencing apps, and helps you make your mark with custom video overlays, fine-grained image adjustments, and high quality effects such as Bokeh "Portrait mode" and more.

When you need to send an offer to a potential client, you need a specialized tool for the job. Better Proposals allows you to create, send and manage business proposals easily. Send an offer to a potential client in as little as a few minutes! Clients can sign your proposal online and even pay from the document right after signing. You can also track crucial data such as who opened the proposal, what they read, when they signed it, and where they spent the most time. It's every sales rep's dream come true.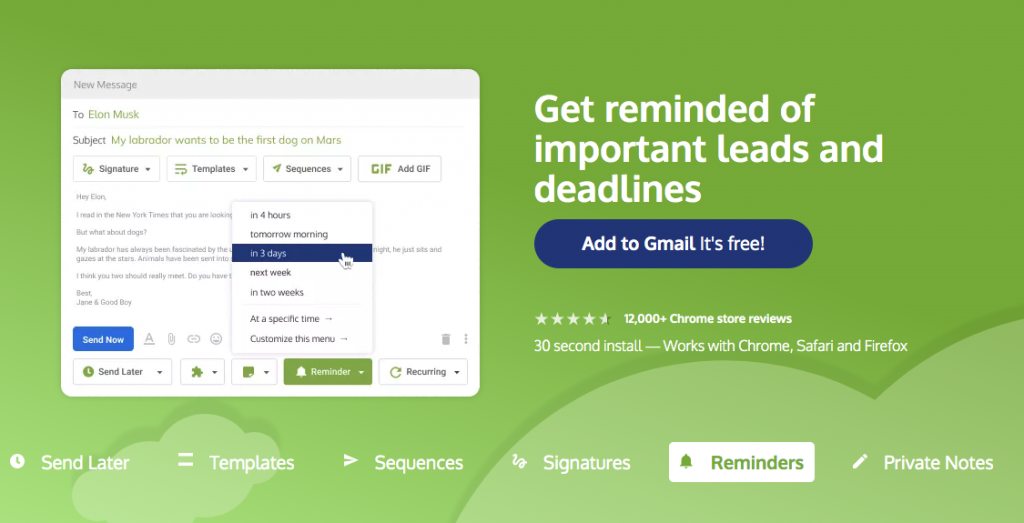 Right Inbox is a Gmail extension that supercharges your outreach efforts. Features include; reminders so you never lose track of important emails and see who opens your emails and clicks your email links with email tracking. Never again worry about dropping the ball on your emailing efforts.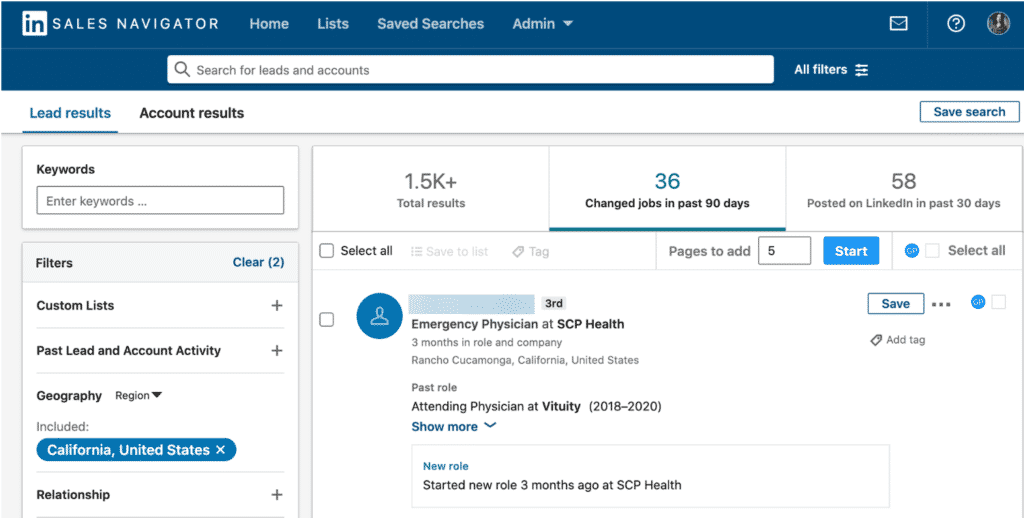 LinkedIn Sales Navigator uses the power of LinkedIn's massive 600+M network to assist Sales teams in finding and building connections with prospects and customers.
We enable B2B companies to identify the anonymous businesses that visit their website and personalize their experience. Your sales team can now follow up with the visitors that don't convert, while marketing can personalize your website based on firmographic information to drive up conversion rate.
Start your 14-day free trial today!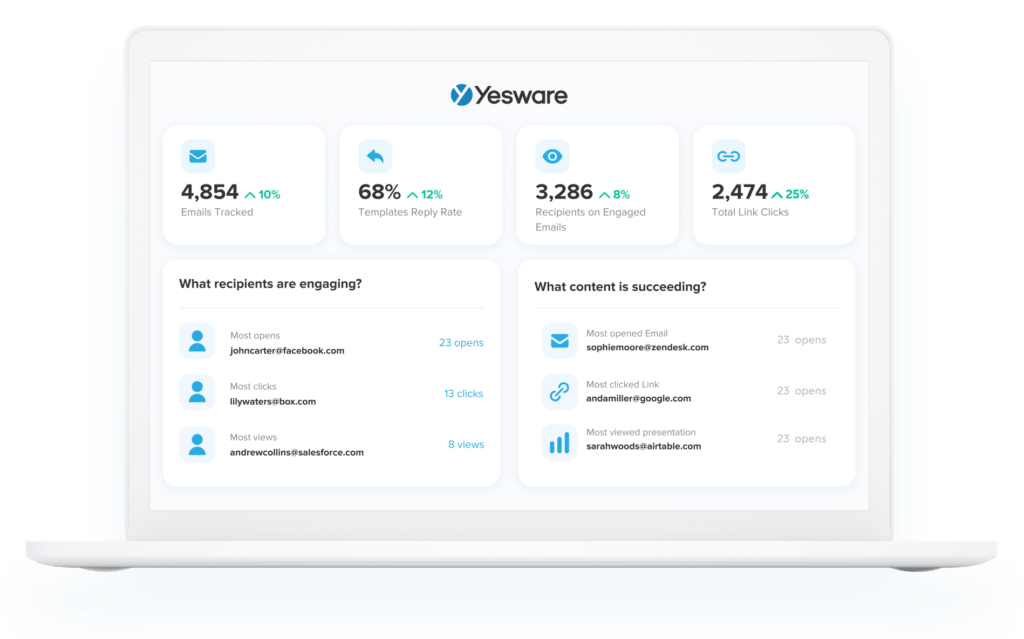 Yesware helps you build connections through more personalized emails. By using a more customized approach, you won't be lost in the sea of emails sent every day or sent to the "promotions" or "spam" boxes.

On the hunt for better B2B leads? Hunter can help.
With Hunter, you can search for a person's name or company to find their email address and reach out to them as a possible lead. You can even browse for all email addresses at a specific company! Enter up to 100 requests per month for free, or access 1000 requests for their $39 per month plan.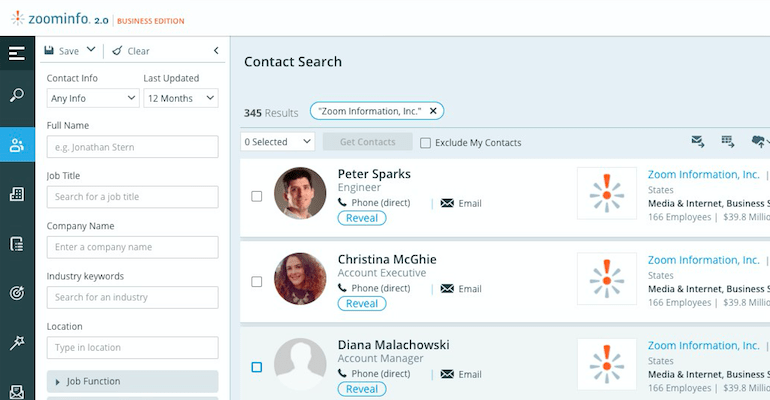 Zoominfo helps companies achieve what we all strive for: profitable growth. Backed by easily the most comprehensive B2B database. This platform puts sales and marketing professionals in a position to identify, target, and follow up with prospects.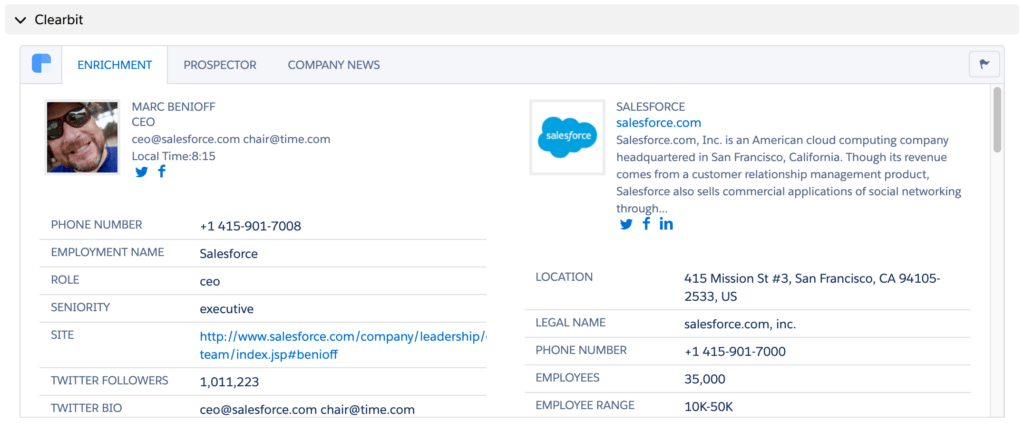 Clearbit is a marketing engine for all of your customer interactions. Utilize this tool to understand your business further. Dive deeper into your existing customers, identify prospects, and ensure a personalized touch for your customers every step of the way.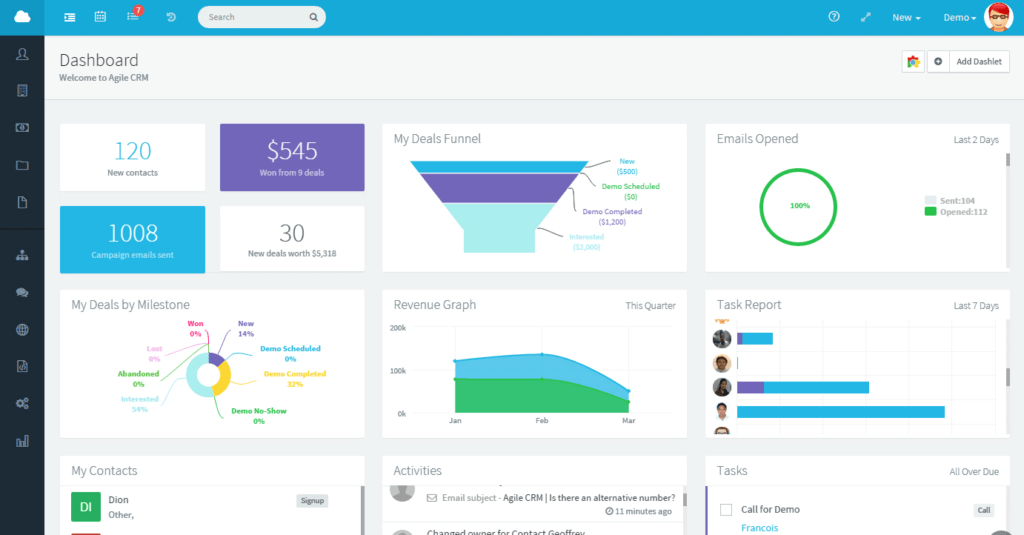 Agile CRM is a complete CRM tool to automate your sales, marketing, and service all in one platform. Utilize this cloud-based SaaS service that is mobile-ready and affordable. With this system being free for up to 10 users it is a no-brainer for startups and smaller companies.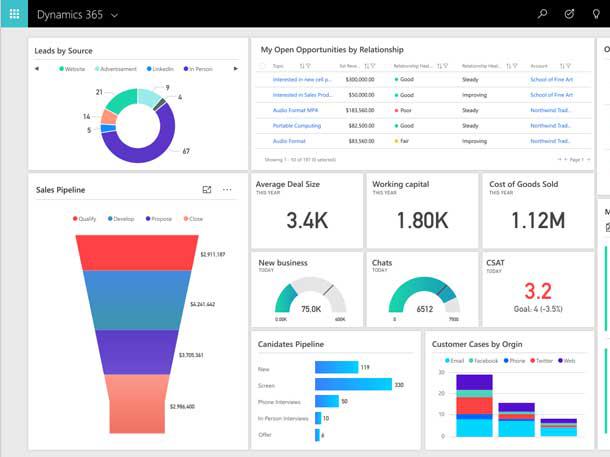 Microsoft Dynamics changes the game in engaging your customers, optimizing operations, empowering your employees, or transforming your products and services. Dynamics gives you an understanding of your business to help transform and achieve success on your terms.
Zoho offers a ton of features and customization for email marketing, customer service, and lead generation for a very affordable price. It also has a simple-to-navigate UI and prides itself on the easy-to-implement integrations to all of your everyday tools.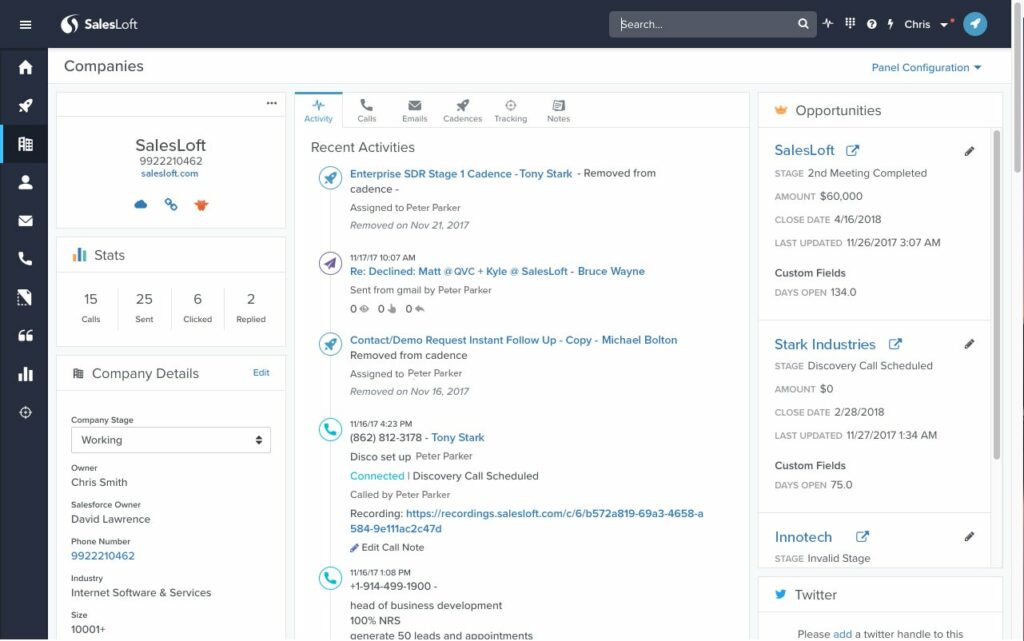 Salesloft allows us to streamline and personalize our automation to ensure the best results for your company. This tool will enable you to put customers into an email cadence or proactively follow up with them.

FullContact is a real-time, privacy-safe identity and contact enrichment company. With goals set out to create trust and develop relationships between people and brands.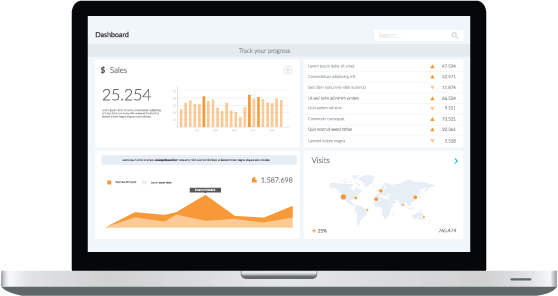 KickFire's IP address and B2B firmographic data convert company IP addresses to data that can add to your business's information stack. KickFireprovides first-party data to identify anonymous web visitors.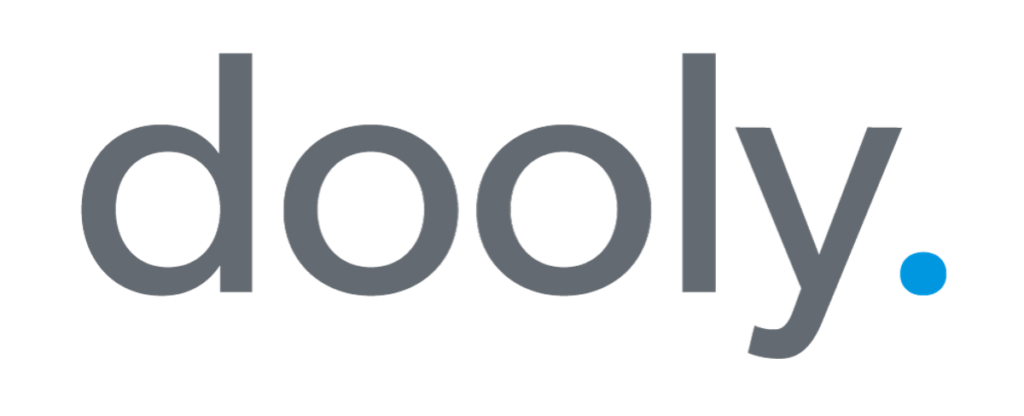 Take meeting notes (we know you do) in Dooly, and they will automatically push them back to the right fields, tasks, activities, and opportunities in Salesforce for you. With Dooly, you can save time and energy updating your Salesforce account and keep your pipeline up-to-date.

Xant's cloud will transform your sales engagement software beyond cadence with their AI-powered by real data. They offer the leading Enterprise Sales Engagement Platform that accelerates their client's revenue (who doesn't want that?). By building an easier-to-close custom pipeline increases your visibility to customers who are looking for you.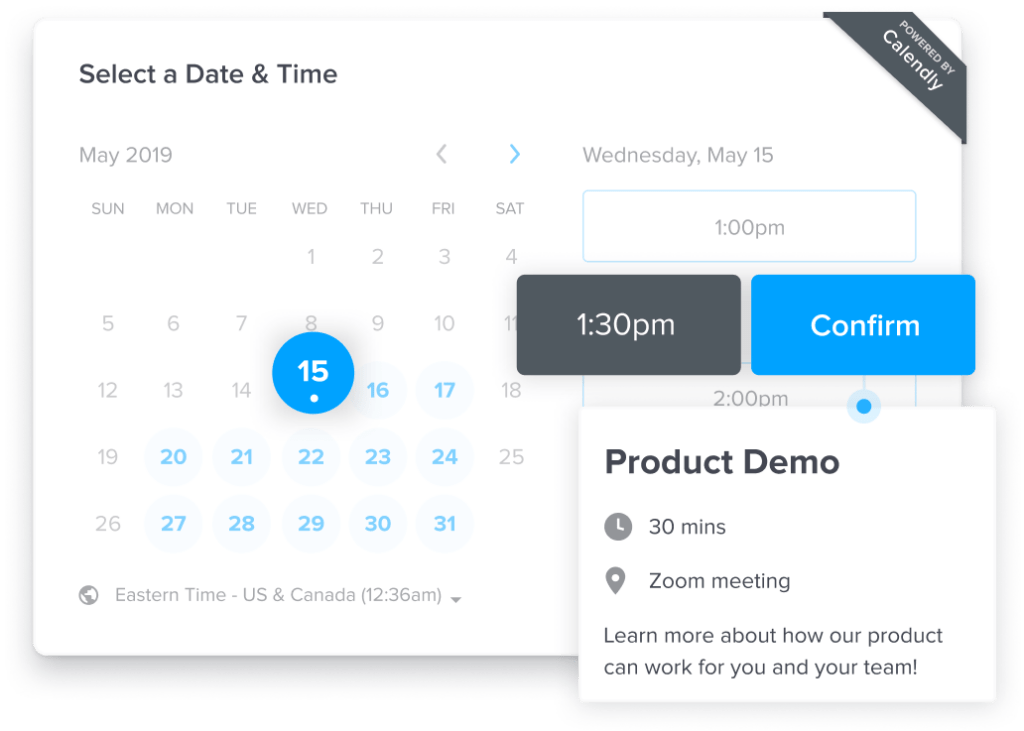 Control your calendar like you always wanted to with the custom approach Calendly provides. Ensure all your important meetings and calls are automatically put in your calendar with a notification warning and buffers. To eliminate overbooking yourself.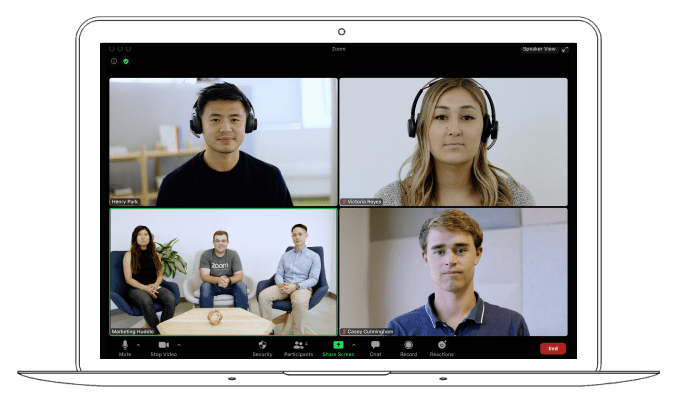 Centralize your online training, meetings, calls, phone system, IM, and more with Zoom. Don't use 3 different tools and try to ensure they are talking to one another when you can have "one ring to rule them all (well, one software anyways).
Lastly, ProProfs Chat is a SaaS-based live chat software that allows your sales, support, and marketing teams to connect and engage with the right audience in real-time. With its ability to track visitor behavior, it becomes easier for your business to understand customer pain points and initiate a chat in strategic moments where they feel encouraged to connect with your business. In addition, you can even create a sales suite with this live chat software by integrating it with your favorite CRM, email marketing, social media, and help desk platform. This will not only help you capture leads for your business with features like a chatbot, pre-chat form, and offline messages but also nurture them every time these leads visit your website through announcements.
Eenie Meenie Miney Moe
Determining which tools are best for you can be difficult. When all is said and done, and you are ready to select your tool, it is important to have a document with all the tick boxes you need to check. This way when you are going through the tools; you can ensure you are getting the one(s) that will best serve your team.
Another way to validate which tool are/is best for you and your team is to write down what needs to be done. And what tasks need to be accelerated, assisted, automated, eliminated, or monitored. By understanding which tasks need which sort of assistance, you can adequately determine which tool needs to be implemented.
Which One Should I Choose?
Like we mentioned earlier, there is no one size fits all solution for every company. If you are deciding between a few, it's a good idea to check out review sites like G2 or Capterra and compare them. You can compare prices, in addition to reading their current/ past consumer reviews. This is helpful because they are non-biased and honest. Plus, you can see the industry that the reviewer works in and see if it's similar to yours.
Wrap Up
We hope that you were able to find a few sales tools on this list that piqued your interest! Remember, the more tools that you use do not always mean the better.
As always, if you have any questions about how Visitor Queue can help you increase your company's revenue by 10-20% do not hesitate to reach out.