Businesses are always trying to improve their email marketing efforts as it can be one of their most useful tools to generate leads. Email marketing remains to have a high ROI (return on investment) of $42 to every $1 spent. In order for you and your team to see the benefits of email marketing, first, you have to select the correct tool(s). Email marketing software is more than just a way for you to track the emails you have sent. These tools increase your audience, help segment your prospect lists, and can integrate all your marketing channels. By helping you and your team with all of these aspects, these are powerful tools to grow your business and drive more revenue.
Choosing The Best Email Marketing Software
As with any tool, there are many things to consider when you are looking to add a new tool to your tool chest. You must first understand:
What gaps you are looking to fill in your current marketing initiatives?
What features you are looking for?
Are there gaps you are looking to fill in your current marketing initiatives?
What integrations are most important to you?
What are you willing to spend?
These are just some of the criteria you should have in mind when you go into the searching process. This way you can ensure you will not choose a tool simply based on features they have that sound important or cool, you will choose a tool that is best suited for you. Below, we identify the 5 best email marketing software.

Mailchimp is one of the most popular email marketing software tools because the features they offer to appeal to a majority of businesses. They provide these features without being overly complicated or confusing and have an easy-to-use interface with drag and drop sections to create your emails or templates. Businesses are able to schedule campaigns, A/B tests, get reports on open rate, click-through rates, unsubscribe rates, and more.
Mailchimp also offers a free plan that allows for up to 2,000 contacts and up to 10,000 monthly emails sent. Once you upgrade to the first tier of their three-tier subscription plan you will gain access to features such as A/B testing and multi-step journeys. Users will also see reports to help them understand what is working and what can be improved on. Mailchimp is the perfect tool for most businesses that are looking for a simple way to send emails to their customers.

MailerLite is one of the easiest tools to set up due to its user-friendly drag-and-drop interface that is also fun to use. You are able to create almost any design you want and create it quickly with their interface. This tool's main priority is simplicity, and this can be seen everywhere on their website, interface, and other areas you may interact with them. And if you ever get stuck or have any questions you can contact their support team 24/7. MailerLite offers a free-forever plan that includes 1,000 subscribers and 12,000 emails sent. But if this is not robust enough for you, you are able to upgrade to one of their subscription plans that are based on the number of subscribers you have. MailerLite is a great tool for those who want an easy-to-use tool that takes little time to set up..

ActiveCampaign is one of the best email marketing software for those who are looking to integrate with other tools. This is because they have hundreds of pre-built automations that allow you to personalize your campaigns for each subscriber. And if this is new to you and your team, they have you covered with a wide variety of helpful online guides or have a fast and friendly support team waiting to help you.
ActiveCampaign offers a 14-day free trial so that you can play with the full version to understand if this is the correct tool for you and your team. After the trial is over you will need to subscribe to one of their four subscription plans. These plans are priced based on the number of contacts you have. ActiveCampaign does offer a free plan but it only allows for 500 contacts. You can upgrade that to 100,000 contacts for only $405 annually. Additionally, you can increase your subscription plan to the Plus, Professional, or Enterprise plans and add CRM abilities to your software.
We enable B2B companies to identify the anonymous businesses that visit their website and personalize their experience. Your sales team can now follow up with the visitors that don't convert, while marketing can personalize your website based on firmographic information to drive up conversion rate.
Start your 14-day free trial today!

Drip is a great email marketing tool for those of you looking for software that best suits e-commerce. This is because of its sophisticated workflows, advanced segmentation, personalized triggers based on shopping behaviours, and more. This way you can ensure your visitors are receiving emails at the proper times based on behaviours and increase retention. Drip is designed to improve the experience of your shoppers and it is extremely easy to set up and use. They also offer support to assist you in the process of setting up your account if needed.
With a 14-day free trial and subscriptions ranging from $19 to $1,599 per month, there are subscription plans for everyone at every price point. As with many of the other email marketing tools, their subscription plans are based on the number of contacts. As drip is built for e-commerce, it excels in workflows, templates, lead generation forms, and more. They also include advanced segmentation that allows you to target your campaigns more accurately to increase engagement.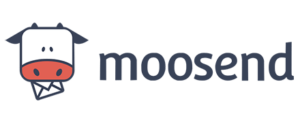 Moosend is one of the more affordable solutions on the market. This is due to the way they allow you to price either based on the number of subscribers or the number of emails sent. You are able to choose based on what would be the cheaper option for you. This is not only a cost-effective tool, but it offers a user-friendly dashboard and has powerful tools. You can choose from pre-built templates from their library or customize your own templates. Then you can send your email marketing campaigns to your audience in a timely manner.
Moosend's Free Forever plan includes 1,000 subscribers, plus there is a Pro Plan and Enterprise Plan within their tiered pricing. This tool is extremely popular due to its cost-effective pricing model, as you could imagine, but it offers much more than that. As anyone can attract customers based on pricing, but they offer robust features to ensure you find everything you need in order to reach your audience in a way that suits your business.
Wrap Up
As you can see there are similarities between many of these email marketing tools. This is the case with many tools when you are deciding on who to use. This is why it is important to understand exactly what you want and what features are most important to you. This will help you navigate through the different tools and select the one that suits you best. Each tool has its area of expertise and will perform in one aspect above others, and it is important to understand which feature is most important so you can look for a tool that focuses on that.
If integrations are most important to you as your team uses multiple tools and you want them to all connect, then you will want to find a tool that offers the most amount of integrations and is easiest to set up. Or, if you are a small-medium-sized business and may not have a ton of subscribers yet, you may want to find a tool that is flexible within their subscription plans and helps you grow. These criteria are not specific to choosing the best email marketing tool. These are criteria that are relevant to most software tools. And, are crucial to understanding what is most important to your team prior to choosing a tool.