As a B2B business owner, you understand the importance of generating warm, high-quality leads for your business. Attracting leads – and converting these leads into paying clients or customers – is what allows your business to grow.
But with so many marketing channels out there, it can be difficult to really hone in on which B2B lead gen strategies will work best for your particular business. That's because each platform has its own unique algorithm, tools, and quirks.
Here, we're covering lead generation through Facebook – the world's largest social media platform.
When used effectively, your B2B brand has massive potential when it comes to reaching more users, generating traffic, and attracting leads.
Dive into these 5 smart strategies for how to use Facebook for lead generation for your business.
1. Facebook Lead Ads
You've likely heard of Facebook Ads, but what about Facebook Lead Ads?
Introducing Facebook's fast and effective way to make lead generation easy for B2B businesses.
With Facebook Lead Ads, users can simply tap on your ad to be directed to a simple pop-up form.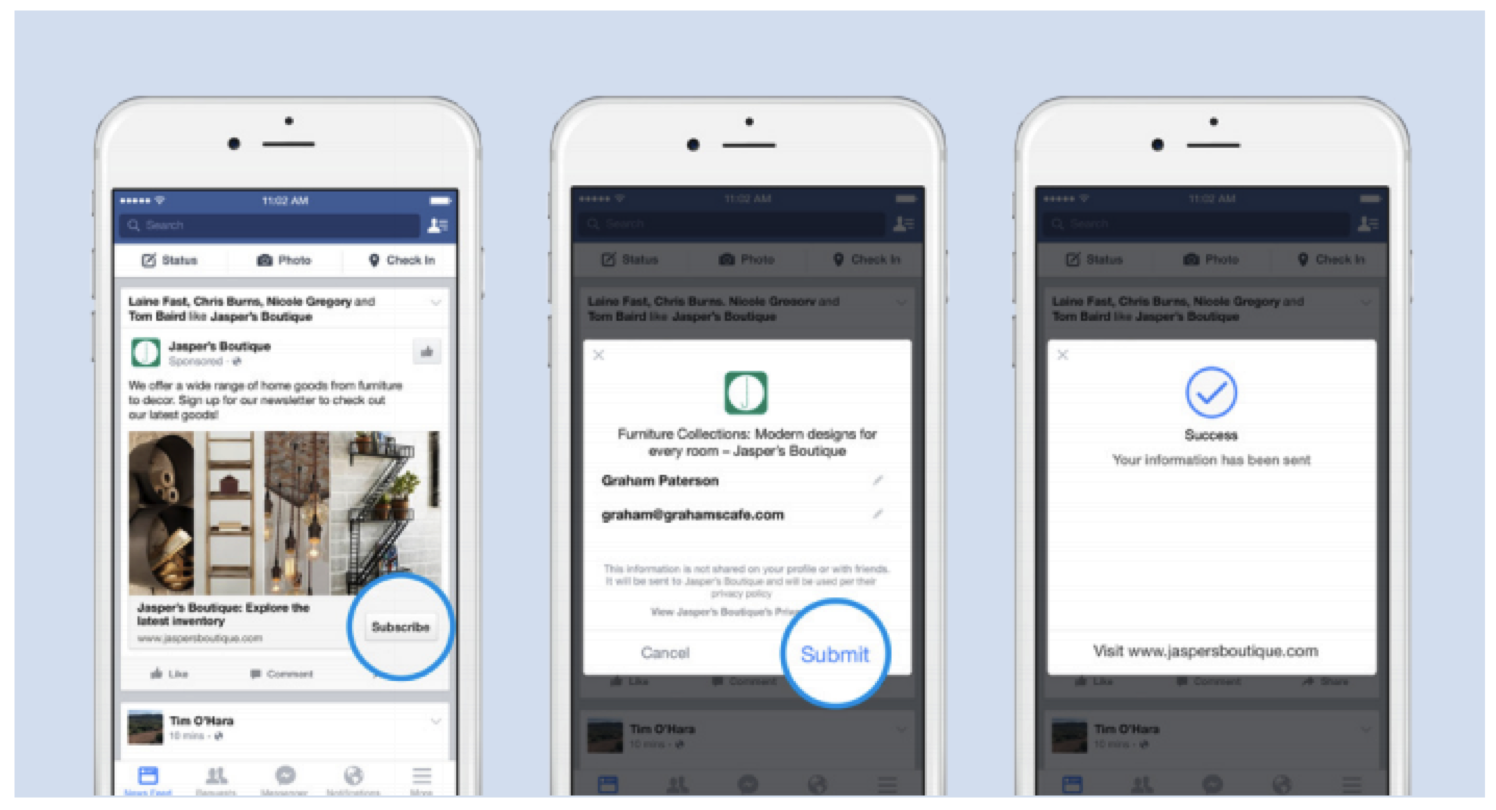 The form is already filled in with their contact information – pulled in from Facebook – so the form is ready to be sent to you with just a click of a button.
Here are just a few of the many perks of using Facebook Lead Ads:
Mobile-Friendly

– Facebook Lead Ads' forms are pre-populated, so users can send their contact information in a single click, even when on a mobile device.

Precise Targeting

– You can pair your lead ads with Facebook's existing audience targeting and ad optimization tools to help you reach the right audience.

Improve Conversion Rate

– Ready-filled forms means fewer drop-offs and more conversions.

Customizable

– Customize your ads to asks users important questions prior to sign-up.

Integrates with Your CRM

– Browse Facebook's wide

selection of integrations

to sync your leads with your chosen CRM.
With Facebook Lead Ads, you can add custom CTAs to encourage users to book an appointment, visit a product page, send you a message, and more. Then, once the form is submitted, your sales team can be notified to follow-up immediately.
This Facebook lead generation tool includes a wide range of features to help you target the right audience, entice them to convert, and follow-up with new leads as soon as possible.
Want to add Lead Forms to your Facebook Ads? Follow these step-by-step instructions.
2. Facebook Live
Don't let your nerves get the best of you – live video on Facebook can be a powerful B2B lead generation tool!
In fact, 2018 saw a 38% increase in the use of live video by businesses. More and more businesses are harnessing the power of Facebook Live to reach more customers and clients on the platform.
Facebook Live is particularly powerful because it breaks through the typical limits of organic Facebook reach. While business Facebook pages often get a few dozen eyeballs on their posts, Live videos can get 300 views or more!
As a business owner, you can go Live from your personal page or your business page, and then share the video across Facebook. You can discuss helpful tips your audience may be interested in, the launch of a new service, conduct a Q&A, and loads of other ideas.
Follow these Facebook Live best practices to broaden your reach and generate leads:
Turn on your Facebook Live camera, confirm that your camera and microphone are working, and then switch to "Live".

Add an informative and compelling description to your video.

Select your privacy and sharing setting.

Tag your business page, Facebook friends who may be interested in the video, and your location.

Respond to viewers' comments on your live video. Interact and have fun with it!

Stay focused on your topic. Answer questions.

Include a call-to-action, both in your description and at the end of your video by prompting viewers to contact you.

Click "Finish" at the end of your live video.

Go back and write responses to any comments on your video.

Save the video, share it across Facebook, and download it to add it to YouTube and/or your website.
Facebook Live works as a great lead generation tool because it allows you to add a human face to your business, building trust.
It also gives you an opportunity to position yourself as an authority in your niche. You can share valuable information and answer questions your potential clients may have.
We enable B2B companies to identify the anonymous businesses that visit their website and personalize their experience. Your sales team can now follow up with the visitors that don't convert, while marketing can personalize your website based on firmographic information to drive up conversion rate.
Start your 14-day free trial today!
3. Facebook Groups
If you spend much time on Facebook, you're likely a member of a few Facebook Groups yourself. From fishing enthusiasts to DIY crafters to marketing gurus, it seems as though there is a Facebook Group for just about everyone.
B2B businesses are no exception. There are countless business-led Facebook Groups that have grown a community of members (and potential leads).
The key here is to create a Facebook Group with the goal of providing massive value to your audience. Ask yourself, is there anything your audience wants to learn? Anything you can help them with? Identify that and make it the primary focus of your group.
For example, if you are a SaaS company, perhaps you create a group called "SaaS Hacks for Marketers", where you provide helpful tips on how marketing agencies can grow using the latest software. You can offer unbiased tips, but if a member is looking for something that your business offers, you can also present that as a solution.
Some content ideas to feature in your Facebook group include:
Question and answer sessions

Special discounts for members

Exclusive expert interviews

Weekly Facebook Live sessions

Engaging infographics

Member-contributed content (i.e. encourage members to post and engage)

Industry-related linked articles

Relevant images, memes, or gifs

Questions or poll/survey posts
Your Facebook Group should be a place where you give more than you get. If you're always about the hard sell, you'll scare off prospects. You can, however, share relevant content and position your brand as a solution if members end up needing your help.
Done effectively, you can build a massive, private following that will grow as a potential lead pool for your business to tap into.
4. Facebook Organic Reach
Facebook organic reach is near the bottom of this list because, unfortunately, many businesses have seen a decrease in organic reach from their business pages. This is likely due to the fact that Facebook wants businesses to pay for ads to broaden their reach.
However, that doesn't mean that Facebook's organic reach is dead or that you shouldn't be posting content on your business page. You'll want to use every opportunity to generate leads from this social media platform.
First, be sure to polish up your business page by adding an attractive, on-brand cover photo, business description, website link, list of services, etc. Be as thorough as possible so users know what your business is all about.
Second, create a content schedule for posting engaging Facebook content on a regular basis. You can use tools like Hootsuite to automate your posting, making organic lead gen even easier.
Some Facebook content ideas include:
Re-shared Facebook Live videos

Videos from your business YouTube channel

Links to your latest blog posts

High-quality images and infographics

Audience polls

Events – like local workshops, online webinars, etc.
Don't get tricked into thinking that Facebook organic reach is useless. Your business should still have an active presence and use the platform to generate leads on a regular basis.
5. Brand Positioning
If you're the head of your company and aim to stand out in your niche, then you can use your own authority to generate leads on Facebook.
This is particularly effective if you are well-known in your niche. If people care about what you have to say, and you get a lot of engagement on Facebook already, you have a solid opportunity to generate B2B leads from your personal profile.
As with a Facebook Group, you can use your personal profile to share high-value content to your audience. This could be in the form of Q&As, informative posts, helpful tips, Facebook Live videos, and more.
The more you talk about what you do and what your brand does, the more your reputation will grow on Facebook. Then, potential leads will be sliding into your inbox to learn more and work with you.
Never miss an opportunity to provide value to your audience. Taking an authentic approach is one of the best ways to grow your brand and generate leads directly from Facebook.
Attract New Leads to Your B2B Brand with Facebook
Fortunately, B2B brands have many opportunities to generate leads through Facebook. In fact, you don't have to invest in paid ads in order to grow your brand!
With Facebook Live, Facebook Groups, brand positioning, and more, you can turn your personal and business Facebook pages into sources of lead gen for your B2B business!