Remember when we used to aimlessly throw money into newspapers, radio, or television and hope for the best? We had no idea what our cost per lead would be. As a marketer in 2022, having access to data and analytics are critical for success. One of the most important stats that we need to track is cost per lead, or for short, CPL. To truly get the most bang for your buck, you're going to want to break it down by your different marketing channels. Provided your channels are scalable, this will tell you exactly where your marketing dollars are best spent. Next, we've put together an updated list of the average cost per lead for popular B2B marketing channels across multiple industries.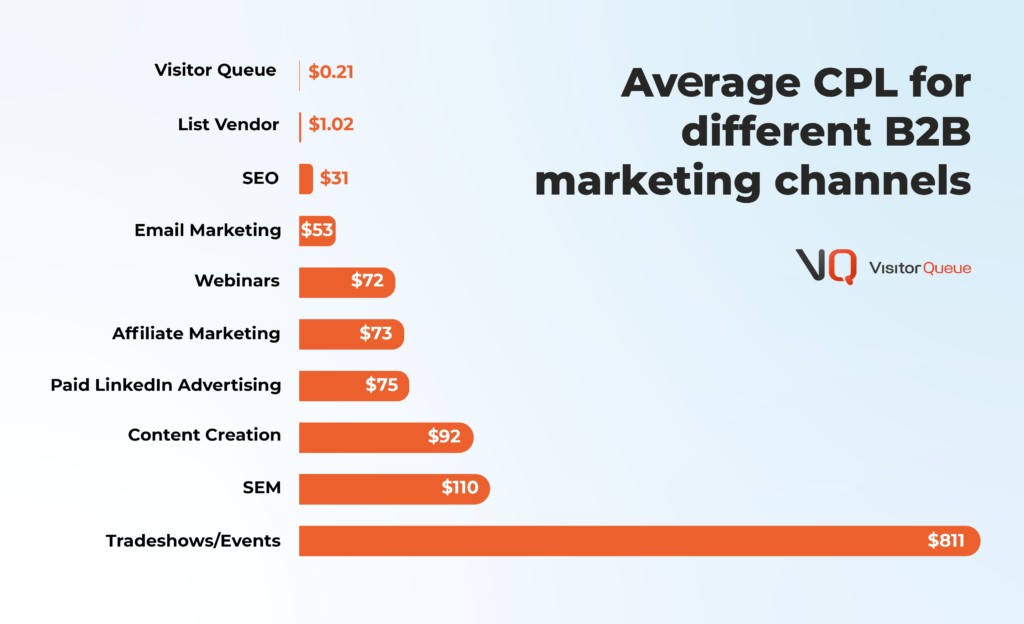 What is Cost Per Lead (CPL)?
Cost per lead, or CPL for short, is the average amount you spend on marketing (cost) to acquire one new prospect (lead). It's important to track what your CPL is for each of your marketing channels to see how successful your efforts are/were. For example, if your company decides to run a trade show booth, and your CPL is $811, you will want your customers to spend more than $811 with you over their lifetime. If they spend less with you, you could be losing out on money. If they spend more, then you know that you should keep doing what you're doing!
How do you calculate cost per lead (CPL)?
First, to calculate your CPL, you will need to add up all of your marketing spend for a given period and the number of leads you acquired in that given period. Then, divide your marketing spend by your total number of leads. Your final number is your CPL. It's important to keep the time frame the same to get an accurate number. A formula follows:
Total marketing spend
÷
Total number of leads
=
Cost per lead
Average cost per lead (CPL) vs. cost per acquisition (CPA)
These terms are sometimes used interchangeably but most commonly have two separate meanings.
CPL is the average cost to acquire a prospect.
On the other hand, cost per acquisition is the average cost to acquire a paying customer. This acquisition is much further down the funnel and is calculated when a prospect becomes a paying customer. 99.99% of the time, the cost per acquisition is higher than CPL. This is because you have to guide your lead down your sales funnel, which means more marketing and sales expenses.
CPL for email marketing
One of the most common B2B lead generation channels is email marketing. Email marketing has been one of the most popular forms of marketing for years, and beyond popular belief, it's here to stay. There are so many ways that both B2B and B2C companies can take advantage of email marketing. In another article, we covered 19 different ways you can grow your B2B email marketing list. On average, a lead from email marketing costs $53. On the high end, a lead can cost around $72, and on the low end, $33.
Average: $53
High: $72
Low: $33
CPL for Visitor Queue
Our own software, Visitor Queue, allows you to identify the companies that are visiting your website so that you can follow up with the 98% that don't convert. Although these leads aren't as strong as someone that puts in an inquiry or form, these are warm leads as they've already interacted with your website. They likely have a need for your offerings if they have ended up on your website. Depending on your plan, the average cost per lead for a Visitor Queue lead is $0.21. On the high end, a lead can cost around $0.25, and on the low end, around $0.17. As you can see, Visitor Queue is the most affordable marketing channel on the market.
Average: $0.21
High: $0.25
Low: $0.17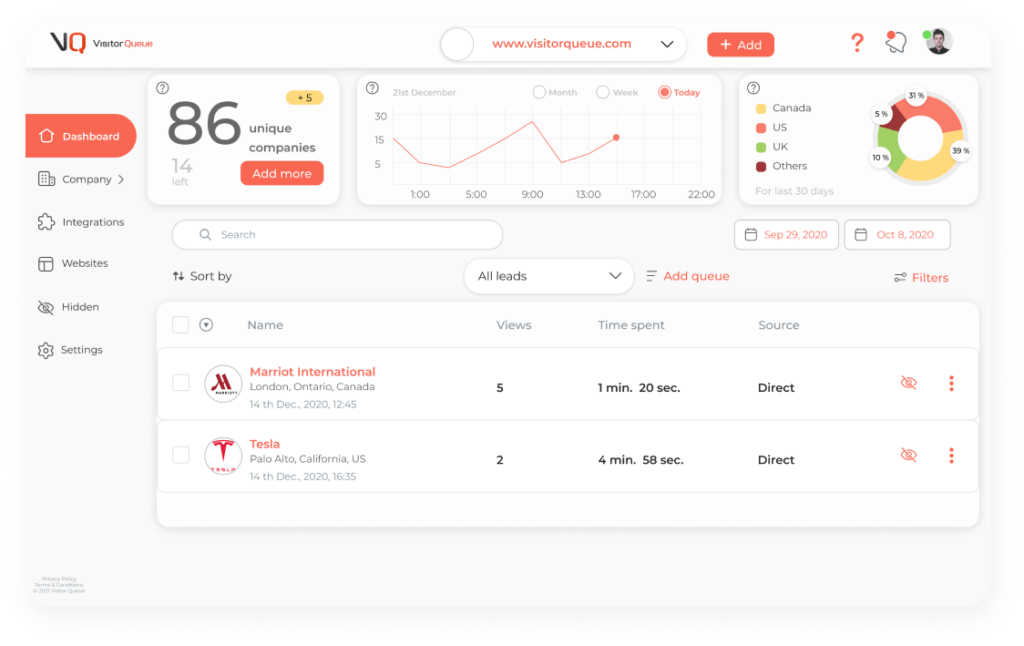 CPL for paid LinkedIn advertising
If you're a B2B business that targets medium to enterprise-level clients, LinkedIn advertising can be incredibly effective (we recommend you try lead gen forms). LinkedIn has a ton of different advertising options, including boosting posts, image and carousel ads, message ads, and more. Since LinkedIn's users are mostly made up of businesspeople, most of them share a common demographic. Because the demographic is more specific, LinkedIn makes you pay more for the high-quality leads that you will receive. On average, a lead from paid LinkedIn advertisements costs $75. The high end, a lead can cost around $99. On the other hand, the low end, around $51.
Average: $75
High: $99
Low: $51
CPL for content creation
Whether it be video, written, audio etc. a content creation strategy has the ability to spread like wildfire. High-quality content will always drive leads to your website. The most common way to share your content is on your personal or brand's social media pages. However, if you have a blog, podcast, or YouTube channel, your content can be discovered organically (which is always a win!). On average, a lead from content creation costs $92. On the high end, a lead can cost around $140, and on the low end, around $43.
Average: $92
High: $140
Low: $43
CPL for list vendors
While these are generally cold and lower quality leads, buying a lead list and getting BDRs to hammer through them can be a highly effective strategy. When looking at the average cost of a lead from a list vendor, you're looking at $1.02. On the high end, a lead can cost around $1.45, and on the low end, around $0.60. However, it can take a lot of time to find qualified leads that will actually be interested in your business.
Average: $1.02
High: $1.45
Low: $0.60
CPL for Search Engine Marketing (SEM)
 An under-utilized channel for many B2B businesses is search engine marketing (SEM) on Google, Bing, and other popular search engines. Far too often companies will rely on organic traffic to their website. But, with the over saturation on Google, it's almost impossible to organically rank high enough on search engines. SEM should be an essential part of every company's marketing plan. If you need help with Google Ads, check out this article on the 9 Best Google Ads Tips to Drive Conversions. On average, a lead from search engine marketing costs $110. On the high end, a lead can cost around $181, and on the low end, around $38.
Average: $110
High: $181
Low: $38
CPL for trade shows/events
One of the more old fashion channels on our list is hosting or attending, trade shows or events. This channel is still incredibly effective if your average client is worth >5 figures. This is because the CPL cost is extremely high, and will only pay off if you have clients that are willing to spend a lot of money with you. The average cost per lead for trade shows or events is $811. On the high end, a lead can cost around $1,442, and on the low end, around $180.
Average: $811
High: $1,442
Low: $180
CPL for Search Engine Optimization (SEO)
 We won't say this is underutilized but it is commonly overlooked by B2B organizations. Which is a big mistake when you look at the average cost per lead of $31. $31 is on the lower end of cost per lead acquisition. So, it can work for B2B companies of every size. A few examples of SEO include writing blog articles and optimizing your website with juicy content. If you are not using search engine marketing, it's crucial that you focus on improving your SEO in order to get discovered on search engines and beat out other companies. This is because the majority of searchers do not look past the first page of results, so the goal is to end up as close to first as possible. On the high end, a lead can cost around $47. On the other hand, on the low end, around $14.
Average: $31
High: $47
Low: $14
We enable B2B companies to identify the anonymous businesses visiting their website so they can follow up with them and increase revenue. 98% of website traffic leaves without converting -
start your 14-day free trial
to identify who they are today!
CPL for affiliate/referral marketing
Another tactic that has the opportunity to spread like wildfire is affiliate or referral marketing. If you are hesitant to start using affiliate and referral marketing, we recommend you read the Dropbox case – enough said. On average, a lead from referral or affiliate marketing costs $73. On the high end, the cost per lead is around $92, and on the low end, around $54.
Average: $73
High: $92
Low: $54
CPL for webinars
This was the breakout lead gen channel of 2015/2016 and still becoming increasingly popular. In addition, the average lead generated from a webinar costs $72. On the high end, you're looking at $98, and on the low end, around $45. With online meetings and webinars becoming increasingly important, webinars are also becoming more popular. Over the last year especially, we have seen businesses get creative with their webinars, with digital trade shows, conferences, and courses.
Average: $72
High: $98
Low: $45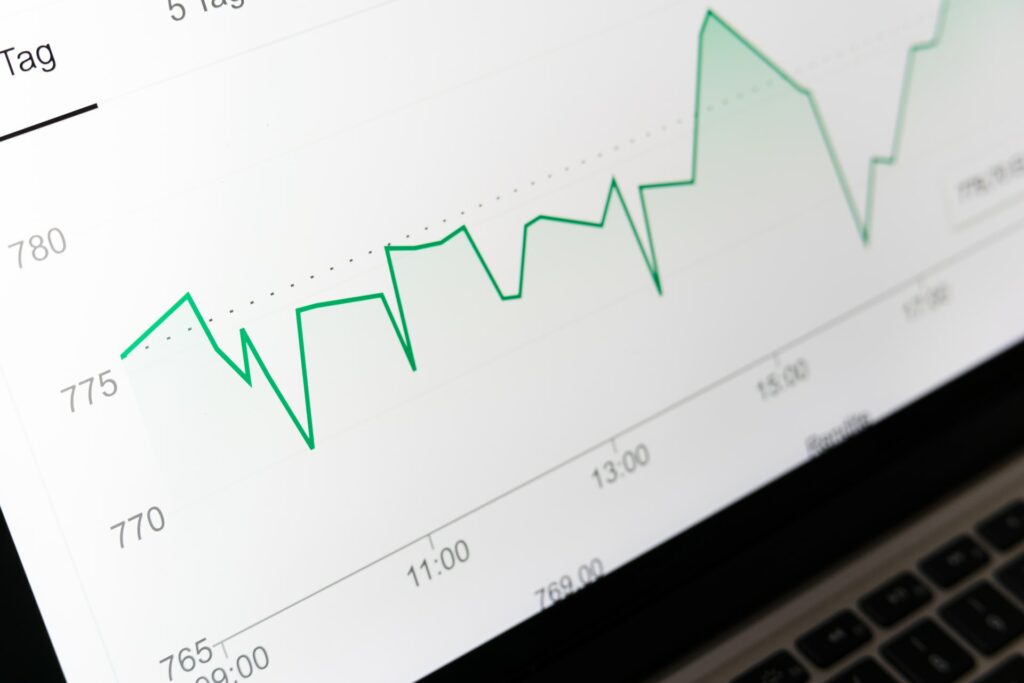 Other Metrics That Your Business Should Be Tracking
Like I mentioned earlier, tracking your metrics and data is crucial to the success of your business. How else can you measure the success of a marketing or sales initiative? Although your cost per lead metrics are crucial, there are a number of other metrics that your business should monitor in addition to CPL. The other metrics that you track depend on your business. If you need help, check out this list of 12 metrics that your business should be tracking.
Conclusion
Ensure that you factor in your industry, offering(s), and current company situation when making decisions about the channels you'll utilize in 2022. Also, test out these and additional channels for yourself as you never know what will work until you try. In conclusion, we hope these CPL averages assist you in making better marketing decisions in 2022.