As sales professionals, we're always on the lookout for the hottest B2B sales trends. New and exciting ways to meet, and exceed, our sales quota is what keeps our drive going. With 2023 expected to be the most competitive year yet, it's important to test out new B2B sales trends on a regular basis to see what prospects respond best to. But, we all know how difficult it is to find new and unique sales trends that haven't already been tested. Fortunately, we have put together this list of B2B sales trends that you need to watch out for in 2023 and beyond. 
Embrace Sales Tech
The '20s is the decade of technology. Pretty much anything you do on a daily basis there will be a sales tool or software that can automatically do it for you. And, by using sales tech you can speed up daily tasks, easily complete tasks that you don't enjoy, and simplify actions that are repetitive. As a result, you can free up more of your time and use that time to generate even more leads for the business. Below are a few of my favorite sales tools that can help you exceed your sales goals this year.
Take Advantage of Your CRM
If you don't have a CRM, then researching and choosing a CRM is my first recommendation. If you do have a CRM, ensure that you're using it to its fullest potential. Far too often I see sales reps leaving their CRM to their marketing team instead of them being equally involved. Depending on your CRM, you have the ability to follow up with prospects automatically, schedule meetings, qualify leads, and rank leads based on certain criteria. By automating all of these processes, you can end up saving hours a week doing tedious tasks. And, spend more time generating leads.
Identify Your Website Visitors
Companies that visit your website are there for a reason. They are gathering information about what you have to offer, comparing you to your competitors, and weighing out their options. Since you already know that your website visitors are interested in what you have to offer, shouldn't you identify who they were and reach out to them? With the help of Visitor Queue, you can. Visitor Queue is a B2B lead generation software that can identify the companies that visit your website through IP address reversal. From there, they are able to show you how the company was acquired, what pages they viewed, and how long they spent on each page. Additionally, you can view the employees that work at each company, along with their contact information like email addresses, phone numbers, and LinkedIn channels to help you reach out. Since you know exactly what pages they viewed, you can easily frame your pitch based on what they've shown the most interest in. Start your 14-day free trial of Visitor Queue today and stop losing leads!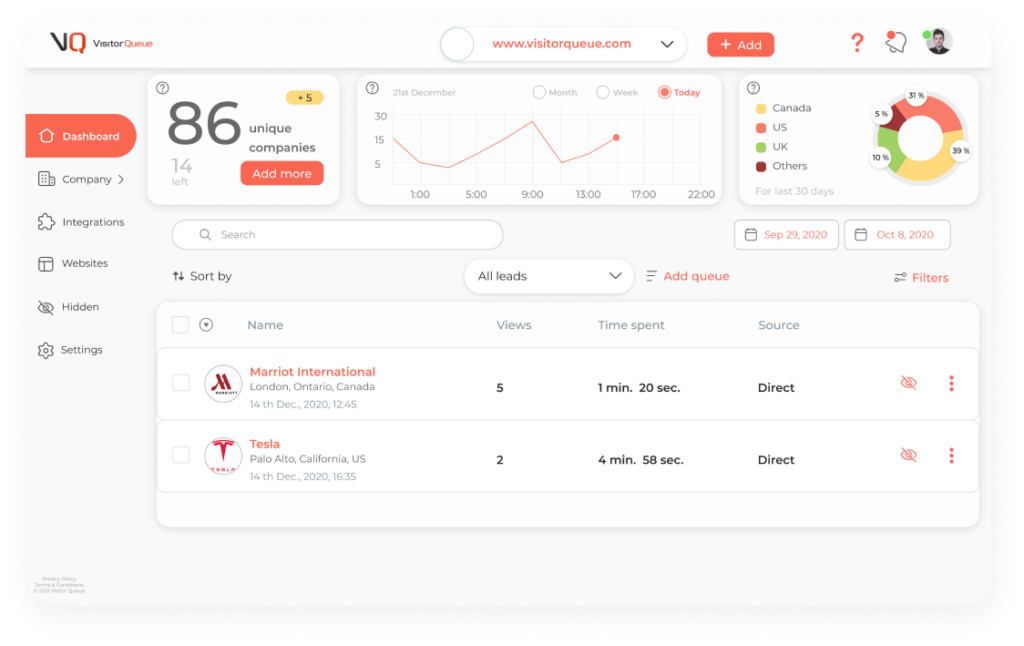 LinkedIn Sales Navigator
LinkedIn Sales Navigator has been around for a few years now, but it continues to grow in popularity. As a sales rep, you're probably familiar with how great LinkedIn is at helping you generate and qualify leads. But, LinkedIn Sales Navigator provides even more information about potential prospects. By entering in your target market information, Sales Navigator will return companies and profiles of people who meet your criteria. This valuable insight comes at a pretty steep cost, so be sure to research the best ways to use Sales Navigator before you commit.
Understanding Different Generations
You're probably familiar with target markets, and who your target markets are. Now more than ever we need to be conscious and understand different generations within these target markets. If you're trying to sell to a B2B marketing company, and the person you're talking to is 55 years old, you'll have to change the way you reach out to them compared to a 25 year old at the same company. With more and more differences between generations arising, this is a crucial concept to keep in mind when selling. But, keep in mind that stereotypes are not always the best way to understand different generations. Just because someone is 25 does not mean they are a pro with tech.
Trade Shows
After almost two years of not having trade shows in some countries, companies and salespeople are eager to attend trade shows. And, you can expect them to be bigger and better than ever. While trade shows are not the best way to sell for every company due to high expenses, they are an amazing way for companies to get their brand in front of potentially thousands of qualified prospects. When attending a trade show, you can optimize your booth, games, giveaways, and more to drive conversions. And, it's a great way to stand out from your competition.
SMS
SMS, or short message service, is taking advantage of text messaging to contact your prospects and customers. B2C companies have been taking advantage of texting prospects and customers for years. And, it's finally becoming a trend for B2B companies to do the same. Texting your prospects is more casual than emailing or calling, and can help you build a relationship with them. Most CRMs now have the ability to send text messages which makes it even easier to manage texts. Keep in mind that you want to ensure all communications are professional. Which can be a little harder to do when texting as we want to be too casual.
Value-Based Selling
Value-based selling has been popular for the past few years. More and more sales reps are seeing the importance of value-based sales as it continues to grow in popularity. Of course, you will be aware of what solution your product solves. But, it's important to keep in mind that every prospect that you talk to will have a different need for it. And, it's important to understand their specific needs compared to the overall solution that you can provide them with. As an example, someone from your prospect's tech department might need to be reassured in a completely different way than their marketers need to be. Agile thinking and staying on your toes is one of the best ways to turn prospects into paying customers.
We enable B2B companies to identify the anonymous businesses that visit their website and personalize their experience. Your sales team can now follow up with the visitors that don't convert, while marketing can personalize your website based on firmographic information to drive up conversion rate.
Start your 14-day free trial today!
Omnichannel Sales
We typically hear the term "omnichannel" used when referring to marketing tactics. But, it's also a very useful concept to keep in mind when you're trying to enhance your current sales tactics. Essentially, omnichannel refers to ensuring that all of your communications with your lead aligns with your company's marketing, branding, and other places that your brand voice is recognizable. An example of this would be a salesperson with an email signature that does not align with their company's branding. If your branding is black and blue, and your salesperson uses yellow and red in their email signature, it can be confusing. This confusion can lead to your prospect not knowing what company you belong to, and ultimately not trusting you. There are a number of different ways that you can ensure that you're keeping omnichannel sales in mind.
Collaboration
Collaboration is key. The most successful businesses are the ones that collaborate not just within the sales department. But also with marketing, customer service, and management. You should talk to your customer service department to see if there are common questions that prospects have. And, try to include those answers to them in your sales pitch. Then, talk to your marketing department and share what you learnt from customer service, in addition to learning about campaigns they are running, new website features, and other aspects of your company that you may not have realized before. Gaining as much knowledge as possible about your company and prospects will help you better understand prospective customer's needs and wants. As a result, you will be able to better combat their hesitations and make more sales.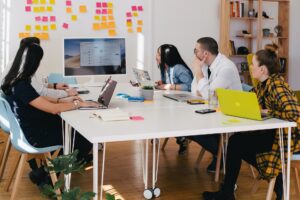 Referrals
While referrals are not a new sales trend, the importance of referrals should still be at the forefront of your sales tactics. Companies that have a referral program are able to generate a lot of high-quality clients who have a higher likelihood of being a long-term client. By incentivising your current clients to refer others through a recurring commission, discount, or other rewards, you will be able to entice them to bring in more prospects. You can introduce your referral program to your most loyal clients by using your CRM to send them a personalized referral email, boasting the incentive they would receive if they referred someone else who then signed up for a paid plan.
Hybrid Sales
Over the past few years, a large portion of the workforce has started working from home. And because of this, many of our sales tactics have had to drastically change and adapt. While a lot of companies have switched to working from home permanently, there are some companies that have introduced hybrid work or going back to the office full-time. Because of this, you're in the position to also work hybridly. If a company is fully remote, communicate with them remotely. But, if a company is at the office, try to take your meeting there, if applicable. Showing your prospects that you are willing and able to provide them with a great sales experience will bode well for you in the long-run. I don't know about you, but I definitely miss the feeling of leaving a sales pitch and I knew it was going to land me the prospect!
Wrap Up
There are a ton of different B2B sales trends to watch out for in 2023. If done right, a lot of the B2B sales trends on this list can help you generate leads, convert leads into paying customers, and build lasting relationships with them. The trend that you choose should be based on your goals and your company itself. Weigh out different avenues that you could take, and put them to use. If you're interested in a few different sales tactics, you can try A/B testing on your prospects to see which tactic works best for your goals.