In the eighth episode of What The Growth!?, Visitor Queue's Chief Executive and Co-founder, Nick Hollinger, goes over how to quickly grow your business by using a company's privacy policy, terms of service or cookie policy to discover a company's tech/marketing stack.
Cookies
With data privacy laws like GDPR, CCPA and others, it's often mandated that companies disclose services they share data with and cookies that they use.
This information is usually found in the terms of service, cookie policy or the privacy policy.
Let's use an example right from the Visitor Queue website. If we dive into our cookie policy, you'll see that we use a number of different cookies on our website.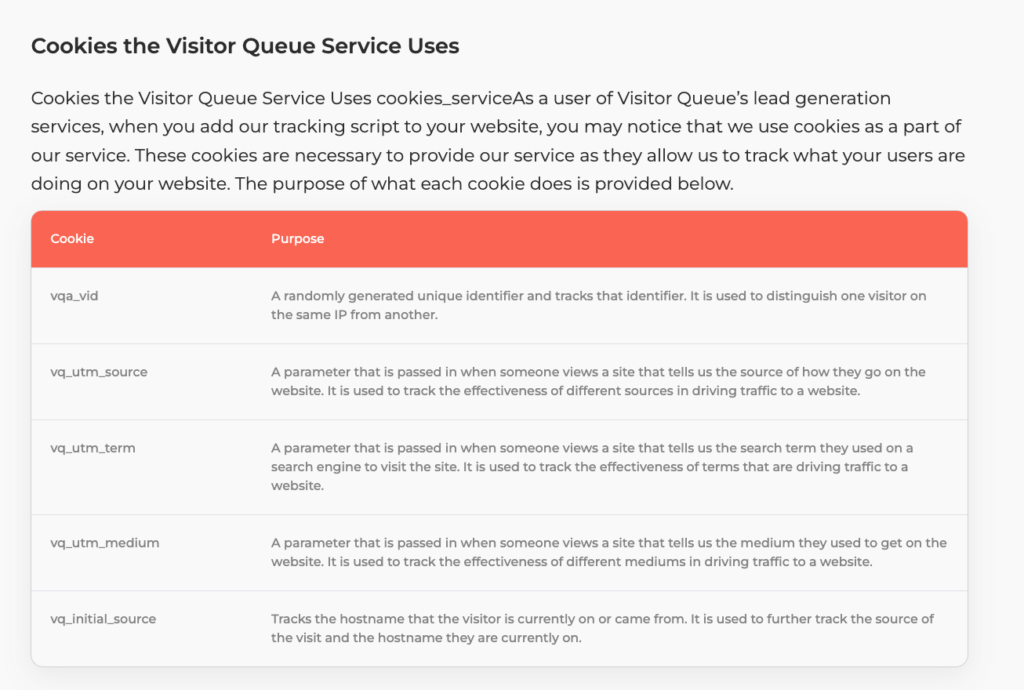 You can see that we use cookies from LeadDyno, meaning we have an affiliate program. In addition, cookies from AgileCRM, so you know which CRM. We are also using and the Facebook cookie, so we're likely running Facebook ads.
And so on. Based on this, you have more insight into what our marketing stack looks like.
Note, that you can also see most of this by inspecting the website as well but the cookie policy is usually easier to understand.
We enable B2B companies to identify the anonymous businesses that visit their website and personalize their experience. Your sales team can now follow up with the visitors that don't convert, while marketing can personalize your website based on firmographic information to drive up conversion rate.
Start your 14-day free trial today!
Privacy Policy
Then if we look into the privacy policy, you can learn even more, including the software we use to run our application like hunter.io and full contact and more like calendly.com and our own software that make up parts of our marketing stack.
Now knowing this information, you have an idea of what's working for us. So, you can now look at doing the same for your company!
Privacy law may be frustrating at times to stay up to date with. But, it does have this one unintentional benefit to help you stay up to date on competitors.
Bonus tip: Don't just look at competitor's marketing/tech stack! Take a look at complementary companies or other companies doing well in similar markets. This can help you to get a better understanding of what's working and what isn't.