For most customers, the decision to purchase from you will not take place in the first or last interaction with your business. The more realistic scenario is that your customers will have multiple touchpoints across many platforms. This makes your job as a marketer difficult, but exciting. Platforms like Google Analytics help point you in the right direction. As a marketer, you want to fully understand your customer's journey. So you can better target them as they develop through their journey and also make it feel more personalized. This is why getting your Google Analytics data into Salesforce is so important as you get to centralize your data.

If you already utilize Google Analytics 360 and Salesforce you have tools to best serve you (more on that hidden gem later). You but only need to take it one step further to get your Google Analytics data into Salesforce. The new fully seamless integration between the most popular CRM tool and the world's largest data silo gives you full control of your data and how you wish to use it. This new integration gives you the power to analyze the customer's full journey. Allowing you to understand how your customers interact with you. 
Google Analytics vs. Google Analytics 360
Yes, you will need a Google Analytics 360 account to transfer data to Salesforce. The main difference between Google Analytics and Google Analytics 360 is the amount of data that is provided. For a lot of companies, Google Analytics supplies more than enough information, especially if your team doesn't have an extensive marketing background. However, if you do have a Google Analytics 360 account, then you will be able to dive deeper into what your website visitors are interested in, as well as transfer the data to different software, like Salesforce. Note: Google Analytics 360 can cost upwards of $150,000 a year, so again, Google Analytics is more than enough for most companies as it is free.
You Can Have Your Cake, And Eat It Too!
Having access to all of this data is simply a step in the right direction. The fun comes after. I can already see the smiles on your marketer's faces grow stretching ear to ear. Thinking about how they can utilize this newfound data on your customer's journey. 
By combining the use of Google Analytics advanced attribution analysis and the behavioral data from Salesforce you can understand which marketing efforts are effective with your customers in the different stages of their journey. Along with having the ability to create Google Analytics audiences for remarketing to your customers along the way. This can help you better communicate with them. By getting your Google Analytics data into Salesforce it allows you to learn about your clients. Then, you can create larger databases.
By integrating these two heavyweights you finally have full control over your data. You can use it how you please by pushing it into either of these two platforms to better serve your needs. All of this newly obtained data will give your teams an in-depth look at the customer journey. So, they are better targeted, followed up with, and continuously served.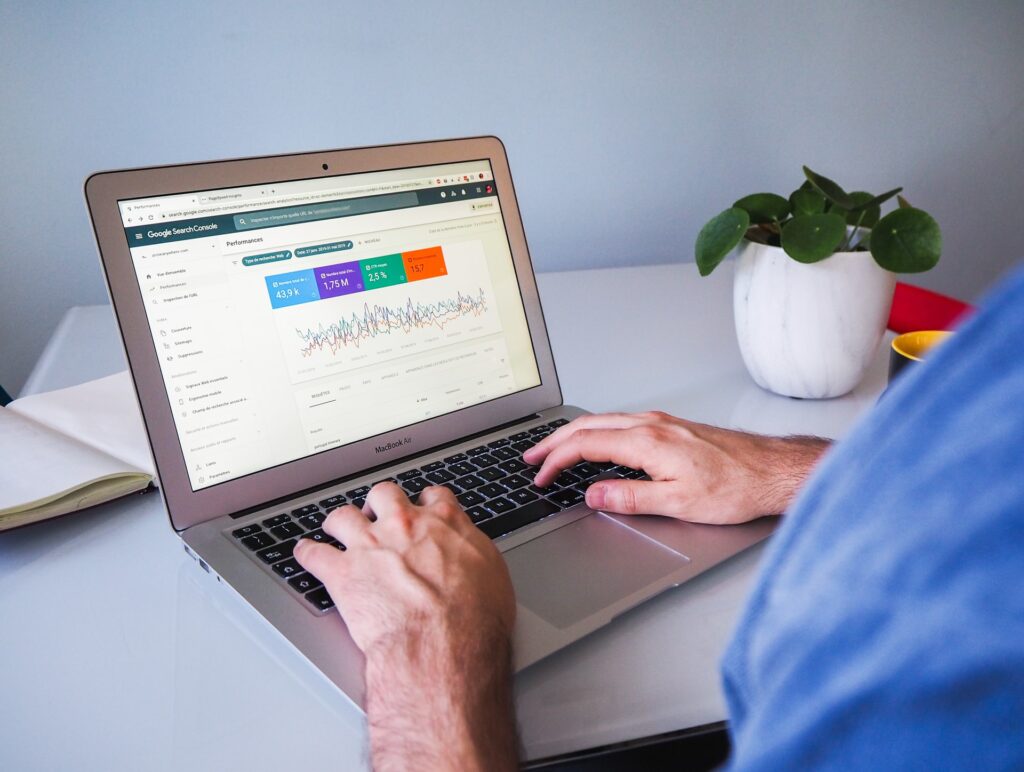 Now, What Do I Need?
There are a few things you will need before you can approach this integration.
Salesforce Marketing Cloud + Journey Builder
SFMC + GA 360 Connector
GA 360
An Admin account that spans both SFMC + GA 360
After you have checked those boxes you are off to the races and can start your integration. The process is very easy and simple to use afterward. Just follow these simple steps:
Admin > Property Settings > Product Linking > Salesforce Marketing Cloud
Create Link
Authenticate
Configure and Save Link
Now you are all set to better understand your customer's journey and help them along the way!
We enable B2B companies to identify the anonymous businesses that visit their website and personalize their experience. Your sales team can now follow up with the visitors that don't convert, while marketing can personalize your website based on firmographic information to drive up conversion rate.
Start your 14-day free trial today!
Everyone Wants To Be A Superhero, Now You Have The Power
Through the use of Google Analytics 360, when lead information is available you have the ability to wield this power to create audience segments for your customer's journey (stick around until the end to see how to unlock expert mode for this power). You can classify these leads however you would like and make it as easy as possible for you. 
Through the use of these segments you have created for your leads, you can dig deep into the marketing touchpoints that reached these leads. You will be able to see if other marketing efforts are better at bringing in qualified vs. unqualified leads and adapt your tactics accordingly. You are also able to tell whether your marketing tactics are supporting each other. Or, in the eyes of your customers or if they are falling short in the development process. 
Your sales and marketing team will look up to you like you solved all of their life's problems. They are now able to follow all of the customer's journeys and fully understand what works and what doesn't. With these tools, your sales team will know exactly who is in the position to buy. On the other hand, who will need a gentle nudge in the right direction. Your marketing team will understand what messages resonate with your customers and leverage them.
Don't Just Listen, Act!
Through the use of the segment tracking mentioned above, you can also track how these customers interact with your content. And, how it affects the conversations with these customers. By using Google Analytics Goals and eCommerce tracking you can evaluate how efficient your site is at developing your leads to making a purchase decision and converting them.

Through an analysis like this, you can take a deeper dive into where your message is failing to move customers through their journey. By better understanding these shortcomings you can alter your message in specific positions along the customer journey to stop losing customers. Example: Your marketing message walks customers through the products then follow-up services but you find customers leaving halfway through but other customers going right to the follow-up services. You can then alter your message to the follow-up services for your products as your customers are finding how they are supported more important. You may find out that the customers who do make it all the way through their journey read 4+ pages on your product/service and visit your site more than 2 times, or that they spend "X" amount of time on your site.

With these types of insights, you can focus on driving customers to multiple pages and a longer time on site to develop them further in the purchasing cycle. You can also set a target of customers who have visited the site before to bring them back to your marketing pages. Through the use of these two platforms (and one more – keep reading) you can fully understand each one of your customers every step of the way and target them individually.
Be Unique, Make It Custom
As a Google Analytics 360 customer, you have access to multiple different settings, analytics, and features. One being Custom Funnels. With this feature, you can complete custom-funnels relating to interactions typically only found in Salesforce when a sales rep calls a lead. The Custom Funnel you make will more accurately describe the customer's complete journey. When you start to analyze these funnels you will understand how all of your marketing touchpoints impact the customer during their journey.
What You Are Missing
The two platforms integrating together is nothing but a match made in heaven, but who is to say it can't get better? Why not take all of these analytics one step further and cover all of your bases. Through the use of Visitor Queue alongside Google Analytics 360 and Salesforce is nothing short of perfection.
Visitor Queue is an anonymous visitor identification tool that allows you to see who visited your website. Also when they visited, where they came from, the pages they visited, the time spent on your site, the visitor's location, key contact details, and much more. Visitor Queue achieves this through a personalized tracking script on the header of your website. Allow us to do what we do best, give you the information you most need to identify your visitors so that you can follow up. Through our integration with Salesforce, you can push your lead data into Salesforce.

We aim to give your sales and marketing team an industry-leading edge. So, that you can continue to grow, but exponentially faster with the use of our platform along with these two heavy hitters.
In the coming months, our Salesforce V2 integration will be launched. It will be the first of its kind in our industry. Needless to say, we are beyond excited here at Visitor Queue to have this integration coming out for you. In the new V2 integration Visitor Queue will live natively within your Salesforce dashboard as a widget. Allowing you a 2-way integration and have complete control over your Visitor Queue data as well as Salesforce data.
Are There More Software That I can Integrate With?
Yup! There are hundreds of other platforms out there that you can integrate with both Google Analytics 360 and Salesforce. The best thing about both of these software is that they are both the largest in their category, which means they have the most features. Lucky for you, they are able to integrate with all of the apps that you use on a daily basis, making your life just a little easier. If you are interested to see the other software that can integrate with them, click here: Salesforce Integrations | Google Analytics 360 Integrations
Wrap Up
As you can see, getting Google Analytics data into Salesforce can enhance your customer experience and customer journey. If you have both Google Analytics and Salesforce, why wouldn't you want to take advantage of all of the benefits? Don't forget to take advantage of even more data by integrating your Visitor Queue account with Salesforce. As always, if you have any questions about how Visitor Queue can increase your revenue by 10-20%, do not hesitate to reach out!