Do you ever do a little online shopping, end up not purchasing, and then ads for that business follow you on Facebook for weeks? This happens to me all of the time, and that is thanks to remarketing ads. The truth is, only 2% of people who visit your website are converting. The other 98% of website visitors who do not convert fall out of your marketing funnel at some point. This is where remarketing can help. Remarketing campaigns remind the consumer of what they were looking at, in hopes that they will visit your site again, and then convert.
What is Remarketing?
The technical definition of remarketing is the practice of serving advertisements across predetermined online platforms that have already visited your website. You may also hear remarketing referred to as retargeting, but they mean the same thing. For a website to use remarketing, it must use cookies. When you visit a website, and you click "Accept" on the cookie policy, this allows the website the ability to serve you relevant advertising based on what you were interested in on their website. In fact, customers who see retargeted ads are 70% more likely to convert on your website. Before we get into the best platforms for remarketing, we're going to talk about the types of remarketing.
Types of Remarketing
The type of remarketing you use is important based on the goals of your campaign, target market, and social media platforms you currently use.
Display Remarketing/Standard Remarketing: When using this form, you will show your ads to your past website visitors as they browse sites and/or apps that have display advertisements enabled. This includes sites like YouTube, blog pages, and email sites.
Search Remarketing: Search remarketing is a great opportunity for smaller businesses. If you have had a consumer look at your site, and then they search for relevant topics on a search engine, your site can be served to them on the results page, above larger businesses.
Video Remarketing: This form of remarketing will show advertisements to people who have interacted with your videos, website or YouTube channel. The advertisements may be shown through YouTube, social media, or any other site that uses video.
Dynamic Remarketing: Let's say you are shopping for clothes on a website. You click on a pair of jeans you like, but you don't end up purchasing. Later that day you receive an advertisement on Instagram that features that exact pair of jeans. That would be a dynamic remarketing ad! The emphasis of dynamic remarketing is showing you the exact product that you have already shown interest in.
Customer List Remarketing: In order to do customer list remarketing, you must upload lists of contact information that your customers have previously provided you with. You can collect this information through subscriptions, email lists, signing in via Gmail, etc. When you have this information, you are then able to show these individuals ads across several marketing platforms.
Benefits of Using Remarking as a B2B Company
Remarketing is a great tactic that companies of all sizes and types should take advantage of. It is an affordable form of advertising that can keep potential customers engaged. At the same time, it helps to build brand awareness, which is helpful when a potential customer is comparing a competitor's products/services. Finally, the leads that are generated through remarketing are highly qualified, as they are "warm" leads since they are already interested in your business. Keep reading to find the best platforms for B2B remarketing.
1. Google
If you are already advertising on Google, to enable remarketing, you will need to add the Google Remarketing Code to your website. It is often referred to as a tag or pixel. This code is customizable and will work with Google's other platforms (YouTube, LinkedIn, The New York Times, etc). Standard remarketing, dynamic remarketing, customer list remarketing, and video remarketing are all available with Google, so you have plenty of options to reach your leads! Similar to Google Ads, you pay per click. The average cost for remarketing on Google is between $0.66 to $1.23 USD per click. This means your customers will still be able to view your ads, and even if they don't click, it will build brand awareness for free.
2. LinkedIn
In order to remarket on LinkedIn, you will need to install the LinkedIn Insight Tag on your website. LinkedIn offers customer list, dynamic, and display advertising. LinkedIn advertising can get expensive, with the average cost per click being $5.26 USD. But, this is because the people using LinkedIn are very specific and professionals, so they can have high conversion rates on products like software and professional services like real estate. LinkedIn also has in-depth courses and information pages that will walk you through the process step by step. Check out this complete guide to LinkedIn marketing to learn more about how your B2B company can succeed.
3. Facebook
You will need to add the Facebook Tracking Pixel to your website in order to use this feature (but it also works on Instagram, yay!). Facebook is a perfect platform to remarket on since the average Facebook user spends nearly an hour on Facebook per day. If a potential customer has looked at your site, you can use a remarketing coupon code like FACEBOOK10 at checkout for 10% off. This is helpful because you can easily see how many people are using the remarketing discount code, instead of struggling through Google Analytics to perform attribution. In addition, you don't need to use Facebook remarketing to sell products on your site. You can ask customers to like your page, download content, or subscribe to your email list, the options are limitless with Facebook!
4. YouTube
YouTube is a great platform to use if your product or service is not tangible. Through video remarketing, you can demonstrate your product in a short period of time, interest your consumer, and include a strong call to action. If done right, this will leave your customer curious and wanting more! In-video advertising is very effective and can be expensive. Fortunately, you can also use search and display advertisements on YouTube. YouTube is the second largest search engine (after Google), so you will still have plenty of opportunities to advertise!
5. Quora
In 2017, Quora announced they would join the remarketing game. To use this feature, you will need a Quora Ads manager account, and to install the Quora Conversion Pixel code to your website. Quora is a great place to use remarketing because users could be looking at your competition. Quora uses pay per impression advertising, but generally there will be fewer impressions than Google or another platform. In my experience, a lot of B2B businesses don't advertise on Quora because they don't think their target market uses it. But, on average Quora has nearly 300 million monthly active users, with 35% of Americans using it.
6. Twitter
With Twitter, you can remarket to people who have visited your website, subscribed to your newsletter, or even interacted with your business on Twitter. These campaigns are managed through the Audiences Tool on your Twitter Ads account. In the account, you can customize your audience. By doing this, you will get more qualified engagement, and will be more likely to convert. In addition, you can choose if you want to target someone using a computer or the Twitter app on their phone. The average cost per click is $0.38 USD per click. Twitter also has user-friendly Twitter Ads analytics that everyone can understand!
7. Instagram
Since Facebook owns Instagram, you will have to install the Facebook Tracking Pixel to use Instagram remarketing. Instagram is a great way to visually engage your consumer. Since the average person will only watch about 3-10 seconds of Instagram content, it is best to advertise products that do not need an in-depth explanation. But, you have the option to advertise on people's dashboards, or on Instagram Stories. Similar to Facebook, you can also advertise your page in order to get more followers.
Need More Leads?
While remarketing is great, there are other ways to generate highly qualified leads. Visitor Queue is a lead generation software that identifies businesses who visit your website. We provide emails, phone numbers, social media pages and more, to contact the businesses who are interested in your site. Visitor Queue is easy to use, and the most cost-effective lead generation software in the industry. Plus, we allow unlimited users, websites, filtering, and customizable features that will ensure you generate the highest quality leads.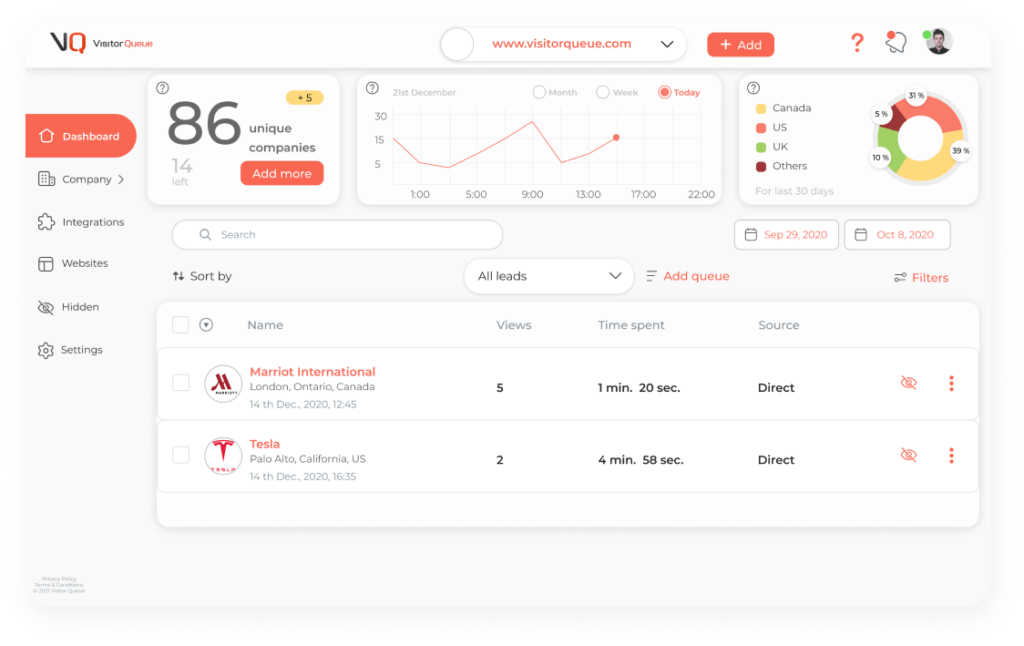 Which is Best for B2B Companies?
Every business is different, so there is no definite answer to which platform will close the most leads. In my experience, I would suggest using at least three platforms mentioned on this list. From there, you can determine which platform drives the most success. Then, you can keep certain platforms running, and then ditch the ones you may not like for a new one. If you have any questions about how Visitor Queue can help you generate more leads, let us know.