As a B2B marketing manager, lead generation is constantly on our minds. We are always trying to generate more and more leads to fill our sales funnel, and give our sales team a list of high-quality leads to follow up with. But, we all know that it's not as easy as it sounds. It can seem impossible to generate high-quality leads that are interested in what your company has to offer. That's exactly why we put together this list of the top 15 B2B lead generation companies to work with and drive revenue. First, let's define what lead generation is.
Lead Generation Defined
We constantly hear the term "lead generation" in the industry. But, what does it really mean? Essentially, lead generation is the process of collecting contact information of people that fit within your target audience. There are a number of different ways that you can generate leads, including website visitor identification, Google Chrome Extensions, generating email lists, and much more. How your company generates leads will depend on your offering, how large or small your sales team is, and how your customer journey normally plays out. Considering all of this, we have put together a list of the top 15 B2B lead generation companies that almost any B2B company can benefit from.
In first place on our list of the top B2B lead generation companies to work with is Visitor Queue. Visitor Queue is a B2B lead generation and website personalization software that aims to help companies across the globe increase their revenue. Through our lead generation, we are able to identify the anonymous companies that visit your website using a unique form of IP address reversal. We also include information about each company including size, location, industry, links to social media platforms, and other firmographics. As well as employee contact information like email addresses, phone numbers, and LinkedIn channels to help you reach out and close more deals.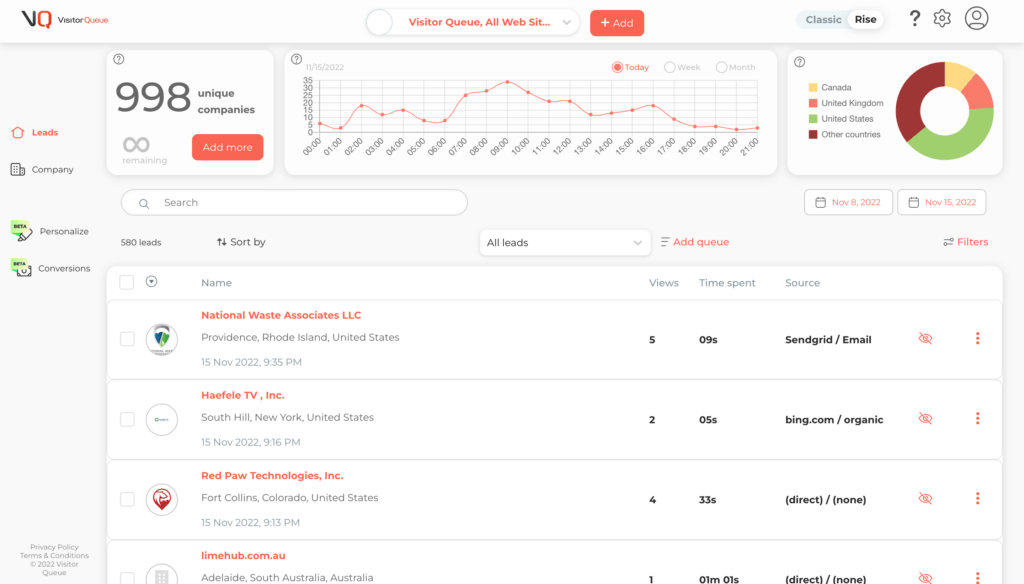 In addition to website visitor identification, we have also recently launched our new website personalization add on. Show your website visitors a custom version of your website based on their firmographic information. As an example, if you work with companies of all sizes, you can show an enterprise company case studies, use cases, and testimonials from other enterprise-sized companies. On the other hand, you can show small companies content that is relevant to their specific needs. We have 4.5 out of 5 starts on G2 Crowd. Start your 14-day free trial of Visitor Queue today and increase revenue by 20%.
Demandbase is an account intelligence software that tracks and analyzes every step of your buyer journey. Wherever and however you interact with your clients, Demandbase will help you organize your sales and marketing initiatives. They focus on helping your company provide an omnichannel experience for your clients. A few of their key features include the ability to identify cross-sell and upsell opportunities, personalized customer interactions, and identify potential churn risks. Demandbase has 4.3 out of 5 stars on G2 Crowd.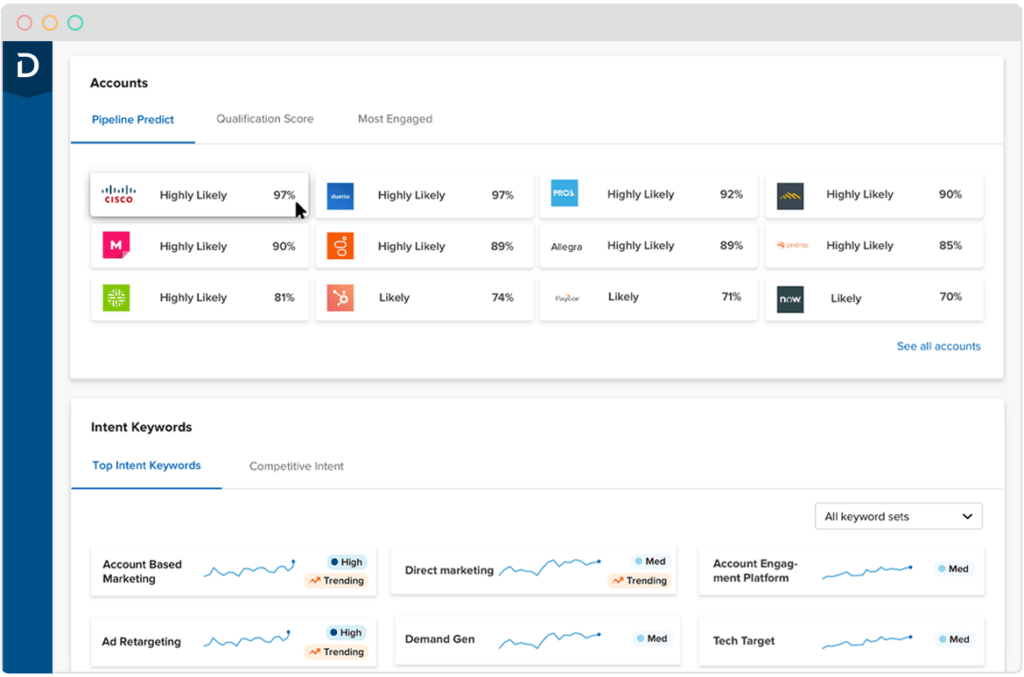 Lusha aims to help their clients establish fast and true connections with their prospects as well as current customers. They have built their company on the idea that B2B engagement is based on trust. Lusha helps over 800,000 sales representatives across the globe enhance the way they communicate and engage their prospective clients. They offer a Chrome Extension that can generate leads right from a company's website. Lusha has 4.3 out of 5 stars on G2.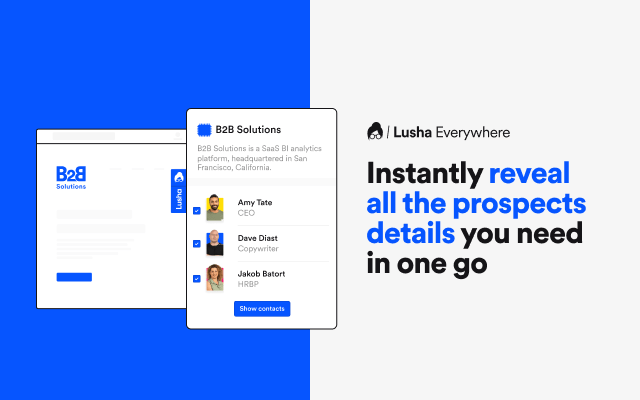 RocketReach also offers a Chrome Extension that can generate contact information from websites that you visit. You are able to search through their database of contacts based on specific criteria in order to find contacts. They pull information from LinkedIn as well as their own database to allow you to search for specific attributes, like Marketing Managers in Houston, Texas and have a degree in Communications. Key clients include Disney, Amazon, Adobe, Google, and Microsoft. RocketReach has 4.5 out of 5 stars on G2 Crowd.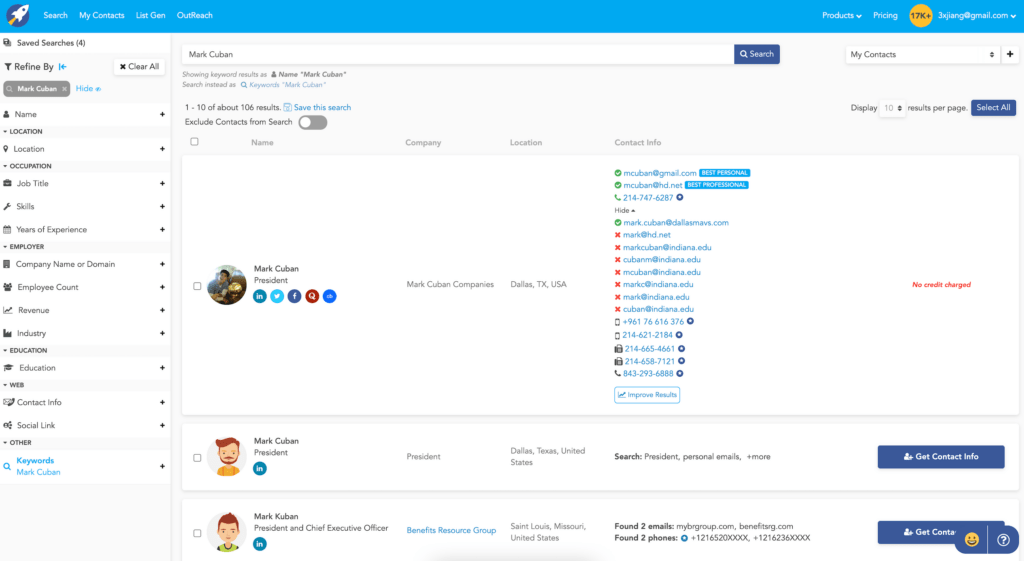 Hubspot is most well known for their CRM, but they also offer an impressive line up of sales enrichment features. They include lead capture and contact insight features, including scraping pre-existing forms that you have on your website, and automatically adding those contacts to your contact database. Within Hubspot you can build forms and pop ups to entice your website visitors and collect contact information. Since Hubspot is such a large software company, sometimes it can be intimidating to get started. But, they offer a wide range of plans and features that you can choose based on your company's needs. Hubspot has 4.4 out of 5 stars on G2 Crowd.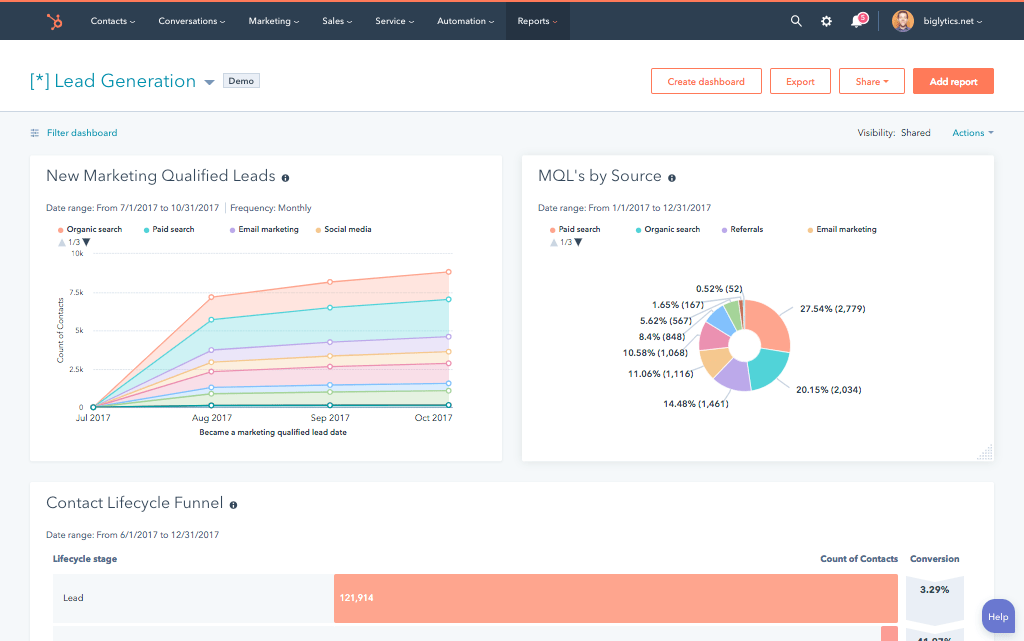 CIENCE is a PaaS (People as a Service) company that works with B2B businesses to generate high-quality leads. Their goal is to test and experiment with different strategies to assist businesses in attracting prospects and building long-term partnerships. Their team of more than 550 employees offers lead generation, conversion optimization, voice services, CRM consulting, and more. They can help you launch a sequence of marketing campaigns that will attract the right target audience, at the right time. CIENCE has 4.0 stars out of 5 on G2 Crowd.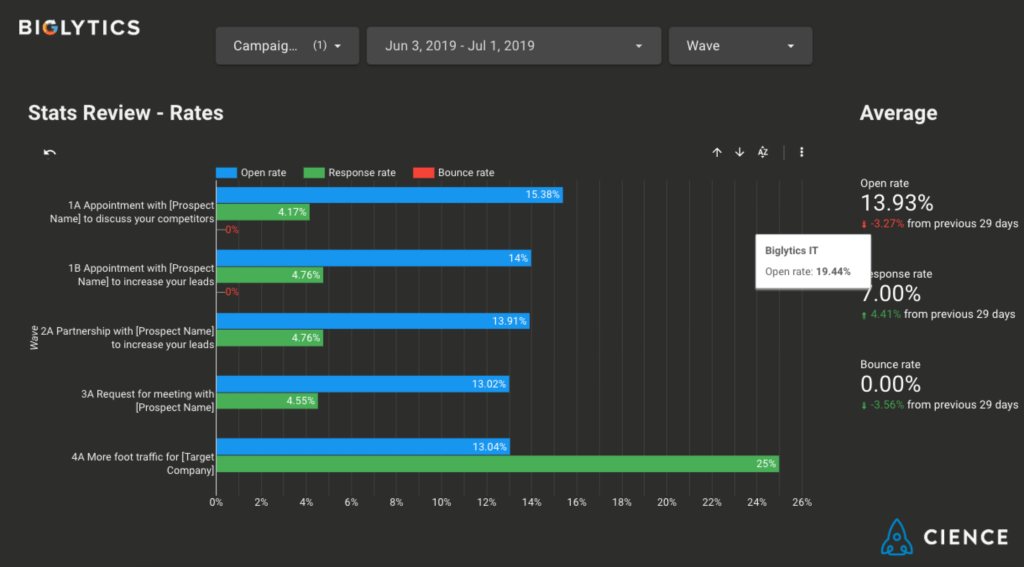 We enable B2B companies to identify the anonymous businesses that visit their website and personalize their experience. Your sales team can now follow up with the visitors that don't convert, while marketing can personalize your website based on firmographic information to drive up conversion rate.
Start your 14-day free trial today!
EasyLeadz is a contact finder tool that works via a Chrome Extension. By visiting a website or LinkedIn Business Profile, EasyLeadz can identify contacts that work at those companies. Once their extension is installed, you can identify leads in just one click. Keep in mind that you have to be aware of the right companies and websites in order to generate qualified leads. EasyLeadz has 4.6 out of 5 stars on G2 Crowd.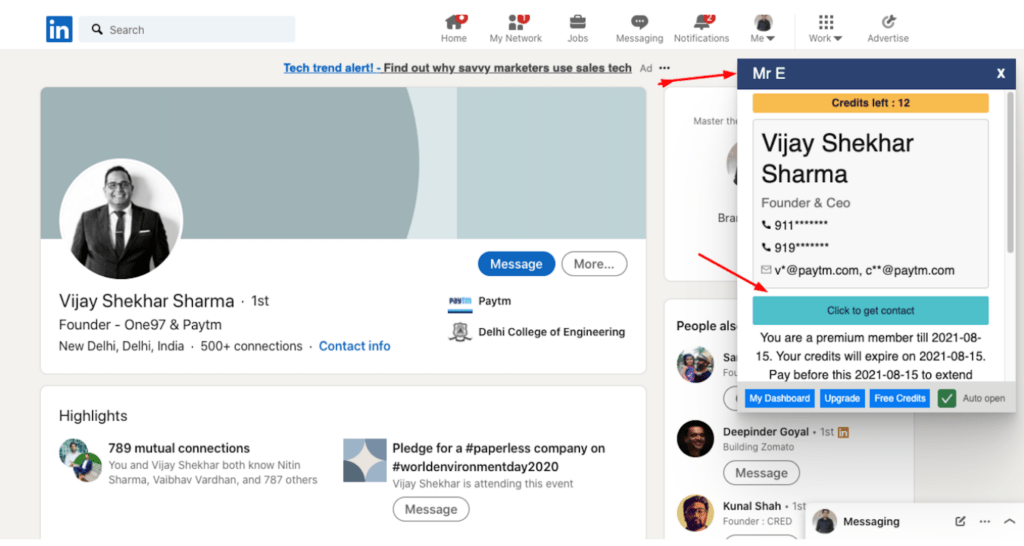 If you're specifically looking for phone numbers, VanillaSoft can help. They proclaim that they eliminate guesswork and cherry picking and improve call results. VanillaSoft can help you generate phone numbers, auto dialing, call recording, VoIP, as well as appointment setting to keep all of your calls organized. They integrate with your favorite CRM platforms to help track your leads throughout their sales journey. VanillaSoft has 4.6 out of 5 stars on G2 Crowd.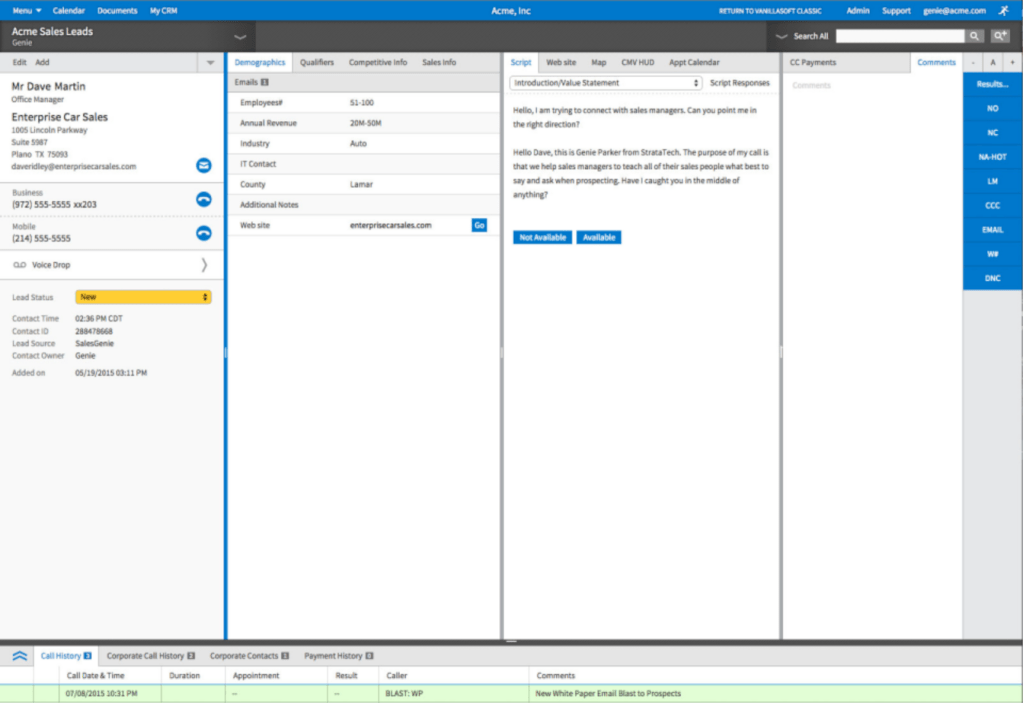 Infer by Ignite Tech is a predictive lead scoring and profile management software. It helps you to identify your most promising prospective customers while building targeting segments. From there, it can help you personalize your outreach tactics in hopes to increase your conversion rate. Infer uses AI and machine learning in order to score your leads, which will help you prioritize who needs to be contacted first. In addition, it can help you see gaps in your current marketing initiatives which you can use to improve targeting and segmentation in future campaigns. Infer has 4.5 out of 5 stars on G2 Crowd.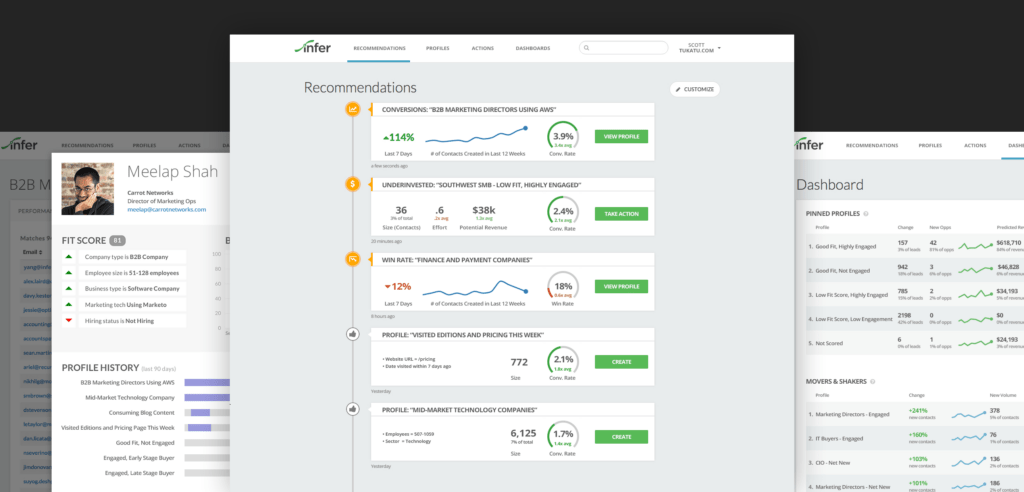 Vsynergize is a global marketing and sales service provider with offices all over the world. Their team of over 300 employees works day and night to help B2B businesses book appointments with decision-makers in their industry. Their call center services are just the tip of the iceberg, though. They also offer back-office services to businesses in the financial services, telecommunications, and healthcare industries. You can partner with them for email marketing, lead nurturing, and content marketing as well. Vsynergize does not have any G2 Crowd reviews at this time.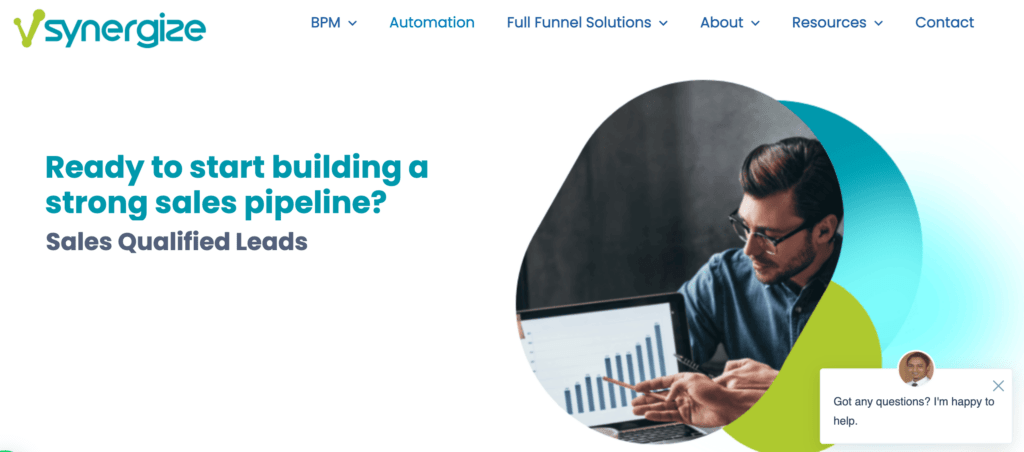 Next up on our list of the top B2B lead generation companies is Pipedrive. Specifically, Pipedrive's LeadBooster add-on. You can add LeadBooster to any Pipedrive CRM plan for $32.50 per month per company. This add-on feature can help you capture high-quality leads through live chat, web forms, and prospector tools. Their prospector feature allows you to source leads from their database of over 400 million contacts. In addition, Pipedrive can help you schedule meetings, qualify leads as hot, warm, or cold, and even export all of your leads. Pipedrive has 4.2 out of 5 stars on G2 Crowd.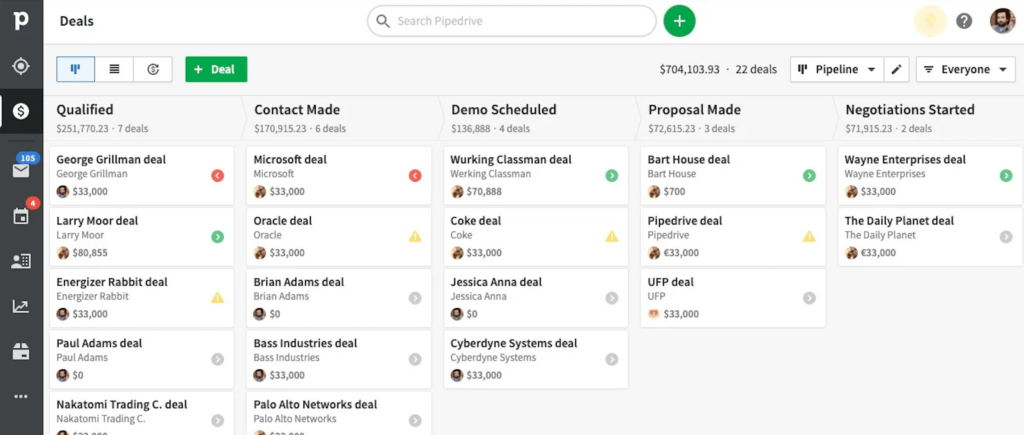 Belkins is a B2B lead generation agency that handles every aspect of the client's sales funnel. Including building targeted sales leads lists and booking B2B appointments with qualified prospects. Their expert team combines digital solutions with state-of-the-art technology and develops a personalized strategy for each client, and they have already helped over 790 customers around the world. What sets Belkins apart is that they are committed to delivering a predictable outcome, they even guarantee the minimum number of meetings booked. Belkins has 4.8 out of 5 stars on G2 Crowd.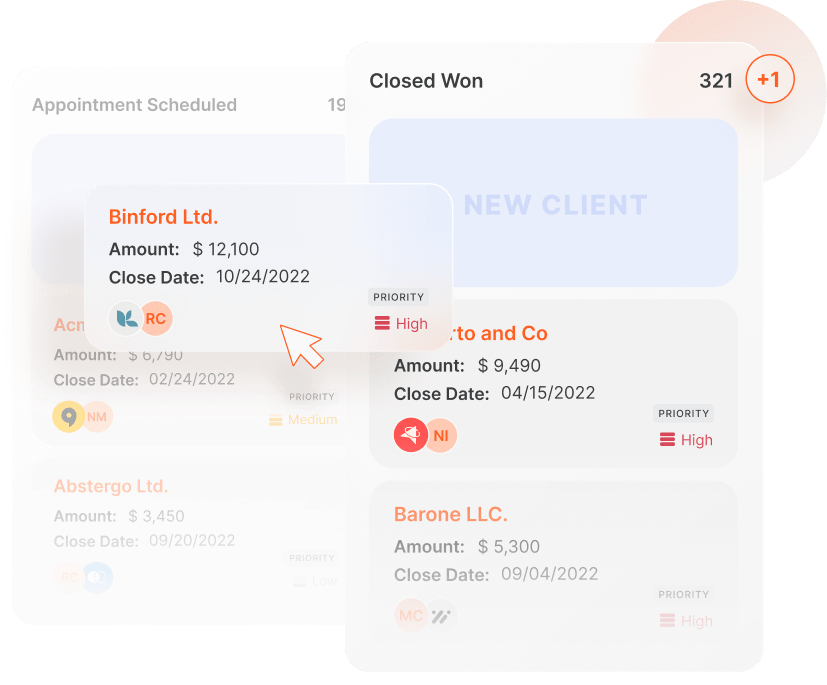 OptinMonster is a powerful lead generation and conversion optimization tool. They focus on lead generation, email collection, and increasing website conversions through pop ups. Floating boxes, gamified wheels, geolocation targeting, and more. One of their most enticing pop ups are the exit intent pop ups. This means that when a user moves their mouse towards closing the page, a pop up will appear that promotes an exclusive offer. Whether you are trying to generate email addresses or increase website conversions, pop ups are a great way to optimize your website. OptinMonster has 4.2 out of 5 stars on G2 Crowd.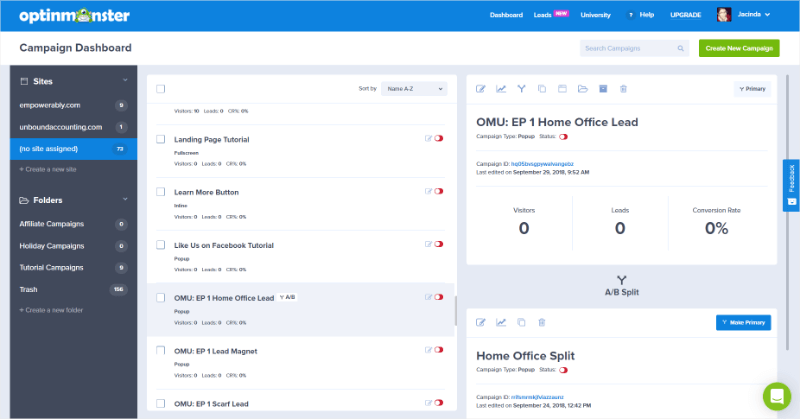 LinkedIn is one of the best ways to generate leads and contact information. And, LinkedIn Sales Navigator can take your lead generation efforts to the next level. By simply entering in firmographic information that your target audience has, like location, company size, or industry, your LinkedIn Sales Navigator account will populate companies and employee contact information to help you reach out to them. This tool is also great for social selling, which is quickly becoming an important part of B2B sales. LinkedIn Sales Navigator has 4.3 out of 5 stars on G2 Crowd.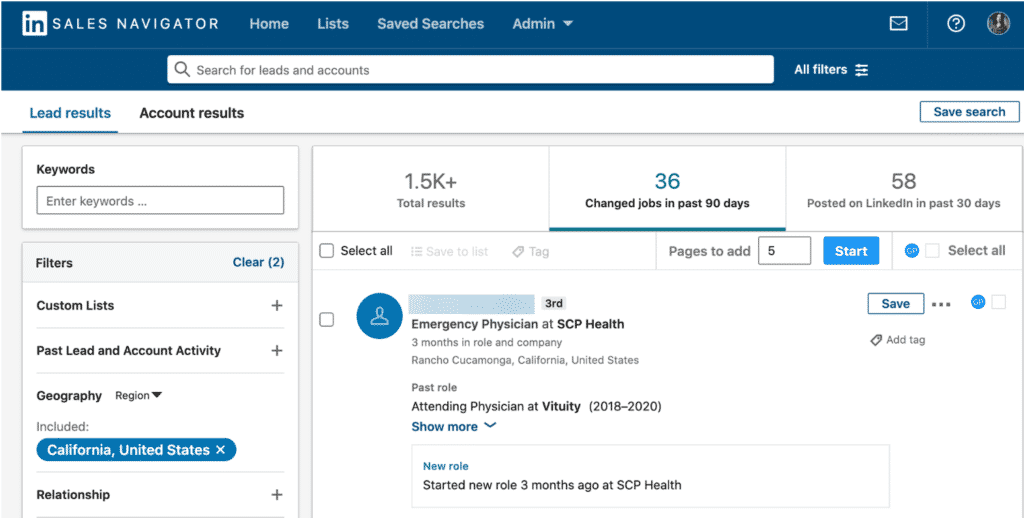 RevBoss works with consulting firms, marketing agencies, and SaaS companies of all sizes to generate hot leads. They proclaim that they do the "lead grunt work". So, your team can spend more time on building relationships with your new leads. They integrate with leading data sources to provide accurate B2B contact information that is relevant to your specific needs. RevBoss helps sales teams find prospects, build their sales pipeline, and close more deals. RevBoss has 4.3 out of 5 stars on G2 Crowd.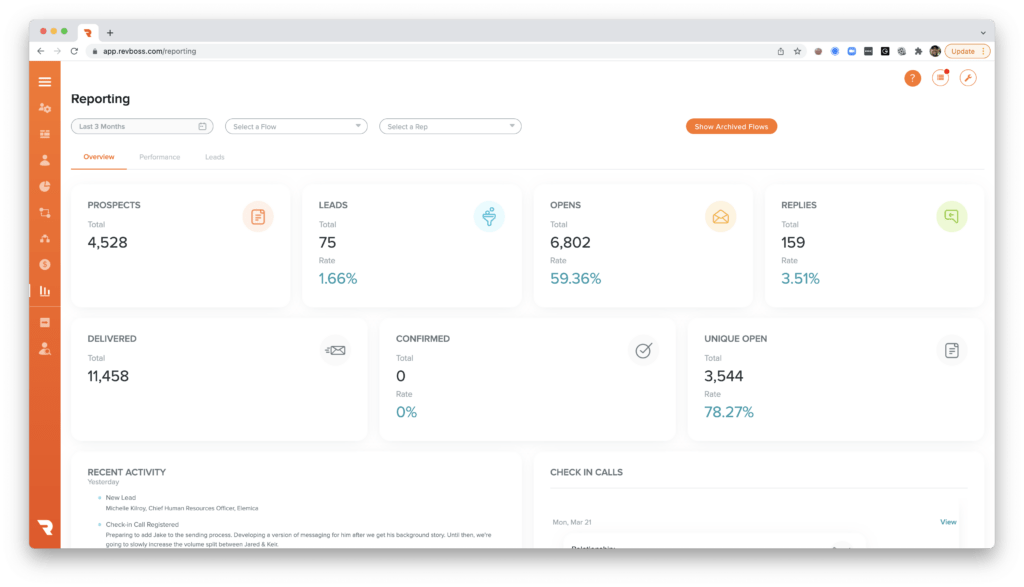 Using a CRM
Once you generate leads, you'll want to have somewhere to manage all of that information! As a B2B company, it's almost essential that you take advantage of what a CRM has to offer. Whether you are a small business or a large business, there are a number of CRMs on the market that will offer features that your business can take advantage of. If you already have a CRM, it's important to ensure that your lead generation company of choice will integrate with it. This will ensure that your leads are properly managed, and increase the likelihood of those leads converting.
Final Words
As you can see, there are a number of fantastic B2B lead generation companies out there. It can take some trial and error to figure out what lead generation company works best for your specific needs and routine. The majority of the B2B lead generation companies on this list offer free trials and demos. This can help you decide what you can include in your tech stack. If you have any questions about how Visitor Queue can help you generate 20% more revenue, don't hesitate to reach out.