Once upon a time, B2B software was a niche that only the tech-savvy elite was privy to. But enter the digital world and the wave of smart platforms that followed and now this type of software is on every corner. This is not to say that every piece of B2B software is built the same. But, if chosen correctly, your new piece of B2B software can deliver time, effort, and labor solutions and free up valuable time in our professional lives. Keep reading to find out which SaaS companies are for your needs.
The global SaaS industry is expected to grow by over 150 billion this year. By late last year, companies were spending an average of over $2,800 per employee on SaaS. It goes without saying that the industry with this expected growth is worth watching in years to come. The latest shift to working from home in 2022, and continuing in 2023, has a heavy hand in the extreme growth of this industry and will only solidify its rapid growth in the near future.
In no particular order, here are some of the best B2B SaaS companies to keep your eye on are:
1. Slack
Slack is self-proclaimed as the smartest way of communication outside of email. This tool is a collaborative hub that is widely used by companies, teams, projects, etc. With a growing trend of working remotely, Slacktool is a great way for teams to communicate. In just 4 years, they have grown to a multi-billion dollar company and it is among the fastest-growing SaaS products on the market.
Users can send direct messages, organize their own group chats, create channels based on topic, and more. With these functionalities, it is clear why this tool is a favourite amongst small businesses and freelancers. This tool is great for everything from project management and keeping up to date on client account status, to arranging after-work drinks and sharing GIFs.
2. Relefant
Improving workplace productivity is a major goal for managers in 2023 and businesses are starting to work smarter, not harder, to achieve this. Relefant sets out to achieve just that, to improve your business's productivity intelligently and not with brute force.
Research shows that up to 40% of one's business day can be looking through internal files. With Relefant you will never forget where they are as it groups and maps out where these files are stored. Relefant does it in such a way that your brain can quickly navigate and digest where the information is. This is their one simple-to-use app. The app runs on browser and mobile so you can make sure you have your data when and where you need it.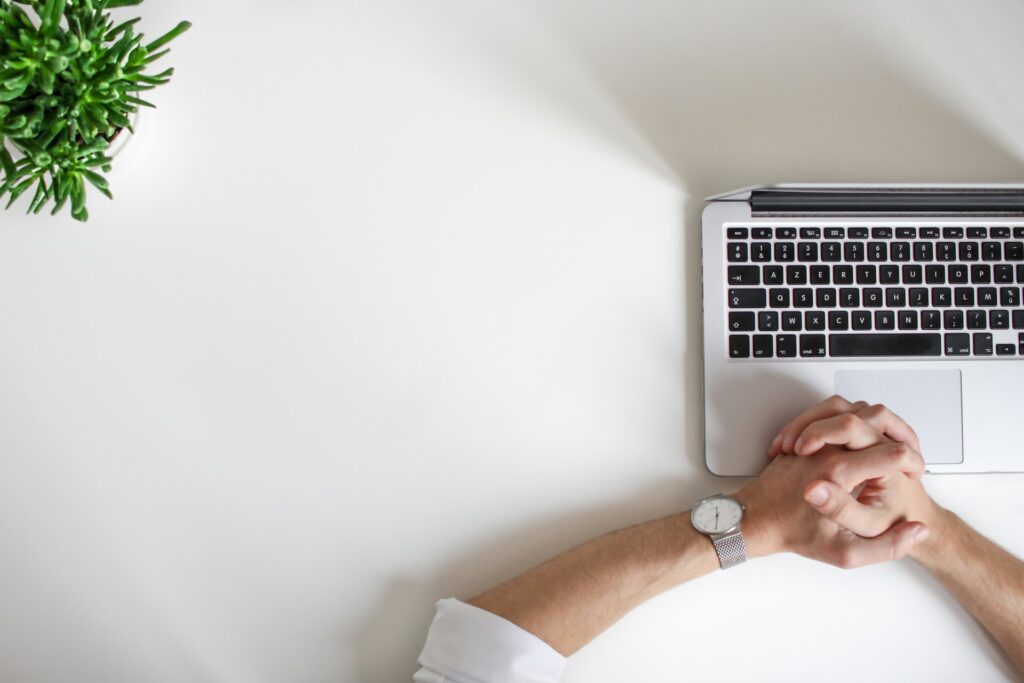 3. Demodesk
Demodesk is a German-based startup that offers an exciting product for various sales reps and customer service abilities. This tool is effectively a screen sharing and meeting tool that assists presenters by utilizing a web-based display. The ability to browse and edit collaboratively changes the game or presentations which normally are only a live feed of the presenter's display. Among other features, there is also an AI-powered real-time assistant that provides cheat sheets based on the sales rep's knowledge to help with tricky customer questions or objections.
4. Shiperd
Shiperd brings shipping into the 21st century with cloud-based shipping management software. Leave physical paperwork and contrast quote checking, the thing that makes shipping lengthy and tedious, in the past. This software allows for automation by managing paperwork online, comparing prices and quotes from existing freighters, and allows you to track the progress of shipments. In addition, Shiperd integrates seamlessly into your existing workflows and processes to ensure you don't have to change anything and don't miss a step.
We enable B2B companies to identify the anonymous businesses that visit their website and personalize their experience. Your sales team can now follow up with the visitors that don't convert, while marketing can personalize your website based on firmographic information to drive up conversion rate.
Start your 14-day free trial today!
5. Chatvisor
Every business will have their own personal goals they wish to achieve. One goal that is true for every business is the desire to provide excellent customer service. In a world where companies strive to bring the most value to their customers, SaaS companies are fighting to help them deliver. Not only can you take advantage of Chatvisor, but you get another for the included price. You also get an analytics suite that provides insights on user experience. This includes recordings of customer journeys and heatmaps with weak spots. Above all, everything a business needs to make a great first impression.
6. FunnelFox
Even with a CRM tool at their disposal, sales reps can still struggle with the administrative side of operations. Spending time on computers and completing this tedious task can be frustrating, especially when they are eager to be where they belong, out closing deals. FunnelFox works to streamline admin duties and facilitate a better automation process. In addition, this tool updates CRMs with details needed in sales conversations and notifies reps at crucial moments to interact with prospects. As a result, this intelligent software allows reps to spend more time doing what they were hired to do, sell.
7. Customer Labs
There is no such thing as knowing your customers too well… Well, maybe there is. When you collect so much data on your customers that you don't know what to do with it or how to analyze it. Customer Labs allow users to gain a deeper understanding of their customer data by pulling it all into one location. Therefore, you can make sure you get the analysis and breakdown you need without the hair-pulling frustration that comes with data analysis. The best part is you don't need to add any code to your website or download a widget. You can seamlessly pull data from your sources and upload it into the Customer Labs platform. Then, let your team turn these insights into actionable data in order to close deals.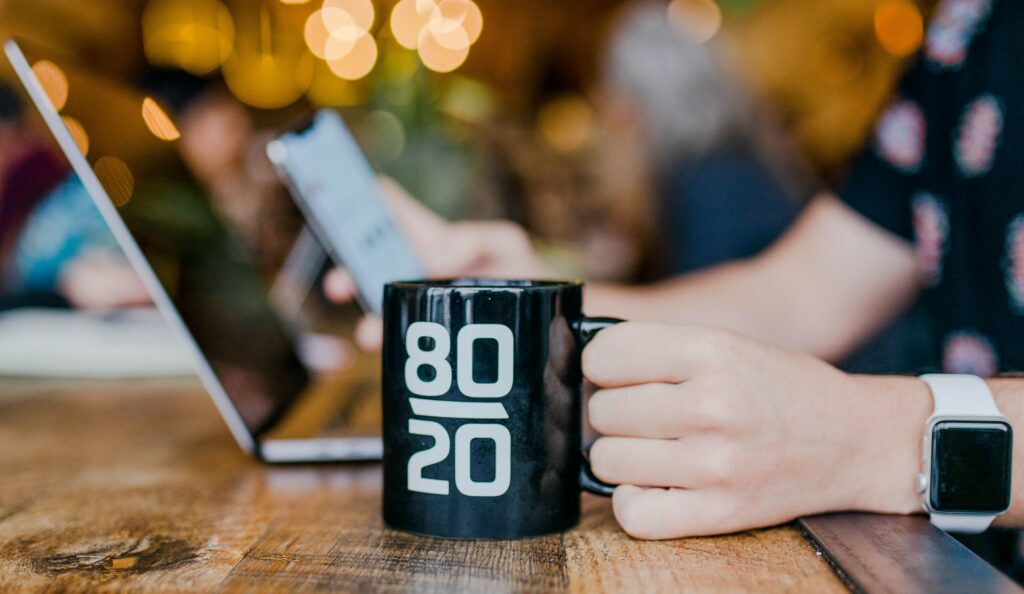 8. Anaplan
This is the one tool to rule them all, well, one tool for many departments at least. Anaplan is a collaboration planning application that allows users from all departments to assist in strategic planning easily. By providing organizational transparency, it allows real-time data-driven decision-making that can be used to drive your business forward. Backed by a patented in-memory calculation engine called Hyperblock, you can make sure your data is fully utilized. With Anaplan's recent acquisition of the Israeli analytics firm Mintigo, it is a great company to keep an eye on.
9. demandDrive
demandDrive is the industry leader in sales development and demand generation. They provide their clients with sales development, data and demand generation, and other programs to help optimize their sales and marketing processes. They do this through both inbound and outbound marketing, acceleration programs, unique data services, and much more. Their ultimate goal is to help their clients increase revenue growth. In addition, demandDrive has been named one of the fastest-growing companies in the US and one of the top 20 companies to work for in the US.
10. Mailchimp
If your company is struggling with its email strategy, Mailchimp is here to help. In your Mailchimp account, you can manage your customers similar to a CRM, and send them emails at the perfect time. The best thing about Mailchimp is that you can create beautiful emails without knowing how to use script. Their analytics are also very helpful to compare the success of your campaigns. Plus, they allow easy A/B testing so you can easily find out what your clients respond to the best.
11. Hubspot
I'm sure you have heard about Hubspot before, but are you taking advantage of everything Hubspot offers? Hubspot is the leading CRM software out there, that will help your team manage your customers. Whether you are looking to attract more customers, or maintain current relationships, Hubspot can help. I often hear that companies are intimidated by Hubspot, but they do offer a number of affordable services including a free CRM package. In addition, their customer support is superb and they have a ton of training resources to help your team.
12. Visitor Queue
Finally, Our company, Visitor Queue, is a lead generation software that tracks your website visitors and identifies the companies visiting your site. This can be crucial information for your sales team. Now you can supply a steady stream of new leads into their funnel and increase your sales. In addition, we can provide you the company name, visit details, and contact information of the anonymous businesses that visit your website. This way your reps can have the information they need to close more deals.
We work with over 5000 businesses across the globe to increase their marketing ROI and grow their business. Starting at $39 USD per month, you can track unlimited websites, add unlimited users, and take advantage of our 1000+ integrations.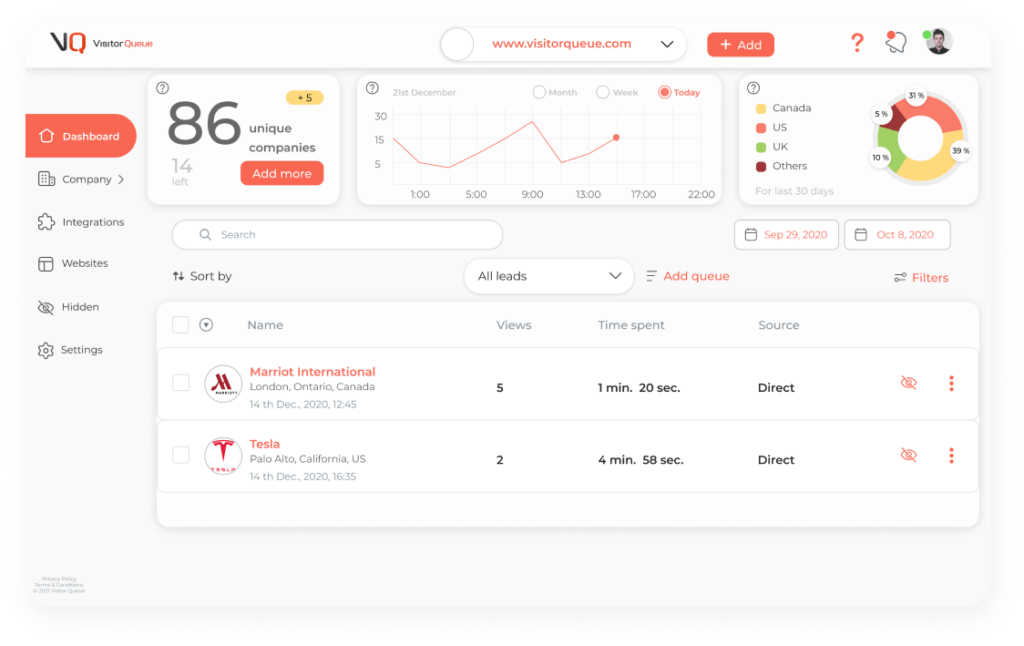 How Do You Pick the Right SaaS Company for Your Company?
This is a tricky question since every business is different. No two businesses have the same product, goals, and strategies that they normally lean towards. It's also important to consider your business' dynamic before you commit to a software. It's helpful to look at review sites like G2 or Capterra to see if any of the reviewers are in similar industries that you are.
My suggestion would be to try out at least one the SaaS companies on this list, as soon as possible. Whether it be a lead generation, demand generation, or another software, the sooner you can start, the sooner you can figure out if it's right for you.
Wrap Up
Above all, as SaaS companies are becoming more and more common in business. You will see these SaaS companies rapidly grow and the market becoming more saturated with great products. This is a great thing as you will start to see your business's workflow become more automated and time freed up to focus on more important tasks.
As always, if you have any questions about how Visitor Queue can increase your revenue by 10-20%, do not hesitate to reach out!