We all know that B2B revenue generation is getting increasingly difficult. Companies continue to compete and fight for who wins the attention of prospective customers. And, with competition so high, you need to stand out from the crowd more now than ever before. With the help of these 8 tips for B2B revenue teams, your team will be better equipped to drive success in 2022.
Looking to increase your company's revenue but didn't have time to join our live webinar? Not to worry, you can register now to access 50 minute recording. Access here.
In this webinar you'll learn about the hottest industry trends that your B2B revenue team needs to watch out for in 2022 to drive growth. With multiple different tips and hints on what to keep an eye out for in 2022 and beyond, this webinar will have something for everyone. This article will be touching on the top tips for B2B revenue teams, but you'll have to check out the full recording for examples and how to apply these tips to your company.
1. Automation
Automation has been trending over the last few years, and continues to be one of the biggest trends in B2B marketing and sales. Essentially, automation is the process of automatically moving data and/or performing tasks. Once you have set up automation, it can save hours of painstakingly transferring data. It will also save you money and ensure that your data is consistent across all platforms. You're probably already using automation in your CRM to send emails, but do you know how many other actions that you can automate?
2. Quora
Quora is the Yahoo Answers of 2022. On Quora, you have the ability to ask and answer questions that are relevant to your company and industry. You can get your company in front of thousands of prospects who are looking for a solution to their problems. Quora also offers very affordable paid advertising options.
3. Website Personalization
Website personalization is common in B2C markets, but is growing in popularity with B2B companies. This technology gives you the ability to personalize your website based on the visitor's characteristics. So, you can show a specific version of your website to different visitors with the goal of increasing website conversion rates.
4. More Content
You're probably familiar with the idea of content marketing. Jobs like "Content Manager" are popping up everywhere to help companies keep up with the trend. The most successful companies tend to use multiple forms of content, which can include blog articles, videos, a resource center, and more. We have gotten to the point where customers and social media followers expect high-quality content.
5. Optimize Across the Web
In 2022, customers are doing more research than ever before. B2B companies need to be especially conscious of this tip, because one wrong move can result in the loss of a sale. Even if your website is optimized for search engines, it doesn't mean that you're done optimizing. Go to the depths of the internet and optimize everywhere your company is listed.
6. Social Selling
The term "social selling" has been a buzz word for the past few years, but it works. Like the term implies, social selling refers to using social media to sell. Your sales team has the ability to use their social media accounts to connect and engage with prospects. This will promote trust and help you build a good relationship with your prospects.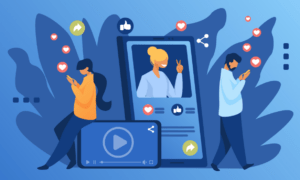 Don't forget to watch our live webinar for real-life examples that you can apply to your own company. Check it out here.
7. Gated & Interactive Content
Gated content and interactive content are highly valuable pieces of content that the viewer needs to submit their contact information in order to gain access to it. Then, you can use their contact information to reach out via automation or your sales team. Sample data sets, industry reports, eBooks, and other exclusive resources are commonly used for gated and interactive content.
8. Update Old Blogs
Content expires. We don't want to read a blog post that was written in 2017 for sales tips to help us today. Review your older content and content that is losing ranking and update it. Update it 20-80% and change the publish date to a recent date.
Bonus Tip: Visitor Queue
Visitor Queue is a B2B lead generation software that can identify the companies that visit your website. We provide a company overview, visit information like how they were acquired, pages viewed, and how long they spent on each page. In addition, we include employee contact information like email addresses, phone numbers, and LinkedIn channels to help you reach out to prospective customers. Start your 14-day free trial today and stop losing leads!
Keep Your Eyes On…
TikTok
TikTok is one of the fastest growing social media channels
B2C brands are currently advertising and organically posting
B2B usually follows B2C
Learning Academies
Larger B2B companies currently use academies to train clients, think HubSpot and Salesforce
Smaller B2Bs are starting to create and will continue to adopt
Privacy Changes
More countries, including Canada, are creating their own privacy laws
Get ready to meet strict privacy laws and be aware of any differences between countries
SEO Changes
Optimize for search AND voice
Google regularly releases changes to their ranking algorithm that will either positively or negatively impact your company's visibility on search results
Keep in mind your mobile first indexing in 2022
Final Words
Don't forget to check out our webinar for a more in-depth overview of the top tips for B2B revenue teams in 2022. Watch out the recorded webinar here. If you have any questions about any of the tips mentioned on this list, don't hesitate to reach out!