Salesforce's AppExchange is home to over 50 B2B sales, marketing, and lead generation Salesforce apps to grow your B2B company. As one of the most trusted names in the business B2B space, Salesforce provides a wide range of tried-and-tested resources to help other B2B companies grow.
If you're trying to generate more leads, increase sales, or otherwise see better results from your marketing efforts, why not learn from the best? Next, we're covering the top 20 Salesforce apps to grow your B2B company and you can use to become more efficient in your marketing and selling efforts.
What is Salesforce AppExchange?
Salesforce is one of the most popular cloud-based customer relationship management (CRM) tools on the marketing, and within their platform, they provide a wide selection of apps to help users make the most of the platform.
As a Salesforce user, you can connect any of the apps in AppExchange to your account to qualify your leads, automate follow-up, track performance metrics, collaborate with your team, and more.
There are few tools available that offer this many capabilities, which is why Salesforce is so highly regarded as a sales, marketing, and customer service platform. We've come up with our favorite AppExchange apps specific to B2B so you can optimize your lead gen and sales processes right away.
Benefits of Using Salesforce Apps
There are many benefits to using Salesforce apps to grow your B2B company. Here are just a few of the top benefits we've identified, though this is certainly not an exhaustive list: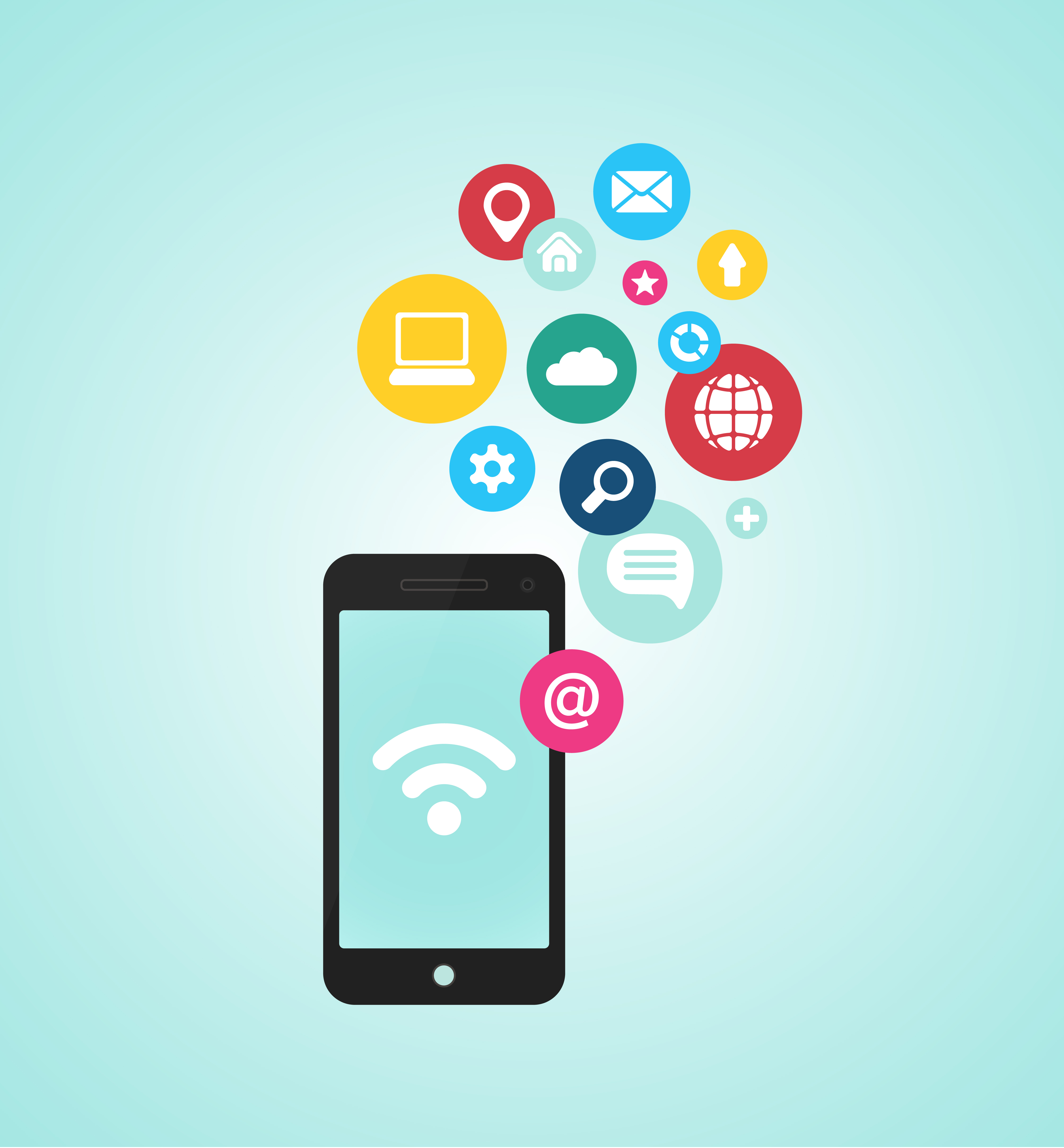 Streamline workflows for your sales and marketing teams
Score leads to focus on high-priority sales opportunities
Generate more B2B leads from your marketing efforts
Adopt a multi-channel marketing approach to reach more people
Automate follow-up to close more deals, faster
Track ROI on all your marketing campaigns
Improve your conversion rate through targeted email marketing
Add business connections to your CRM automatically
Train your sales team based on what's working, what isn't
Gain valuable insights into campaign performance and user behavior
Start seeing the benefits for yourself. Let's dive into the top 20 Salesforce apps to grow your B2B company.
20 Salesforce Apps for More B2B Leads, Higher Sales
SwarmSales
D&B Optimizer
Conga
Localytics
Eventable
Mintigo
ScanBizCards
iContact
Bizible
Bombora
Salesforce Pardot
LeadIQ
Lead Scoring
Gong
Salesforce Lead Capture
Twilio
Vidyard
TicketManager
HelloSign
Troops
First, SwarmSales is a Salesforce app that connects B2B business with sales experts to help them close more deals, faster. Not only does SwarmSales help you identify more selling opportunities, but also make the most of the leads that are already coming in. If you're looking to scale up your sales process and increase your close rate, look into SwarmSales in the Salesforce AppExchange.
For existing Salesforce users, D&B Optimizer improves a business's lead, contact, and account data to helo them gain valuable insights and streamline their sales processes. Increase the productivity of your sales team, increase your time-to-engage by prioritizing high-value prospects, and identify new cross-sell and upsell opportunities.
We enable B2B companies to identify the anonymous businesses that visit their website and personalize their experience. Your sales team can now follow up with the visitors that don't convert, while marketing can personalize your website based on firmographic information to drive up conversion rate.
Start your 14-day free trial today!
The Conga app has multiple functionalities in terms of sales, document management, and marketing. But the primary feature we like is the ability to share documents with prospects and multiple team members in just a few clicks. This app, therefore, increases productivity and streamlines workflows between your teams. Additionally, you can share, review and approve documents from anywhere, in real-time.
Want to generate more leads and close more deals on the go? Localytics is a mobile B2B app that closes the gap between data and application. In other words, it allows B2B brands to send more targeted marketing campaigns by understanding which messages are driving the most user activity.
Eventable has been used by over 10,000 brands to send customized customer alerts to prospects and team members. This aim claims to "go beyond the default 15-minute "calendar reminder"through personalization and geotargeting. Plus, you can even view a timeline of each prospect's calendar impressions, clicks, and share to see what's generating the most engagement.
Mintigo Sales Coach helps B2B businesses fill their pipelines with qualified prospects.
Using AI and predictive analytics, Mintigo equips businesses with a wealth of sales intelligence to help them sell smarter and win more deals. Only Mintigo can help you analyze massive amounts of sales data in just a few clicks.
If you've ever been to a conference or networking event, you know that many of those business cards you pick up never end up seeing the light outside your wallet. But with ScanBizCards, you can add business card contact information to your CRM system right away. Simply take a photo of the business card and export it directly to Salesforce so you can follow up with potential leads as soon as possible.
Email is huge when it comes to following up with leads and marketing to existing clients. With iContact, you can create, send, and track emails within a single platform. This allows you to measure a variety of key performance indicators, from engagement to conversion rates to client retention and more.
One of the keys to B2B marketing success is being able to attribute your leads to precise marketing efforts. Bizible's revenue attribution technology delivers powerful insights that help B2B marketers uncover where users are in the buyer's journey. In addition, how they are engaging with the company's marketing campaigns, and what components are generating the most revenue growth.
The power is in the data. With Bombora, you can track content consumption by companies across the web to see what they are engaging with most, using this data to inform your own marketing campaigns. As a result, knowing which companies are currently demonstrating intent allows you to better customize your marketing and sales efforts to the most viable prospects.

Salesforce Pardot is Salesforce's own marketing and sales communication platform. With Pardot, teams can collaborate, share documents, nurture leads, share sales data, and maximize the return on your marketing investment. Move prospects through your pipeline faster than ever and capture your true marketing ROI.
LeadIQ is a lead capturing tool that helps you "find prospects 10x faster". Build your email list, qualify prospects, and organize your leads all in one place. This Salesforce app keeps lead capturing simple so you can follow up with prospects, fast.
How do you know if a lead is a "good"lead? With B2B Lead Scoring, of course. This app allows you to score leads based on specific criteria, automatically. As a result, this saves your sales team loads of time by prioritizing the best leads and nurturing the leads that aren't yet ready to buy.
Gong gives you valuable insights into what's currently working for your sales team in terms of deals closed and revenue generated. This app greatly reduces the time it takes for you to coach your sales team because it provides helpful tips for success based on past data. In essence, you can replicate what your best reps do and share that to your team members who are still learning the ropes.
Salesforce Lead Capture automates lead generation from your Facebook Ads directly into your Sales Cloud CRM. If you're running lead generation campaigns from Facebook, then you'll want Lead Capture to record this information, map leads to Lead Objects, and automate follow-up. Never miss an opportunity!
Despite what many marketers might say, text message marketing is not dead. With Twilio, you can send automated SMS follow-up messages to leads, prospects, and team members. As a result, Twilio may end up being an important part of your multichannel marketing approach.
Make the most of your video marketing efforts with Vidyard; a platform that empowers your sales team to use customized video messages throughout the sales cycle to add that personal touch for your prospects. In addition, video marketing has been proven to boost connect rates, increase brand loyalty, and build better relationships with prospects.
Do you host corporate events as part of your B2B lead gen strategy? Then you might want to look into TicketManager – a Salesforce app that makes it easy for businesses to manage all of the details of their networking events. This includes making sure the right ticket gets to the right buyer, creating customized event invitations, and reporting ROI for the event itself.
Get all your deal details down on (virtual) paper with HelloSign – a contract and proposal creation app for businesses. HelloSign gives businesses a fast way to collect eSignatures within Salesforce. As a result, your team can create professional proposals to increase your close rate and decrease the time it takes to get that first invoice paid!
The final Salesforce app on our list is Troops. Troops is really the easiest way for businesses to use Salesforce directly within Slack (a team communication platform). For example, you can use Troops to centralize workflows, share reports, collaborate on projects, and more. As one Troops user said, "Everything you need is suddenly in front of you so you have an overview of what's happening with your pipeline!"
The Best B2B Salesforce Apps
I hope you were able to find apps to grow your B2B company on this list. Want to get more B2B leads, close more deals, and get a higher ROI on your marketing efforts? Then these apps from Salesforce's AppExchange will get you there! This list is just the tip of the iceberg when it comes to the number of apps Salesforce has available, but we were sure to share our top favorites to get you started.
With Visitor Queue, you can generate more leads directly from your website and feed them into your Salesforce CRM. Then, use any of the apps above to increase sales in less time. Get started with your free trial of Visitor Queue today!