We are all looking for ways to improve our sales productivity and to do this you need more than a great sales team. Even a fantastic team can't use their skills unless they are handed the right tools. Going over reports and analytics all day every day can give you great insights, but it doesn't help your sales team convert on leads. Invest in the right tools on the Salesforce Appexchange and discover the right Salesforce apps for sales teams so that your team can do what you hired them for. 
Finding The Best Salesforce Apps For Sales
Salesforce is immensely helpful, there is no arguing that. The best sales teams utilize Salesforce as well as a range of applications connected to Salesforce so that they can collect and track the most amount of data and use it how they would prefer. We can all rest easy because Salesforce has done all the heavy lifting for us, they have created an AppExchange to help direct us to the most productive apps for your needs.
Similar to when you are trying to improve your home life productivity, looking at the app ecosystem can be daunting. This is why I decided to do the heavy lifting for you and write this list of the 5 best Sales apps for Salesforce.
*In no particular order
Conga Composer makes generating documents easy and ensures accuracy. Save yourself time, cut your costs and merge your data into easy to use templates. These templates can be for Word, PowerPoint, Excel, HTML, email and PDF.
Combine flawless design, rich text, and all images from Salesforce to create reports and documents with data from Salesforce and other external systems. Create workflows that initiate and complete customer engagements based on a wide variety of triggers. Build procedures into Salesforce with easy to use templates and automation. Increase time efficiency by up to 95% by removing the time wasted, creating documents from scratch, copy & pasting, and manually moving through the sales cycle.
Starting at $20/month.

With ZoomInfo, your sales and marketing teams can find new prospects in your target market and know who the key decision-makers or key stakeholders immediately. Boost your connection rates with verified direct-dial phone numbers and email addresses. Identify discrepancies in data between Salesforce and ZoomInfo quickly and manually update data individually or in bulk.
Get ahead and uncover emerging trends with predictive intelligence and improve personalization conversations with insights on new projects, technologies, personnel changes, and more.
ZoomInfo, powered by DiscoverOrg's award-winning solutions, provides a more accurate and actionable company, contact, and contextual buying intelligence. All this information merged into the worlds leading CRM and Marketing Automation Tools in the market. The company itself has been named Deloitte Fast 500 company 2 years in a row and Inc. 50000 fastest-growing company 8 times.
The best part, it's free.
We enable B2B companies to identify the anonymous businesses that visit their website and personalize their experience. Your sales team can now follow up with the visitors that don't convert, while marketing can personalize your website based on firmographic information to drive up conversion rate.
Start your 14-day free trial today!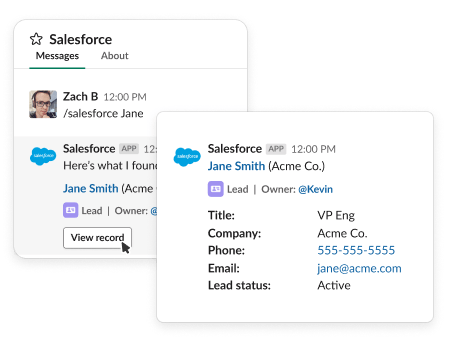 Everyone likes and needs to stay on top of their work and stay in the loop of what is happening with your team. Now Sales reps can receive custom Salesforce notification immediately in Slack. No more logging out of one program to go into another. Search and preview Salesforce records without leaving Slack and see information like; accounts, leads, opportunities, cases, etc.
Send records from Salesforce directly to your Slack and send your Slack conversations back to Salesforce for your records. Easily link key customer information and internal conversations by attaching messages to your Salesforce records. Customize your public or private channels to notify you and your team about new records.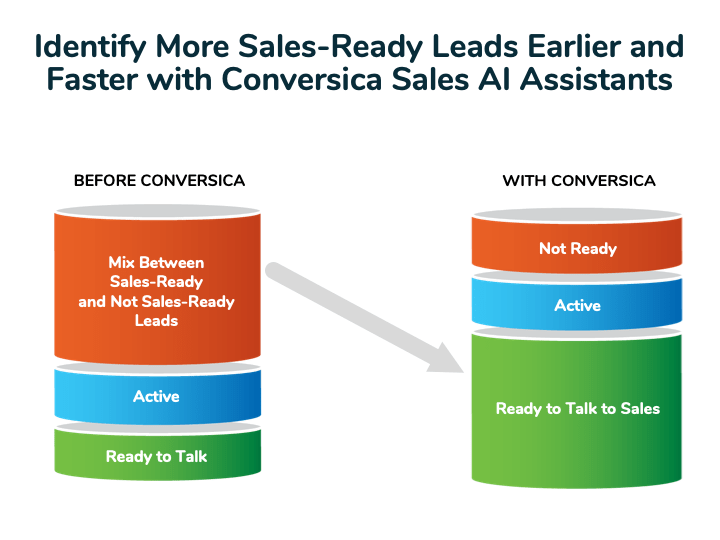 Ai Assistants are always polite and persistent in their outreach but show interest or will opt-out. Customers want to be heard and have their needs met with a personalized approach. Listen to their needs and personalize their follow-up with AI Assistants to deliver a unique one-to-one experience. Reach out to leads every step of the way through all of your channels. Ensure all leads are engaged, even if they are not ready to buy. Identify buyer interest, verify contact information and book meetings for your sales team.
Conversica is a leading provider in Intelligent Virtual Assistants with the sole purpose of customer engagement. Allos your new AI assistant to qualify your leads for you before you come in contact with them. Understand who is coming to your website so that you can target your marketing, increase your conversion rate, and understand where along the purchasing journey your customers are.
Coming Soon! – Visitor Queue
The newest and most user-friendly (in our opinion) app on the App Exchange is coming very soon. Visitor Queue will be the first in the industry to create a fully 2-way integration with Salesforce. You will be able to interact with your Visitor Queue account and have access to all of your data without ever having to sign in to our dashboard. How is this possible? Our dashboard, as you know and love will live natively inside Salesforce as a widget. And you will be able to interact with it as you normally would our dashboard. Push your data into Salesforce or have your Salesforce data pushed into Visitor Queue. Utilizing it where you'd like with your team, we aren't picky.
We strive to help you and your team with automating your lead generation needs. Visitor Queue understands we all have a way we like to do things, we want to better serve you and make your life easy! We will see you soon, Salesforce AppExchange!
Why Apps Over Integrations?
This question is similar to asking why a native integration over a third party trigger tool integration. A native integration is better over a trigger tool integration because it is a seamless experience that was created by the two tools you are connecting. The experience will be faster, easier, and will require less support. This is the same thing when it comes to choosing an app over a native integration, but so much more. Using an app allows you the ability to have the tool you want to live within the tool you want to connect it to. It allows your team to remain in one tool and gather, store, and use all the data they need. 
We have all been in the position where you are constantly switching back and forth between two tools or waiting for data from one tool to reach the other. By using apps within your Salesforce app you have the ability to see all the data you want to use in one view. This boost in productivity will increase the amount of work your team can complete and how easy it is to complete this work. Using Salesforce apps for sales can drastically improve the productivity of your team.
What's Next?
You use the world's number 1 CRM tool; don't squander it by not fully optimizing the platform for you and your sales team. Cut down on working hours to develop sales leads, log data, and merge data. Let the tools to do what they are made to. But using these tools, you are able to determine who is visiting your site, have AI talk to them to schedule calls or meetings, get notified to your phone, get the key contact information, and automatically have the documents done for the sales reps who close the deal. There is no reason for you and your team to be wasting hours of your day manually doing these tasks. They could better spend their time closing deals and increasing your conversion rate. 
Discovering the best Salesforce apps for your sales team does not only increase their productivity. It also helps make training new reps in the future that much easier.