The biggest challenge for small to medium-sized businesses is without a doubt growth. In order to get the growth these businesses desire, they need to gain exposure. This translates to more customers, more employees and definitely more revenue. While these are essential pieces of growth, SMBs need to automate and manage their workflows more efficiently throughout their journey for growth. This is where CRM software becomes of huge value to SMBs and why it is so important to find the best SMB CRM.
Why Finding The Best SMB CRM Is So Important
CRM software can help your growing business reach more contacts (hence the name – customer relationship management). As your business grows, your customer base does as well and your business needs a way to keep track of all of your customers and who to follow up with. You are not only able to keep up to date with your customers, but you are able to use sales reporting features to help you keep track of calls and deals. Ensure your customers are segmented into groups so that you can understand who to follow up with and when. You can also see where each customer is on their journey so you know what needs to be done to close the deal with each customer. Below we've put together a list of the 7 best SMB CRM and their sales team.
*Not in any particular order. We have no affiliation and do not receive a commission from any of these companies.
Hubspot offers a free version of its software and is one of the most popular platforms on the market making it great to integrate with your other tools. The software includes all basic features provided by CRM platforms, allowing you to keep track of your company's activities, track and assign deals, and managing all data in a detailed dashboard.
Free version available then pricing starts at $50/month.
Thanks to the variety of editions Zoho offers, it's a great tool for both small to medium-sized and enterprise-sized businesses allowing you to be able to grow into the software as your business grows. Zoho allows for some basic visitor tracking, lead scoring, pop-up notifications about leads, etc. The more advanced the features the deeper into the enterprise and professional editions you need to go.
Free version available then pricing starts at $12/month.
Agile is a bit different compared to some of the other CRM tools in that it offers some of the big business features like custom appointments, drag-to-drop, marketing automation, reports, and more. The software also allows for widgets, multiple plugins, the ability to have API powered integrations and more customizations. There are also some functionality outside of basic CRM functionality. Such as, pop up builders and customer service abilities. Some of the features are only included in the paid packages.
Free version available then pricing starts at $14.99/user/month.
We enable B2B companies to identify the anonymous businesses that visit their website and personalize their experience. Your sales team can now follow up with the visitors that don't convert, while marketing can personalize your website based on firmographic information to drive up conversion rate.
Start your 14-day free trial today!
Founded in 2008, Capsule has been around for some time now. It has become very popular in recent years for its easy to use dashboard that allows users to track both relationships and sales pipelines. It is also a no-nonsense straight to the point software that allows users to see exactly what they want and need to see with little to no effort. Not to mention it can also be used on both desktops and mobile devices to ensure you have access to your data everywhere you go. The UI can be broken down into categories; dashboard, people/organizations, sales pipeline, calendars/tasks, and cases. With this simple and easy to navigate UI it is easy to see why it has become so popular.
Free version available then pricing starts at $15/month.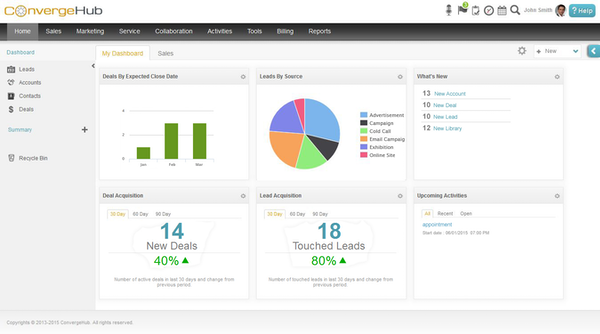 CoverageHub is a cloud-based CRM software that focuses on SMBs and the fact that these businesses don't have to deal with multiple repositories but instead, one central platform. Users can store contact lists and design their campaigns within the software to centralize all of their marketing and sales outreach devices but also focus on their sales lists to combine all sales activities in one service. CoverageHub also includes built-in Salesforce and marketing automation to streamline all other sales and marketing efforts you have outside their platform.
Free version available then pricing starts at $9/user/month.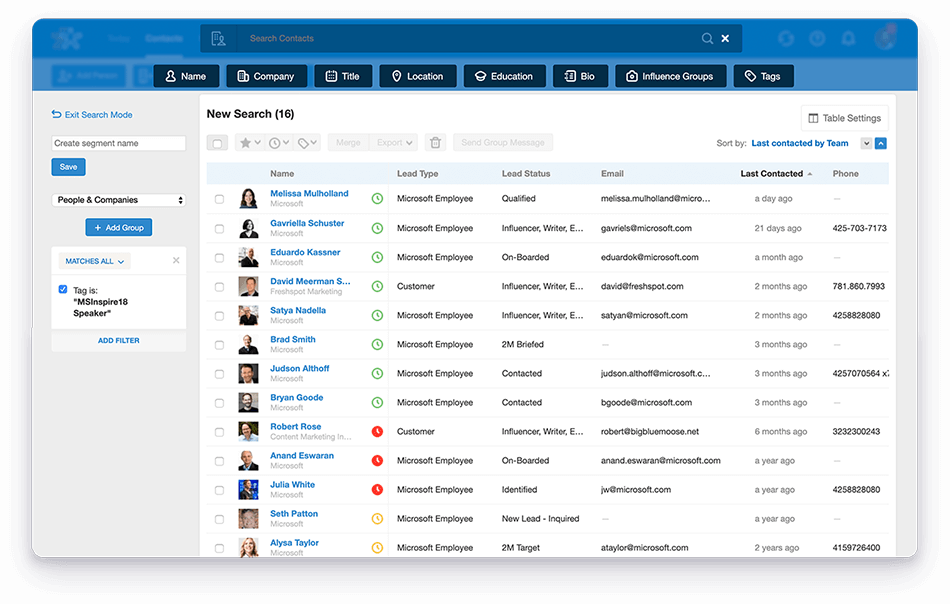 If you are looking to combine contacts, email and social media interactions, and all other interactions with customers, Nimble is the perfect software for your business. The interface is simple and easy to navigate and provides you with a to-do list, shows top deals, and keeps you up to date on all important matters. Nimble also has a "rules engine" that helps predict contacts and activities based on your user behaviour to keep you ahead of the game. Users can set reminders to stay in touch with specific contacts or users and mark communications as important.
Free version available then pricing starts at $9/user/month.
SuiteCRM is an open source CRM software that has enough tools and functionality to grow with your business all the way into the enterprise level. This tool is completely customizable in that users can create the business process model that is specific to their technique and pair that with their custom templates for quotes, sales pipelines, and create automated actions. Some customization comes with additional charges.
Free version available then pricing based on the customization you choose.
Deciding On The Best SMB CRM
Hopefully, I have done a good enough job of outlining the important features that are beneficial to your business. If not, I will continue. As your business grows and your team gets new members, it can be increasingly difficult to manage all of your data. Your team needs to be able to work together and get the data they need when they need it. These features alone make a compelling case to invest in a good CRM tool. Outside of basic functionality such as data centralization, CRM tools offer a wide range of functionality that can help the productivity of your site to help your business customer service. This is where it is important to understand what is most important to your business and what functionality you are looking for. Whether that is landing page building, pop up building, in-depth analytics, etc.
How To Choose
All the best SMB CRM tools focus on slightly different features and tools which is why you need to pick the best SMB CRM that suits your needs. Some of the things you need to consider as well are the implementation process into your business which varies based on the size of your business, current tools you are using and if integrations or automation is available, and the size of your customer contacts lists that need to be carried over.
Thankfully you don't only have to take my word for it when it comes to the features of these tools, these companies offer demos of their products. When you narrow it down based on the criteria you have you can reach out to schedule live demos with their sales team. See how it works and if that tool will be the right fit for your business. This process can feel long and tedious but it is worth it in the end as now your team will have a centralized location for all their sales and marketing needs, in an organized fashion, with reminders and tracking capabilities.