Often social selling can get misconstrued as social media advertising. However, social selling is much more than advertising. Social selling is a long-term marketing and sales strategy. It aims to improve your relationship and reputation with both current and prospective customers. By including social selling in your revenue generation plan, you can attract new customers, retain customers longer, and increase your follower count. Before we go over the best social selling tips for beginners, let's go over what social selling really entails.
What is Social Selling?
Social selling is the practice of your sales team connecting with followers, prospects, and current customers through social media channels. The goal is to build and improve your relationships with these individuals. Connecting with your followers in a personalized manner will allow your sales team to build trust. And, hopefully, close a few deals in the process. By focusing on building trust and loyalty, you will be more likely to retain customers. And, have those customers refer others to your company. Before you start social selling, you're going to want to decide on what channel(s) you're going to focus on.
Decide What Channels You're Going to Focus on
Not every channel is the same, and they shouldn't be treated as such. In addition, not every salesperson or business will benefit from using every social media channel. It's important to hone in on the channel(s) that will drive the most engagement and success for goals. On average, salespeople will see the most consistent engagement on one or two channels. If you're just starting your social selling initiative, I would recommend focusing on your most popular channel. And then see how it goes. You can learn a lot about your customers and what they respond the best to. This also doesn't mean ignoring your other channels, just focus more effort on the one. Now, let's talk about how to use social selling on specific social media platforms.
Facebook
Facebook is one of the most popular channels for social selling. Consumers are so familiar with what Facebook has to offer by this point, meaning your prospect's expectations are high. With Facebook, you can get away with more casual content and conversations compared to LinkedIn. It's a good idea to share your content in specific groups. This can increase the number of impressions and feedback you receive. If you get comments or shares, respond back to them. Even if it's a negative comment, if you show that you have taken their feedback seriously and how you are going to improve, then you're likely to retain that customer or others who may have had the same experience. You should also reply back to any direct messages you receive in a timely manner. This will allow you to connect one-on-one with your followers and gain more trust.
LinkedIn
If you run a B2B company, LinkedIn is probably your platform of choice. LinkedIn users are highly specific and made up of mostly business people. When they are on LinkedIn, they expect high-quality professional content. Keeping this in mind, you'll want to keep your content a little more serious than other platforms. But, that doesn't mean it has to be boring! We have found that behind-the-scenes content and achievements that Visitor Queue has earned tend to perform the best in terms of engagement, plus it gives our followers more insight into our company. As a B2B company, it can be difficult to be personable with your followers while staying professional, but this is what we have found to work the best. LinkedIn can also be used to directly message your followers and chat about how your company can help theirs. When messaging on LinkedIn, ensure you are focusing on how you can make their life easier.
If you're struggling to find relevant LinkedIn users, Visitor Queue can help identify your website visitors along with their LinkedIn profiles for you to use to reach out. You can also see what pages on your website that they looked at, so you can use this information to better frame your pitch.
Twitter
Twitter is a great place to bring in some personality. Companies and salespeople alike have started posting more cheeky and sarcastic tweets. Asking for opinions, tagging a friend, and using GIFs, in addition to your regular content can increase your engagement rate. It's a great place to interact with your customers and ask them what they want to see. Just be careful, Twitter content can often get more negative comments than other social media platforms. If you find yourself getting in trouble, address it professionally, and try to take the conversation to your direct messages where it's more private.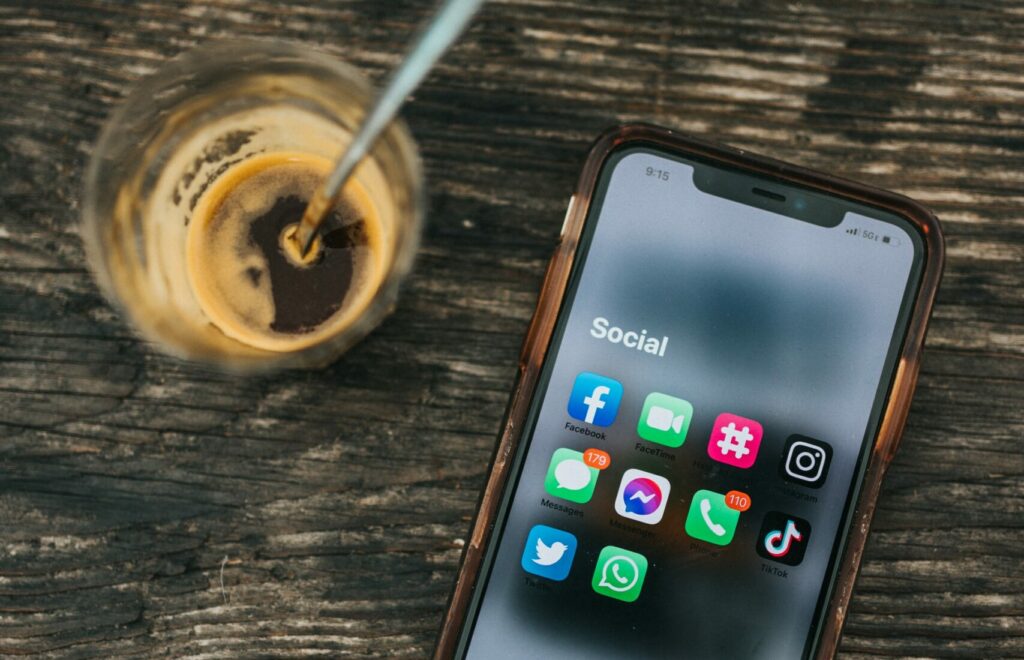 Now that you're familiar with the most popular social selling channels, let's go over the 8 best social selling tips for beginners to use in 2024.
1. Build Your Credibility
One of the best ways to improve your social selling strategies is by building your credibility. If you have just joined a new social media platform, then it's best to build up your following and post content consistently. If you start new social selling strategies while you have a bare account, it can be confusing and result in very little engagement. This doesn't mean that you shouldn't still engage with your followers as a small account, but engaging content like polls and tagging followers might not perform the way you want it to. It can take a lot of trial and error as you grow to find out what works for the number of followers and prospects you are targeting.
2. Be Consistent
Similar to building credibility, being consistent will greatly impact the number of engagements you receive in the long run. No one will want to follow and engage with someone that posts 3 times a day and then doesn't post again for another week. Creating a content calendar will help you stay organized and publish content on a regular basis. It can also help you track what days and times of the day perform the best.
3. Omnichannel Marketing
Omnichannel marketing refers to keeping everything that your business is involved in, consistent. Regardless of what platform your sales team chooses to focus on, you will want your content to align with what your business represents, and use consistent colors, voice, and tone with all of your messages. If one member of your sales team reaches out to a prospect on LinkedIn, and they click on a link that goes to your website, you don't want them to be confused because your salesperson's message and your site don't match. Omnichannel marketing is very simple and easy for you to follow, and it makes a huge difference in the eyes of your consumers. Take a look at this article for more information on omnichannel marketing.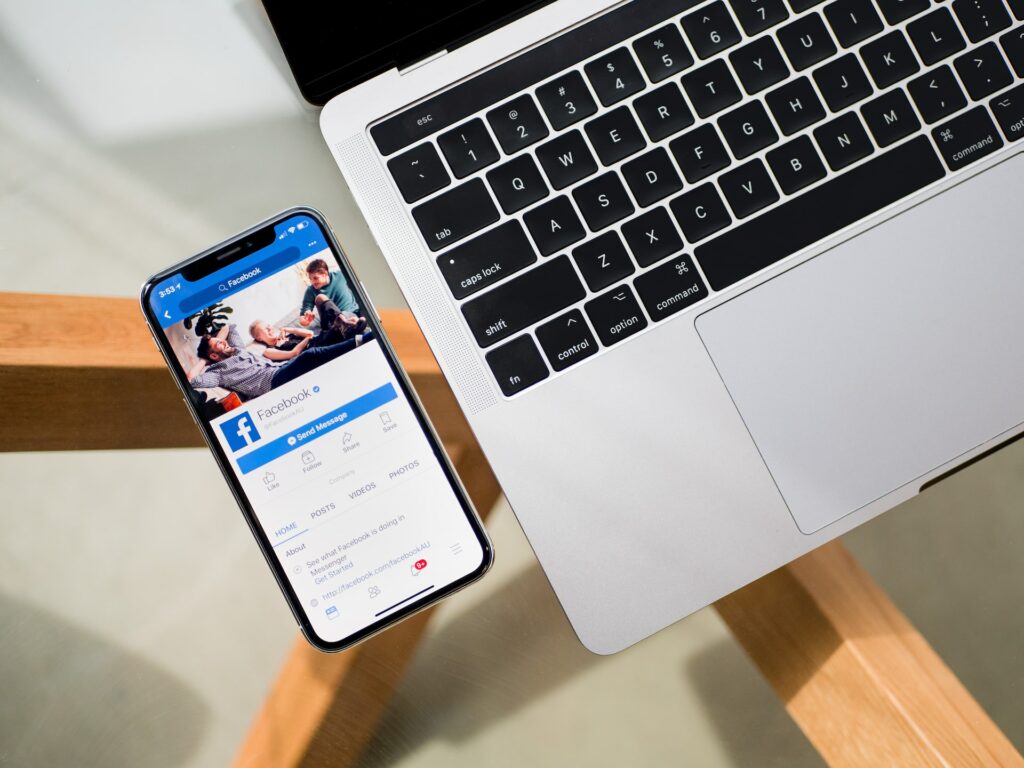 4. Engage With Your Followers
One of the easiest ways to improve your social selling strategy is to simply engage with your followers. So many salespeople overlook replying back, liking, or even sharing content from their connections, but it can make a huge difference. For example, if someone comments on a blog article that you share on LinkedIn that they enjoyed the article, you can like their comment, and reply back to it saying you're glad they enjoyed the article. By doing this, you are providing that follower with a personalized experience and improving your relationship with them. Also, by commenting back you will increase the post's impressions because it can appear on the LinkedIn homepage again.
5. Don't be too Salesy
You're not going to improve your relationship with anyone if you're just trying to sell to them. If all of your content and messages revolve around trying to make a sale, your current customers won't follow you, and prospective customers may get annoyed. Think of it as a car salesman who is too pushy, you're not going to trust them because you know that they only care about making a sale and about finding a car that fits your lifestyle. A good rule to follow is to keep promotional content to about 20% of your content. The other 80% can be of blog articles, behind-the-scenes pictures, engaging videos, etc.
6. Track Results
Just like any other form of marketing, you'll want to track metrics to see what content performs the best. Luckily, social media channels are easy to track and you can see exactly what you need to keep doing or improve on.
We enable B2B companies to identify the anonymous businesses that visit their website and personalize their experience. Your sales team can now follow up with the visitors that don't convert, while marketing can personalize your website based on firmographic information to drive up conversion rate.
Start your 14-day free trial today!
Social Media Business Manager
Every social media platform that you use will have a business manager account, although it may go by a different name. In this account, you'll be able to see your stats, insights, notifications, and other tools that will help you better understand your account. Every platform will include different stats and information that you can use to improve that channel. I would recommend checking your stats here at least once a week if you are starting new marketing initiatives so you are ready to change and improve your tactic easily. If you're using your personal account,
Google Analytics
In your Google Analytics account, you can see how many of your website visitors are acquired by social media. This is helpful to watch because you can see the gradual increase of website visitors coming from organic social media content. You can also set up goals in your account that will track how successful your website visitors are when they are acquired from social media. If you run paid social media ads, it's helpful to compare how many website visitors you receive from the ad and compare it to your organic content. There are a ton of different metrics that you can use to improve your social selling initiatives. If you're unsure about the best social media metrics to track, check out this article.
Visitor Queue
Although Google Analytics is a great tool, there is a lot of important information missing. Every marketer wishes that they could see who is visiting their website and who has been acquired from certain social media sites. With Visitor Queue, you can! Visitor Queue is a B2B lead generation software that identifies the companies that visit your website. In addition, Visitor Queue can identify their key employees, and provide you with their email addresses, phone numbers, and LinkedIn profiles to reach out. Find out how they were acquired, what pages they looked at, and how long they spent on those pages all to better frame your pitch. Generate 10-20% more revenue in just a few clicks. Start your 14-day free trial today and stop losing leads.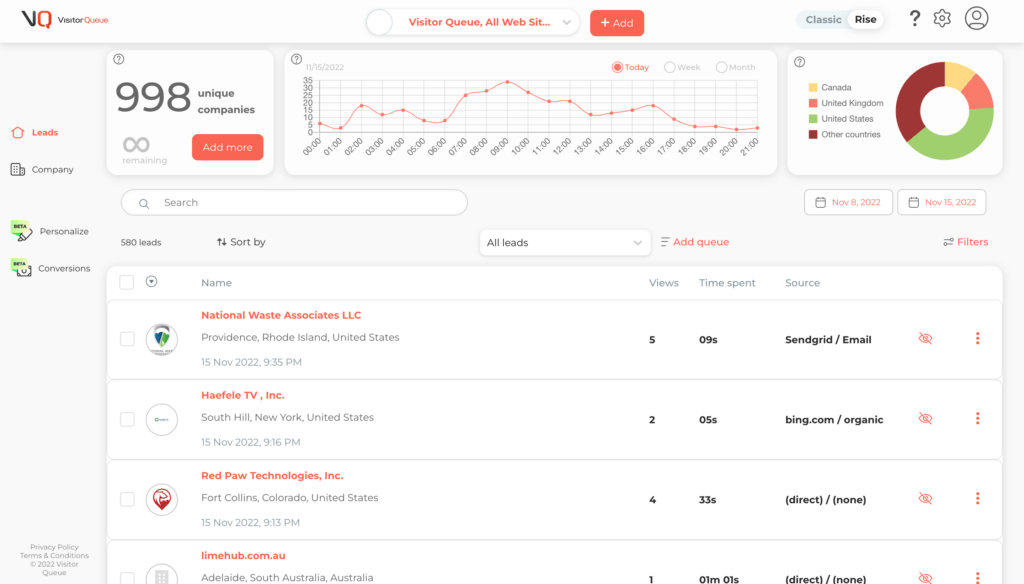 7. Quality Over Quantity
There is nothing worse than following a company or salesperson that posts multiple times a day, but all of the posts are what you expected. If you are limited on time and marketing resources, don't stress too much about posting a certain number of times in a week. If you only have time to create one or two quality Facebook posts in a week, that is much better than 5+ posts that are not high quality. It's pretty obvious to your followers if all of your content is at different quality levels. Even just one post that is lower quality can result in losing trust and followers. I can promise you that no one will notice if you miss one post next week if you are still putting out other high-quality pieces of content.
8. Build Relationships
Above all, social selling should aim to build your relationship with your followers. Whether they are a current customer, or they never intend to convert, you should value them all the same. One of the most important values that every salesperson should follow is being customer-centric. Without your customers, your business won't be successful. You should use this same mentality when planning your social media content. A few ways you can do this are by posting holiday content, sharing positive reviews, and asking for feedback. All of these ideas are non-promotional and will make your company seem more personable. They also show your customers that you care about them and their opinions.
Wrap Up
As you can see, there is a lot that goes into social selling. The best advice that I can give you is to not take on too much at a time. Start small and work your way up. If you are overwhelmed with content creation and planning, it will show in the quality of your content. Like I mentioned before, it's best to keep in mind that your content should be quality over quantity. Keep your follower's needs in mind, and create content that will satisfy their needs. If you have any questions about how Visitor Queue can help you with your social media strategies, let us know!