Popups help you convert more leads on your website by simply displaying your product/service information and ways to contact you. There are multiple ways you can configure popups on your website. For example, you can trigger your popups when your visitors reach a certain place on your site, when they enter your site, when they go to exit your site, etc. Popup builder software allows you to collect contact information from your website visitors giving you the ability to follow up with them.
This is a very commonly used lead magnet and is a great way to turn your visitors into leads and send the contact information you gather into your CRM. Give your sales and marketing team warm leads to add to drip campaigns and follow up with. By having this information from leads that actively sought your service out, it allows for a higher conversion rate and increased revenue.
Below, we've put together a list of the best website popup builder software available on the market.
Two Different Categories of Popup Builder Software
There are two ways you can approach building a popup for your site. The first way is being invested in software that you can build a popup and then add it to your site. This would allow you to customize your popup and then integrate it into your CRM or data centralization tool. Allowing you to gather your prospect's information. Below, we've listed several website popup builder software in this category.
Poptin forms and plugins track your website visitor's behaviours and ensure they receive the right message at the right time. This platform helps improve your conversion rate and turn more of your site visitors into leads. Poptin helps you get your visitors to subscribe to your newsletter, leave contact information, schedule a call, and more. Increase your engagement and recover your visitors that were on the verge of leaving your site. Through the use of exit-intent technology and other triggers, you can ensure your visitors don't leave without converting.
Popup Maker is a powerful marketing tool that helps website owners promote their sales and increase their conversion rates. With their multi-function popup tools, you can build a solid and customized marketing campaign for your site. Popup Maker is an easy to use platform which allows for customization to ensure the message and trigger is perfect for you. The easy to use interface ensures that you can do this within seconds and have your popups up and running quickly.
Getsitecontrol stands out from the rest with its excellent built-in designs and animations to catch your visitors' eye. With a wide array of integrations with major email tools and CRM's, you are able to get your information where you need it when you need it. With a built-in autoresponder, you are able to send emails as soon as someone opts-in. This is useful for any integrations that are automated and connected to Getsitecontrol. Welcome your new prospects or send relevant information based on the popup they filled out.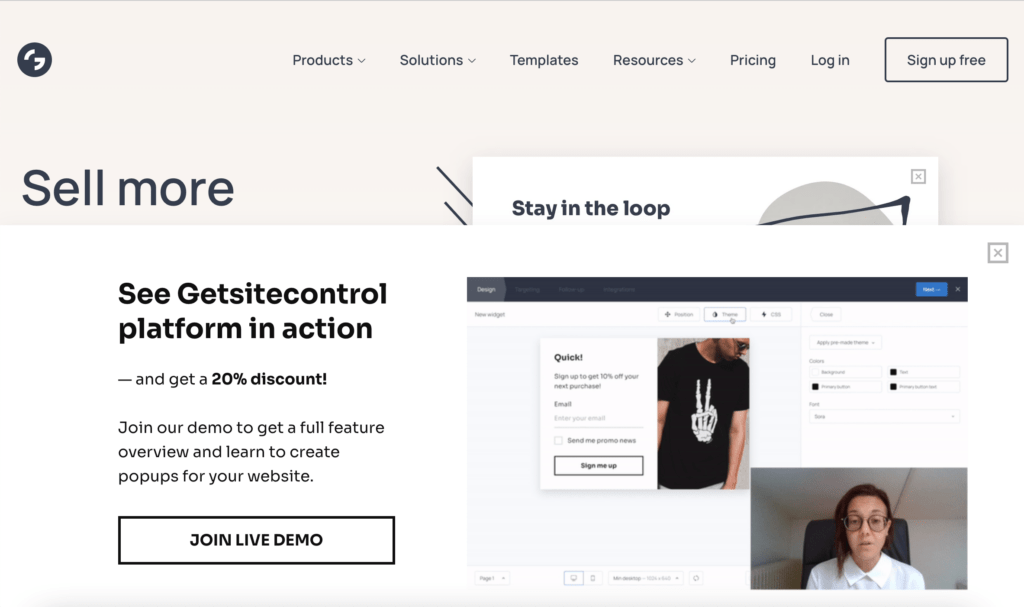 With RightMessage, you have the ability to build personalized popups that are displayed to the correct person at any time. By using your dynamic content. This is the perfect tool for the more advanced marketing professionals who are looking to build high conversion popups and forms. The visual flow builder is very easy to use and simple to navigate. Through the interface of this tool, you are able to build that perfect experience. Through powerful segmenting and targeting features for your visitors.
Hello Bar is not your typical popup; it is focused on high conversion sticky bars and does this in a less intrusive way. By using a sticky bar, you are able to get the information you want to your visitors. But remove the intrusive popup that may scare off your visitor. It adds a notification or promotion bar at the top or the bottom of the page with a customizable button. This gives your readers the experience they want on your site without disturbing the overall readability.
We enable B2B companies to identify the anonymous businesses that visit their website and personalize their experience. Your sales team can now follow up with the visitors that don't convert, while marketing can personalize your website based on firmographic information to drive up conversion rate.
Start your 14-day free trial today!
Optingun is unique in a way that allows you to create forms to be used with social accounts. Your visitors can easily sign up using their social accounts, making it easier to auto-fill their data. Also, you can combine the effectiveness of two different types of popups on your site. It can be set up in such a way that when a visitor clicks a notification bar, a modal or full screen can be triggered. This allows the user experience to not be disturbed. But allows for the full effectiveness of the modal or full-screen popup to reach its full potential.
Another Way To Look At A Popup Builder
The second way you can approach this process is by utilizing your CRM tool that offers a popup builder. If you are currently without a CRM tool or in the market for a new one, you could use a CRM that allows for a popup builder. Below, we've listed 2 CRMs that offer their own popup builders.
Agile CRM
Agile CRM is a feature-rich CRM tool for small to medium businesses but with the functionality of a larger CRM tool. It allows for features such as landing page building, popup building, and then the typical CRM functionality. With Agile CRM, you will be able to run your sales and marketing initiatives within the tool. Then improve functionality and conversion on your site with its building software. This eliminates the need to integrate a third party builder tool to your CRM. As any leads generated from your popups will go directly to the CRM section of Agile.
Hubspot CRM
Similar to Agile, Hubspot makes it easy to manage all of your leads that you get from your popups within the same dashboard. You can then set up notifications as soon as someone fills out a popup, and you can act on the lead. The analytics received in front of the Hubspot popup builder is extremely detailed and extensive. In order to make sense of how your popups perform. With Hubspot offering free plans, you and your team can get off to the races with a fully functional CRM and popup builder platform. It can get expensive when looking to upgrade to a higher plan. But by then, you will have increased your conversion rate to the point that you are able to afford it.
How To Pick A Popup Builder
As you can see, there are seemingly endless options when it comes to building and delivering a popup to your website visitors. You can utilize a popup builder or use one tool for multiple benefits. Like a CRM that offers a popup builder. The key is to ensure that the way you currently operate your business, you find a tool that works best for you.
Whether that is investing in another tool to build your popups or if you are in the process of looking for a CRM tool, finding one that does more for you. Or, if you are in the position that you currently utilize Agile CRM or Hubspot. And are not aware that they offered this functionality, you may be in for a happy surprise. Regardless of which route you take, ensure that the tool you choose integrates in an effective way with your CRM tool. If the integration does not work the way you want there, is no point in using it as you will become frustrated with its effectiveness. As the goal is to get the information in your CRM tool for your team to act on. It should work seamlessly.