In the fifth episode of What The Growth!?, Visitor Queue's chief executive and Co-founder, Nick Hollinger, goes over using your competitor's bad reviews in order to grow your business.
This is a simple trick that has helped Visitor Queue drive revenue. This tip works really well if you have a high ACV/LTV and utilize an outbound sales/marketing strategy.
So, let's get started. You want to begin by coming up with a list of your competitors. Then, find a list of review sites where your competitor's clients would leave them reviews. From there, start to visit the profiles of your competitors on these review sites.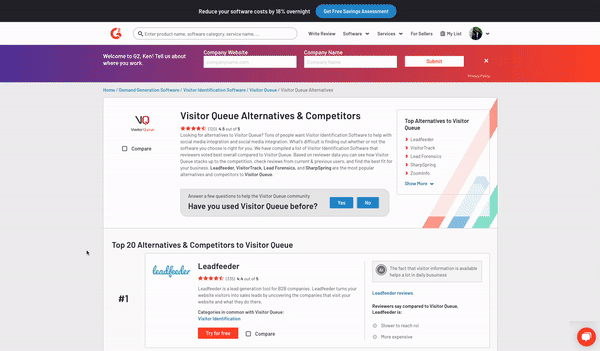 For this example, we'll say that SharpSpring is a competitor of ours. Also, most of our clients and our competitor's clients hang out on a review site called G2 Crowd, so let's go there. Let's visit SharpSpring's G2 profile. G2 has a convenient feature that allows you to filter for only poor reviews. So, let's check out only the really bad reviews and take a peek. 
We enable B2B companies to identify the anonymous businesses that visit their website and personalize their experience. Your sales team can now follow up with the visitors that don't convert, while marketing can personalize your website based on firmographic information to drive up conversion rate.
Start your 14-day free trial today!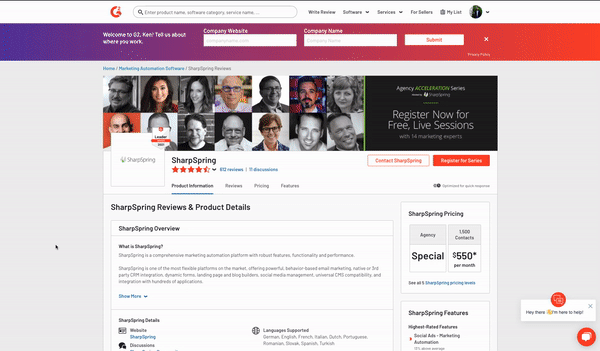 Okay, we can now see their bad reviews, if we scroll down, we'll see that some of these reviews don't have full profile information, but we'll see some that do! So, let's click on the profile of someone that left a bad review to learn more about them. We can see here that Robert Davidson, who is the Email Marketing Manager at a company called Aztek wasn't happy with SharpSpring.
From here, you have a full name, position, and company, which means you can easily find their LinkedIn profile and send them a connection request or note on LinkedIn. Or, because you know their name and company, you can use a service like Hunter.io to find their email. Hell, you could even find the company phone number and call Robert if you'd like – the possibilities are endless.
Pro tip:
If you don't want to spend the time scraping all this information yourself, use someone off of Fiverr or similar services to do it for you!
That's all for this episode of What the Growth. Ensure you check back next month for another growth tip.