As a B2B business owner, you have your hands full when it comes to staying on top of business operations, managing your team, and providing great service to your customers. But when it comes to marketing and lead generation, it may feel like there just aren't enough hours in the day.

To break the feast or famine cycle, you want to have a consistent stream of leads flowing into your business. You know having an effective marketing strategy is key, but how do you have the time to run outreach, post on social media, or launch email campaigns?

That's where marketing automation comes in.

Marketing automation software takes the manual work out of marketing, lead gen, and lead nurturing. And with amazing tools like Zapier on the market, automating your business marketing is now easier than ever before.

Do you have a marketing automation platform? How do you use Zapier to automate your marketing activities? Check it out in this guide.
What is Marketing Automation Software?
Marketing automation software is software that's designed to help businesses and marketers automate manual marketing tasks, capture leads, nurture leads, and analyze the performance of marketing campaigns. Marketing automation software can automate everything from email marketing to social media posting to reporting

Automation is now an essential tool when it comes to saving time on manual marketing tasks, analyzing customer data, and scaling up your marketing efforts. Without it, you run the risk of tying up your valuable time in marketing activities when you could be providing a better experience to your existing customers.
Benefits of Marketing Automation:
Automate manual marketing tasks
Harness customer data from multiple marketing channels
Analyze customer behavior with detailed reports
Publish content tailored to your audience's interests
Spend less time on marketing and more time selling
Reach a wider audience in less time
Scale up your marketing efforts without hiring more employees
There are many marketing automation software providers to choose from – all of them offering a variety of automation features. In this guide, we'll be focusing on how to use Zapier to create your own marketing automation system.
About Zapier – The Best Way to Automate Your Marketing
Zapier is a marketing automation software that allows you to integrate, automate, and innovate your marketing workflows. It connects with your favorite apps and works by sending "Zaps"between applications in order to trigger an action.

For example, you might set a Trigger that when you get a new email in your Gmail account, Zapier sends a Zap that copies the attachment in the email and saves it in Dropbox. Then, Zapier sends an alert to your Slack channel that you have a new Dropbox file.

Instead of you having to open the email, download the file, and save it to Dropbox yourself, Zapier does this automatically. And the magic is that you can set up these types of workflows for nearly any marketing activity.
Zapier Integrations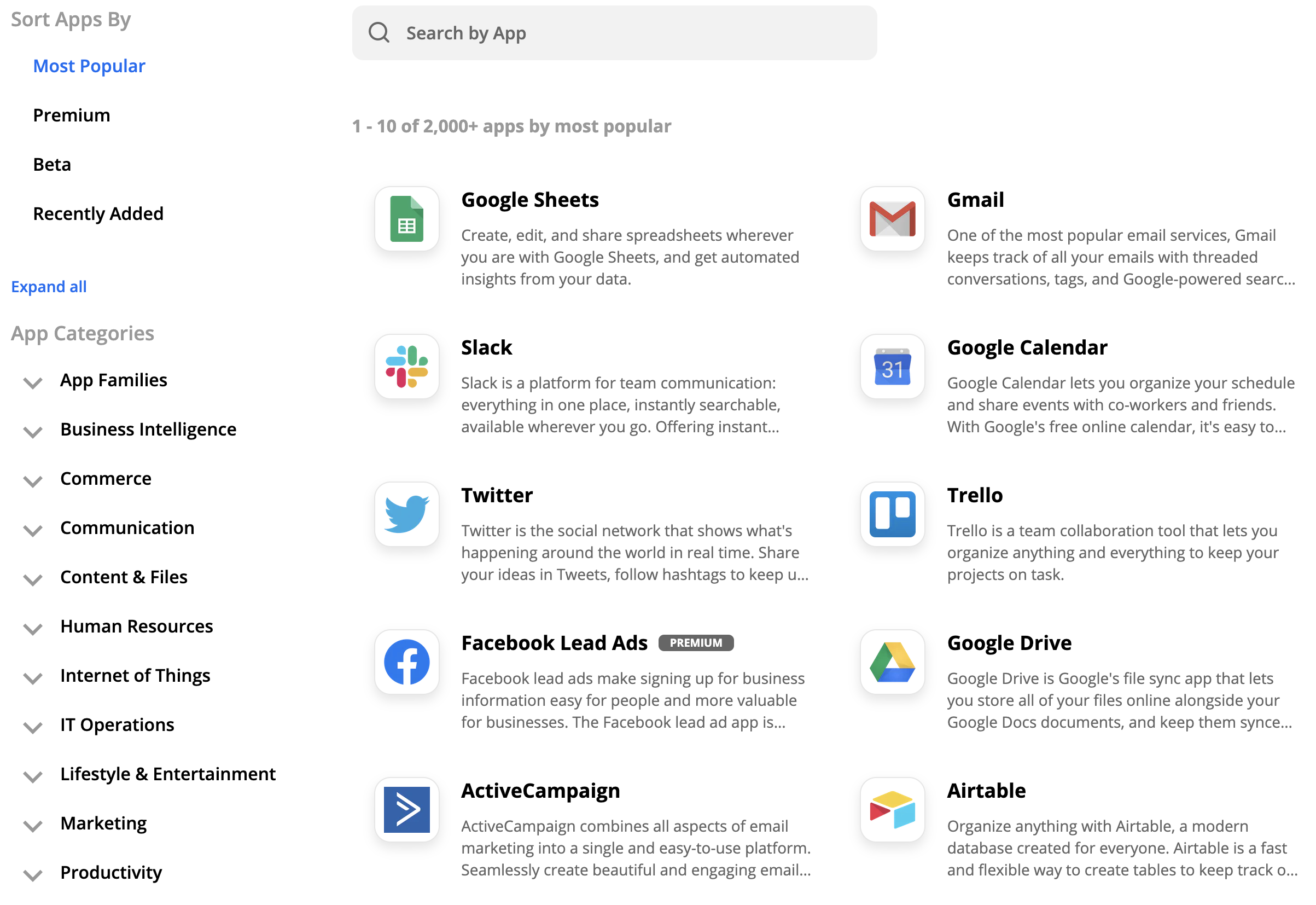 Zapier connects with over 1500 different business and marketing apps. That means near endless possibilities when it comes to automating workflows and tedious marketing tasks.

Some of the applications Zapier integrates with include:

With so many integrations available, you're likely to find your favorite applications and create a marketing automation platform that tailored to your unique marketing needs.

How to Use Zapier to Automate Your Marketing
Think of the marketing tools you use in your business already. Which ones come to mind? How much time could you save if you automated all of your daily marketing tasks?

With Zapier, you can automate nearly any marketing task by setting Zaps, Triggers, and Actions. For simplicity, here are some terms you need to know to get started:

Zap: an entire Zapier automated workflow (from start to finish)
Trigger: an event that "triggers"(starts off) your Zap – like making a sale or receiving an email
Action: an automated action that occurs after a Zap is triggered
App: an application or tool that integrates with Zapier, like Slack, Gmail, Asana, Zendesk, or Shopify.
Once you understand these basic terms, you'll be able to set up an automated workflow using any of Zapier's 1500+ integrated or built-in apps. Here's how it works.

We enable B2B companies to identify the anonymous businesses that visit their website and personalize their experience. Your sales team can now follow up with the visitors that don't convert, while marketing can personalize your website based on firmographic information to drive up conversion rate.
Start your 14-day free trial today!
Sign Up with Zapier
To get started, sign up for a Zapier account. You can access Zapier's core features for free (forever) as well as try out their premium features for free for 14 days.

They currently offer five pricing tiers: Free, Starter, Professional, Team, and Company. These range from $0 per month to $599 per month.

New to Zapier? Check out their helpful Getting Started Guide.
Create You First Zap
Before creating your first Zap in Zapier, you have the option of either starting with one of their existing templates or creating a Zap from scratch.

To add a Zap template to your account:

Go to your Dashboard and search for the app you want to connect to.
Then search for the app you want your first app to connect to (like "Connect this app"¦ Gmail with this one: Slack")
Set a Trigger for your Zap. This is the Trigger that will begin your Zap. For example, you could select "New Contact"as being added to your Salesforce CRM.
Choose the Action. For example, maybe you want an email notification to be sent to your Gmail account every time you get a new contact in your Salesforce CRM.
Scroll down to see popular Zapier templates. Click Use Zap when you find the one you want.
Click Sign In to sign into the apps you are connecting with. Some additional settings required.
Click Finish Editing to turn on the Zap. You can also Test the Zap to confirm that it's working. Your Zap is now ready!
To create a Zap from scratch:

Log into Zapier and click Make a Zap.
You'll be taken to the Zap Editor where you can set up the Trigger and Action.
First, select the Trigger app – the one that will start off the sequence.
Next, select the specific Trigger you want to set, like New Contact, Document Updated, etc. You can also use the search function to find Trigger suggestions.
Click Continue.
Connect to your app account and sign in. You may need to configure some additional settings.
Once set up, click Test to confirm that the Trigger is working.
Next, choose the Action app – the app that you want to perform an Action in response to the Trigger.
Choose the action by creating your own Action or by selecting from a list of options.
Connect to the app and sign in to your account.
Customize your Zap. Zapier will give you a variety of fields to fine-tune your Zap to perform the Action you want it to take.
Test the Action to confirm that it's working. If it is, click Done Editing and toggle the On/Off button to On.
You're done! Once your Zap is Triggered, the workflow will begin automatically and the Action will be taken without you having to lift a finger!
More Help: How Zapier Works
Still confused about how to set up your first Zap? Check out the instructional video below:

EMBED: https://youtu.be/v98d2tH3wfc
Create Zaps for Your Marketing Tasks
Once you've created your first Zap, it becomes fairly simple to create automations for all of your manual marketing tasks.

It may take a bit of brainstorming for you to identify which apps you use the most, which tasks you want to automate your marketing with Zapier, and how those will translate into Zaps.

The good news is that Zapier provides tons of plug-and-play Zaps for you to choose from if you don't want to set them up yourself (or if you're stumped on what to automate first).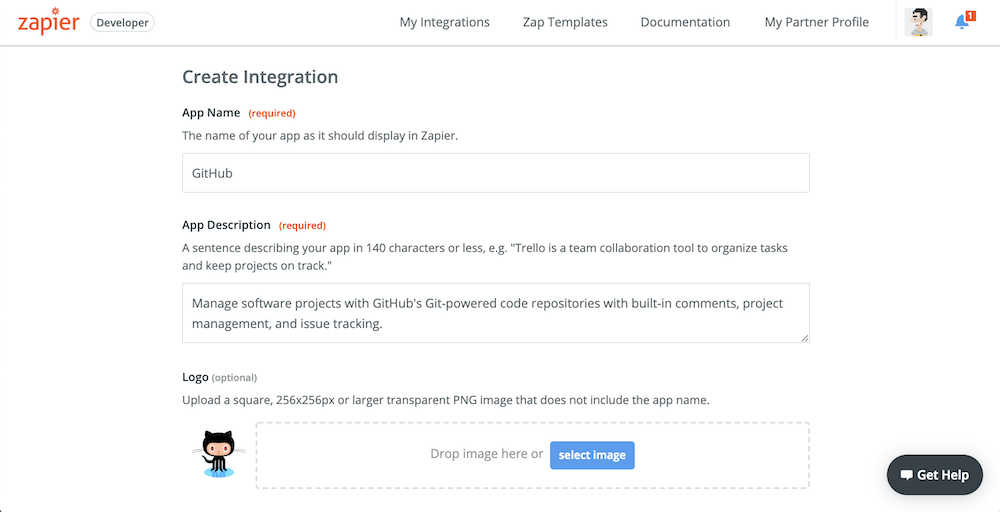 For example, here are some of the most popular app automations available in Zapier:

Share blog posts from an RSS feed to social media with Buffer
Turn Evernote notes into Trello cards
Create Asana tasks based on your Evernote notes
Translate Trello cards into OneNote notes
Collect Typeform responses and add them to Google Sheets
Get email notifications for each new Google Forms response
Send emails via Gmail for SurveyMonkey responses
Add subscribers to MailChimp email list from Google Sheets
Post upcoming Google Calendar events to Slack
Zapier integrates with so many marketing apps that you have almost endless possibilities when it comes to automating your marketing tasks.

Think, if you are able to automate customer intake, email notifications, follow-up, social media posting, and more, how much time you'll save compared to doing this all yourself!
Zapier Workflows for B2B Businesses
Zapier provides a slew of Zap possibilities for all types of businesses. But B2B businesses especially can make use of Zapier when it comes to automating their marketing.

Here are some of our favorite ways to use Zapier for B2B marketing:

Send automated outreach messages to cold leads
Add newsletter subscribers or contact form opt-ins to Google Sheets
Set automated alerts each time a new contact is added to your CRM
Send follow-up emails from MailChimp each time you get a new lead
Share blog posts to social media each time you publish a new post
Turn emails into task reminders in Slack or Asana
Notify your sales team as a lead moves down the sales funnel
Use Typeform to collect testimonials from clients or customers
Pull in Airtable data to be added to your CRM
Score leads from different marketing channels or sources
Create detailed reports with Google Analytics
Set email drip campaigns for new leads
Segment your email list based on subscriber interests
Predict buyer behavior with Artificial Intelligence tools
Set Chatbots to nurture leads on social media
Send SMS messages to new leads
These are just a few of the many B2B marketing tasks you can accomplish with Zapier. We highly recommend searching Zapier for their most popular templates to see what other tasks you can automate in your business.

For example, Visitor Queue uses existing website data to generate a list of B2B leads for your business. Using Zapier, you can add these contacts to your CRM, add them to an automated email drip campaign, and set reminders for your team to follow up.

In just a few steps, you'll have a lead generation strategy that adds website visitors right into your sales pipeline – all on autopilot.
Launch Your Own Marketing Automation Platform
With Zapier marketing automation software, you can easily create your own dashboard that consolidates all of your most time-consuming marketing tasks.

Gone are the days of adding new contacts to a spreadsheet, manually uploading them to your CRM, sending a follow-up email, and assigning the lead to your sales team. Zapier can do all of this automatically, without you having to lift a finger.

And it doesn't stop there. You can create an entire platform of automated marketing tasks that you can monitor at a glance. Simply create Zaps for all your important marketing tasks and let Zapier work its magic!

How much time could you save by automating your marketing?