There are several reasons you may want to identify your competitor's clients – we won't get into those here. Ethics aside, we will touch on 6 different ways you may be able to identify who your competitor's customers are!
For the marketers that know about BuiltWith, I think most will agree – this tool is incredibly beneficial for identifying what technologies specific websites are utilizing. What some don't know, is that if you're looking for a list of all websites/companies that are using a specific software, you can perform that look up with a paid plan.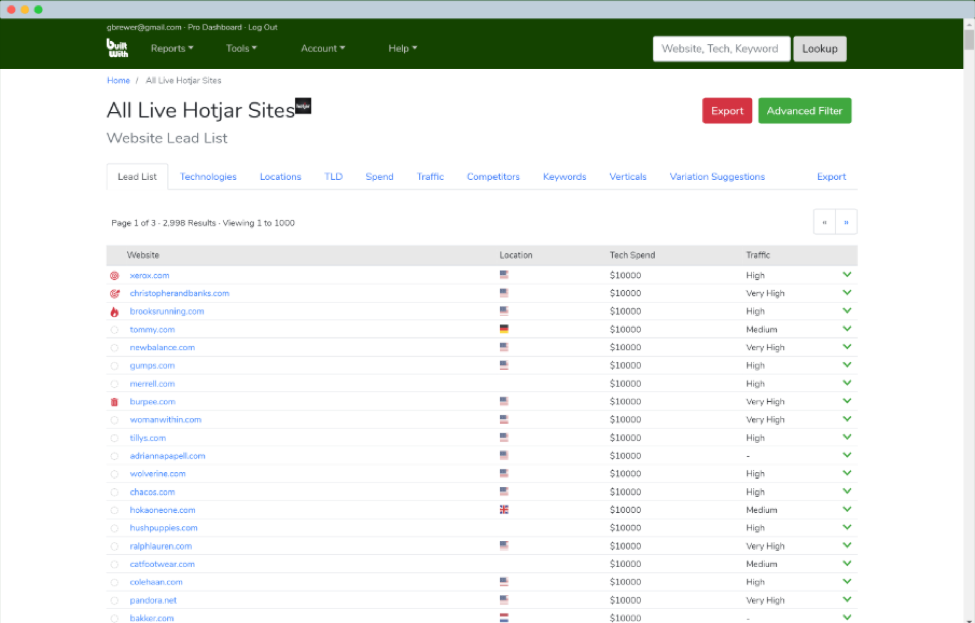 What's scarier or potentially more exciting (depending on how you look at it), is that the export they provide has even more information about those companies and their employees (phone numbers, emails, positions etc.)!
Side note: LinkedIn Sales Navigator previously offered the same functionality but removed it in 2017 with no comment on why.
Side note 2: You can also use BuiltWith to figure out your competitor's marketing/tech stack!
Siftery is a new product community that appears to take G2Crowd and Capterra to another level. While you can leave reviews for different software like G2Crowd and Captera, Siftery also tells you which other companies are using a particular software. However, it appears that the only way they gather this information is if the company uploads their client list. Further, you can only view 125 at a time.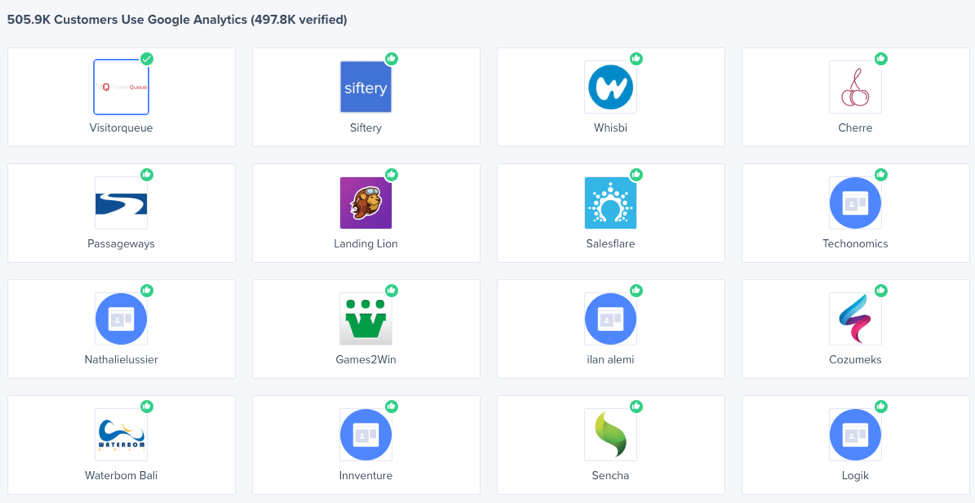 User Groups
Sometimes your competitor's will use Facebook or similar platforms to create user groups so that they can gather feedback, share updates, and so on. You can quickly do a bit of digging using Google to search for "<company name> user group" to see if your competitors have any out there.
Trello Boards
Like the above, you may stumble upon public Trello boards your competitors have set up. I have seen multiple software companies use Trello boards to communicate their roadmap to their clients. On these boards, you can see a list of all users that have access to the board.
Reviews
Review platforms like Google, G2Crowd, Facebook etc. give you access to a list of your competitor's clients – provided they have left a review that is. Pray for bad ones as you may just be able to swoop in and save the day!
Social Media
Most social media platforms don't allow you to see who outside of your circle has liked/followed a business page. This is likely to protect those users from being hounded by the competition. But, you can always do searches on these social media platforms to see who is tagging/mentioning your competitors in posts. I read an article at one point of someone that grew their entire SaaS company using Twitter search to find their competitor's dissatisfied customers, and DMing them.
Like we said at the beginning of this article, you may be gathering this information for several reasons – that's none of our business. Outlined above are simply just 6 different ways you may be able to identify your competitor's customers.
So, what is Visitor Queue?
Glad you asked! Visitor Queue is a powerful B2B lead generation platform that allows you to identify the companies that are visiting your website. We also tell you what they did on your website, how they got there, company contact information, and key employee contact information. Further, we provide an easy to use dashboard with tons of optimization functionality for you to access your leads. Or, you can utilize our integrations/API to send leads into your existing systems. Visit here to sign up for a 14-day free trial or to learn more!
While you're here!

98% of your website visitors are leaving without converting. Visitor Queue allows you to identify and reconnect with those visitors so you never lose a deal again! Receive regular email notifications, view leads on our dashboard, and/or integrate with your favourite CRM or MAP. All of this starting at $22 USD per month. Start your 14-day free trial now!