Lead nurturing is one of the most important aspects of the sales process. Yet, time and time again it is overlooked or underutilized by many sales and marketing professionals. According to Forrester Research, companies that properly implement a lead nurturing strategy can generate 50% more sales leads at a 33% lower cost per lead. Knowing this, it can be hard to resist creating and implementing a lead nurturing strategy for your own company. Before we dive right in, let's go over what lead nurturing even is.
What is Lead Nurturing?
By definition, lead nurturing is the process of building relationships with prospects at every stage of your sales funnel. The goal of lead nurturing is to keep your prospects engaged, and interested in what you have to offer. This will keep your company top of mind, until they are ready to convert. Additionally, by properly nurturing your leads, you can build trust, credibility, address concerns, and position your company as a valuable resource. Now that you know what lead nurturing is, let's go over a few of the top reasons why lead nurturing is so important for B2B companies.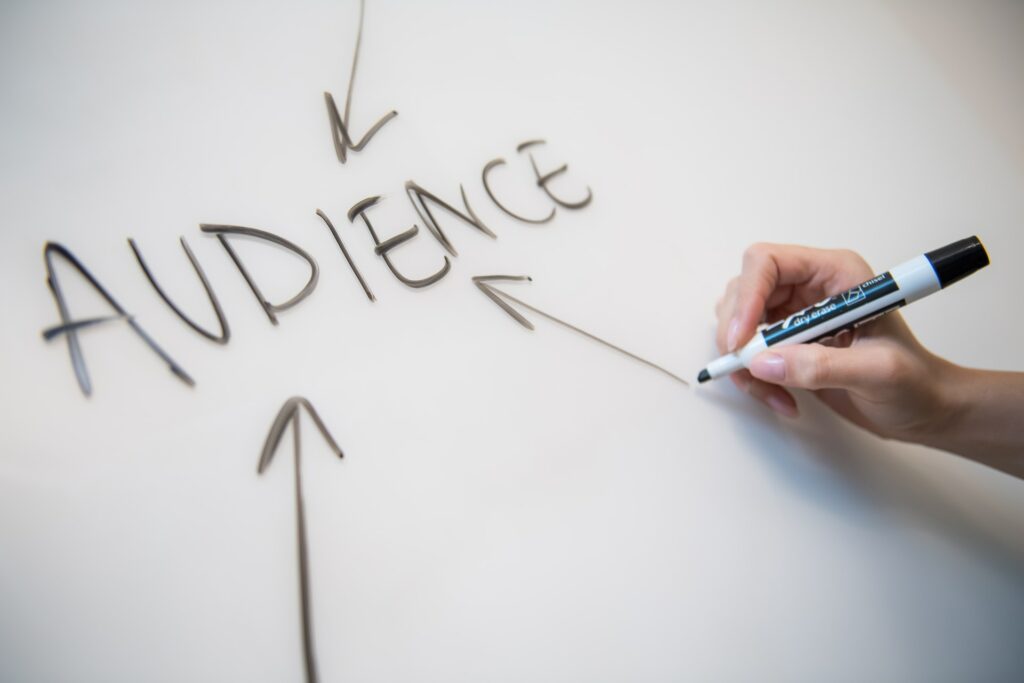 Why is Lead Nurturing Important?
I briefly touched on why lead nurturing is important previously, but here we are going to go through a few of the top reasons why lead nurturing is essential.
Building Trust & Credibility
When decision makers make a decision, they'll be much more likely to choose a company that has a strong online presence. This is because if you are consistently sharing helpful information and addressing their needs, you can establish yourself as a trusted resource in the industry. And, this can go a long way in enticing them to do business for you. If you were to compare two companies, and one posted regularly, while the other only posted on holidays, you're probably going to choose the one that shares useful information.
Shortening Your Sales Cycle
One of the best things about lead nurturing is that you can shorten your sales cycle. This is because you are keeping your prospects engaged and moving them closer to a purchase decision. By providing the right information at the right time, you can help them overcome objections and make informed decisions.
Increase Sales
If you are building trust and shortening your sales cycle, there's a good chance that you're going to increase sales. Lead nurturing is a great way to differentiate yourself from other companies on the market and form valuable relationships with your audience. As a result, you can increase revenue and profitability for your company, in a fairly affordable way.
We enable B2B companies to identify the anonymous businesses that visit their website and personalize their experience. Your sales team can now follow up with the visitors that don't convert, while marketing can personalize your website based on firmographic information to drive up conversion rate.
Start your 14-day free trial today!
How to Implement Your Lead Nurturing Strategy
Now that you know why you should invest in a lead nurturing strategy, you're probably wondering how to get started. Here are a few easy steps that you can take to get your lead nurturing strategy off of the ground.
Know Your Target Audience
The first and most important step is to know and understand your target audience. Knowing what their problems are, what questions they might have, and what will provide them with the most value. Once you know this, figure out what channels are the most likely to engage with. This could be in the form of LinkedIn content, blogging, podcasting, or other forms of content. It can take some trial and error to figure out what works and what doesn't work for your specific audience, but once you do, you'll be golden.
Use Marketing Automation
Marketing automation can help you perform a lot of tasks, quickly. Everything from generating content ideas, scheduling social media posts well in advance, setting up email workflows, and everything in between can help you increase your productivity and decrease your workload. By using marketing automation, you can streamline your lead nurturing processes, and ensure your leads receive timely and relevant content.
Personalize Your Messaging
Personalization is becoming more and more essential for B2B companies. Essentially, personalization is the process of tailoring your messaging to the needs and interests of your leads. By personalizing your messaging, you can make your content more engaging and interesting for your audience. One of the best ways to personalize your messaging is with website personalization. Website personalization essentially means that you show your visitors a custom view of your website based on their firmographics. So, if someone was visiting from an SMB, they would see different information than an enterprise-sized company.
Measure and Optimize Along the Way
The final step in building your lead nurturing strategy is to measure and optimize, which never really ends. Measuring and optimizing your strategy involves tracking key metrics to find out what your audience is responding the best to. These metrics range based on what marketing you are doing, but they can include anything from email open rates and click-through rates to social media impressions and engagements. You can then use this information to share more or less of a particular type of content. And, by continually optimizing your lead nurturing strategy, you can improve your results over time.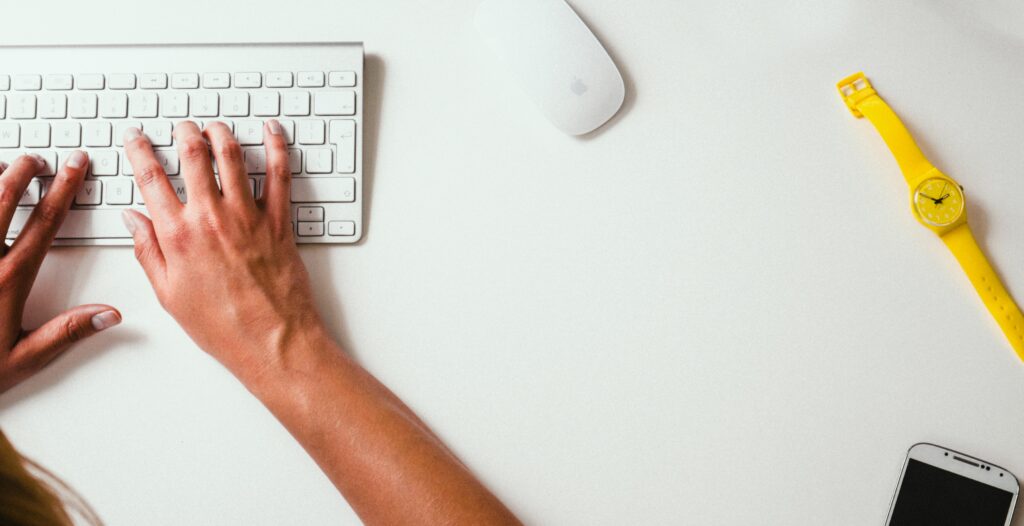 Software that can Improve Your Lead Nurturing Strategy
Without a software tool or two, lead nurturing can get pretty time-consuming. With the software mentioned below, you can speed up timely processes and automate as many aspects of your business as possible.
Hubspot is an all-encompassing CRM that allows users to build workflows, landing pages, email automation, schedule social media content, and more. It is one of the best tools on the market to manage your leads and form lasting relationships. A few of the best ways to use Hubspot is to build email campaigns and use their AI capabilities to send them at the right time. While Hubspot may sound like the best tool on the market, it can also cost a pretty penny. And, it requires maintenance and upkeep to ensure it runs without a hitch.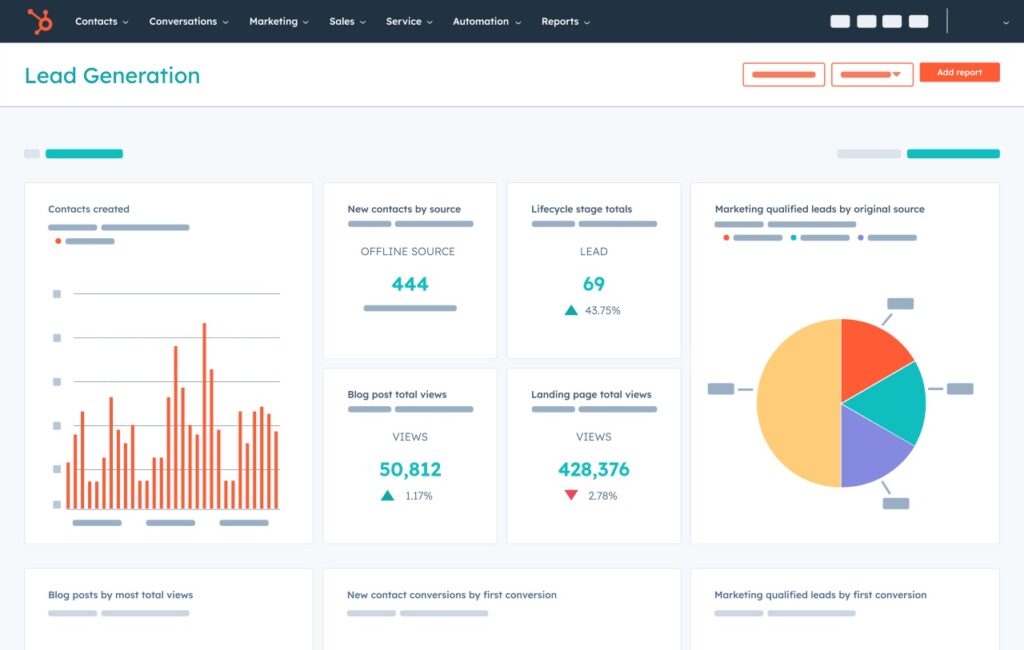 If you're looking for a lead generation software that can also help you improve relationships with your prospects and customers. Essentially, Visitor Queue can identify website visitors through a unique form of IP address reversal. Gain access to the companies that are on your site, including how they got there, what pages they visited, and how long they spent on each page. Use these metrics to see if your marketing campaigns are attracting the right audience. In addition, we also provide you with employee contact information to help you reach out. So, for lead nurturing, if you see a company continuously visiting your blog posts, try connecting with their decision makers on LinkedIn to see if you can start building a relationship with them. Or, try sending them an email! Start your 14-day free trial of Visitor Queue today.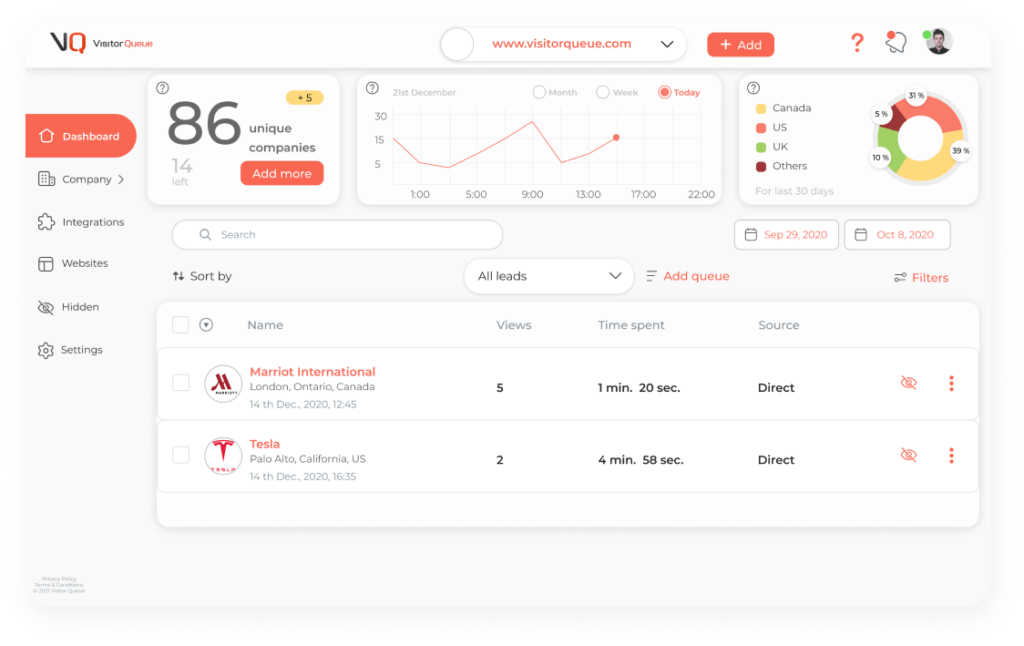 The last tool that you should be utilizing is Hootsuite. Hootsuite is a social media scheduling software that allows you to not only schedule, but reply to comments, check out likes, and review stats on your social channels. Hootsuite can help you engage with your audience easier and faster than manually. Plus, with its AI capabilities, you can see what time your followers are the most active on social media, so you will be the most likely to see results. This can help you get in front of more people than just guessing peak times.
Wrapping Up
Lead nurturing is an essential part of B2B marketing. Implementing a successful lead nurturing strategy can help you build trust and credibility, shorten your sales cycle, and increase your bottom line. By following the best practices mentioned above, and using a software or two, you can build a successful strategy that drives results for your company. As always, if you have any questions about Visitor Queue, do not hesitate to reach out.