Everyone has been told this before "stay one step ahead of your competition". Now, while that is great advice, it's also terrible advice. That's about as helpful as saying "be the best out there". We are all trying to be the best on the market and stay ahead of our competition. But how do you make a plan to accomplish this? Especially if you are new to the industry. Conducting competitor analysis may be your answer.
Unfortunately, the answer is easier than the process. By analyzing and monitoring your competition on a daily basis, you are able to see what is working and not working for them. Allowing others to make mistakes for you is the best way to grow. This is known as competitor analysis, and if you currently do not do this, you are one step behind already.
There is a lot of data and insight that you can gain by performing a competitor analysis. You will develop differentiators between you and your competitors you may have not been aware of. You can then use these new differentiators and your pre-existing ones to give shoppers a reason to pick you over the rest.
Why Is This Important?
Competitive research is crucial to the success of your business as it gives you the tools and information needed in order to quickly identify trends in your industry. By understanding your competitor analysis, you can adapt your strategy more quickly in order to stay on top of your competition.
Without knowing what your competitors are doing and the changes they are making is like being in a race but not knowing where you are in the standings until it's too late and the race is over. The outcome is similar as well, you may come first, but there is a higher likelihood that you will end up in the middle of the pack. Receiving this outcome, in the end, will only hurt your business. This is why it is so important to understand what your competitors are doing. This allows you to gauge if you need to go faster through the corner to catch up or if what you are doing is working and to build on it.
How To Do It?
Now, this type of competitor analysis is a bit more in-depth than the typical SWOT analysis you performed in school, or even a TOWS analysis. This analysis will yield more thorough results but it isn't complicated enough that you need to go back to school to learn how to perform one. Now, let's get started.
Identify Your Competitors
Hopefully, you have already done this prior to reading this blog. If not, let's get cracking. Whether you like to believe it or not, your competitors want success just as much as you do. This is why it is so important to be aware of who they are. By identifying your competition, you will be able to capitalize on their weaknesses and strengths, understand your business landscape to learn how to position yourself, and not allow them to sneak up from behind.
Start by searching your own company name, your product/service idea/concept, the problem you're solving, etc. This way, you can see all the other players in the market that are competing with you. From there you can explore their websites, content, social media, news mentions, reviews, etc. Your primary goal here is to cast a wide net and identify all the competitors you can.
Next, you will want to categorize your competition into three main tiers. These tiers are;
Primary

These are your direct competitors that are targeting the same audience and/or have a similar product.

Secondary

These competitors offer a higher or lower end solution to yours, or, sell something similar to a different audience.

Tertiary

These competitors include businesses that are related to yours. These competitors come in handy when you are looking to expand your product catalogue.
When you are categorizing your competition into these three tiers, it is best practice to use a spreadsheet in order to keep it up to date as well as all the necessary information. At the absolute minimum, you should catalogue their company name, location, mission statement, product offering, strengths and weaknesses, and tier of competition.
Examine Each Competitor
Once you have gone ahead and identified your competitors, you will want to then examine their websites and other content. The main things you will want to note are:
How professional are their images and videos?
How detailed are their product/service descriptions? Is there any information missing?
Where are their social media icons on their site? Are they easy to find?
Do they have a blog? How frequently do they post?
Is their site mobile-friendly?
What methods of contact do they have available?
Do they prompt you to join their email list?
Where are their calls to action?
How long does it take for them to respond to an email, live chat, contact form?
These are just to get you started. You will find more specific attributes to look at that are more relevant to your industry and audience. The goal is not to analyze their strengths or weaknesses, but to help you think like a business owner. Also, use tools such as Ahrefs to gauge their organic traffic and look for opportunities to optimize your site for keywords they may miss. Take a look at Ahrefs comprehensive dashboard!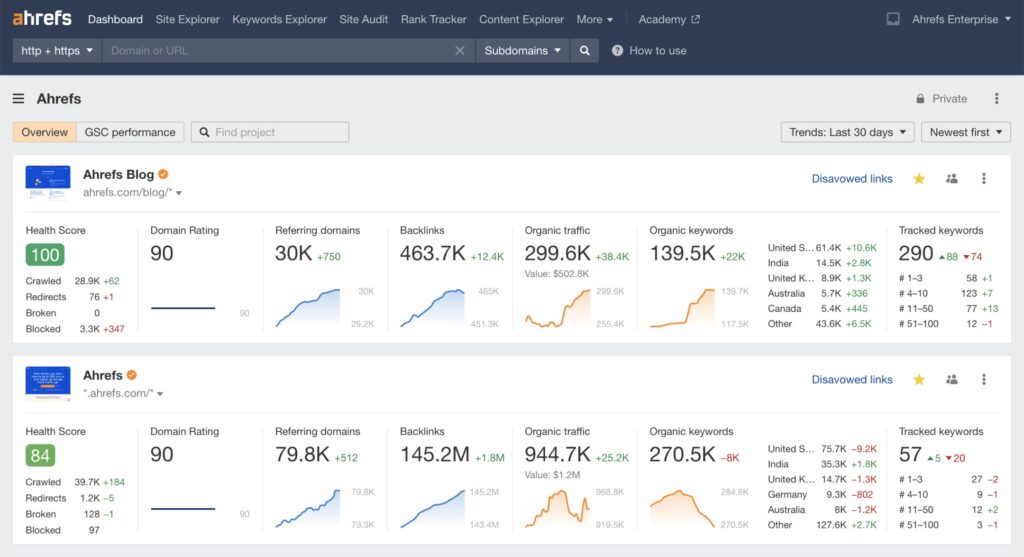 Market Positioning
By understanding your competitor's positioning and their strategy, you will begin to understand the demands and expectations of the market for your own offering. While still looking at their website you can ask yourself the following:
Why are their customers buying from them? Are they going for price? Experience? Quality?
How are they different from the competition? What do they highlight most in their marketing copy?
In their opinion, what makes them unique?
These questions will help you understand who they are targeting, how they position themself in the market, and what their focus is. This will in turn help you work on how you will position yourself against or alongside them.
To gather further information you can:
Sign up for their newsletter
Subscribe and follow their blog
Follow them on social media
Purchase their product (if applicable)
Check their cart abandonment process (if applicable)
Request a demo (if applicable)
Speak to a sales representative
We enable B2B companies to identify the anonymous businesses that visit their website and personalize their experience. Your sales team can now follow up with the visitors that don't convert, while marketing can personalize your website based on firmographic information to drive up conversion rate.
Start your 14-day free trial today!
Reviews
Reviews are some of the best ways to see how a competitor is doing, especially recently. With reviews, you can see if your competition is improving their offering (if their reviews are getting better), or if it is getting worse (new bad reviews). There are plenty of review sites out there you can check. You can look at Google reviews, marketplace (if they sell on Amazon or other marketplaces), G2 or Capterra (if they are a specific type of business), or on their own site.
This is a great way to not only see how you can capture some of their client bases by improving on the ways your competition has let them down. But also, to see if there are a high number of reviews, thus showing a continued interest in your offering.
Social Media
Everyone knows that you need to have an active social media presence. This doesn't mean you need to post multiple times a day. It does mean that you should have a regular posting schedule to remain relevant on social media. This is another good way to tell if there is a large or growing market for your business.
Of course, if you discover that your competition is active on social media and is doing it well, you will have to step up your game in order to compete. On the other hand, if they are not posting regularly or have a poor presence on social, you can capitalize on this.
Look at all of their social media channels and ask:
What is their social media presence like overall?
What channels are they on? Which do they use the most?
Do they interact with their client base?
How frequently do they post?
Are there any channels missing?
What type of content do they share?
How much of their content is about themselves?
How hard do they try to increase their following?
Bonus
As you can imagine I could go on forever on what other aspects to investigate to understand your competition. There are many aspects that may be important to your audience, industry or business that I did not mention, or some I did mention that may not be immediately relevant to you. This is a great place to start. It will have you thinking critically about your competition and will spark new questions and ideas. Some other ways you can investigate your competitors are:
See if they are hiring. What positions are they hiring? Are they looking to build out?
Find out about their funding
How long have they been in business?
Are they local? Or are they spread out?
Wrap Up
Performing a competitor analysis does not mean you need to watch them like a hawk or an overprotective mother. It simply means that you should understand them and keep tabs on them. The goal for business should be to stay one step ahead, and performing a competitor analysis is a great way to do that and to create strategies based on findings to dominate the market.