Kickfire vs Whoisvisiting vs Visitor Queue, it can be difficult to determine which tool best first your needs. With new players entering the market daily it seems. It can be difficult to sort through the platforms and ensure the one you choose is indeed the correct tool. We understand that you don't have time to try every tool on the market and then determine which is best.
We are not aiming to make the decision for you. But we can lay out the facts and you can determine which tools may be worth trying based on your needs. The best thing about the majority of these tools is that they can be trialled together and you can compare which works best for your needs. All business needs are different. To some, it might be more important to have a mobile dashboard, easy to integrate, available API, have custom reports, whether you can track multiple sites, or other features. These are just some of the features we will go over and state what each tool offers to help you narrow your sights on a few tools.
Kickfire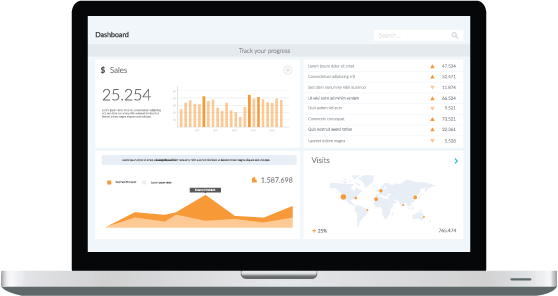 KickFire is a B2B company that relies on data to provide insight into sales and marketing strategies. Kickfires turns IP addresses into companies and provides account-level firmographic information such as industry, employees, founded, and more. This provides B2B marketers with information that will help them understand if they are reaching their intended audience and which channels are working. By understanding how companies are interacting with your site and your content. You are able to personalize, target ads, enrich forums and other account-based strategies. Starting at $300+ per month you are able to track your site(s) and pay for the contacts that you wish to see. Depending on the plan you decide to go with you can have access to an API for any custom work,e receive email reports and get support from their team.
Kickfire vs Visitor Queue
Whoisvisiting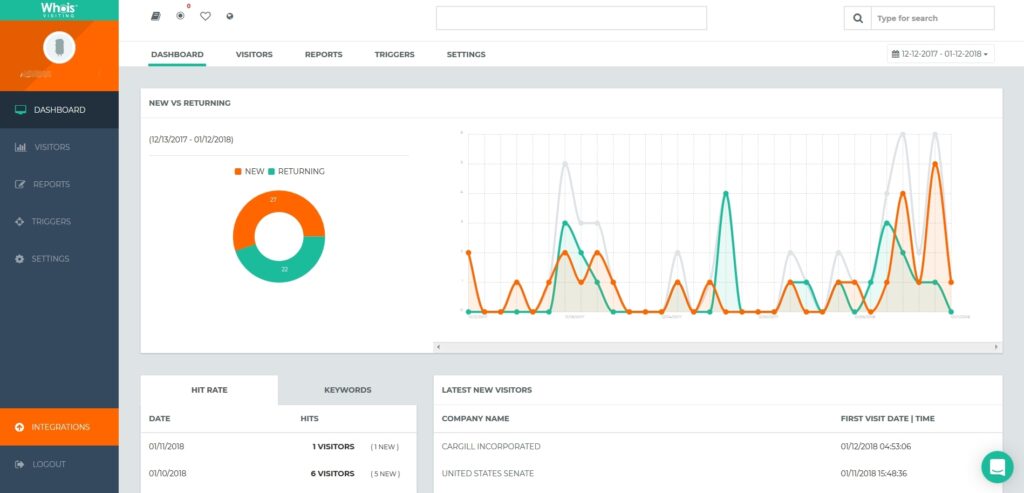 Whoisvisiting is a simple and effective way to find out which companies are visiting your site and not contacting you. Through the approach of IP address reversal, they are able to identify the companies visiting your site. In order for your sales team to follow up with these companies with the goal to close a sale. Through real-time reporting, your team can keep up to date with the high priority leads. One's that are coming to your site and create custom follow up plans for each company. In short, starting at $69 per month you are able to add a code to your site, track your visitors and receive email reports for the users that you track.
We enable B2B companies to identify the anonymous businesses that visit their website and personalize their experience. Your sales team can now follow up with the visitors that don't convert, while marketing can personalize your website based on firmographic information to drive up conversion rate.
Start your 14-day free trial today!
Whoisvisiting vs Visitor Queue
Visitor Queue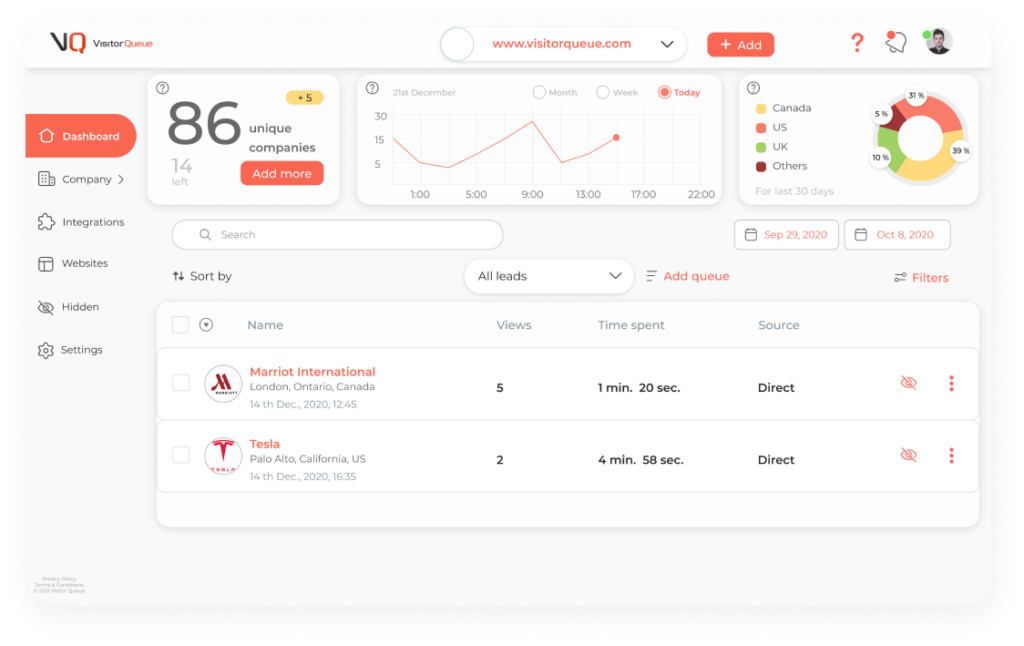 Visitor Queue was founded in 2017 in Canada and has clients encompassing the globe and is growing exponentially year over year. As of Feburary of 2020 Google Analytics made changes to their data. Thus, causing Visitor Queue, like many other companies, had to adapt to these changes and generated a tracking script in order to track visitors and provide the same information as they did when they utilized Google Analytics data. Not only, did Visitor Queue adapt to generate the same data as before, but Visitor Queue can also now identify visitors within 15 minutes and offer more company and contact information on companies that visit your site.
Visitor Queue is not only the most cost-effective solution in the comparison (starting at $29 per month) but arguably the most cost-effective solution in the industry. Along with the ability to have unlimited websites linked to your account, unlimited users on the account, unlimited integrations, custom API, custom reporting methods, and custom filters available on all paid plans. You have the ability to customize your account to your needs at any subscription level. Visitor Queue is always developing new features and will work with your company to make the solution ideal for you. The Visitor Queue team is very open to feedback and frequently uses it to improve the dashboard.
In the coming weeks, Visitor Queue will be the first company in their industry to be listed on the Salesforce app exchange. Living natively inside the Salesforce dashboard. This will allow you and your team to seamlessly use your data inside the world's number 1 CRM tool. You will have access to every feature and tool as you would within the Visitor Queue dashboard. Try your free 14-day trial and see what Visitor Queue can do for your team.
Now What?
Kickfire vs Whoisvisiting vs Visitor Queue, narrowing down the available tools can be difficult. As all options in the industry set out to solve different problems. For all different aspects of your business and use different identification methods for visitors. It is important to identify which team within your business is planning on using this tool. Then what features, integrations and refinement tools are important to you. Ensure that before you set out on your hunt, you determine what is most important to you and your team. Then find the solution that not only meets your budgetary needs but also solves the problem you are facing.
As a disclaimer, there is no technological way to track end-users to identify the individual that was on your site. This also infringes on privacy law if it were possible. There are tools out there that "are able to do this". This is through chat functions or other ways that the individual offers their own information. You then link that to their IP address which is not identifying anonymous visitors. Subsequently, not all traffic seen in Google Analytics account is going to be identified. Only company IP addresses and VPN's registered to company domains are identifiable. All ISP's, network providers, etc. are filtered out as there is no relevant data to be gained from these visitors.