With dozens of lead generation tools available on the market, it can be difficult to decide which one is best suited for you and your team. But, there are several products out there that provide you with the website visitor tracking information, like Leadfeeder vs Lead Forensics vs Visitor Queue, but the difference will be between how they identify your visitors, the quality of their leads, how they enrich their data, tools they provide to refine your data, and what is included for productivity (integrations, users, number of websites, etc.).
Before you jump in with both feet and sign up for free trials or contact their sales team for more information, you should understand what you are looking for and what is actually possible. Look at your current tool chest and see how you want to merge this new data with your existing bank of information, then understand the type of information you are looking for. Lastly, you will need to know if this is going to be a tool you will want your team to be added to or if you have multiple sites you want to be tracked, and factor that into how you decide what tool is best for you. Next, we've done a review of Leadfeeder vs Lead Forensics vs Visitor Queue.
Leadfeeder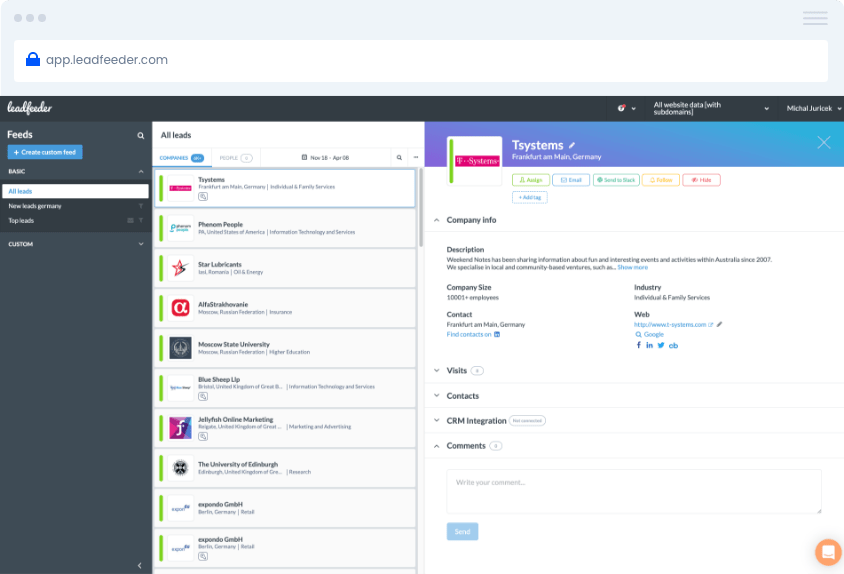 Firstly, Leadfeeder is a leader in the lead generation tools space. They were founded in Finland in 2013 Leadfeeder works with organizations around the globe to identify the visiting their website. In addition, Leadfeeder utilizes a tracing script to track the company's IP addresses coming to your site to identify them. Leadfeeder offers instant tracking details on all visitors and will supply email notifications on your leads but they do not allow for custom "hot leads" notifications where your team can keep up to date on leads that they would prioritize following up with. They have their own cloud-based dashboard where you and your team can see your visitors and more detailed information on them, the dashboard can take an adjustment period as it is not completely intuitive but it is clean enough to navigate. 
| | | |
| --- | --- | --- |
| | Visitor Queue | Leadfeeder |
| Tracks the companies on your site | Yes | Yes |
| Price | Starting at $29 USD per month | Starting at $69 USD per month |
| Frequency of data updates | Instantly | Instantly |
| Page Tracking | Yes | Yes |
| Email reports | Yes | Yes |
| Auto-assignment of leads to users | Yes | No |
| Hot lead notifications | Yes | No |
| Unlimited users | Yes | Yes |
| Unlimited websites | Yes | Yes |
| Lead archiving | Yes | No |
| G2 Crowdâ"¢ Reviews | 4.6/5 – 90 reviews | 4.6/5 – 54 reviews |
| Capterraâ"¢ Reviews | 4.5/5 – 60 reviews | 4.3/5 – 82 reviews |
Lead Forensics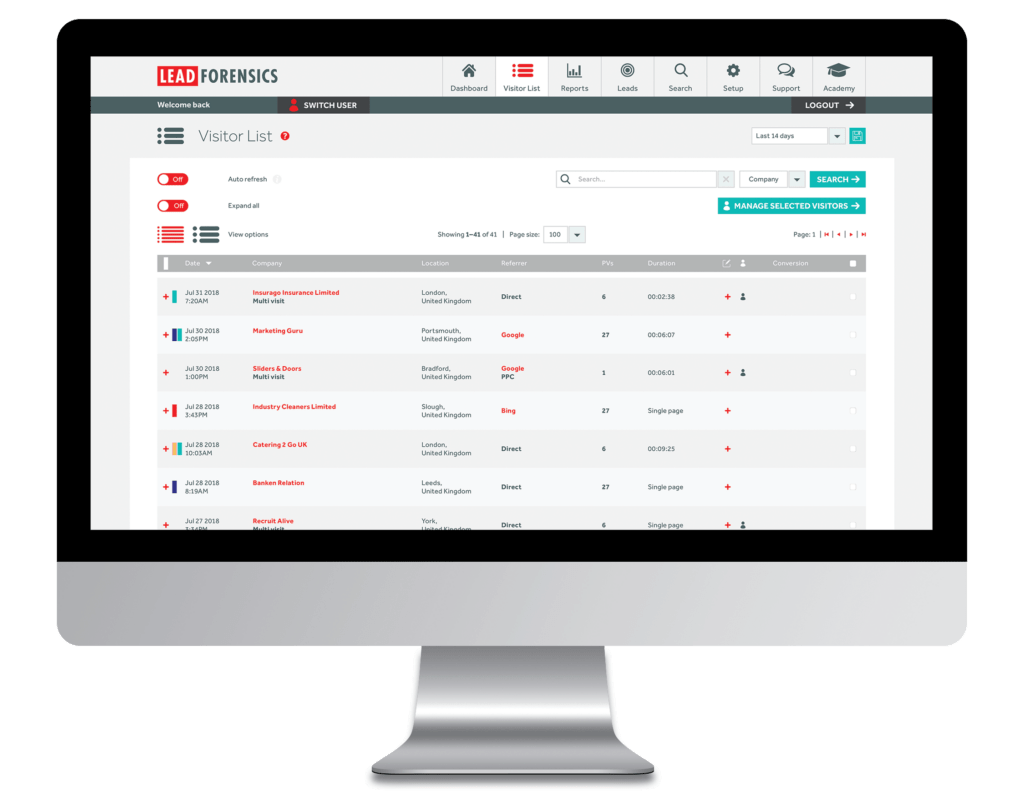 Secondly, Lead Forensics was founded in 2009 in the United Kingdom and has a global presence in the lead generation tools market. Unlike the other two companies in this comparison, Lead Forensics has always used tracking scripts to track visitors to their clients' websites. In addition, Lead Forensics comes at a premium price that starts at $300 USD/month and only offers annual contracts and requires an agent to help set up your free trial. On the other hand, in comparison to the other two companies where you can set up your free trial and navigate through the software with little to no contact with the company if you choose. When provided with the contact and company information of the visitors to your site you are required to pay per contact you would like to see to reach out. But, along with only being able to run one website per account makes it more difficult for agencies and larger companies to utilize this software.
We enable B2B companies to identify the anonymous businesses that visit their website and personalize their experience. Your sales team can now follow up with the visitors that don't convert, while marketing can personalize your website based on firmographic information to drive up conversion rate.
Start your 14-day free trial today!
| | | |
| --- | --- | --- |
| | Visitor Queue | Lead Forensics |
| Tracks the companies on your site | Yes | Yes |
| Price | Starting at $29 USD per month | $300+ USD per month |
| Pricing model | Month-to-month or annual (20% discount) | Annual contracts |
| Free trial | 14-days | Contact a sales rep to set it up |
| Getting started | 5-10 minute setup | Add additional tracking codes to your website |
| Key Contacts | Unlimited phone numbers & emails | Pay per contact you see |
| Email reports | Yes | Yes |
| Number of users | Unlimited | Unlimited |
| Number of websites | Unlimited | 1 |
| Auto-assignment of leads to users | Yes | No |
| 24/7 Support | Yes | Yes |
| G2 Crowdâ"¢ Reviews | 4.6/5 – 90 reviews | 3.6/5 – 97 reviews |
| Capterraâ"¢ Reviews | 4.5/5 – 60 reviews | 4/5 – 12 reviews |
| Customizable Tagging | Yes | No |
Visitor Queue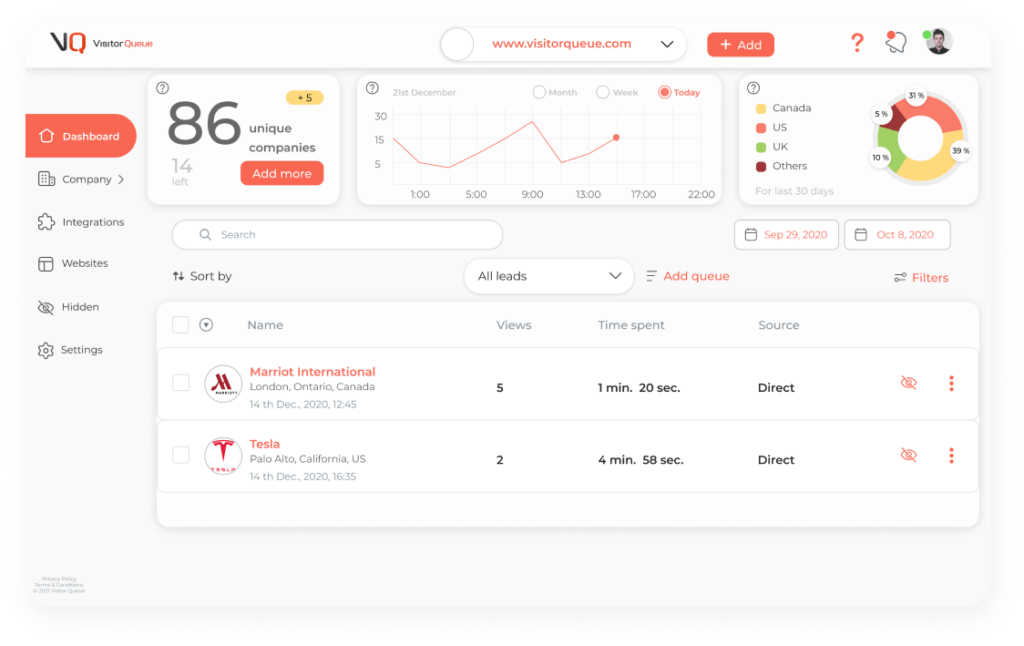 Finally, Visitor Queue was founded in 2017 in Canada and has been growing exponentially with clients around the world. Along with Leadfeeder, Visitor Queue previously connected with their client's Google Analytics to track their visitors and identify the companies that hit their site. In addition, in February 2020 Leadfeeder and Visitor Queue both changed to unique tracking scripts to identify visitors as Google Analytics no longer provides relevant information to track companies. Visitor Queue is not only the most cost-effective software in this comparison but arguably the most cost-effective in the industry. In addition, you will have ability to have unlimited users on your account, unlimited websites, unlimited integrations, and customizable reporting and filtering methods along with features like tags, hot leads notifications, and more, Visitor Queue allows you to do more at a price anyone can afford.
Visitor Queue is also always developing new features and updates to make their dashboard more productive but remaining as simple as possible. In addition, in the coming weeks, Visitor Queue will be the first company in their industry to be listed on the Salesforce app exchange and live natively inside the Salesforce dashboard. In addition, this will allow you and your team to seamlessly use your data inside the world's number 1 CRM tool. Lastly, you will have access to every feature and tool as you would within the Visitor Queue dashboard.
Recommendation
We recommend using Visitor Queue, not because this was written by Visitor Queue, but because Visitor Queue was built and designed because our CEO used the competitor's software at previous jobs and knew there was a better way to do things and created Visitor Queue to be that solution. With a pricing model that is workable for all stages of your business life cycle and the tools and features that are always included in every pricing model, Visitor Queue seems to be the best option. There is no way we are going to be able to sit here and completely convince you through this comparison, nor do we plan to do so, we only hope to help you through your process of deciding which tool is best for you.
We always recommend that you try out multiple products and compare the data, features, tools, customer support, and anything else that is important to you.
But, Choosing a lead generation tool is not as easy as it may seem, every company targets a specific area to focus on and uses different identification and enriching methods. In addition, if this were not the case there would be no reason for all three companies to exist. But, to better understand what company would work best for you, you first must understand what you are expecting to get out of the software, and to ensure what you are hoping to get out of the software is realistic.
What's Next?
As a disclaimer, there is no technological way to track end-users and identify the individual that was on your site to follow up with them, this also infringes on privacy law if it were possible. But, there are tools out there that "can do this", this is through chat functions or other ways that the individual offers their own information and you link that to their IP address which is not identifying anonymous visitors. Also, not all the traffic you see in your Google Analytics account is going to be identified, only company IP addresses and VPNs registered to company domains are identifiable. In addition, all ISP's, network providers, etc. are filtered out as there is no relevant data to be gained from these visitors.
If you have any questions about Leadfeeder vs Lead Forensics vs Visitor Queue, the data that can be collected and provided to you, collection methods, or about the tool in general, the Visitor Queue team is always there and willing to help. We will see you soon.