I'm sure by now you've heard of the new social media platform taking the industry by storm. Threads was introduced on July 5th by Meta, Facebook's parent company. Threads is described as a text-based conversation app, that rivals Twitter. With the launch of Threads, B2B companies across the world are wondering if they should be using it. That's exactly why we've broken down if your B2B company should use Threads, and how to get started.
Understanding Threads
Threads is a social media platform that combines what we love about Twitter, with the clean and aesthetic feel of Instagram. Threads allows users to share their thoughts through text, images, and short-form videos. At this point, Threads is more casual and friendly than traditional forms of social media, encouraging B2B companies to tell jokes, highlight features, and expand their brand voice on a more personal level.
Threads vs Twitter: What's the Difference?
One of the most common things marketers are talking about is how similar Threads is to Twitter. In fact, many writers are calling Threats the "Twitter-killer", as frequent updates over the past few years have resulted in fewer and fewer Twitter users. Aside from the Threads vs Twitter politics, there are a few key differences between them. Unlike Twitter's 280-character limit, Threads allows 500 characters. This allows users to express thoughts and ideas, encouraging more comprehensive and engaging storytelling. Threads also offer better organization with their algorithm, making it easier for your audience to follow the flow of your narrative. Finally, Threads can also easily be shared to Facebook and Instagram, expanding your reach even further.
How Should Your Company Use Threads?
Now that you understand the fundamentals of Threads, let's explore why B2B companies should consider incorporating Threads into their social media strategy. Here are a handful of the top reasons why.
Increase Brand Awareness
Increasing awareness is one of the most important reasons that companies should use any social media platform. Since Threads is such a hot topic right now, with over 150 million downloads in the first two weeks, it's the place to be. And, we always say that we have to go where the customers are! As I mentioned before, you can also share Threads directly to your Facebook and Instagram stories, creating even more brand awareness.
Boosting Engagement
With Threads being so popular and relevant right now, you have the opportunity to get in front of a wide audience and boost brand engagement. Threads offers a place to captivate and interact with your audience, sharing insight, industry knowledge, and jokes. Since Threads is more casual than other platforms, you have the unique opportunity to bond with your followers.
Enhance Customer Relationships
At this point in time, Threads is a very fun and casual social media platform for B2B brands. What you post on LinkedIn probably won't do as well on Threads. But, on the flip side, you are able to form more personable relationships with your followers, which can keep your organization at the top of their minds.
We enable B2B companies to identify the anonymous businesses that visit their website and personalize their experience. Your sales team can now follow up with the visitors that don't convert, while marketing can personalize your website based on firmographic information to drive up conversion rate.
Start your 14-day free trial today!
Getting Started with Threads
Now that you know a little more about Threads, and the potential it holds for your B2B company, let's explore how you can leverage it effectively.
Define Your Audience
Threads is completely different from social media platforms we currently use. Keep this in mind when you are defining your target audience, as it will not look the same as LinkedIn. At this time, Threads users are 68% male, while only 32% of users are female. And, the most popular age group is 23 to 27. While Threads users may not be CEOs or Senior Marketing Managers, this group can still bring unique ideas to the table. Take TikTok for example, it has a similar age group using it, and companies like Hubspot are taking advantage of this. Hubspot has over 20,000 followers on TikTok, but they also have videos reaching over 7 million views. Being top of mind, and making free content can make your audience enjoy your content. Not to mention, it can be a helpful recruiting tool!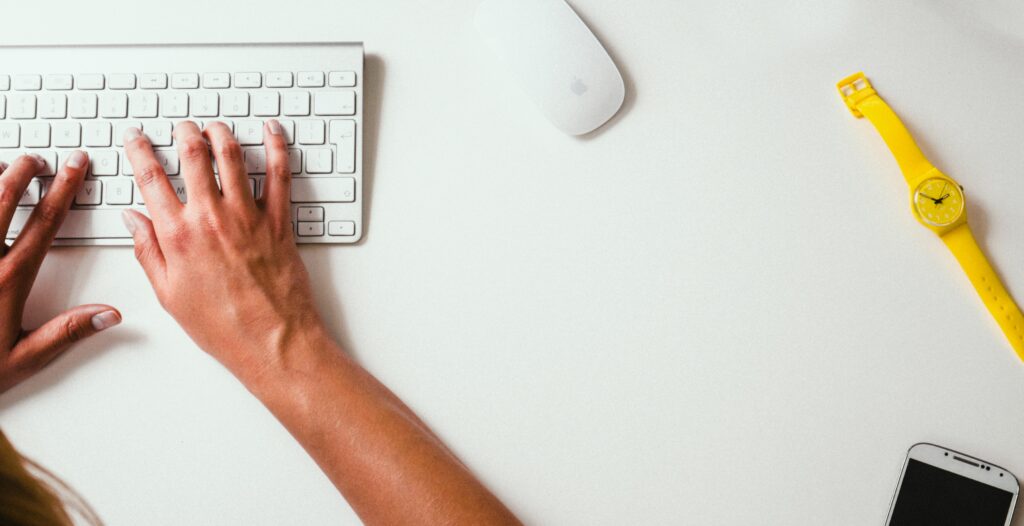 Engage With Visuals
While Threads can definitely be used for just text posts, you are also able to attach images to further prove your point. In fact, posts with images receive 2.3 times more engagement than those without. Knowing this, using both text posts and image plus text posts can be a winning combination.
Encourage Interactions
Interactions and engagements are what is going to get your brand out there. The more interactions, the more people are going to see your posts. When you are writing your Threads posts, you should do it in a way that encourages comments, reposts, and likes. As an example, you can ask your audience a question or their feedback on something you have recently launched. This can help you engage your audience and form a bond with them.
Analyze Your Performance
Just like any other form of marketing, you're going to need to analyze your performance. You'll want to find out what works, and what might not be working. Take a look at your previous posts to see what had the most engagement, views, and other key metrics. It can also be helpful to check out your competitors or other software in the industry to see what kind of engagement they are getting.
Experiment With Your Brand Voice
Since Threads is unlike any other social media platform you are currently using, this may be the perfect opportunity to play around with your brand voice. Companies like Hootsuite, Hubspot, and Mailchimp are all using very playful, engaging, and fun tones of voice to represent their brand. And, this does well when considering the average Threads user we talked about earlier. Because of this, infusing your personality and telling jokes can be a huge help. And, if you're not that creative, ChatGPT or other AI platforms are here to help.
How Can You Know if Your Threads Strategy Is Working?
While looking at your in-app metrics can be helpful to gauge whether or not your Threads strategy is working, knowing if anyone has clicked on a link to your website can help you truly see if your strategy is working to attract the right kind of visitor. So, with the help of Visitor Queue, you can identify the companies that land on your website, how they were acquired, what pages they viewed, and how long they spent on each page. This can help you see what companies are landing on your website from all social media channels, not just Threads. Not to mention blog articles, Google Ads, and other channels. But, we also take it one step further by providing employee contact information including phone numbers, email addresses, and LinkedIn links to help you connect. Send these leads directly to your CRM and automate seamless follow-ups. Start your 14-day free trial today and start identifying your website traffic.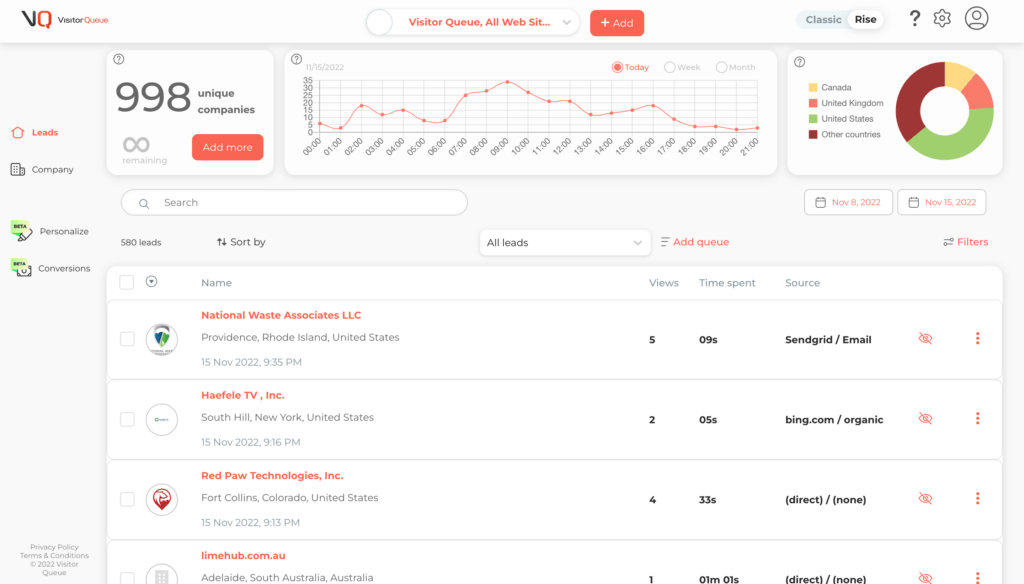 Conclusion
As you can see, there are a number of pros that come a long with the new social media channel, Threads. While B2B companies may not be targeting their ideal customer profile, using a trendy and fun platform can help you get your name out there and form relationships with up and coming marketers. It's never a bad idea to hop on the trendy train before it's too late, even if you end up not using Threads in a year from now. We hope this guide could help you decide whether or not your company will use Threads. As always, if you have any questions about identifying your website traffic with Visitor Queue, do not hesitate to reach out.