It can be intimidating to implement marketing as a small business. There are so many aspects that go into marketing, and it can be even harder as a small business. However, if done right, marketing can grow your business exponentially. If you don't know where to start, or how to improve your current marketing strategies, keep reading for the best small business marketing tips to grow your company.
Choose Your Target Market
I'm sure you are aware of the general target market that interacts with your business. But, researching your target market including what social media platforms they use, their demographics, and their geographics are important. To keep everything organized, I recommend creating a persona for your target market. Here, you can add all of the information about your customers in one place. They are helpful to refer to from time to time, and when hiring and training new employees.
Determine Your Budget
When you first start your marketing plan, it's best to start small with your budget. You don't want to invest too much money in a form of advertising that does not result in qualified leads and conversions. When you are trying to decide how much money to spend on marketing, you will want to consider how much a customer will spend with your business over the time that they stay with your business. For example, if you spend $5,000 on marketing, but you only receive 5 clients that purchase once for $50, then you are spending too much to acquire clients that don't have a positive ROI. But, if those 5 customers spend $50 every month for the next 5 years, then your marketing is worth the investment.
Who is Going to do the Marketing?
As a small business, you may not have a specific person who is going to handle the marketing. It could be a joint effort, or it could be just you handling the marketing. Regardless, you will want to set up clear expectations of who is going to do what, and set up a game plan of how the marketing is going to be executed. This way, you and your team will stay organized and know exactly what is going to be done at what time. If you are doing the marketing, you should tell the rest of your team what you're doing in case customers have questions about something they saw online.
Set Practical Goals
As a small business, setting goals and expectations is crucial. If this is your first time marketing, it can be difficult to set goals. However, it's helpful to try and set goals that you think are attainable. When you are setting goals, you should stick to the S.M.A.R.T. method. This acronym stands for specific, measurable, attainable, relevant, and time-bound. If you need help setting goals, check out this article.
Use Metrics
When you are setting goals, you will need to track business metrics in order to define success. The metrics that you track will depend on what kind of business you are, the goals you set, and the types of marketing that you choose. If you are using social media, you should regularly look at your analytics, and compare them to the previous time period. Or, if you are trying to determine how much money to spend on marketing, you will want to analyze your customer acquisition cost. If you want to learn more about the metrics your business should use, take a look at this article.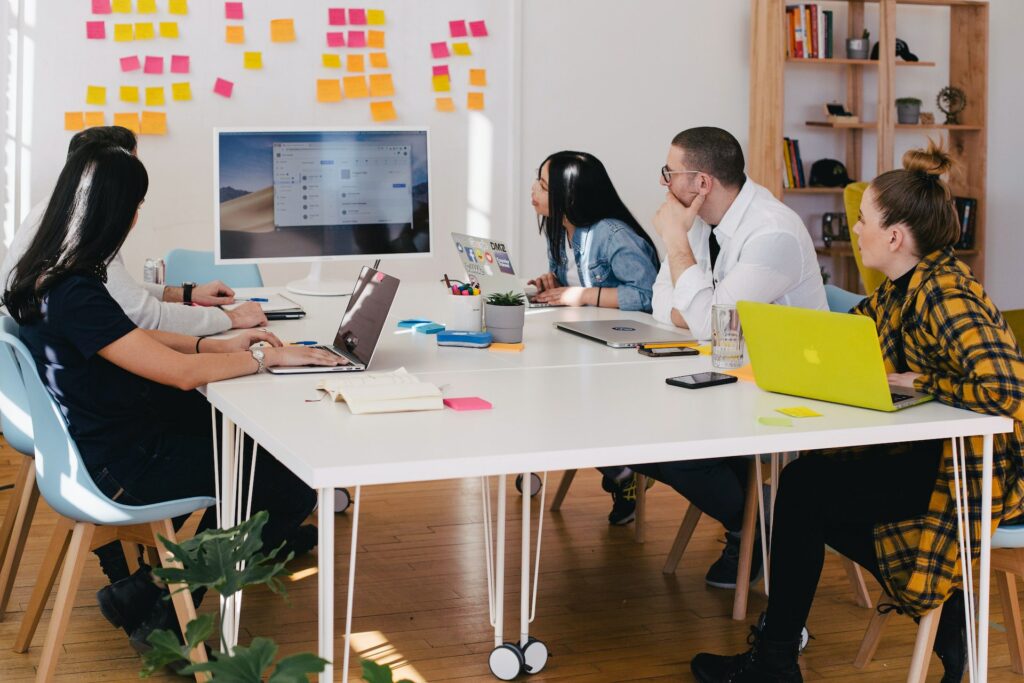 Take Online Courses
If you're new to marketing, taking online courses can be very beneficial. Even if you are not new to marketing, there are always online courses that can help you learn more about the field. Online courses are a great alternative to in-person courses because you can do them on your own time, at your own pace, and they are a lot less expensive. Hubspot, Udemy, and Google all have great courses available.
Social Media
Even if you don't plan on advertising on social media, it's a great idea to post organic (unpaid, regular posts) content. However, if you are planning to advertise on social media you will want to determine what platform(s) your customers use the most. You will find out this information from your target market research. Social media is a great place to advertise, since it's more affordable than traditional forms of advertising, and you can see how effective your efforts are with easily implemented attribution systems. If you're not sure what to put in your advertisements, you should identify the ads that your competitors are running. Outside of curiosity, this is a great tactic to help with competitive research and give you some new ideas for your ads.
Keywords
Even if you are not using paid advertising, using relevant keywords is very important. You should come up with a list of keywords that are relevant to your business, what you sell, and what your competitors are using. If you're not sure how to come up with keywords, Neil Patel has a great tool that you can use to identify keywords that are the most searched for in your industry. Once you have discovered keywords, you should add them to your social media posts, your website content, and any other content or ads that you may have. However, you don't want to overkill the keywords because Google will not like that either from an organic traffic perspective. Typically, you will want one or two mentions of the keyword for every 200 words.
Tools That Can Help
As a small business, it can be difficult to prioritize marketing over other important tasks. Luckily, there are so many tools out there that can help make the process easier. The tools listed below are either free, or affordable options that can help your small business marketing efforts and drive growth.
We enable B2B companies to identify the anonymous businesses that visit their website and personalize their experience. Your sales team can now follow up with the visitors that don't convert, while marketing can personalize your website based on firmographic information to drive up conversion rate.
Start your 14-day free trial today!
Google Analytics
Businesses of every size should use Google Analytics. At first, Google Analytics is confusing and complicated, but after you understand how it works and how to understand the analytics, it's a game changer. Google also offers a lot of beginner courses and articles to help you understand the platform. Plus, there are a ton of resources online that can help you understand. Using Google Analytics can help you understand your website visitors, what pages they are interested in, how long it takes for them to find what they are looking for, and the route they take before they convert. By understanding this, you can optimize your website and provide your visitors with the best possible experience.
Visitor Queue
As a small business, you might be short on time (who isn't?). Visitor Queue can help drive more conversions than other marketing and sales strategies. Visitor Queue is a B2B lead generation software that identifies the businesses that visit your website, along with employee contact information like email, phone number, and social media profiles. With plans starting at $31 USD a month, Visitor Queue is affordable for businesses of all sizes. Identify the 98% of website visitors that don't convert and grow your business!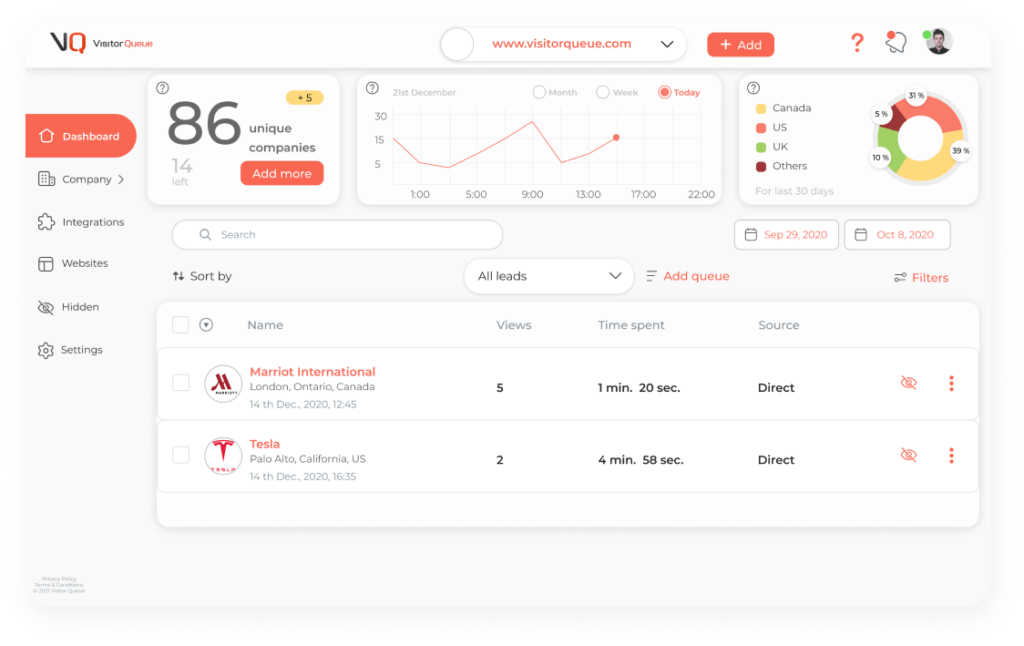 CRM
CRM, or customer relationship management, is a software that you can use to organize all of your marketing and sales efforts in one place. Again, if you are short on time then implementing a CRM can be very helpful. A CRM software can schedule your social media posts for weeks or even months in advance, set up email automation, and manage your customers. Hubspot offers a free CRM option that is packed with useful tools to help you grow your business.
What's Next?
When you are starting out your small business marketing journey, try not to get overwhelmed with all of the options out there. Start small, because even small steps will impact your growth. There is a lot of trial and error in marketing, so do not get discouraged if one idea doesn't work as well as you thought it would. As always, if you have any questions about how Visitor Queue can enhance your small business marketing strategy, do not hesitate to reach out.