The ability to nurture cold leads into sales is crucial for companies of all sizes. Cold leads, often comprising potential customers who have expressed interest but haven't yet engaged with your company, represent a significant opportunity for revenue generation. And, with markets being so unpredictable, it's essential to convert as many of these cold leads into sales as possible. In this article, we go through a step-by-step guide on how to do exactly that. First, let's quickly go through the importance of cold lead conversion.
The Importance of Cold Lead Conversion
Turning cold leads into sales is an important part of the sales and marketing process. These leads have already shown some level of interest in what you have to offer. So, if nurtured properly, they can result in a hot lead, and then convert. However, it's crucial to understand the path that most of your prospects will take. And, how both your sales and marketing teams can work together to convert these prospects into paying customers. That's why it's so essential to understand your sales funnel.
Understanding Your Sales Funnel
Before you start turning cold leads into sales, you'll need to understand your sales funnel.Having a thorough understanding of your sales funnel can help optimize your lead conversion strategy. Your sales funnel represents the journey that your leads take. From the initial point of contact to becoming a paying customer. By understanding the different stages of your sales funnel, Awareness, Interest, Decision, and Action, you can not only increase your chances of converting your cold leads but also improve your sales and marketing efforts. If you need a refresher on what a sales funnel is and how to implement it for your own company, check out our article, What is a Sales Funnel?
Step 1: Identifying Your Cold Leads
The first step in the process of turning cold leads into hot prospects is to identify them. There are a few ways that you can do this.
Website Visitor Identification
We all know that most website visitors leave your site without filling out a form. So, by using a website visitor identification software, like Visitor Queue, you can find out the other 98% of your visitors who leave without a trace. With Visitor Queue, you can find out what companies visit your website, how they were acquired, what pages they visited, and how long they spent on each page. Plus, you can gain access to employee contact information. This includes email addresses, phone numbers, and direct links to their LinkedIn pages to help you reach out. Start your 14-day free trial of Visitor Queue today and stop losing leads.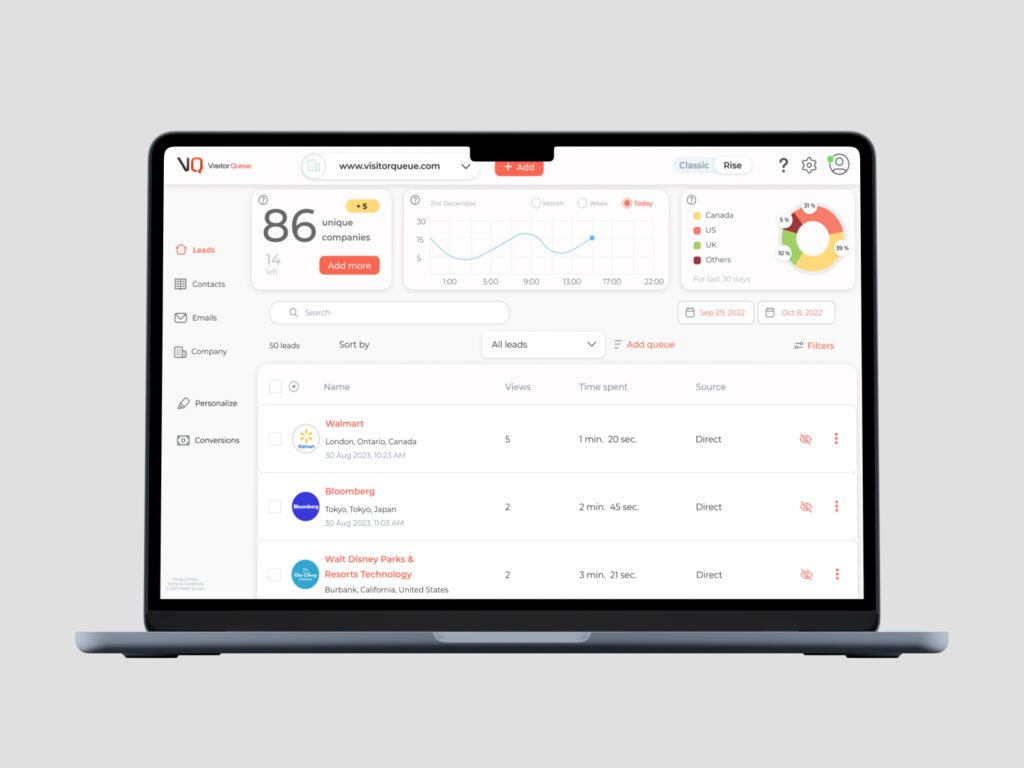 Social Media Engagement
If you have engagement on social media, whether it be on your company page or your personal LinkedIn page, these may be prospects that you can target. Monitor your social media channels for user interactions. This can include likes, shares, and comments, as this can be a sign that they are interested in what you have to offer. If you have a lot of engagement, you could also consider targeting them with paid advertising.
Lead Generation Forms
While not all of your website visitors will complete a form, it is important to still use them on your website. Contact forms, newsletter subscriptions, gated content downloads, and other places that you are asking for email addresses. These leads are most likely warmer than other leads acquired by the previous two methods. Although, there are fewer of them.
Inbound Inquiries
Inbound inquiries refer to inquiries, questions, and feedback from potential customers who have reached out to your business. This could be through form submissions, live chat questions, and more. Inbound inquiries are often warm leads. This is because they have enough interest and knowledge about your company to ask questions. Now that you know how to identify leads and collect contact information, let's move on to how you can segment these leads.
We enable B2B companies to identify the anonymous businesses that visit their website and personalize their experience. Your sales team can now follow up with the visitors that don't convert, while marketing can personalize your website based on firmographic information to drive up conversion rate.
Start your 14-day free trial today!
Step 2: Segmentation
Once you've identified your cold leads, the next step is to segment them. Segmentation allows you to categorize leads based on their characteristics, behaviors, and specific interests. Some common ways that you can segment your leads are by their firmographics, like the size of the company, headquarters location, and more. Another way to segment may be by engagement rate. Leads that show higher levels of interest through repeated visits or interactions, will be at a different stage in your sales funnel than those who have only visited your site once.
Step 3: Nurture Leads with Personalized Content
After your leads are segmented, it's time to engage them with personalized content. Leverage the insights that you have gathered about their interests and preferences to create content that speaks directly to their needs. Educational blog posts, eBooks and whitepapers, webinars, email newsletters, and case studies are some of the best ways to do this. Creating content that speaks to their specific needs will prove that your company is a reputable place to come for information. This can then improve your relationship with consumers.
Step 4: Engage Through Email Marketing
Email marketing is one of the most effective ways to nurture cold and warm leads. Create targeted email campaigns that correspond with your segmented lists. Try and ensure that your emails are not entirely promotional, but are also educational and informative. Share valuable insights, news, and personalized offers to keep your leads engaged. Using automated drip campaigns and sequences can deliver content at the right time to your audiences. This can keep them engaged with your company.
Step 5: Track and Monitor Your Engagement
No matter the channel you use, you should be tracking and monitoring your engagement. This will look different for each channel. They can range from website visitor analytics like bounce rate and acquisition, or email engagements like open rates and click-through rates. If you're not sure where to get started, check out our article 12 Metrics Your Business Should be Tracking.
Step 6: Qualification and Transition
As your leads continue to engage with your emails, social media, and website, it's time to assess their qualification as a hot prospect. Create a scoring system based on their interactions, like the number of emails opened, content downloads, website visits, or social media engagements. The leads that meet your qualification criteria should then be transitioned to your sales team for further outreach – automated or manual.
Step 7: Analyze and Optimize
You should always be optimizing your conversion process. Regularly assess your lead conversion efforts to identify what's working and what's not. In your email campaigns, if the lead does not convert, you can always follow up with them and ask if there was anything that led them to make this decision. You can also enhance your content every few months based on what's working and implement A/B testing. Finally, you'll need to ensure that your sales and marketing teams are aligned to enhance lead handoff and communication. You'd be surprised to see how much lack of communication holds back teams.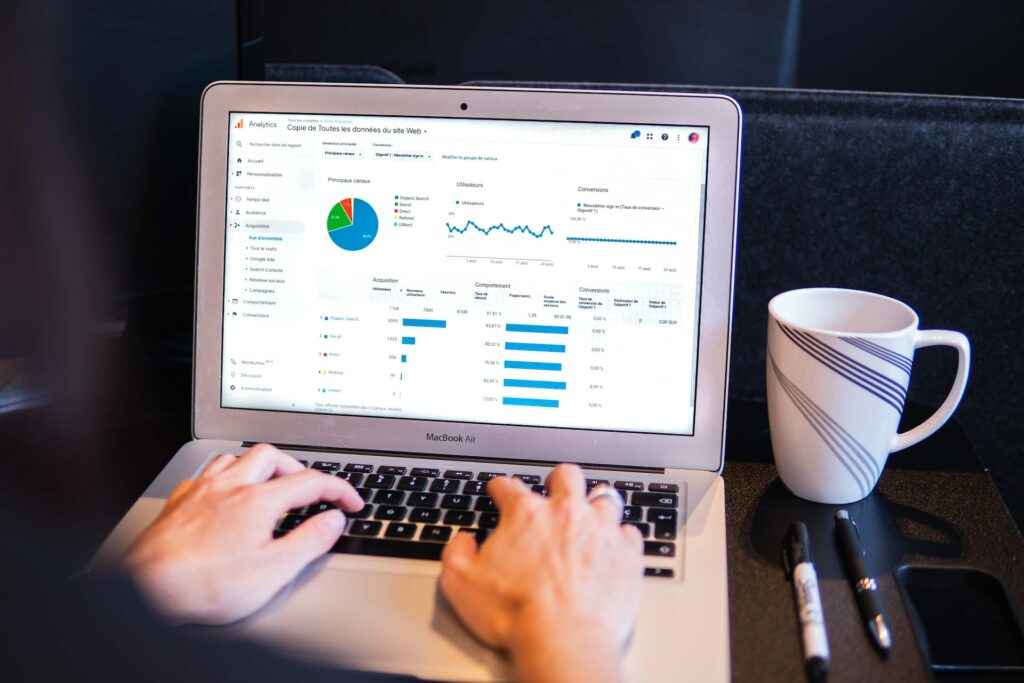 Choosing the Right CRM
As you can see, there is a lot of automation and lead funneling throughout the process of turning cold leads into hot prospects. Because of this, you'll need a CRM that can handle what you need it to do. The right CRM for you may be completely different than the right CRM for other companies out there. Not everyone needs a multi-functional CRM like Salesforce, sometimes smaller CRMs like Keap CRM can do the job. If you need help choosing, take a look at How to Pick a B2B CRM Software for Your Business.
What's Next?
Converting cold leads into hot prospects is not easy. You wouldn't be here if it was! By pairing a good CRM with the steps outlined above, you can improve your chances of converting your cold leads into hot prospects. Remember it all starts with choosing the right CRM for your business, once you have that up and running, it'll be much easier to turn cold leads into hot prospects. As always, if you have any questions about using Visitor Queue for lead generation and website visitor identification, do not hesitate to reach out.