The term "B2B lead mining" has been thrown around for a while now in the B2B industry. But, a lot of sales and marketing professionals are either unsure of what exactly lead mining is. Or, they are not using their lead mining tactics to their full potential. That is exactly why we have put together this guide to teach you what lead mining is, use cases for sales and marketing, as well as the best B2B lead mining software to help you start digging for those hot leads! First, let's start with the basic definition of lead mining.
Well, What is B2B Lead Mining?
B2B lead mining and lead generation have a lot of overlap. If you're familiar with lead generation tactics, you will catch onto the concept of lead mining quickly. Essentially, lead mining is the process of digging up leads that may be hidden. Leads that are mined do not fill out a contact form on your website, use your live chat, or other lead generation tactics that make it easier to identify who they are and contact them. By mining leads, you are able to save time scouring the internet for leads that are relevant to your company.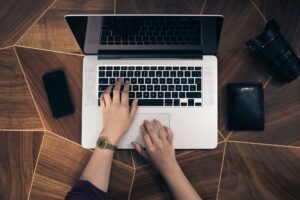 Why Should You Use B2B Lead Mining?
Lead Generation
Like I mentioned before, B2B lead mining is a type of lead generation. But unlike other forms of lead generation that can allow you to automatically follow up, there tends to be a little more digging to find leads. With the help of a lead mining software, you can potentially identify thousands of leads that are highly qualified and interested in what you have to offer. There are different types of lead mining software to help you generate leads that we will talk about later.
Competitive Advantage
We all know that having a competitive advantage is essential for B2B companies. Without one, you can easily fall through the cracks while your competitors thrive. Depending on the lead generation software you choose, your competitive advantage and insight may vary. But, all will help you stand out from the crowd in one way or another. An example of a competitive advantage with lead mining is identifying the companies that land on your website. On average, it takes visitors 7.5 visits to your website before they sign up. During this time, they are likely checking out your competitors, comparing reviews, and weighing out their options. But, if you were able to identify who they were, you could reach out to them with an enticing email and sell them on your product. By taking this initiative, you can encourage them to choose your service over your competitor's product.
Gain Insight On Leads
There is no such thing as too much information. This is especially true when you're talking about companies that perfectly meet your target audience. Understanding their buyer intent and how they behave on your website can help you qualify them as a prospect. As a result, improve your sales cycle for future prospects. Pairing this insight with their contact information can help you generate an impressive ROI.
B2B Lead Mining for Sales
Gaining insight on your leads will help you sell better. But, gaining this insight is easier said than done. With the help of a lead mining strategy, you can not only gain insight on leads and where they are in your sales funnel, but you can also generate contact information that you can then use to reach out to them and close the deal. This is vital for sales teams because the industry is so competitive. Anything to speed up your sales process is beneficial. In addition, understanding exactly what your prospects are interested in and the value that you can bring to their company is more important than ever before.
B2B Lead Mining for Marketing
Often the process of lead mining and lead generation is considered for sales teams, but not so much marketing. However, marketing teams should also understand the importance of lead mining. When you are able to better understand your website visitors and your competitor's visitors, it will help you elevate your marketing efforts. As an example, if you see that companies consistently visit your "About Us" webpage, and then bounce, then maybe you should take a look at that page and think about how you can optimize it. Lead mining is a great asset for both sales and marketing teams alike. Now that you're interested in lead marketing, you're probably wondering where you start. Keep reading to learn about the best lead mining software on the market to help you get started.
B2B Lead Mining Software
Next, we are going to talk about the best lead mining software to help both your sales and marketing teams flourish. All of the software that I am about to mention are different. You should choose the software that best fits your needs as well as your company goals and budget.
Visitor Queue is a B2B lead generation software that can identify the anonymous companies that visit your website. By adding a tracking script to your website, we are able to perform an IP address reversal that will return company information. Plus, we can show you their visit information like how they were acquired, the pages they viewed, and how long they spent on each page. In addition, we can provide you with employee contact information like email addresses, phone numbers, and LinkedIn channels. By knowing what the visitor viewed on your website, you can qualify them as a lead. Then, you can use this information to reach out and personalize your pitch. On G2 Visitor Queue has a 4.5 star ranking and plans start as low as $49.00 USD a month for unlimited users and unlimited leads. We have dozens of integrations available. Including your favorite CRMs and Zapier to help you easily follow up with your leads. Not sold yet? Try Visitor Queue for free today and start identifying the anonymous companies that visit your website.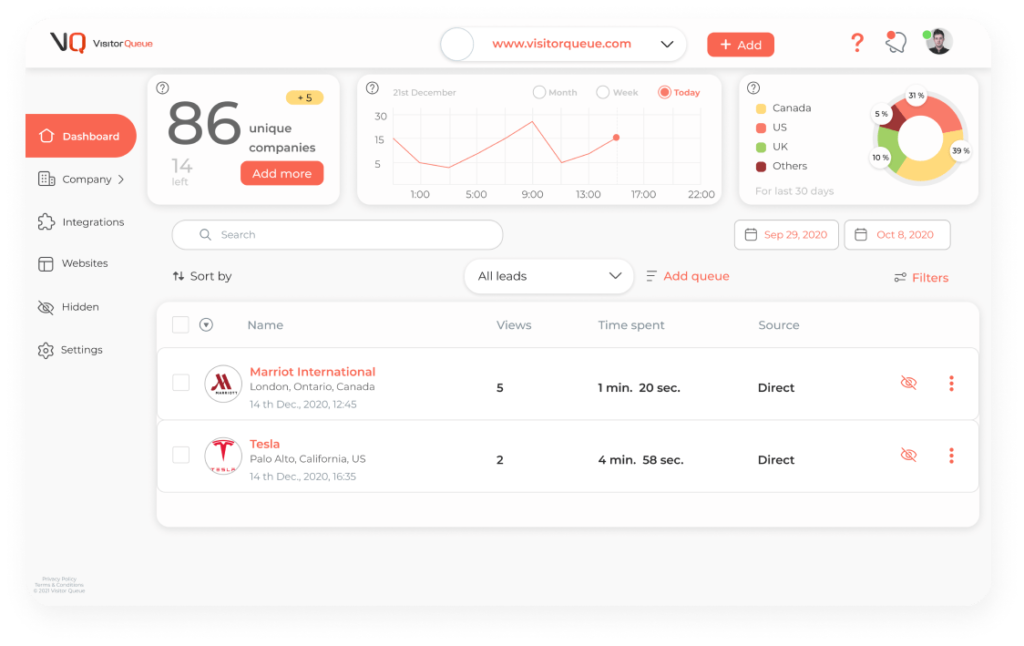 Lusha is a unique lead mining software that will help you identify phone numbers and email addresses of relevant prospects. Companies like Amazon, Dropbox, and Microsoft all trust Lusha with their lead mining needs. With their browser extension, you can scan a website or LinkedIn profile for contact information. While this takes a little more work than Visitor Queue because you have to find relevant websites, it's still a great tool to generate contact information. Lusha has a rating of 4.3 out of 5 stars on G2. Their paid plans start at $29 USD per user with a limit of 480 contacts and no access to integrations. If you're wanting to send contacts to your CRM, you will need their Premium or Enterprise plans, depending on the CRM you use.
SimilarWeb is one of the leading website analytics software on the market. It's often referred to as Google Analytics, but better. Keep in mind that to get the most out of SimilarWeb it's best to be familiar with Google Analytics, stats, and other data points that can get confusing for novice marketers. SimilarWeb offers lead generation, enrichment, and customer journey insights that will help you not only mine new leads but follow up and hopefully sell. SimilarWeb also allows you to scan your competitor's website to get a better understanding of their stats. They have 4.7 out of 5 stars on G2. Their pricing depends on the features that you would like to include in your plan. But, they also offer a free trial to test it out before you commit to a paid plan.
BuiltWith is a lead generation and sales intelligence software that can help you generate an impressive ROI. By simply entering in a website, keyword, or company name into their search engine, you can learn a ton about a relevant topic or company. You can enter in a competitor name to learn more about initiatives they are taking and try to outdo them. Or, you can enter a prospect's website to generate contact information and use this to reach out. BuiltWith has 4.3 stars out of five, with prices starting at $295 per month.
We enable B2B companies to identify the anonymous businesses visiting their website so they can follow up with them and increase revenue. 98% of website traffic leaves without converting -
start your 14-day free trial
to identify who they are today!
Website Personalization
Like I mentioned earlier, the average consumer will visit your website 7.5 times before they convert. But, by identifying what companies are interested in your company with one of the software listed above, you can personalize your website to entice them to convert. With a website personalization software, you can show specific website visitors a tailored view of your site. This could include case studies, use cases, testimonials, and more information that is relevant to their company and would catch their attention. As an example, if you are a marketing agency, and you know that a small business is looking for help starting their marketing efforts, you have the ability to show them a case study of another small business that you have helped. Include impressive stats and a relevant CTA that are sure to entice any small business owner. If website personalization is something that sounds interesting, check out this article for more information.
Use Your CRM
Lead mining will only take you so far. Once you mine the leads, you need to be able to follow up with them. Using your CRM is the most efficient way to do so. With most lead mining software, you are able to integrate with your CRM of choice. If the lead mining software doesn't have a direct integration with your CRM, check out Zapier to help you integrate the two. Once you integrate, you can easily send your newly mined leads to your CRM for easy follow up. Then, you have the option to automatically send the lead's contact information to an email sequence, or have a sales rep manually contact them. Your CRM will help you keep track of all of your new leads and where they fall in your sales funnel.
Final Words
Lead mining is a great addition to any B2B team's lead generation strategy. By identifying anonymous contact information and user data, you are able to gain a unique advantage and, if done right, drive a lot of growth and revenue. If you're not sure which lead mining software to choose, I would recommend comparing your company goals and budget with what the software promises. Every B2B lead mining software works in a slightly different way, so it's important to consider what you think will work best for your needs. If you have any questions about lead mining with Visitor Queue, don't hesitate to reach out.