Once your B2B lead generation strategy starts paying off, you'll start to see a full pipeline of new leads for your business. But, your hard work doesn't stop there. You'll need to pick the best time for sales follow up before they convert into paying clients or customers.
When and how you follow up with your leads makes all the difference. Follow up too soon, and you might scare your sales leads away with your sales pitch. Follow up too late, and they might have forgotten all about you, or worse, hired someone else.
Here's how to fine-tune your lead follow up strategy in order to land the most wins and ensure you're following up with sales leads at the best time!
The Importance of Lead Nurturing & Sales Follow Up
Once a lead ends up in your pipeline, you'll need to "nurture" them until they're ready to close. Lead nurturing is important because it keeps your brand on your prospect's mind, gives you an opportunity to handle objections, and ensures that you know exactly where your sales leads are in the sales cycle.
When you end your initial meeting, a lot of the time you will set a date for your second meeting. If you simply set an arbitrary follow-up date – with no nurturing in between – you run the risk of pitching to them too soon or too late. You also don't give them a chance to build a connection with you, ask questions, and come to trust your brand. To help prevent this, follow the three steps listed below and you'll be golden!
Step 1: Score Your Leads
If you don't have a system for scoring your leads, now is the time to start.
Scoring your leads allows you to identify the leads that are most likely to convert, and then set them as top priority.
Many businesses use a "qualified", "not qualified", and "not enough information" structure to determine whether a sales lead is a good fit or not. Then, they might apply a score of "cold", "warm", or "hot" to identify which leads are most excited about their offer.
Once you categorize your leads this way (perhaps within your chosen CRM tool), you can make it a priority to follow up with the hottest, qualified leads first. Then, you can nurture your "warm" or even "cold" leads until they either drop off or express more interest in your offer.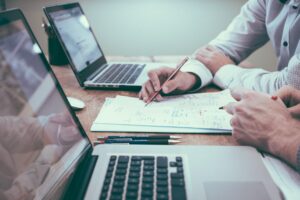 Step 2: Follow the Buyer's Journey
Similar to scoring your leads, you should map your leads to where they are in the Buyer's Journey. The stages of the Buyer's Journey include the Epiphany stage, the Awareness stage, the Consideration stage, and the Decision stage.
Epiphany
The person isn't necessarily looking for anything. They're likely focused on improving their business, but unaware of any problems. As a seller, you'll likely reach these people through your marketing campaigns that aim to make them aware of business issues.
Awareness
The person knows they have a problem. They may be looking for solutions, but aren't necessarily in buying mode. This is where your brand can publish content that educates people on the problem and consequences, and then presents possible solutions.
Consideration
The person has identified possible solutions to their problem and is weighing their options. They may sign up for free consultations or download resources. This is where you can follow up and talk about the USP of your offer and how it may be the best solution to their problem.
Decision
Your lead has made a decision to solve their problem and is now deciding on the right vendor. If you've already had a conversation with them, this is your time to close the deal. The key here is matching their pain points with the solutions (offerings) you have to offer.
This entire journey can take years or it can take a few months. By the time a lead reaches out to you, they are likely in the consideration stage. Then, it's your job to explain how your brand stands out from the competition and is able to address all of the problems the person/business is facing.
When following up, within a few minutes after your first consultation call, it may make sense at the bottom of the funnel, hitting up a cold lead who is in the Epiphany or Awareness stage but it may scare them off.
To gauge where they are at in Buyer's Journey, consider:
What offer did they opt into?
Based on their communication with your brand, what seems to be their level of interest?
Are they aware that they have a problem?
Have they just "shopping around"?
Did they ask for a quote?
The lower a lead is in the funnel, the faster you are going to want to follow up, as they are quickly approaching the Decision stage.
We enable B2B companies to identify the anonymous businesses that visit their website and personalize their experience. Your sales team can now follow up with the visitors that don't convert, while marketing can personalize your website based on firmographic information to drive up conversion rate.
Start your 14-day free trial today!
Step 3: Follow Up at the Right Time
If a sales lead 1) already knows they have a business-related problem, 2) has researched possible solutions, and 3) is not comparing different vendors, they are likely in the Consideration or even Decision stage.
That means you should follow up with them as soon as possible, lest they take their business elsewhere.
If, however, they have simply checked out some of your blog posts or have liked a Facebook post, this doesn't give any real indication that they are ready to buy. If you slide into their inbox asking to schedule a call, they are likely to leave you on "read".
Time
For warm-to-hot sales leads, though, time is of the essence. You will want to follow up with these prospects as soon as possible – preferably within a few hours but definitely within 2 days.
For cold leads, or leads that are at the Epiphany or Awareness stage, you can follow up within a few days with content or a campaign that will move them down your sales funnel. There's no rush here, as your goal is to nurture them until they express more interest in your offer.
Frequency
When it comes to lead follow up, you also want to consider the frequency as well.
The average salesperson only follows up 1.3 times. However, studies have found that following up 6 times actually increases your chances of making contact by 70%.
For top-of-funnel leads, you'll likely have to follow up quite a few times over the course of a few weeks until they drop off or express interest in your offer. This is why it's often effective to launch a strategy lead nurturing campaign with the help of a skilled copywriter.
Medium
How you follow up depends on what seems appropriate for where the lead is at in your funnel. It's important to consider how you have been communicated with them thus far.
If a lead opts into a free downloadable ebook, it makes sense to funnel them into your email campaign. It may, however, be too aggressive to email them directly asking if they want to schedule a call.
As leads move down your funnel, you'll begin to take a more personalized approach. Scheduling a video or phone chat makes sense here. For one, they'll be more inclined to speak to you if they are already interested in your offer. You won't waste time scheduling calls with wishy-washy leads.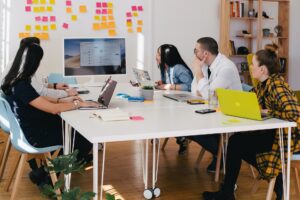 Following Up
Determining when to follow up with sales leads can be a difficult task as it can depend on many variables. It is also not a one size fits all approach from business to business. Which is why it is important to follow these steps to further analyze the variables to determine the best possible time to follow up. After you follow these steps you may determine when the best time for sales follow up is for you. But, this is not the final solution. All companies are slightly different and will require a slightly different approach. It is a constantly moving target and you must move with it in order to be prepared.
Think you could use more leads in your pipeline? Get set up with Visitor Queue for free to fill your inbox with warm leads that you can follow up with right away.