Let's face it, B2B lead generation is hard. I'm sure all of us have thought about or tried many new ways to increase our leads and contact information. From gated content and email lists to remarketing campaigns, it's difficult to find new leads to reach out to. There's a good chance that you've considered whether it's worth it to buy an email list. But, not all email lists are created equal. This is why we have put together a list of the top 20 email generation and email list providers below, so keep reading.
Visitor Queue comes in at number one on our list of the top B2B email list providers. This is because we are one of the most affordable and accurate email providers on the market. Through a unique form of IP address reversal, our software is able to identify the companies that visit your website. From there, you can see exactly what pages each company views on your website, how they were acquired, and how long they spent on each page.
We also provide contact information for key employees at each company, including email addresses and phone numbers. Once you have this information, you can send it straight to your CRM or export the email list to a spreadsheet. Paid plans start at just $39 per month, with unlimited users. We have a 4.5 out of 5 star rating on G2 Crowd. Visitor Queue makes lead generation easy. Start your 14-day free trial today and stop losing leads.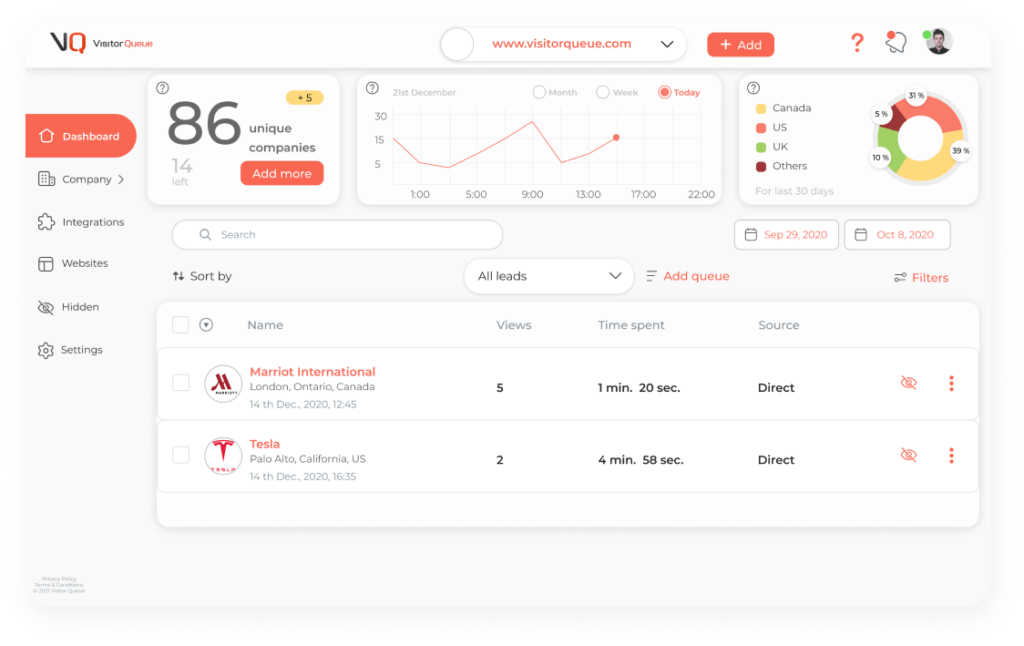 Datanyze prides itself on its ability to find and connect B2B salespeople with qualified prospects in minutes. This Chrome Extension software extracts emails, phone numbers, and other contact information from LinkedIn. In addition, Datanyze has recently updated its interface, resulting in a user-friendly experience. They offer three plans, including a free plan to help you get started. Their paid plans start at $29 per month, which provides 80 credits. Datanyze has 4.2 out of 5 stars on G2 Crowd.
EasyLeadz is another Chrome Extension. It can pull contact information from LinkedIn Zaubacorp, Tofler, Instafinancial, as well as Crunchbase. A few of their noteworthy clients include Uber, Audi, Salesforce, and Amazon. EasyLeadz offers three different paid plans, the cheapest starting at $29 per month for 40 credits. They have a 4.6 out of 5 star rating on G2 Crowd.
Callbox helps its clients generate B2B leads through multi-channel marketing techniques. In 2004, they started by generating phone numbers, and they have grown to provide much more. Additionally, they offer a variety of lead generation strategies, and even nurturing and follow-ups with their new collaboration with Hubspot. Since they offer a wide range of services, pricing is tailored to your specific needs. They have 4.4 out of 5 stars on G2 Crowd.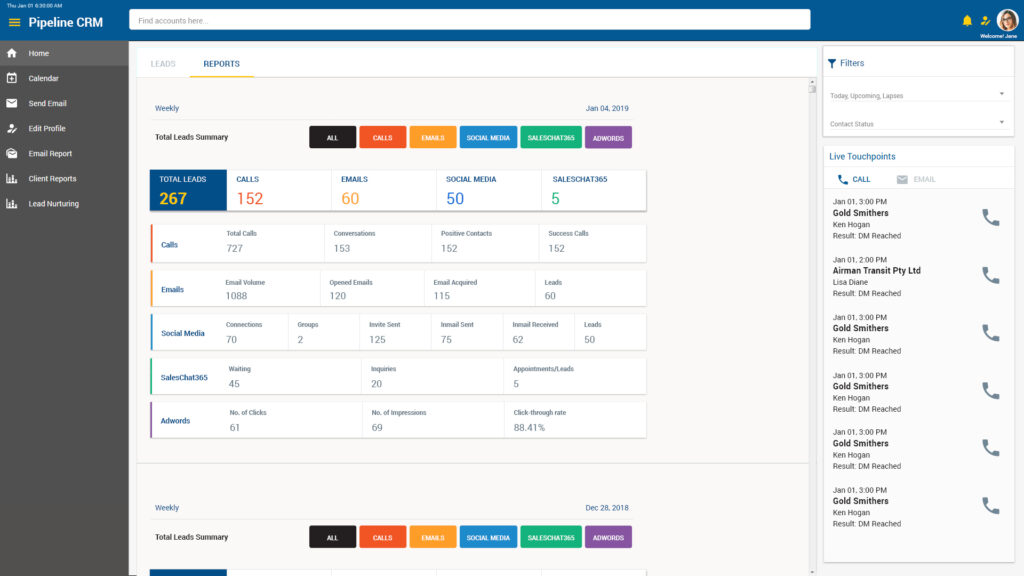 Cognism is an end-to-end sales acceleration solution with the goal of generating leads, and leading them down your sales funnel. They provide information that is completely GDPR and CCPA compliant, including contact information and company information like firmographics and technographics. They have a few different products, Prospector, Enhance, Chrome Extension, and Intent Data to help you collect the information that you need. You'll need to contact Cognism to gain access to their pricing structure. They have an impressive 4.7 out of 5 stars on G2 Crowd.
Sendinblue proclaims that they are all of your digital marketing tools in one place. They offer a wide variety of digital tools, including lead generation, live chat, marketing automation, segmentation, and pipeline management. Paid plans start at $27 per month. They also offer a 14-day free trial so you can test it out for yourself before committing. Sendinblue has 4.5 out of 5 stars on G2 Crowd.
Lusha offers a Chrome Extension that can generate contact information, including email addresses, social channels, and phone numbers from websites that you visit. Plus, Lusha integrates with your favorite CRMs to help you generate leads faster. Lusha is one of our favorite email list providers on this list. Their paid plans start at $39 per month per user with 40 credits. Lusha has a 4.3 out of 5 star rating on G2 Crowd.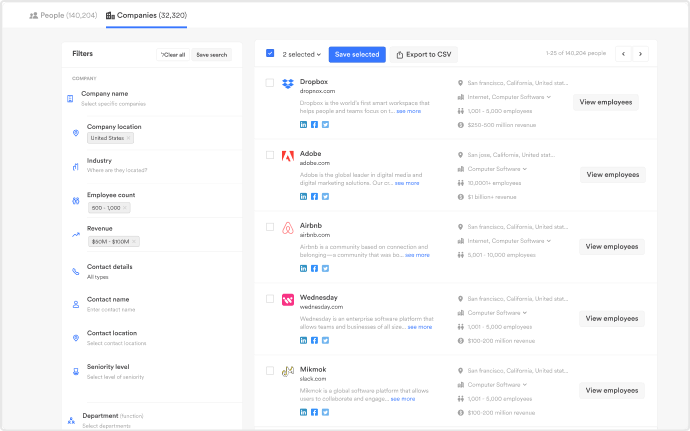 Lead411 adds new data to their lists every day. This includes not just email addresses, but also phone numbers, and mailing addresses. So, if you see a lead has opened your email, you can follow up with a phone call. You can try Lead411's b2b email database for free for 7 days before you commit to buying one of their paid plans. Their basic plan is $99 per month per user, giving you 200 contacts per month. They have 4.5 out of 5 stars on G2 Crowd.
RocketReach makes it easy to find the right people at the right time. They offer an advanced search function, browser extension, bulk lookups, and an API to help you build your email list. Since RocketReach offers such a wide variety of solutions, you'll need to request pricing from them based on your needs. They have a 4.5 out of 5 star rating on G2 Crowd.
UpLead's motto is to build prospecting lists free from dodgy data, bad-fit buyers, and low-qualified leads. They can generate leads with their Chrome Extension, API, and Email Finder. A few of their noteworthy clients include Google, Dropbox, Amazon, Microsoft, and Salesforce. Their paid plans start at $64 per month, and they have a 4.7 out of 5 star rating.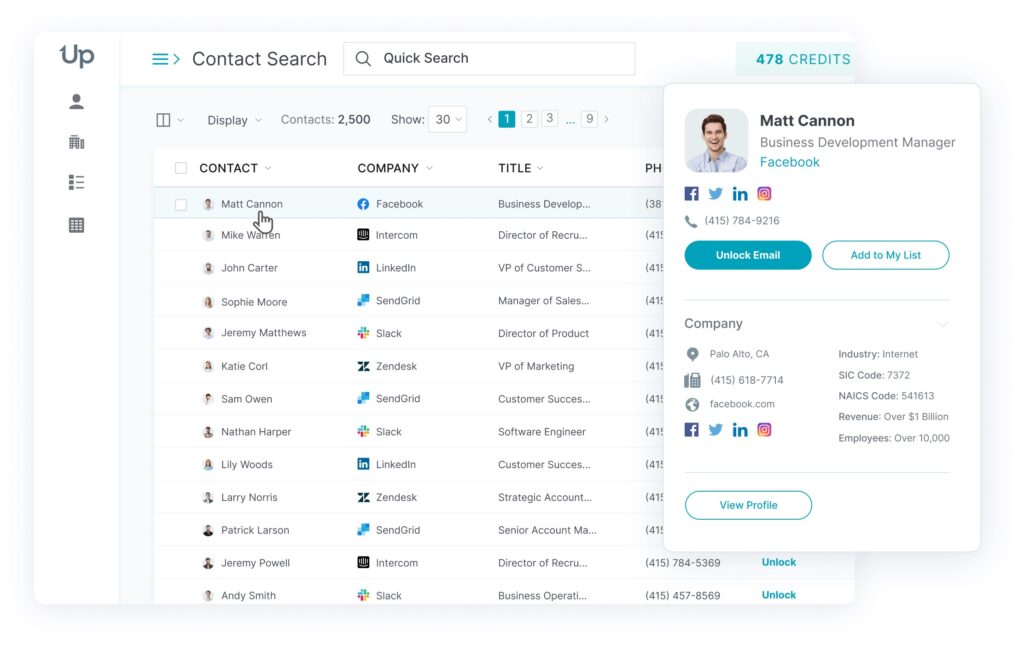 Hunter.io is one of the most well-known email list providers on the market. They offer a domain search, email finder, and email verifier to ensure your emails are high-quality and correct. They also offer integrations with your favorite CRM software like Salesforce, Hubspot, Pipedrive and Zoho CRM. Their starter plan is $49 per month, and it allows 500 monthly domain searches. Hunter.io has a 4.4 out of 5 star rating on G2 Crowd.
LeadsPlease offers both email and mailing lists. Their email lists also include information about the companies, like the number of employees, location, annual sales, years in business, and more. This information can help you qualify companies. Their prices depend on how many emails you need. LeadsPlease is not on G2 Crowd at this time.
Blue Mail Media provides custom B2B email and mailing lists configured based on certain industries, geographic regions, demographics, and more. A few of their key clients include Oracle and IBM. Their prices are specific to each company, so please reach out to their sales team to get a quote. They only have two G2 reviews at this time, which give them a 4.8 out of 5 star rating.
We enable B2B companies to identify the anonymous businesses that visit their website and personalize their experience. Your sales team can now follow up with the visitors that don't convert, while marketing can personalize your website based on firmographic information to drive up conversion rate.
Start your 14-day free trial today!
Data Axle USA delivers a full range of marketing and sales solutions to help B2B companies acquire leads. They offer email acquisition, data processing, and database management to help your team collect qualified leads. They proclaim that all of their email addresses are verified and compliant of privacy laws, so you have a higher chance of having your emails opened. Data Axle has a 4 out of 5 star rating on G2 Crowd, keep in mind that they only have 6 reviews at this point.
LeadIQ is a B2B sales prospecting tool that can help you find, track, and personalize your cold calling strategies. They use their patented AI technology to eliminate the frustrating parts of prospecting. Their Chrome Extension can help you pull contacts from LinkedIn in seconds. A few of their noteworthy clients include Sigma, GONG, and Bynder. Their starter package is $75 per month and they have a 4.2 out of 5 star rating on G2 Crowd.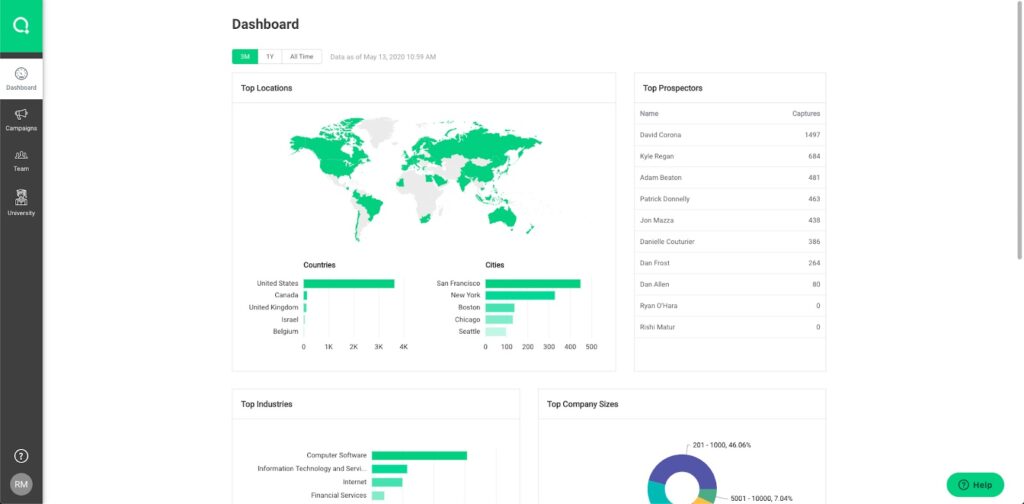 If you work in the medical industry, MedicoLeads may be one of the best email list providers for you. MedicoLeads helps to connect sales professionals with healthcare companies, institutions, and organizations with their medical database. MedicoLeads is not currently on G2 Crowd and their prices are based on how many contacts you'll need and how specific you would like them to be.
If you're looking to generate more revenue and hit your ROI goals, then DemandScience may be the solution for you. They offer lead generation services for every stage of the funnel. Target potential buyers at the right time to generate the best results for your business. They offer custom plans based on your company's needs. DemandScience has a 4.4 out of 5 star rating on G2 Crowd.
Zoominfo is another one of the most well-known email list providers on the market. They offer a wide variety of lead generation and marketing tools to help you grow your business. Zoominfo pulls data based on your ideal customer profile from its database of over 150 million verified email addresses. In addition, they also offer live chat and website forms that can help you collect email addresses from your website visitors. Pricing can vary depending on the solutions that your company needs, so it's best to reach out to their sales team. Zoominfo has 4.4 out of 5 stars on G2 Crowd.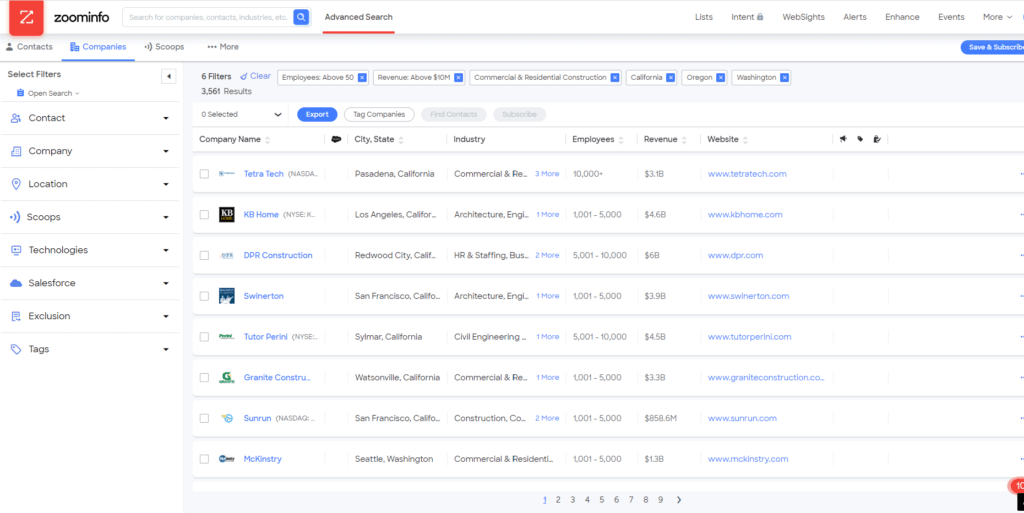 Adapt offers multiple sales and marketing solutions to help you fill your sales funnel and guide them down it in hopes of converting. They offer a Chrome Extension, access to their database, as well as an API to help you collect email addresses. Adapt also has form builders and email verification to ensure your data is high-quality. They offer custom payment plans based on what your company needs. Adapt has a 4.6 out of 5 star rating on G2 Crowd.
AeroLeads can help you find email addresses and build high-quality email lists. Key features include their Chrome Extension, automated prospecting tool, email finder, and email verifier. Your sales team can find contact information on LinkedIn, or search their email database of over 650 million records. Their paid plans start at $49 per month for 2,000 credits. AeroLeads has a 4.0 out of 5 star rating on G2 Crowd.
Organize Your Emails
Once you start using your new email list provider, you'll need a place to store and manage your new emails. Using a CRM is almost essential. Most of the email list providers mentioned above can integrate with popular CRMs like Salesforce and Hubspot. If the provider doesn't directly integrate with your CRM, check out Zapier to integrate them. Sending your newly generated leads straight to your CRM will save you a ton of time in the long run.
Final Words
As you can see, there are a number of great B2B email list providers out there. Finding qualified leads and email addresses can be easy with the help of a provider. With the help of one of these tools, your sales team can reach out and start guiding them down the right path. As always, if you have any questions about how Visitor Queue can generate leads for your company, do not hesitate to reach out.