As a salesperson, you're always on a time crunch. Whether you're trying to remember to follow up with clients, generate more leads, or come up with the perfect email response, you're constantly running low on time. Because of this, AI-powered sales tools have been hitting the market with the promise of making our lives easier. But, with all of the options on the market, what are the best AI-powered sales tools? Find out below.
What is AI?
Artificial intelligence, or more commonly known as AI, refers to the simulation of human intelligence. In short, this kind of technology uses computers to analyze vast amounts of data, recognize patterns and make decisions without the need for human efforts. As a salesperson, you can take advantage of AI to automate tedious tasks like sending emails, writing emails, following up, generating leads, and more. This can save you hours every week, which is the main goal of AI. Now that you know what AI is, let's dive into our top 10 AI-powered sales tools that you need to be using.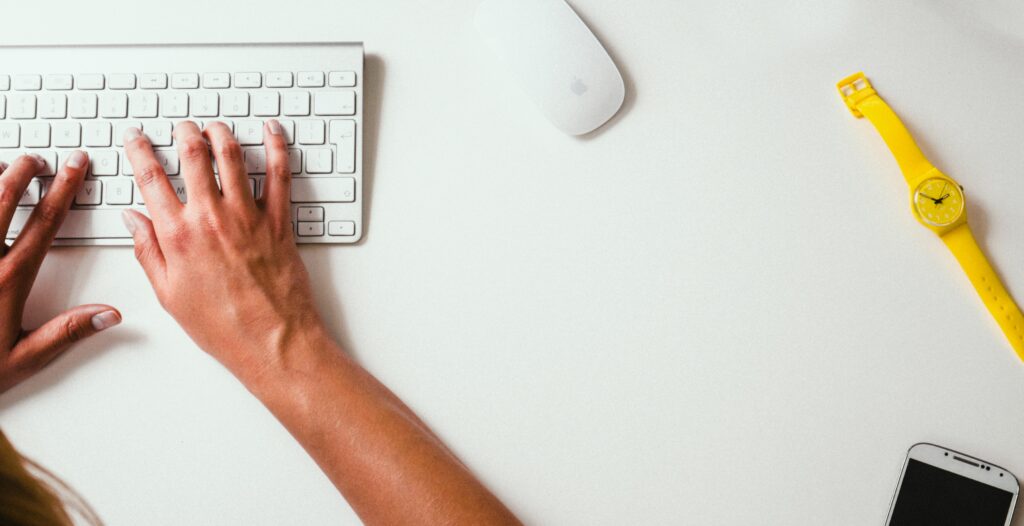 The first AI-powered sales tool on our list is Salesforce Einstein. With the help of this tool, your sales team can guide prospects to close, forecast accurately with real-time data, and accelerate the time it takes to close deals with conversational intelligence. Salesforce Einstein allows you to create custom interactions with AI-generated emails, conversions and offers built on your data. In turn, it can provide you with unique insights into your buyer's journey while increasing sales. Sales Einstein itself is not listed on G2 Crowd, but Salesforce has a 4.3 out of 5 star rating.
Outreach.io is a sales engagement platform that uses AI to optimize your sales outreach efforts. This includes automating personalized email sequences, scheduling follow ups, and tracking customer engagement along the way. With the help of Outreach.io, your sales team can engage with prospects at the right time, with the right message. This can free up your sales team, allowing them to spend more time generating leads. Outreach.io has 4.3 out of 5 stars on G2 Crowd.
Next up on our list of the top AI-powered sales tools is Visitor Queue. Visitor Queue is a lead generation software that can identify website visitors. With the help of Visitor Queue, you can see what companies visit your website, how they were acquired, what pages they viewed, and how long they spent on each page. In addition, we can also provide your sales team with employee contact information at these companies, including email address, phone number, and a link to their LinkedIn. Integrate with Slack so your sales team can get instantly notified of new leads, or integrate with your CRM to instantly follow up. 98% of website visitors leave without converting, don't you think it's time you find out who they were? Visitor Queue has 4.5 out of 5 stars on G2 Crowd.
We all know that it's not easy to think of custom emails, LinkedIn messages, and other forms of communication. Especially if your prospect is asking a tricky question. This is where ChatGPT comes in. You can ask ChatGPT to help you craft the perfect follow up email by copying and pasting their previous email into the prompt space, and giving it a little information about what you're selling, and boom, you'll have a well-written email. While it may not be perfect, it can help you get over writer's block and get a general idea of where to start. If you want to learn more about using ChatGPT, check out our article 10 Ways to Use ChatGPT for Sales. ChatGPT has 4.7 out of 5 stars on G2 Crowd.
Recently Zoominfo acquired the next AI-powered sales tool on our list. Chorus.ai is an AI-powered conversation intelligence platform that records, transcribes, and analyzes sales calls and meetings. This tool can provide valuable insights into customer interactions, helping sales reps identify winning strategies as well as areas for improvement. Chorus.ai is also a very helpful tool for training salespeople to better understand their customers. Chorus.ai by Zoominfo has 4.5 out of 5 stars on G2 Crowd.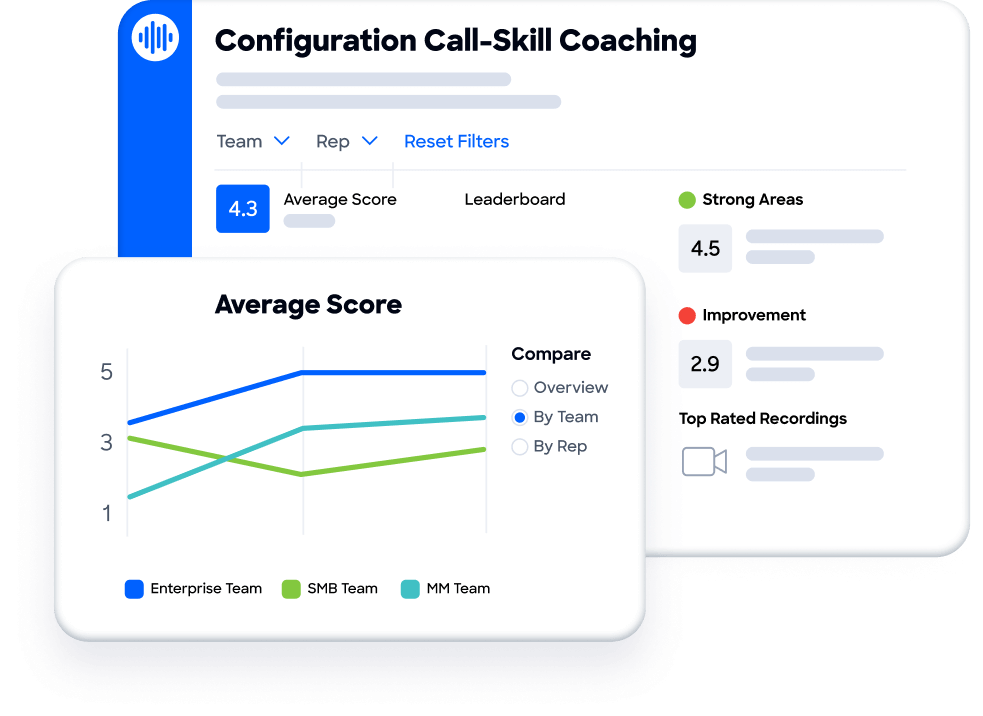 The next AI-powered sales tool on our list is Conversica. Conversica is an AI sales assistant that engages leads in email conversations. It can follow up with prospective customers, answer their questions, and can even qualify them as a lead based on its conversation with them. This technology can allow your sales team to focus on the most promising opportunities. Conversica has 4.5 out of 5 stars on G2 Crowd.
We enable B2B companies to identify the anonymous businesses that visit their website and personalize their experience. Your sales team can now follow up with the visitors that don't convert, while marketing can personalize your website based on firmographic information to drive up conversion rate.
Start your 14-day free trial today!
ClearSlide is a sales enablement platform that uses AI to optimize content recommendations for sales reps based on previous customer preferences and behaviors. It tracks content engagement, which can help your sales team deliver the right materials to prospects at the best time. ClearSlide has 4.1 out of 5 stars on G2 Crowd.
Zendesk, a popular chatbox tool for websites, offers an AI-powered powered chat that provides 24/7 customer support. It can handle routine inquiries, provide product information, and guide customers through the sales process. While this is a great tool, you'll want to have a human checking in on the chat, and available to answer difficult questions. Zendesk has 4.3 out of 5 stars on G2 Crowd.
InsideSales uses AI to analyze large amounts of customer data and information to identify the best leads for your sales team to pursue. Your sales team can see how quickly the lead may engage, how likely they are to open emails or calls, and other information that they can use to boost productivity. These predictions can offer prioritized recommendations, which can enable your reps to focus on higher-value prospects. InsideSales has 4.5 out of 5 stars on G2 Crowd.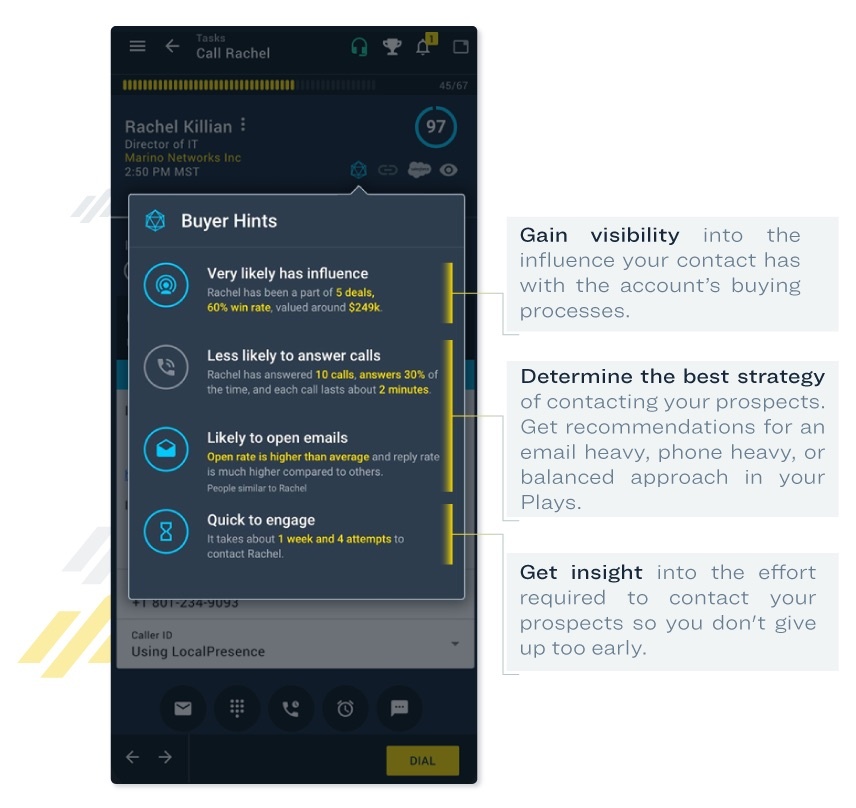 The final AI-powered sales tool on our list is Cognism. Cognism is a B2B lead generation platform that uses AI to automate prospecting, enrich data, and identify high-quality leads. It helps sales teams find and engage with potential customers more efficiently, saving them time while generating more revenue for the company. Cognism has 4.7 out of 5 stars on G2 Crowd.
Final Words
As you can see, there are a number of great AI-powered sales tools on the market. If you're struggling to choose the right tool for your needs, try to track how much time you spend in a week doing various tasks. As an example, if you find out that you're spending way too much time sending email follow ups, that might be able to help you choose the right tool. If you have any questions about Visitor Queue for your lead generation efforts, do not hesitate to reach out!