ChatGPT and AI have been hot topics among marketers for the last few months. With AI becoming such a popular trend, it's easy to see why marketers are trying to figure out how to use it, and make their jobs just a little easier. But, there are right ways and wrong ways to use it. In this article, we are going to go over the top 10 ways to use ChatGPT for marketing, and how to generate the highest quality responses so your marketing is as enticing as possible. First, let's go over what ChatGPT even is.
What is ChatGPT?
I'm sure by this point you have heard of ChatGPT. But, if you're not familiar with it quite yet, it's essentially an AI software that can answer questions, write content, and more. While it was primarily developed for use in the natural language processing industry, it has a wide range of applications in both marketing and sales. With so much information at your fingertips, it can be tricky to figure out how to use it and get the highest quality responses. Here are the top 10 ways that you can use ChatGPT for marketing.
1. Writing Social Media Content
Social media content is never easy. Especially if you try to bulk content create for weeks or months at a time. All of your content starts to blend together! So, you can ask ChatGPT to help come up with ideas on what to talk about, what is popular, or even funny holiday or occasion posts. This can help you speed up your social media content creation, while staying on brand.

2. Generating Video Scripts
Coming up with a rough outline or script for videos, podcasts, and more can be difficult. Whether you are trying to write a 40-minute podcast script or a 1-minute teaser video script, ChatGPT can help. Simply enter in what you want, how long you want it to be, and a little information about the topic, and it'll spew out a script that you can base the video on. You may have to go through it and fact check and update where necessary, but it's a great starting point.
3. Writing Drip Email Campaigns
Email drip campaigns are never easy. It can be tricky to convey your message while sticking straight to the point. So, you can take advantage of ChatGPT to help. With something as specific as drip campaigns, you'll want to include as much information as possible to ensure you get what you are looking for. Include how many emails you need, calls to action, quotations of previous emails so it can understand your brand voice, and what you will be using the campaign for, like onboarding.
4. Generating Blog Topics
Coming up with blog topics and ideas that are trending and relevant to your company seems impossible. Especially if you have been blogging for a while. It can seem like you've already written about everything! But, you can take advantage of ChatGPT to help come up with ideas. The more information you give ChatGPT, the better the results will be. Once you get a few topics that you could be interested in, try Googling them and see what comes up. This can help you start writing and give you a ton of ideas.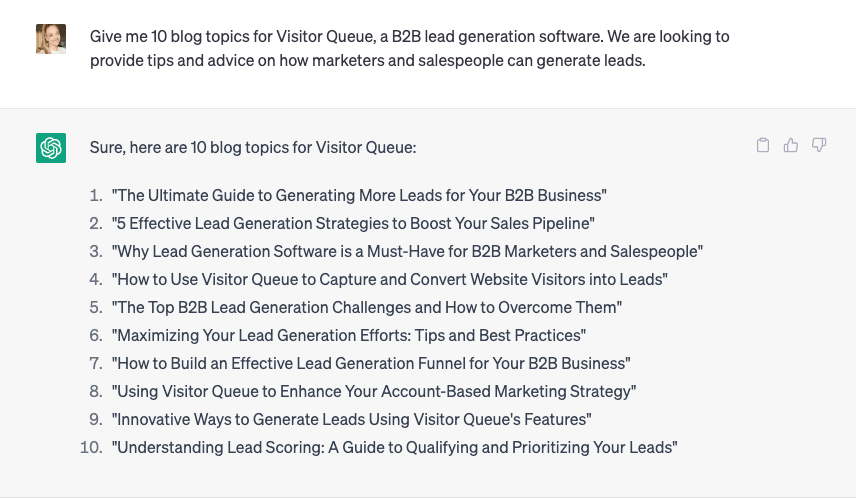 5. Conducting Market Research
One of the best ways to use ChatGPT for marketing is to conduct market research. ChatGPT can analyze online conversations, social media posts, and forums related to your brand or industry and gather information. By inputting relevant keywords, phrases, and paragraphs, ChatGPT can provide insights into customer opinions, preferences, and behaviors. You can then use this information to create landing pages, blog articles, social media posts, and more.
We enable B2B companies to identify the anonymous businesses that visit their website and personalize their experience. Your sales team can now follow up with the visitors that don't convert, while marketing can personalize your website based on firmographic information to drive up conversion rate.
Start your 14-day free trial today!
6. Website Development
Most marketers out there loathe when they have to code or develop something in a pinch. With the help of ChatGPT, you can easily fix or create scripts and make your life a lot easier. Again, being as specific as possible is best. If you have any colors, fonts, sizes, or anything else, be sure to include that information as well. Of course, the example below is very basic, but it gives you a good idea of what ChatGPT is capable of.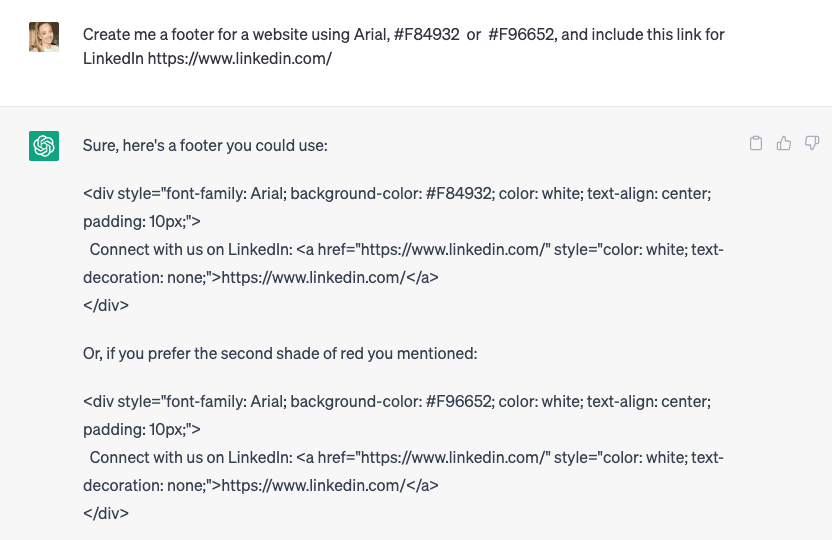 7. Helping with Ad Copy
Whether you are writing Google Ads, Facebook Ads, or even LinkedIn Ads, ChatGPT has your back. You can ask it to write headline text or description text based on the information you include. As an example, you could ask for 5 different headline texts and three different descriptions for your lead generation company looking to start more free trials. You can even enter your competitor names so ChatGPT can create even more enticing ad copy. Just double check facts and capitalization before hitting save on your ad!
8. Answering Emails
We've all been stuck on what to say back to an email. Whether you're replying back to your boss, a client, or responding to a link exchange inquiry, it's not always easy to reply. You can copy and paste the email into ChatGPT, and ask it for a response that agrees, disagrees, or other. If you include the general idea of how you want to respond, ChatGPT will put it all together nicely.
9. Improve Brand Voice
Developing and refining your brand voice is a crucial part of building a successful brand identity. If you are not consistent with your brand voice across your website, blog articles, and social media channels, it can be confusing for your clients. So, you can quote a few paragraphs from your website, and ask ChatGPT for some social media posts that compliment the brand voice used on your website. This is a great way to stay consistent across the board.
10. Brainstorming Ideas
The last way that you can use ChatGPT for marketing is by brainstorming ideas. We all know that brainstorming can be difficult, take a lot of time, and you may not even come up with an idea that will actually work. So, you can ask ChatGPT for help! The options are truly limitless when asking this software for ideas. Anything from new marketing tactics to new eBooks, and everything in between. If you know that you have a gap in your marketing, take advantage of ChatGPT to help you come up with ideas.
How to Get High-Quality Responses
The more information you give ChatGPT in your prompt, the better. For example, if I were to ask ChatGPT for "5 different blog article topics for B2B companies", versus, "5 different blog article topics for B2B companies looking to generate more leads in 2023 and are looking for easy ways to generate leads", your results will look pretty different. It's also important to use your brand voice, so it doesn't look like AI-generated content. If you are struggling to do this, include a quotation of your past work and tell ChatGPT to use that as an example of your brand voice. If you are just getting started with AI-generated content, it can take some trial and error and playing around with the results to get what you like.
SEO Considerations
As of right now, we have heard that AI-generated content can help, but also hinder SEO growth. In general, it's best practice to infuse your brand voice into all AI-generated content, so it is unique and specific to your company. This will help ensure your content is specific to your company and audience, while keeping your content fresh and new.
Wrap Up
As you can see, there are a ton of different ways that you can use ChatGPT for marketing. This tool is changing how we work. The more we take advantage of AI-generated content (the right way), the more content we can push out for our audience. If you want to learn how to use ChatGPT for sales, check out this article.