Knowledge is power. This is a common phrase in life and in business. It especially rings true when it comes to mastering your website marketing. Having access to powerful insights and website analytics tools gives you the power to improve your marketing campaigns. And reach more customers than ever before.
Fortunately, there is a wealth of website analytics tools available to assist you in digging into the data. Also to analyze trends, and apply new insights to your marketing strategies.
In this guide, we're covering some of the best tools you must try if you want 2023 to be your best marketing year ever. 
What Do Website Analytics Tools Do?
Website analytics tools can perform a variety of functions. The ultimate goal is to provide you with insight into how your website and associated marketing campaigns are performing. Some of these helpful functions include:
Reporting on how many people have visited your website and from what source
Running a comparison between current traffic and past traffic numbers
Identifying how users are interacting with your content and turning into buyers
Showcasing the performance of your marketing campaigns
Providing insight into how you can improve your search engine optimization and increase traffic
Looking for a tool that does all this and more? Read on for some of the best options in 2021.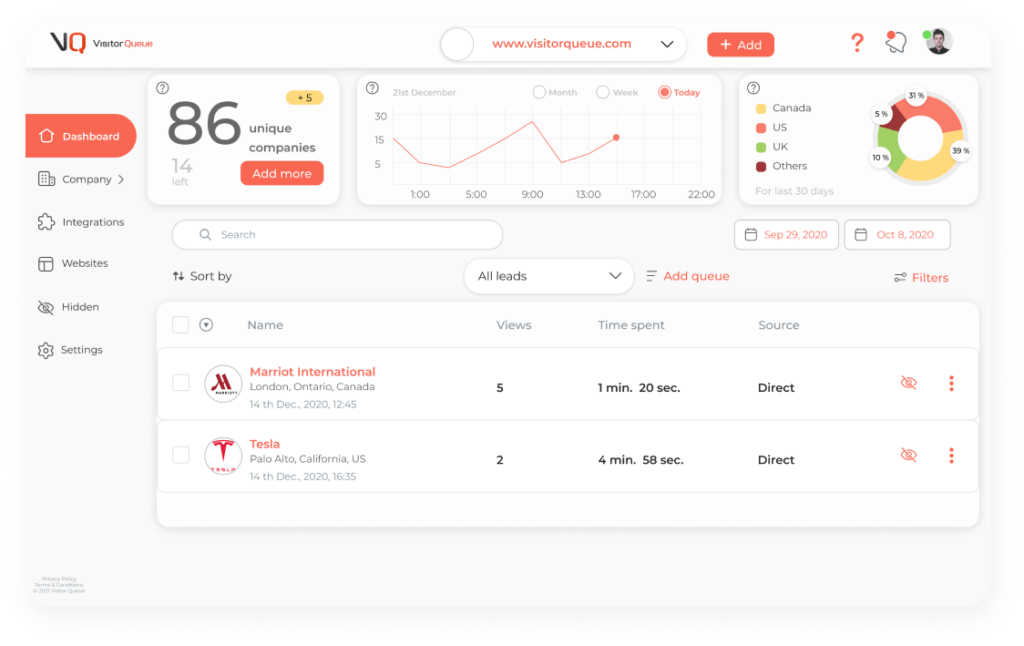 Before you consider it too self-serving to have Visitor Queue as #1 on this list, it's worth considering this tool's sheer application. Not to mention the unmatched affordability. With Visitor Queue, you can identify 98% of the typically "anonymous" visitors that venture to your site. This gives you the opportunity to turn passive visitors into genuine leads.
With a convenient 14-day free trial and packages starting as low as $31 per month, Visitor Queue is an affordable option that packs a bunch. If you're looking for even more oomph, though, know that you can opt for a larger package to generate up to 2000 or more leads per month.
Here's how it works: You create a free or paid account with Visitor Queue and then add the unique tracking script to your website. Then, Visitor Queue is able to record valuable information about the companies visiting your site. Including their company name, website information, and employee contact information. That way, you have an entire database of leads to follow up with. Then it's just up to you to close the deal!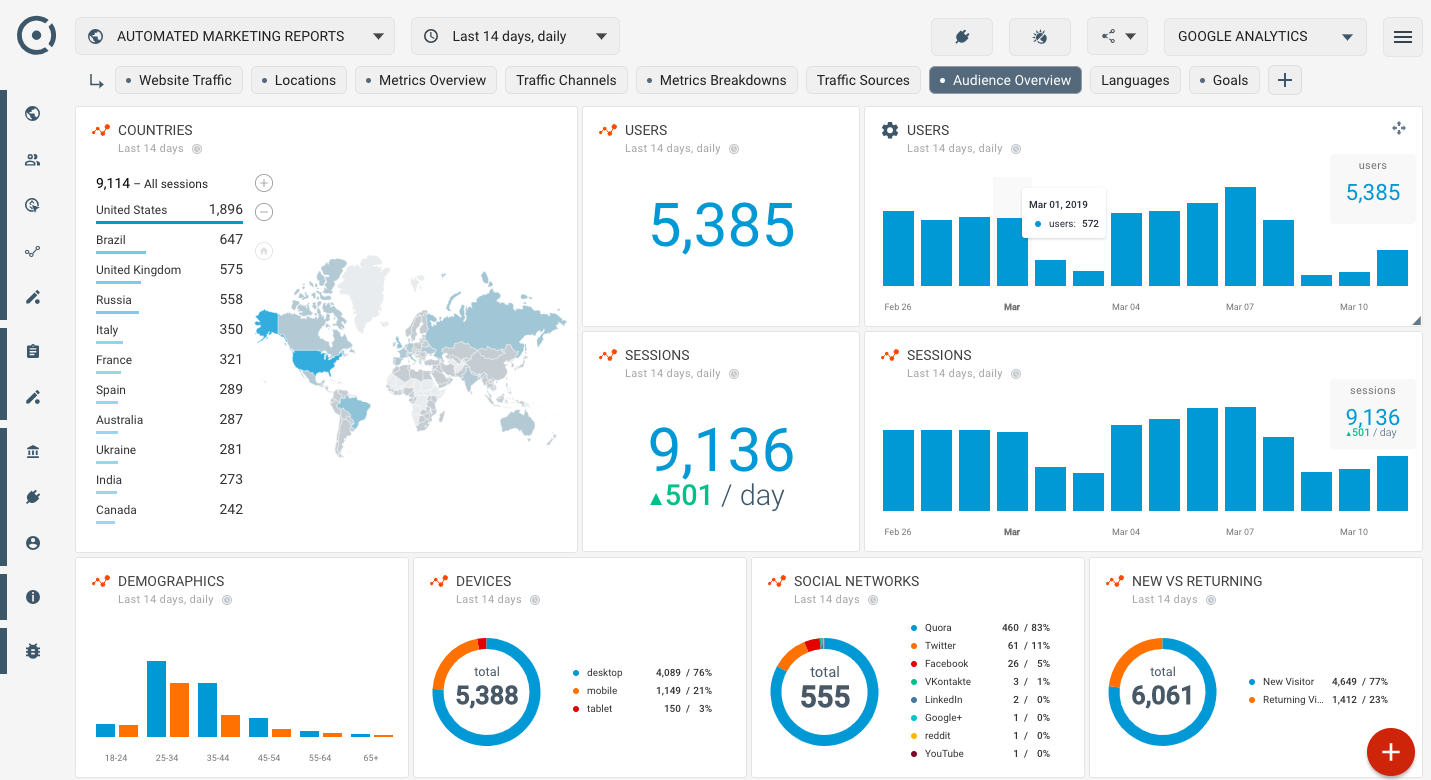 By far, Google Analytics is the most popular website analytics tools on the market. Due in no small part to it being Google's own website monitoring and analytics tool. With Google Analytics, you get near-endless data that you can tap into in order to inform your website's search engine optimization (SEO) and overall marketing strategy.
Though one of the biggest perks of this tool is that it's free. The downside is that many business owners – especially those new to data analytics – find it to be rather intimidating and difficult to navigate. You can create countless customizable dashboards, filters, "Views," and more. But it takes patience and consideration when it comes to analyzing the data. In using GA, your best bet is to look to the Google Analytics Academy for how-to guides and in-depth video tutorials on how to use this robust tool.
SEO guru Neil Patel founded Kissmetrics, one of the best website and marketing analytics tools on the web. This tool essentially provides insight into whether your marketing campaigns are performing at their best or which areas need improvement.
Kissmetrics boasts having "enterprise-level features at an entry-level price". Providing everything small to large businesses need to track their campaigns and website performance in detail. What's best is that this tool goes beyond the often vague metrics like "bounce rate" and "time on site" to provide insight into actual user behavior.
The goal? To improve customer retention and acquisition by gaining a deeper understanding of what makes your audience click, engage and buy.
We enable B2B companies to identify the anonymous businesses that visit their website and personalize their experience. Your sales team can now follow up with the visitors that don't convert, while marketing can personalize your website based on firmographic information to drive up conversion rate.
Start your 14-day free trial today!
Leadfeeder is similar to Visitor Queue in that it allows businesses to see which companies have visited their site in order to turn them into viable leads. It also provides information on which pages these companies visited so you can get an idea of what they're interested in and then follow up accordingly.
Tools like Leadfeeder and Visitor Queue are helpful because they provide you with the information you need to then improve your sales pitch. Then follow up with the right types of leads. You can use this data to tailor your sales playbook to suit your target audience's needs and ultimately increase sales.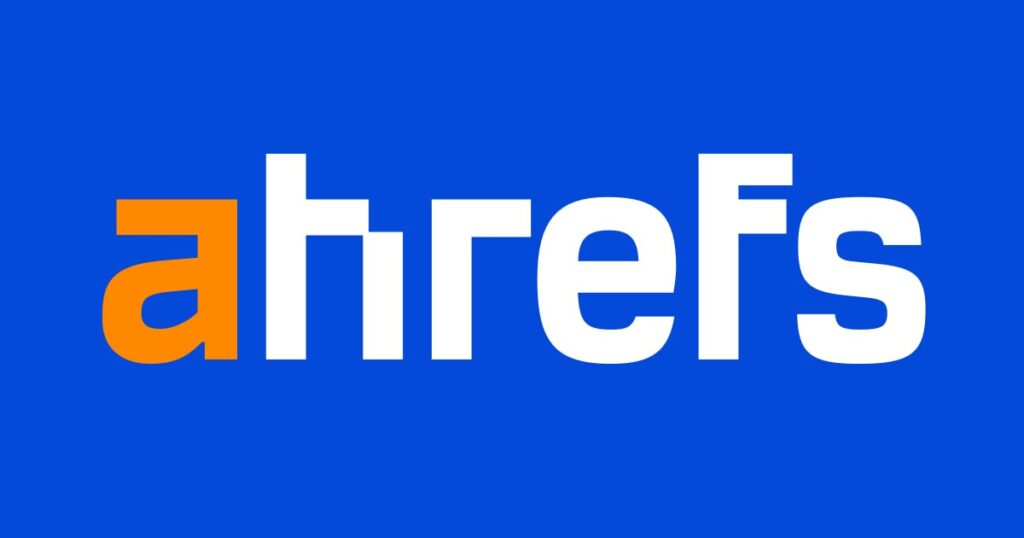 Ahrefs offers an all-in-one toolset to help you optimize your website. See benefits in organic search, analyze your industry competitors, identify high-traffic keywords, and track your website rankings on an ongoing basis. When it comes to increasing your website traffic, it's essential that you have an SEO tool like Ahrefs in your arsenal. This tool improves your Google rankings and increase your site's authority.
With Ahrefs, you can identify the key search terms your site should be targeting in order to drive more organic traffic and leads. You can also spy on your competitors' website strategies to improve your own site's performance and targeting. Finally, Ahrefs is great for identifying linking building opportunities to increase your site's authority and reach.
SEMrush is another powerful SEO tool that has many of the same capabilities that Ahrefs has. But where Ahrefs' specialty is link analysis, SEMrush takes the cake when it comes to content optimization. In using SEMrush, you're able to gain valuable SEO insights and improve your site content to attract even more visitors.
A typical project using SEMrush looks like this: Conduct a broad search of your target keyword to analyze traffic volume and competition level. Compare content examples from those top-ranking websites for your target keyword. Apply these insights to your own content using SEMrush's Content Analyzer to improve your chances of ranking high in the search results.
Moz Keyword Explorer offers the same functionality as SEMrush in that it allows you to find backlink opportunities, analyze the competition, and identify the best keywords for your site. You also have access to a robust knowledge base of Moz's countless SEO guides, tutorials, resources, and videos. This is your one-stop-shop for all things SEO.
Like Ahrefs and SEMrush, Moz provides SEO software that helps you increase traffic, rankings, and visibility in the search results. They each have different interfaces, though, so which tool you choose will ultimately come down to your own preference. Used alongside Google Analytics, Moz can certainly help you improve your SEO. By increasing traffic, and generating more leads through your website.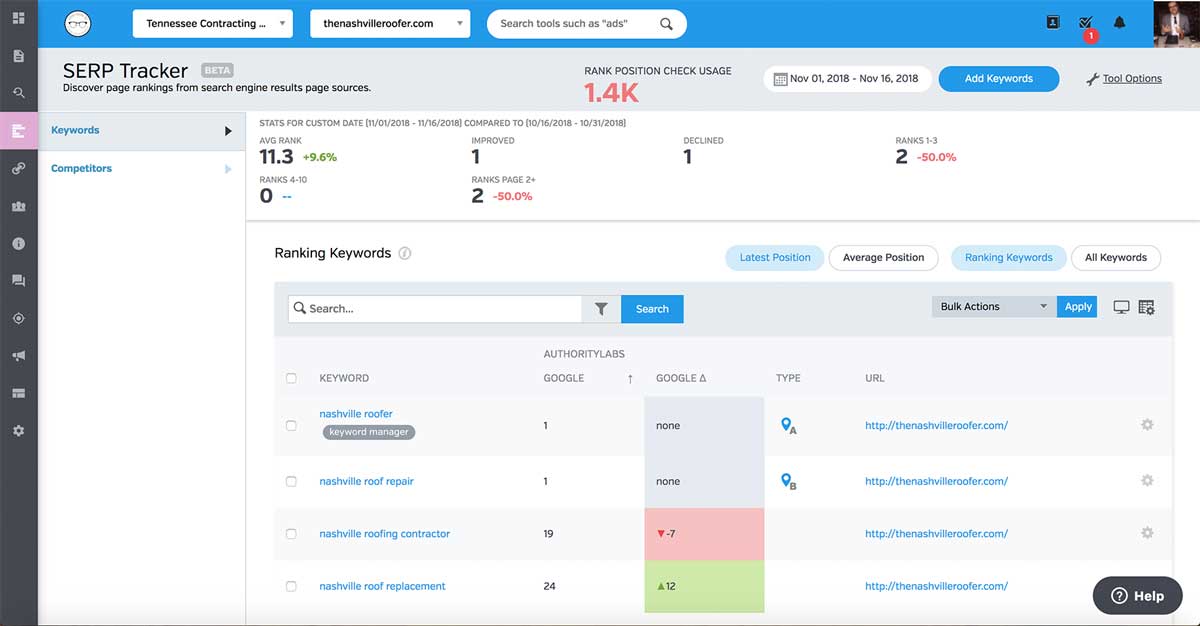 Raven Tools provides rank tracking, auditing, and backlink research tools to website owners looking to increase their traffic and reach more customers online. It even integrates with Google Analytics and Google Search Console. So you get the two-punch power of your favorite website analytics tool and an in-depth SEO tool.
Essentially Raven Tools allows you to track your website rankings over time and determine what's moving the needle in terms of your traffic growth. You can also run audits of your site to identify any technical or on-page issues that could be slowing down your site or hindering your rankings. Additionally, you can generate thorough reports to see the progress of your campaigns or even white-label reports to send to your own marketing clients.
PageSpeed is a free website analytics tool that allows you to see how fast (or slow) your website is loading. This is important because load time is a factor in determining your site's SEO and, therefore, rankings. A fast site is a user-friendly site!
Hosted by Google, PageSpeed identifies which issues may be slowing down your site – from large image sizes to poor network connectivity to poor server optimization. You can run a quick report using PageSpeed to note these issues. Then have your web developer make the appropriate changes to increase your site speed. This may have a significant impact on your rankings and site's usability.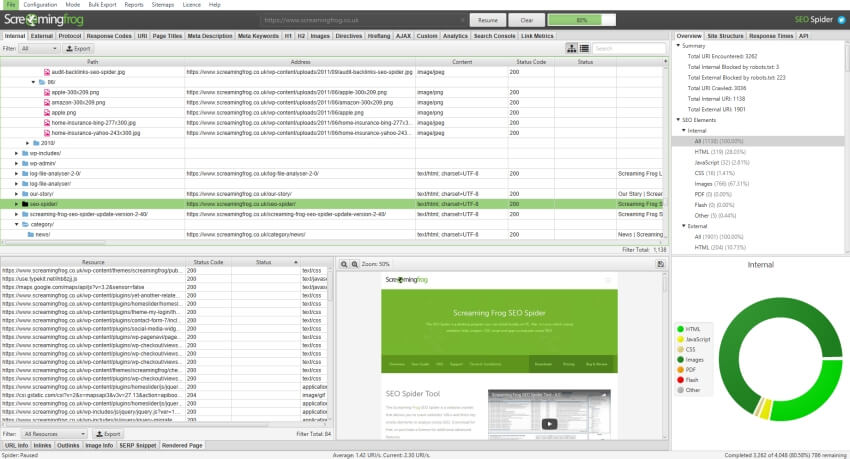 Screaming Frog is an SEO "spider" tool that "crawls"your website for information, such as the existence of optimized title tags, page depth issues, or broken links. However, this is just the tip of the iceberg in terms of what Screaming Frog can do. Its detailed audits and reports make it a fan favorite of SEO professionals and business owners alike.
Worried about 404 pages on your site? Screaming Frog will find them so you can fix them the right way. Need to optimize your title tags and meta descriptions for your target keywords? Screaming Frog will create a report of these, too, so you don't have to manually crawl your site. Screaming Frog saves you loads of time and is truly one of the best auditing tools if you want to optimize your site and increase your web traffic.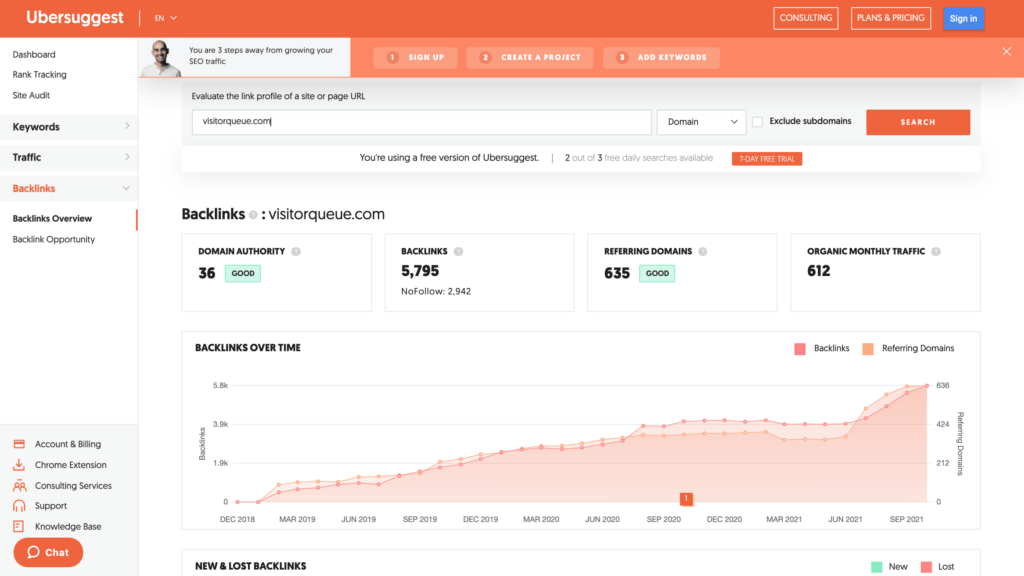 Ubersuggest is an all-encompassing tool. It includes features that will help you improve your keyword strategies, website traffic, and backlinks. The image above is a view of the backlinks section, where you can see domain authority, number of backlinks, and much more. You can use this tool to get insight into your website analytics, but also get insight into your competitors. You can analyze any public website and keep tabs on the keywords your competitors are ranking for, websites that are linking to them, and much more. Ubersuggest is one of my favorite tools on this list because of this. We use it on a regular basis to get inspiration and new ideas to help us improve our marketing strategies and differentiate from other companies in a similar industry.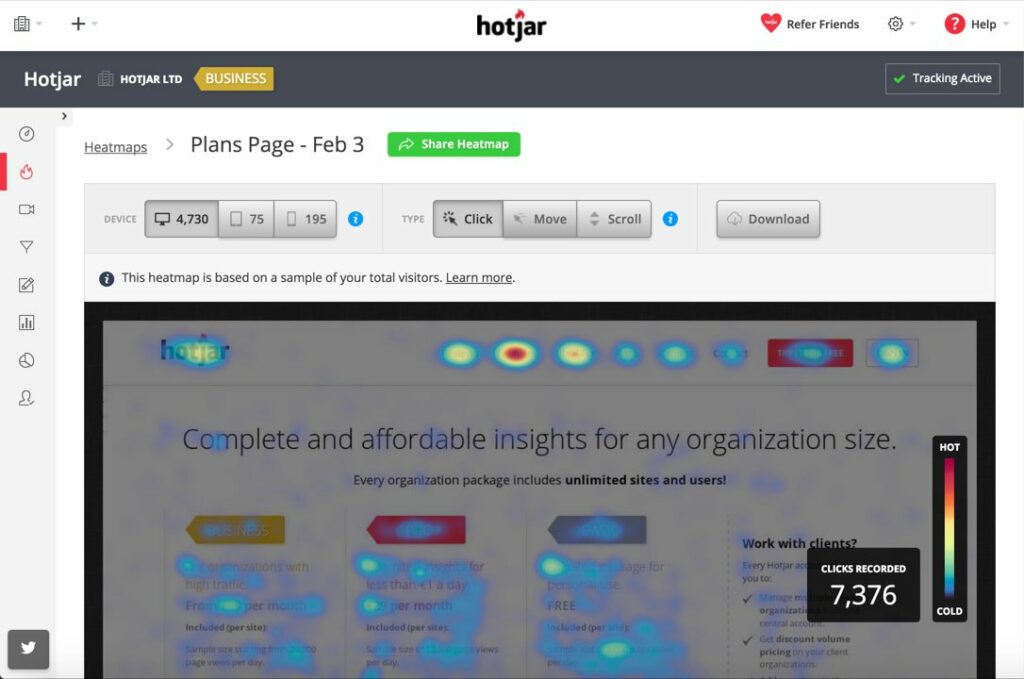 HotJar is one of my favorite website analytics tools on this list. Take advantage of their heatmaps feature, that allows you to see exactly where your website visitors are clicking on your site. If you notice that your pages have a high bounce rate, this is a great way to see errors that you might have never thought of before. They also have the ability to record your user sessions, which gives you an exclusive view of how your visitors behave on your website.
Bottom Line
While Google Analytics may be the most well-known website analytics tool. There are many more that can help you gain insight into different facets of your business. From lead generation with Visitor Queue to link building with Ahrefs. You have everything you need to both increase your traffic and generate more leads through your website.
What website tools are you taking with you into 2023? The above list provides some great options to consider if your goal is to drive more traffic, increase sales, and boost user engagement. Now you have seen some of the best free and paid website analytics tools, so it's time to put them to work!