The world of business is constantly changing and evolving. Listening to business podcasts is a great way to stay up-to-date on industry trends. Business podcasts are free learning resources that are packed with information that can help you personally and professionally. With so many business podcasts out there, it can be hard to choose the best one. Keep reading for the 20 best business podcasts you should listen to.
1. Down, But Not Out
Down, But Not Out with Visitor Queue's very own Nick Hollinger lands a spot at the very top of this list. We all love to hear success stories of how an entrepreneur has accomplished greatness. However, on the road to greatness, there are a lot of bumps along the way. These bumps may be mistakes they have made or a change in their industry that have negatively impacted their journey. The thing is, we don't normally hear about the struggles that entrepreneurs face along the way. On Down, But Not Out, we share those stories. The stories of resilience and determination that entrepreneurs have to face in order to fight for their business, in hopes to inspire others who may be going through the same hardships.

Here is an example of what you can expect to hear on Down, But Not Out. In the second episode of Down, But Not Out, Nick talks to David Billson about how his company, rTraction, lost a fortune 500 client that made up ~70% of their revenue. Learn how this challenge helped them better understand and service their current clients. Don't miss out!
Listen on: Spotify or Apple Podcasts
2. Business Wars
Like the name implies, Business Wars is a business podcast that compares similar companies, and how one of those companies consistently comes out on top. A couple of examples include Netflix vs. HBO and Nike vs. Adidas. Each episode dives deep into marketing strategies, initiatives, and competitive comparisons between the two companies. With new episodes every Monday and Wednesday, you will always have something new and interesting to listen to.

Listen on: Spotify or Apple Podcasts
3. The $100 MBA Show
The $100 MBA Show hosted by Omar Zenhom is a business podcast that focuses on sharing lessons he and his guests have learned over the years. This show has been going strong since 2014 and has welcomed guests like 50 Cent and Lisa Gralnek. I enjoy this podcast because Omar also talks a lot about personal and mental health growth and how it affects your business's success. In addition, episodes are under 20 minutes so they are perfect to listen to on the way to work!

Listen on: Spotify or Apple Podcasts
4. Planet Money
Planet Money takes a more serious approach to podcast topics, with topics like "Will Remote Work Kill The Office" and "The Great Inflation". However, that doesn't mean they are boring! Your host, Robert Smith, likes to think of the podcast as "meet me at the bar and tell me what's going on with the economy,". With this more casual approach, it's easy for non-economic majors to understand topics that will help them in their future business endeavors. Episodes are typically between 20 and 30 minutes long, so they are easy to pay attention to.

Listen on: Spotify or Apple Podcasts
5. The Goal Digger Podcast
The Goal Digger Podcast with Jenna Kutcher discusses topics like social media strategies, productivity, business hacks, and entrepreneur tips to help the listener grow their business. Jenna is a self-made millionaire, and she focuses on sharing her experiences and best-kept secrets that got her to where she is today. Jenna interviews the top women in business, who also share their secrets to help you exceed your goals.

Listen on: Spotify or Apple Podcasts
6. The Mind Your Business Podcast
In this podcast, your host James Wedmore untangles the misconception that hustle and hard work are all it takes to be successful. Instead, he talks about creating a mindset that will allow you to be successful. This unique show provides insight on mental awareness and how to hardwire your brain for more success. If you struggle with imposter syndrome or doubting your skills, I highly suggest checking out this show!

Listen on: Spotify or Apple Podcasts
7. Marketing Over Coffee
This well-known podcast goes over how marketing continues to change and evolve as technology advances. Marketing Over Coffee welcomes big-name guests like Seth Godin, Ann Handley, and Simon Sinek. With weekly half-hour episodes, Marketing Over Coffee can fit perfectly into your routine.

Listen on: Spotify or Apple Podcasts
8. Side Hustle Pro
Side Hustle Pro with Nicaila Matthews Okome welcomes women in business who have scaled their side hustle to a profitable business. This show focuses on motivation, tips and tricks, and business basics for new entrepreneurs. A few of her guests include Myleik Teele, Lisa Price, and Nicole Walters. I enjoy this show because Nicaila does a great job of being personable and fun.

Listen on: Spotify or Apple Podcasts
9. Product Hunt Radio
If you've heard of Product Hunt before, then you'll know exactly what this podcast is about. Hosted by Ryan Hoover and Abadesi Osunsade, Product Hunt Radio is a weekly podcast that welcomes founders, investors, and journalists to discuss the latest trends in the tech industry. If your business is software as a service (SaaS), I highly recommend this podcast.

Listen on: Spotify or Apple Podcasts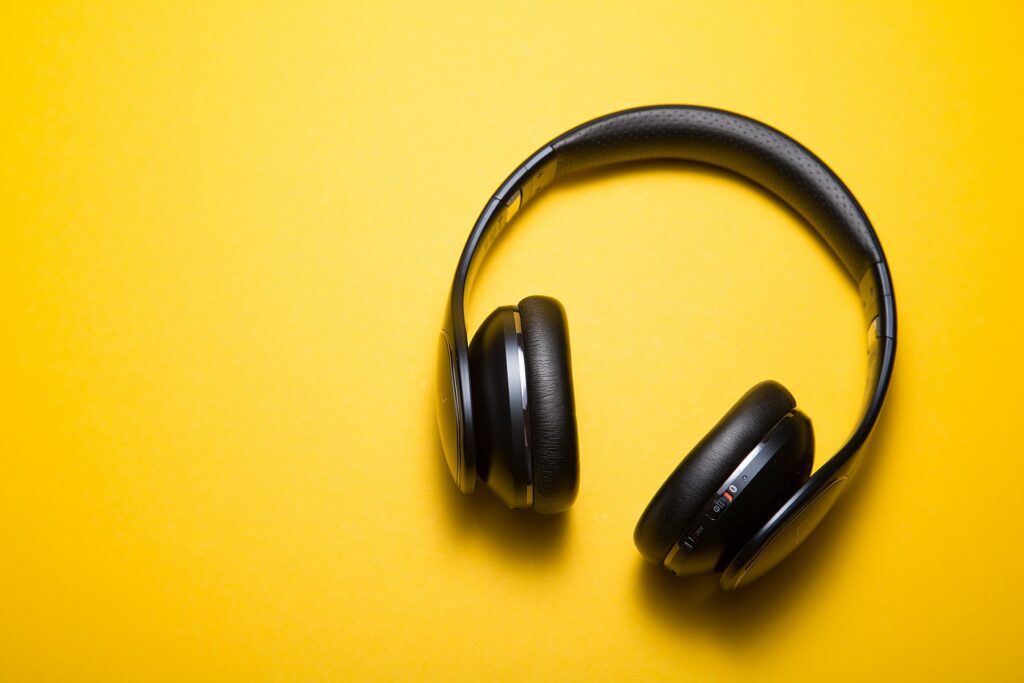 10. On Purpose
On this podcast, Jay Shetty talks to some of the most influential business people in the world. All of his guests share how they got to where they are today, and advice they would give to people starting out in business. He talks about topics like using your vulnerability to your advantage and the 12 lessons he has learned in the past 12 months. With new episodes every Monday and Friday, you will have the perfect way to start and finish your week.
Listen on: Spotify or Apple Podcasts
11. Impact Theory
Impact Theory is a business and mind-set focused podcast that teaches listeners secrets to success. Tom Bilyeu is the host of this series. You may recognize his name from his YouTube channel, where he has accumulated over 100,000,000 views. Tom is a serial entrepreneur, who brings on guests who are also hyper-successful. Tom and his guests provide industry secrets that will help you grow your business. I enjoy this podcast because Tom doesn't take it too seriously and he is very entertaining to listen to.
Listen on: Spotify or Apple Podcasts
12. TED Business
You may be familiar with TED Talks, where business people, celebrities, and motivational speakers all share their advice and experiences. TED business is a similar concept but sticks to business professionals, entrepreneurs, and marketers. Every Monday your host Modupe Akinola, a professor at Columbia Business School, talks about revolutionary trends in business. Modupe welcomes the biggest names in business to his podcast including Abigail Disney, Wendy Suzuki, and Katie Hood. But, the podcast doesn't just end when the interview is over. Modupe goes over important points that his guests mentioned and explains how it was useful from an educational perspective.
Listen on: Spotify or Apple Podcasts
13. Millionaire Success Habits Podcast
This show is perfect for those who have massive goals that they want to achieve. Millionaire Success Habits Podcast with Dean Graziosi is the perfect place to learn how to exceed those goals. Dean will motivate you and teach you how to take your life to the next level. Dean talks about how he earned success with his business and the choices he had to make to get there.

Listen on: Spotify or Apple Podcasts
14. The GaryVee Audio Experience
Gary Vaynerchuk is one of the most well-known entrepreneurs and business influencers out there, for good reason. Gary has been able to turn his personal brand into a multi-million dollar brand. He built his business from the ground up, and his story is truly inspiring. The GaryVee Audio Experience shares multiple episodes a week. This may seem like a lot to keep up with, but each episode is unique and has a different format. Most of his episodes are interview-style with a guest, Q&A, or a casual chat. This is great because the episodes will never get repetitive or boring.

Listen on: Spotify or Apple Podcasts
15. How I Built My Small Business
How I Built My Small Business is the perfect podcast for those starting or looking to enhance their small business. In this podcast, you can learn small business tips from entrepreneurs who have built their own businesses from the ground up. Their episodes typically range from 50-90 minutes, so keep that in mind when you start this podcast.

Listen on: Spotify or Apple Podcasts
16. The Advanced Selling Podcast
If you're looking to improve your sales technique, this is the perfect podcast for you. This podcast is hosted by Bill Caskey and Bryan Neale, who both have over twenty years of selling experience. You'll learn selling basics, and more complex strategies like sales psychology, leading and managing. They have hundreds of episodes to choose from, and every salesperson of every skill level will benefit from listening to this show. Episodes are under 20 minutes, so they are the perfect length for your drive to work in the morning!

Listen on: Spotify or Apple Podcasts
We enable B2B companies to identify the anonymous businesses that visit their website and personalize their experience. Your sales team can now follow up with the visitors that don't convert, while marketing can personalize your website based on firmographic information to drive up conversion rate.
Start your 14-day free trial today!
17. Business Casual
On this podcast, you will learn from some of the biggest names in business about their struggles and advice they would share. They focus on asking their guests questions that their listeners would want to ask themselves. Their tagline is "Swap your coffee for a beer, and join us – you know the dress code!" if that gives you any indication of how enjoyable this podcast truly is. They have a ton of bonus and behind-the-scenes episodes that allow the listener to get an even better experience. This is one of my favorite business podcasts on this list.

Listen on: Spotify or Apple Podcasts
18. Busy Blooming
Busy Blooming with Tess Barclay focuses on advice for post-grad women navigating through their first career out of school. Tess talks about topics like imposter syndrome in the workplace, career confusion, and other difficult topics that are not talked about when young adults are finishing school. Tess asks all of her guests "What is something you would tell your 18-year-old self?", and the answers she receives are all very relatable and inspirational. If you're a young adult entering the workforce for the first time (even if it's not business-related) I would highly suggest this podcast.

Listen on: Spotify or Apple Podcasts
19. Strategy Hour
Hosted by Abagail Pumphrey and Emylee Williams, Strategy Hour gives tips and actionable strategies to enhance your marketing efforts. Their tips are unique, and even the most seasoned marketing professional will learn a thing or two from this show. They have hundreds of episodes available, and they are all around 40 minutes to an hour. If you've been looking for new marketing tactics to try out, this is a great place to learn.

Listen on: Spotify or Apple Podcasts
20. The How of Business
Last but certainly not least, we have The How of Business podcast. If you are an aspiring entrepreneur or you currently run a small business, this is the perfect podcast for you. Your host, Henry Lopez, gives you advice, tips, and techniques on how to start, run, and grow your small business. Each episode is a little different with a mixture of interviews, Q&As, and deep dives into certain business topics. Expect a new episode every Monday morning to help inspire you for the week.

Listen on: Spotify or Apple Podcasts
What is the Best Business Podcast to Listen to?
Business podcasts are the perfect opportunity to learn from the best in the industry, for free! There are a ton of great business podcasts on this list, so it's hard to choose just one. I hope you were able to find a few new business podcasts on this list that piqued your interest. If you're still looking for a podcast to listen to, check out our list of the best entrepreneurial podcasts.

Don't forget to check out our podcast Down, But Not Out on Apple Podcasts or Spotify.