Marketing tools are a great way to simplify daily tasks and make your life a little easier. As a startup, it can be difficult to know what marketing tools you should be using. With so many options available, it can quickly become overwhelming trying to choose. Fortunately, we have put together this list of the 22 best marketing tools for startups to use in 2023. Keep reading to learn what you should be using to grow your business this year.
Visitor Queue ranks number one as the best marketing tools for startups. As a startup, lead generation often takes a back seat as it can be extremely time consuming. With the help of Visitor Queue, you are able to sit back and watch the leads roll in. Visitor Queue is a B2B lead generation software that can identify the companies that visit your site. Simply by adding a custom tracking script to your website (it's easier than it sounds) you will be able to see what companies are on your site, how they were acquired, the pages they viewed, and how long they spent viewing each page. Gain access to company history, industry, and other data points to help you qualify them as a lead. Additionally, we provide contact information like email addresses, phone numbers, and direct links to connect with them on LinkedIn. Send these leads straight to your CRM to automatically follow up. Start your 14-day free trial today and stop losing leads!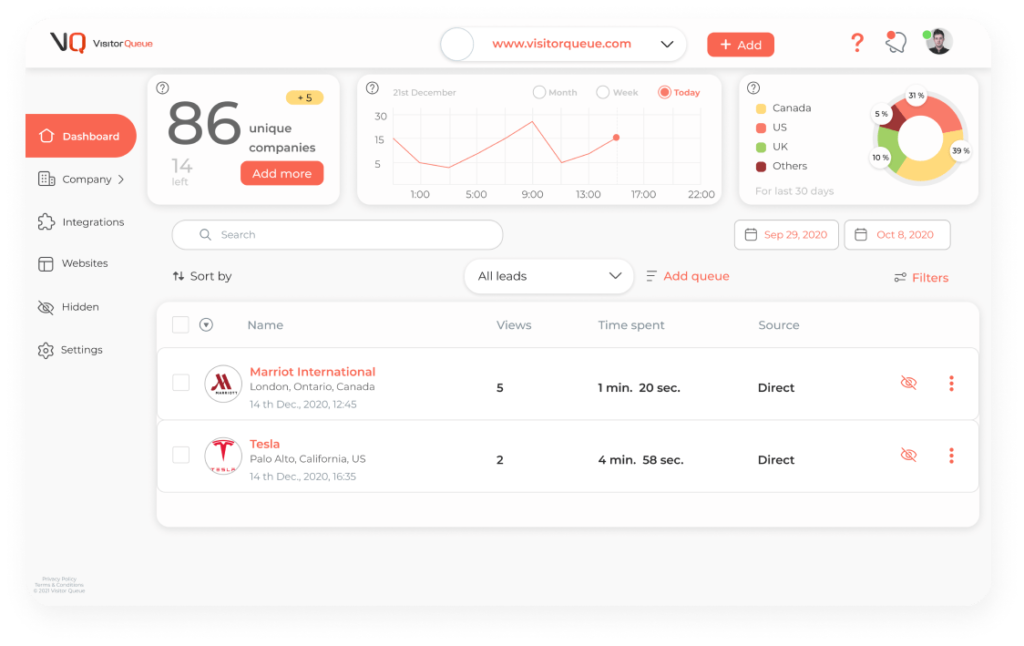 Communication can be tough as a startup. With the help of a tool like Slack, you can easily send messages, images, links, and even audio clips to help you communicate with your team. You are able to create custom channels or group chats for specific team members to communicate in. Slack offers integrations with CRMs, social media platforms, Dropbox, and more to help you send and receive information in a timely manner. Best of all, their free plan will offer enough features for most startups.
I'm sure you have heard of Google Analytics before. You may even have a Google Analytics account already running. But, if you are a small team with limited marketing experience, it can be difficult to take advantage of the information it provides. Fortunately, Google offers a handful of free courses to help you get started. Once you are familiar with Google Analytics, you are able to gain insight on how your website visitors are landing on your site, what pages are most viewed, time spent on pages, page speed, and track conversions. With this amount of insight, you are able to see if your marketing efforts are paying off and if you need to make any changes or updates along the way. Google Analytics is completely free for every user, and every company should take advantage of it.
You might think that Adobe Photoshop or Adobe Indesign are the best image editing and visual content creating software on the market. And this used to be the case, but they can be pretty tricky to use if you're not familiar with them and they can also be very expensive. In comes Canva, one of the most user-friendly software I have ever had the pleasure of working with. You are able to build aesthetic social media posts, video thumbnails, website content, brochures, and other forms of content easily with their templates. Canva is free, with the option to pay to access premium features.
Demowell is another one of my favorite marketing tools for startups. As a startup, it can be difficult to win over new clients. They may be hesitant to invest their time and money in a new product, if there are others on the market that offer a similar outcome. So, you want to ensure that every point of contact with prospects and new clients is personalized as it will help them envision what it will be like to use your software on a daily basis. Demowell is here to help. With Demowell, you can easily create personalized and interactive demos that will be sure to entice your prospects. Use popups, video or audio clips, images, and other features that will help walk the user through your software. You can use Demowell to embed your custom demo on your website, personalize a demo for a live meeting, or send to prospects to follow up. Demowell can help you not only impress your prospects, but stand out from your competition.
As most companies use multiple different software to manage various aspects of business, it is important to automate tasks and transfers of data. Automation will help you save time, money, and the frustration of completing boring tasks. But, not every software will directly integrate with each other. This is where Zapier comes in. Zapier offers thousands of integrations to help you automate as much as possible. It is very simple to create these automations, with Zapier offering templates for almost everything you would want to automate. They even offer a free plan to help you get started.
Trello is a project management tool that allows you to create tasks for yourself or others, and help you manage where they are in the process. As a startup, it's likely that you have a million tasks on your plate, and some can often get forgotten about or swept under the rug. With a project management tool like Trello, you are able to stay on top of tasks and prevent miscommunications or lost tasks. Trello offers a free plan or very affordable paid plans starting at $5 per month.
8. Google Docs, Sheets & Slides
Collaboration is key when it comes to startups. Whether you are writing content for your blog or website, creating a presentation for meetings with your team or a client, or you need to create a spreadsheet to monitor data, these Google marketing tools for startups can help. You are able to easily create assets and share them with members of your team, shareholders, clients, prospects, and other people that you may be communicating with.
SEMRush is a unique software that explains how you can improve both your search engine optimization (SEO) and search engine marketing (SEM). You are able to gain insight on what keywords to use on your website and for SEM. They also have traffic analysis tools, backlinks and link building suggestions, and competitor comparison tools to help you see what your competitors are doing well. SEMRush offers a free trial of their entire platform and a free plan with limited access to certain features.
Keap is a customer relationship management software, or CRM, that helps its users keep track of your customer journey. The way that you use a CRM will depend on what your company has to offer. A few common ways include creating an onboarding email sequence, lead generation, broadcast marketing emails, and more. There are a ton of CRM software options out there, but Keap is generally more affordable than options like Hubspot and Salesforce.
Over the past two years, working from home and virtual meetings have become an essential part of business. To successfully do so, you'll need to use a video conferencing software to manage these virtual meetings. Zoom is one of the most popular options for good reason. It is easily accessible, and almost everyone has used Zoom at one time or another. Additionally, they have a free plan that is perfect for most startups.
Asana is another project management tool that will help you track, manage, and organize your own work as well as your team's work. With the help of Asana, you are able to stay on top of, and prioritize certain tasks. They also have a mobile app that will help you manage tasks on the go. Asana offers a free plan for small teams to manage their projects.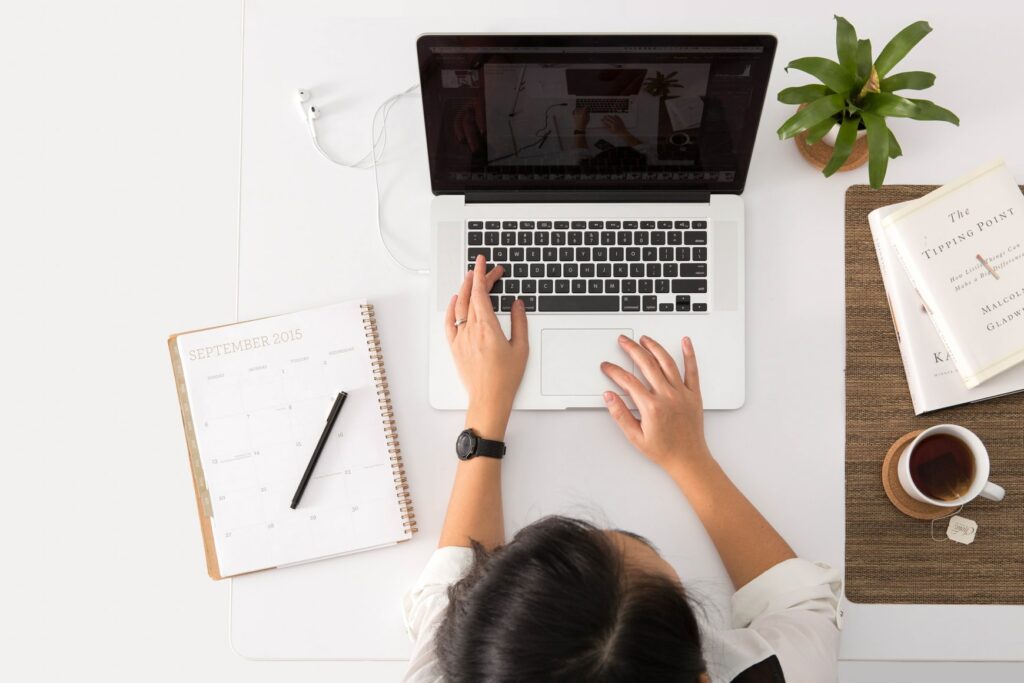 Hootsuite is a social media management platform that helps to schedule social media posts, reply to followers, manage advertisements, and help you create content that is perfect for each social site. In 2023, it's important for companies to have a strong social media presence, but it can feel overwhelming and not a priority when you have so many other tasks on the go. With Hootsuite, you can schedule content months in advance, so you don't have to worry about forgetting to post. 
Grammarly is one of the most essential marketing tools for startups. Spelling, grammar, and punctuation are difficult for everyone, no matter how well-versed you are in literature. Grammarly is a Chrome Extension that will automatically scan your written content for errors and suggestions that will make your work sound more organic. You are able to choose the tone of voice that you want your content to have, whether it be formal, educational, fun, or another tone, and Grammarly will suggest edits based on your choices. It will also recommend how you can reduce wordiness and other common writing mistakes. Don't be that person to send an important email with spelling mistakes! Grammarly has a free plan that offers enough support for most startups.
We enable B2B companies to identify the anonymous businesses that visit their website and personalize their experience. Your sales team can now follow up with the visitors that don't convert, while marketing can personalize your website based on firmographic information to drive up conversion rate.
Start your 14-day free trial today!
QuickBooks proclaims that they are the #1 accounting software on the market. They offer invoicing, payroll, expense tracking, receipt management, and bill management to help you keep track of and understand where your money is going. Accounting is not easy to learn, and QuickBooks is a great asset to ensure your finances are kept secure and properly billed. They offer a 30-day free trial to help you get started, but do not have a free plan.
Tidio is a live chat software that aims to provide your website visitors superb customer service. You are able to set up custom answers for common questions, or have someone monitor the chat. They offer unique features like Cart Saver that provides visitors a discount code before they abandon their cart. With features like this, Tidio is one of the best live chat software and marketing tools for startups.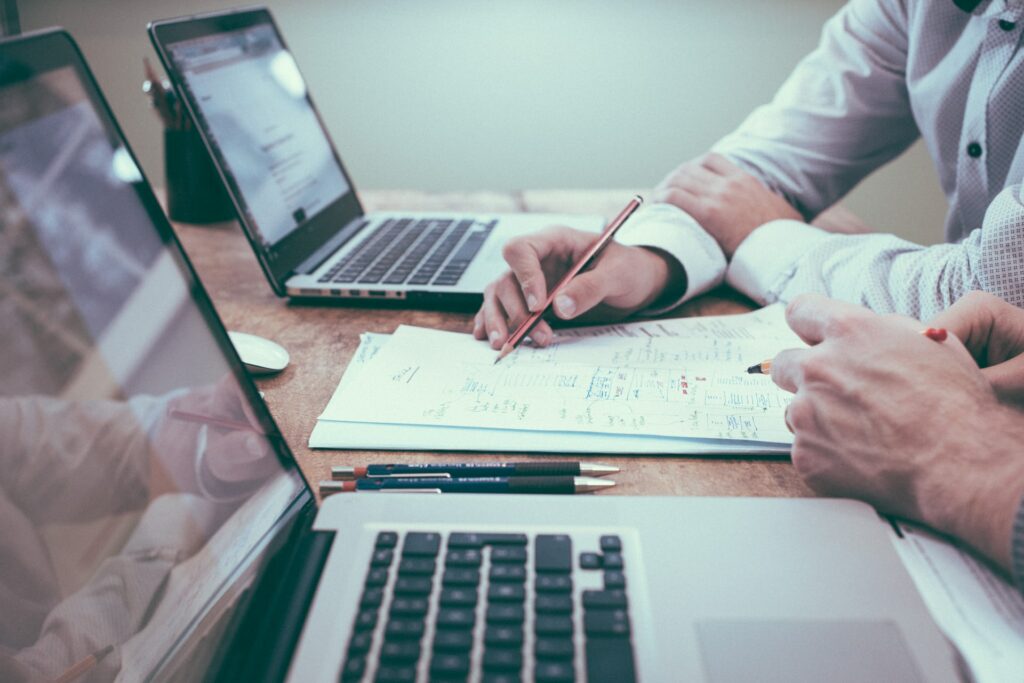 Product Hunt is a great way to get your startup in front of thousands of relevant investors, creators, journalists, and other members of the community who are eager to find the next best thing. Users submit their product, along with images, videos, and other supporting information, and wait for their product to be "hunted" by relevant individuals. If you are able to get your product to the front page of Product Hunt, you can potentially receive thousands of views and engagement.
Stripe is an online payment processing platform that will manage everything to do with your website's payment. It integrates with platforms such as Wix, WordPress, as well as Zapier to ensure you can easily manage your payments. They manage fraud detection, invoices, subscription renewals, as well as basic one-time payments. Stripe allows you to see stats about your website's payment information to help you detect any dips in revenue. Companies like Amazon, Zoom, Slack, and even Google uses Stripe to manage payments.
Although Udemy is not a software, I thought I would mention it on this list as it can still be a very helpful marketing tool. Udemy is a learning and education platform that offers courses on everything from financial planning and budget management to marketing and sales strategies. They also have courses to help you learn how to use Google Analytics, Google Ads, and other popular marketing software. Before choosing a course, ensure that you read the reviews so you know that you're picking the right one.
OptinMonster is a lead generation software that will help you convert your website visitors into paying customers through interactive popups. Their features include regular popups, scroll boxes, gamified wheels, and more. These popups can be triggered automatically with a new website visitor, page level targeting, and exit intent. They have hundreds of templates to choose from that will help you build the perfect popup based on your specific goals. They don't have a free plan, but they offer plans starting at $14 a month, which can generate a positive ROI with one conversion.
As a startup, you may not be able to do everything with your current team, but you don't have the resources to hire a new employee. Fiverr can help you find qualified freelancers for tasks like marketing, web design, graphic design, and pretty much anything else that you can think of. Fiverr freelancers don't charge an hourly rate, they charge a flat project-based rate, which will help you choose the right freelancer for your needs.
Buffer is a social media scheduling software that allows you to publish content, engage with your followers, and analyze your social media metrics. They are able to help you schedule your content at optimal times based on when your followers are online. In addition, they provide you with insight on what messaging your followers enjoy the most. With A/B testing, you are able to see what content works and what needs improvement. They offer a free plan for up to three social media sites.
Final Words
There are a number of fantastic marketing tools for startups. The best marketing tool for your startup will depend on where you are in the process as well as what you are already using. If you don't have a CRM yet, I would recommend starting there. From there, you can choose the best marketing tool based on your company's specific needs and goals for 2023. If you have any questions about how Visitor Queue can help you generate leads, don't hesitate to reach out.