Meetings and appointments are essential for any growing business. Sales teams need to maximize their time scheduled appointments so they can focus on speaking to prospects. Your existing customers need an easy way to reach out to you and book your team for assistance calls. And new visitors to your site need an easy way to see a demo of your product/service to better understand if you meet their needs. This is where an appointment scheduling software can save you tons of time while ensuring you have the maximum amount of time for these parties.
Choosing an Appointment Scheduling Software
There are dozens of solutions to choose from for your appointment needs but not all are equal. While looking for a solution, you need to ensure it meets all of your needs, as some tools specialize in certain areas you may not be interested in. Like any tool, you implement into your business's day-to-day life. You will need to make sure it checks all of your boxes and not some. Below, we've compiled the 6 best appointment scheduling software!
*Not in any particular order. We have no affiliation and do not receive a commission from any of these companies.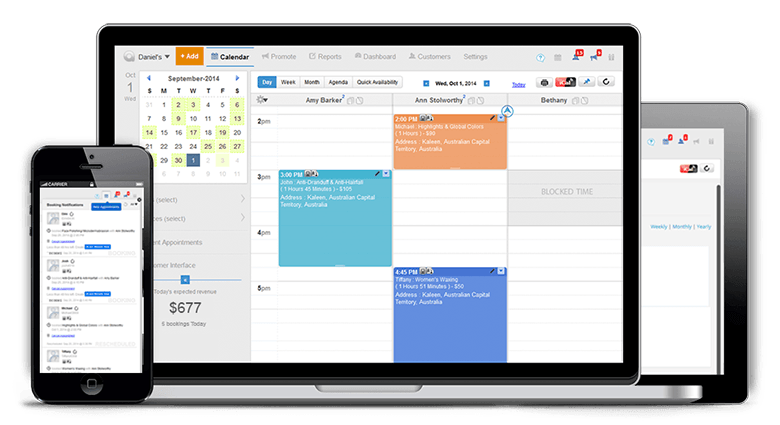 If your business is more dependent on social media presence and other related channels than it is on the company website, then Appointy is the solution you are looking for. One of the best features is the ability to book appointments directly from your social media channels. With its easily embedded appointment calendar on your Facebook page. It has never been easier for your prospects to get in contact with you.
As an Admin user, you can track your customer's history which provides in-depth information and is presented clearly. There is also an option to set up payment schedules, create invoices, and receive payments. The booking process takes you through multiple dropdown menus for a simple and easy to navigate the process.
Appointy's free plan gives you unlimited bookings for up to five services.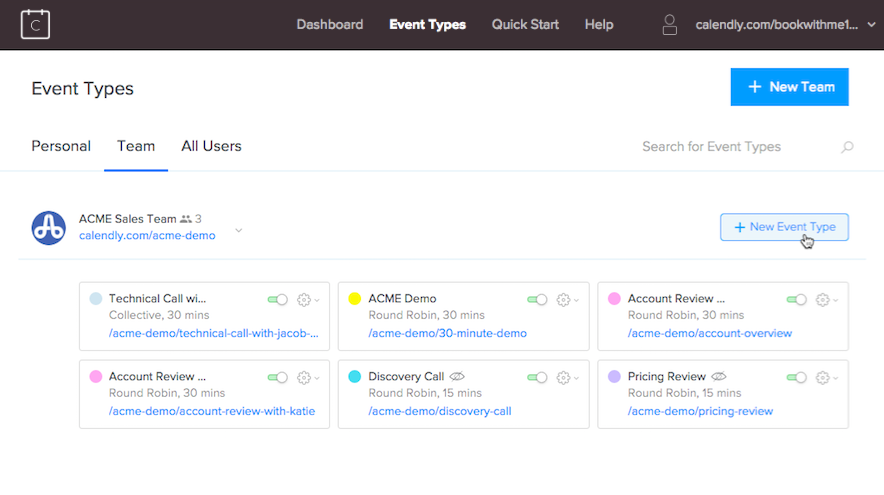 Calendly has a clean interface and uses Google for its sign-in process. They allow your customers to pick a free time available. Then sends you an email about the scheduled appointment and populates the appointment in your calendar as well as the customer's calendar.
Calendly saves different meetings types and offers the flexibility to schedule your weekly or monthly meeting based on any preferences and available time slots. This does not affect any default settings for new meetings. This solution excels in scheduling meetings with reps from different teams within an organization and also allows you to share custom events with clients.
Calendly's free package may be enough for those who have a single product or service and their basic subscription comes in at $8/month.
We enable B2B companies to identify the anonymous businesses that visit their website and personalize their experience. Your sales team can now follow up with the visitors that don't convert, while marketing can personalize your website based on firmographic information to drive up conversion rate.
Start your 14-day free trial today!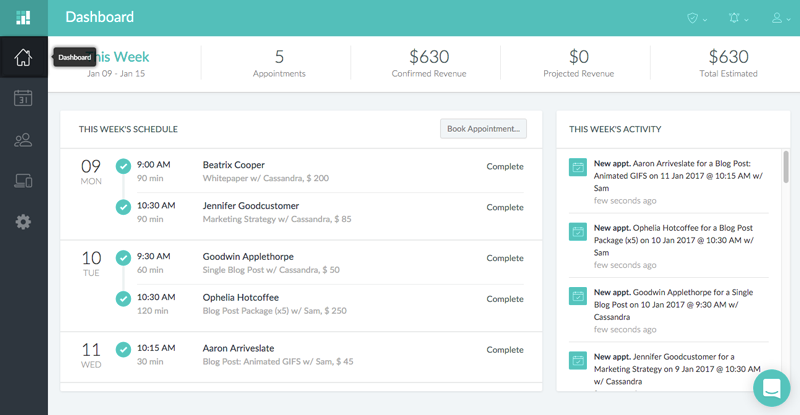 If your company wants to provide employees with their own booking websites rather than one scheduler. Then Setmore is the tool you have been searching for. This tool wants every employee to have their own individual scheduling site to ensure no tricky or confusing scheduling around another availability.
Customers can see any cost associated with the appointment, recurring visits, and request reminders on their mobile devices. The recurring visits feature is missing in many of the other appointment tools and Setmore makes it a priority to have this feature available.
Setmore makes the process to set up an appointment hassle-free and allows you to include a booking button on your website. It includes basic enhancement tools such as auto text reminders to reduce no-shows.
Their free plan includes 20 users and the premium includes more robust features at $25/month.
Apart from the standard core scheduling features, vCita comes with other functions such as email marketing, contact management, customer billing, and more features to further help your team. The online scheduling features can be used by your customers to schedule a call, set up a marketing demo, or book an appointment with your sales reps. 
vCita uses automated reminders and confirmations to help reduce the number of no-shows your team experiences. You can publicize your brand by creating an array of custom invoices and offering discounts. Share documents with your team and customers through web portals to ensure a seamless experience.
The basic version is free and starts to add more enhancing features at $29/month.
While Booksy mainly serves beauty & wellness professionals, it's quickly making its way to other industries, like tutoring and psychotherapy. Businesses can find an entire platform for managing their company. The features include an appointment calendar, equipment management, employee management, email marketing, point of sale, scheduling, and much more.

The strength of Booksy is with its marketplace. Just about any business relying on scheduled appointments can benefit from millions of users scouring the site every month. All of that is paired with a simple-to-use interface and an application that can book meetings in seconds.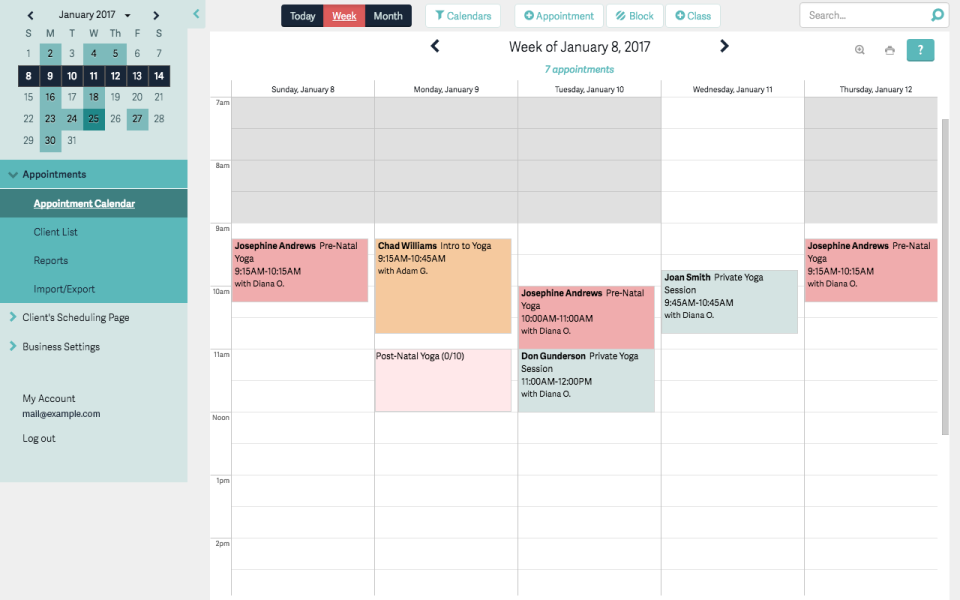 It is like a personal assistant for your team's schedule. Acuity Scheduling makes booking appointments with your clients and customers simple and straightforward with its easy-to-use interface. Simply select a time that works best, pay in advance if necessary (via Square, Stripe, or Paypal), and even cancel or reschedule without having to contact you for assistance.
Acuity Scheduling auto-adjusts for time zones to ensure reminder messages and appointments are always set for the correct time making for a prompt appointment. With the availability to control your times of operation or times you are available you are always in control of when you are able to take appointments for the perfect workday.
The free plan allows for solo scheduling and then starts at $15/month.
Pro tip: Integrate Your Appointment Scheduling Software With Your Video Conferencing Software
Picking Your Appointment Scheduling Software
If your appointments are virtual and you use a video conferencing app. Pick a scheduling tool that integrates with your video conferencing software to automatically create video conferencing links. Then have them sent to appointment attendees. At Visitor Queue, we use Calendly integrated with Zoom to create an efficient scheduling flow.
Your team is no doubt spending unnecessary time setting up meetings with customers and prospects. With the help of appointment scheduling software, your team now has that time back. Focusing their energy on the appointments with these prospects. Your team may need more than the free version of the software. That should be taken into consideration when deciding on a tool to use. You may not use this tool every day. But, when you implement a tool like this you will see the convenience of the tool. Watch your no-show rate drop and see your customer engagement rate rise.