AI has taken the marketing industry by storm. As we learn to embrace AI, the topic of AI powered marketing tools to improve your marketing efforts. With the help of AI powered marketing tools, companies like yours can optimize marketing campaigns, sales initiatives, and boost lead generation. With all of the marketing tools on the market, it can seem overwhelming to pick the best one for your business goals. That's exactly why we have put together this list of the top 12 AI-powered marketing tools, so keep reading!
Why is Using AI for Marketing Important?
AI has revolutionized how we do marketing. By leveraging AI-powered marketing tools, you can produce higher-quality content, faster, and with fewer human errors. AI can enable you to enhance your data, monitor social media, improve your website, and stay on top of emerging trends. By harnessing the power of artificial intelligence, companies can unlock new business opportunities, gain a competitive advantage, and achieve better marketing results.
Top 12 AI-Powered Marketing Tools You Need to be Using
Now that you know why it is so important to use AI for marketing, you're probably wondering what the best AI-powered marketing tools available are. Here is our comprehensive list of the top 12 AI-powered tools that you need to be using.
The first AI-powered tool on our list is Visitor Queue. Visitor Queue is a lead generation and website personalization software, but we are going to be focusing on the website personalization feature when regarding artificial intelligence. In your Visitor Queue account, you can set up personalizations based on your visitor's company firmographics including location, company size, source/medium, company name, and more. This means that you can show each visitor a custom view of your website based on what the visitor will respond the best to. As an example, if your company targets SMBs and enterprise-sized companies
ManyChat is an AI chat software that can predictively respond to customer inquiries based on previous activity. This can help you respond faster to clients, respond more consistently, and provide overall better customer service. Which can then lead to more conversions. Keep in mind, you should also have someone available to respond to more in-depth or difficult questions that the AI may not be able to answer efficiently. With ManyChat, you can also automate direct messages, Facebook Messenger, and text messages.
JasperAI is similar to ChatGPT in the sense that it can provide AI-written content for your website, social media channels, blog articles, and more. But, JasperAI takes content creation one step further. This is because you can enter in your brand voice, tone of voice, previous examples, and more to help JasperAI better understand the quality of work you want to put out. This can mean fewer edits for you to make until you get it right.
Descript is an AI-powered software that can help you write, record, transcribe, edit, collaborate, and share videos and podcasts. One of my favorite features is the filler word removal, where you can remove "um", "uh", and "you know" from the content. This can help your video seem more professional and saves you time manually removing them. If your organization works with video marketing and podcasting, I highly recommend checking this tool out.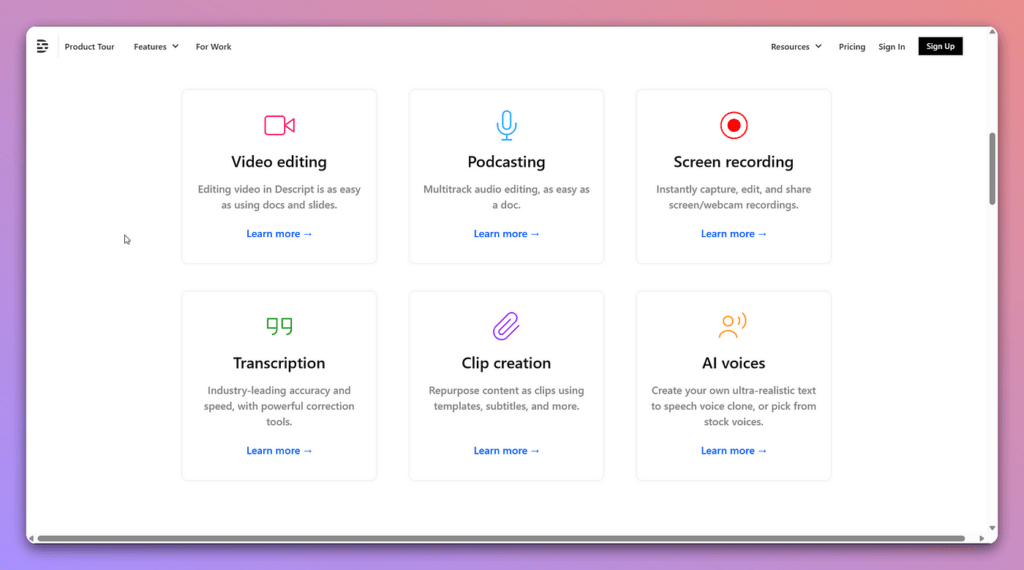 Salesforce Einstein is an AI-powered marketing tool that can enhance your company's sales and marketing processes. This tool offers lead scoring, sales forecasting, and intelligent recommendations to drive more conversions. Sales forecasting is an extremely helpful tool that can use previous sales and marketing history to predict what your revenue will be. This can help you plan inventory, sales reps, and other considerations. With the help of Salesforce Einstein, you can prioritize your leads, identify business opportunities, and optimize your sales strategy.
The next AI-powered marketing tool that we are going to recommend is Optimizely. Optimizely is an AI-based experimentation platform that helps businesses optimize their website and marketing campaigns. It can help you plan campaigns based on previous success, run A/B testing, and deliver ads that are data-driven.
I'm sure you have heard of Mailchimp by now. Mailchimp is one of, if not the most popular email marketing platforms. It leverages AI to enhance email campaigns, including audience segmentation, content recommendations, predictive insights, and making suggestions on how to boost conversions. One of the simplest ways that Mailchimp uses AI is to let you know what time of day you should send your email to ensure it gets a high open rate. Mailchimp is also extremely user-friendly, which makes it a popular choice for email marketing.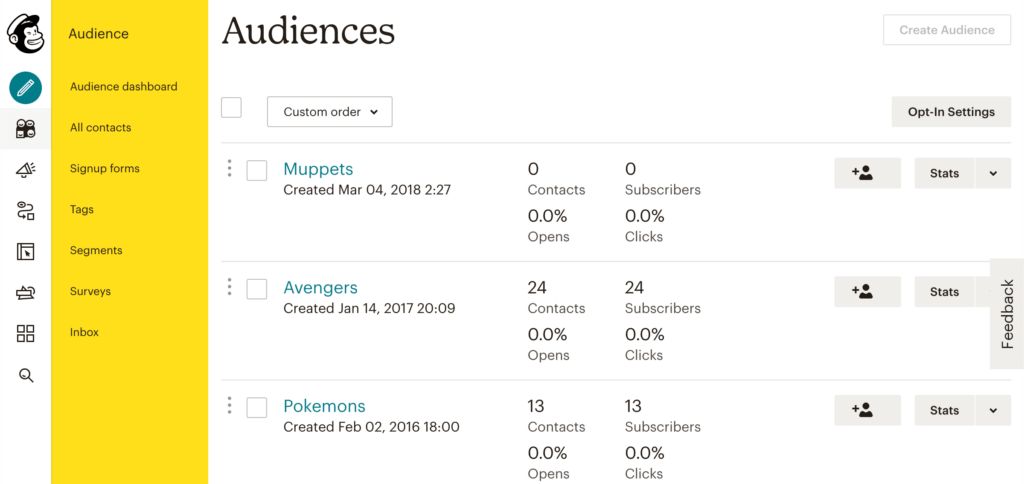 Hubspot is another marketing tool that is extremely popular, and for good reason. This marketing tool offers dozens of different capabilities including email marketing, social media scheduling, lead generation and scoring, and much much more. You can also integrate Hubspot with thousands of other tools to streamline your marketing efforts even further. I could truly write an entire article just about Hubspot's AI capabilities!
We enable B2B companies to identify the anonymous businesses that visit their website and personalize their experience. Your sales team can now follow up with the visitors that don't convert, while marketing can personalize your website based on firmographic information to drive up conversion rate.
Start your 14-day free trial today!
The next AI-powered marketing tool that we are going to discuss is Hootsuite. Hootsuite is a social media scheduling and monitoring tool that allows you to manage all of your social channels in one place. Hootsuite uses AI to show you what time of day you should post based on previous activity and engagement. This means you can increase your likelihood of engagements, opening yourself up to also boosting impressions.
We all know and love Canva for its ease of use and ability to create stunning graphics in minutes. But, did you know that they have recently introduced an AI function too? Their AI function allows you to swap out backgrounds, clothing, fonts, and much more. All you have to do is highlight the area that you want to improve, and then type into Canva what you want to change about it or replace it with. As you can imagine, this can make your photo editing much easier and faster!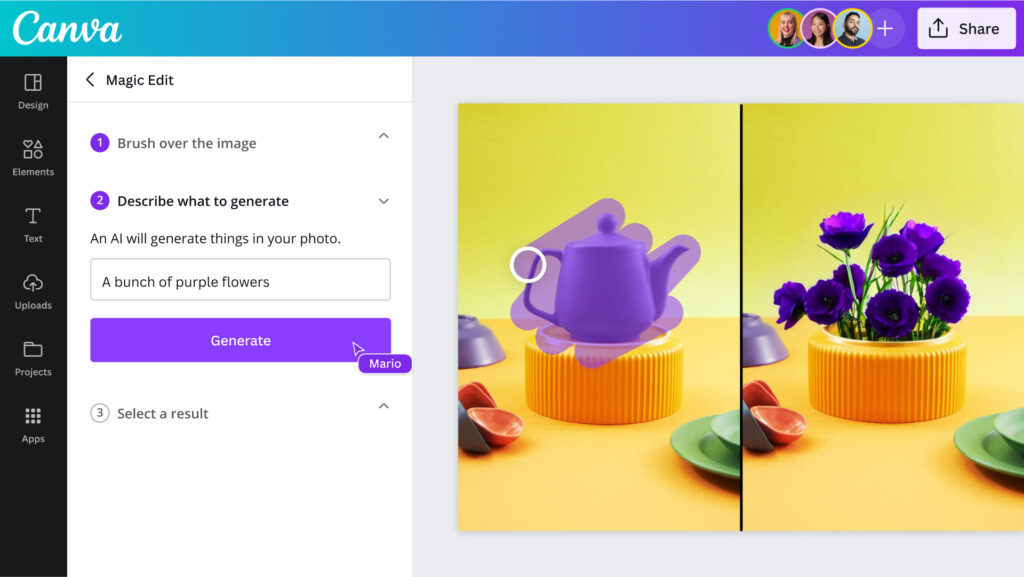 Marketo, by Adobe, is a comprehensive marketing automation platform that incorporates AI capabilities. With the help of Marketo, you can segment your leads, deliver personalized content, and automate marketing campaigns. In their dashboard, you can also see analytics on all of your campaigns, so you can see how effectively your campaigns are targeting audiences.
Last, but certainly not least is Gong.io. This is an AI-powered sales conversation analytics platform that uses a unique algorithm to analyze calls, meetings, and demos. By doing this, it can provide insight into sales conversations and coaching opportunities, which can result in a higher meeting conversion rate for your sales team. Gong.io strives to help companies improve and enhance their sales strategies, which can result in closing deals faster and generating more revenue.
How Do You Choose?
The number of AI-driven software hitting the market is exponential. Because of this, it can be difficult to choose the right tool or tools for your business. So, before you choose a tool, it can be helpful to sit down with your team and see what area you want to focus on. If your focus is lead generation, the tool for you will be much different than a company looking to write more blog content. This can help you narrow down what you want to invest in first. And, what you might want to invest in later on. There is no one-size-fits-all solution!
Final Words
As you can see, AI is changing the way we do business. With the help of the AI-powered marketing tools on this list, you can optimize your business processes, enhance customer experiences, and drive better results. Embracing AI-driven solutions can also help your company stay ahead of the curve, and improve productivity. As always, if you have any questions about Visitor Queue for AI-powered marketing and website personalization, do not hesitate to reach out.