Talking about recessions is never fun. As marketing professionals, we need to be on our A game in order to succeed. As hard as marketing in a recession may be, there are a number of things that you and your team can do to stand out from your competitors and still be successful. In this article, we are going to go through a number of marketing tips and tricks to help your company in a recession. First, let's discuss how a recession can and will affect your marketing initiatives.
How Does a Recession Affect Marketing?
A recession is a severe economic downturn affecting businesses of almost all sizes and industries. Recessions can affect everything from supply chain management and production to employee retention and customer satisfaction. So, it can truly affect every part of your business. As a result, you might need to adjust or rethink parts of your marketing strategy, including managing your budget, tracking certain KPIs, and more. So, let's dive into our top do's and don'ts of marketing in a recession.
Budget Management
When the economy is in a downturn, one of the first things you'll probably think about is lowering your budget. But, that's not always the best thing to do. You may think that because you have less money coming in, you should also lower your budget. However, lowering your budget could lead to your business losing even more money. Of course, there are a lot of factors to consider regarding your marketing budget. Here is a great article that goes over the pros and cons of decreasing your budget during a recession.
SEO vs SEM
If your company is depending on search engine marketing, or SEM, for the majority of your website traffic, you might want to consider enhancing your organic traffic strategy. While SEM is fantastic and should be a part of your marketing strategy, you should try not to put all of your eggs in one basket. Things like meta keywords, meta descriptions, link building, blogging, and ALT text can increase your website traffic, for free. SEO is a great long-term marketing strategy, and can arguably be better than SEM. Especially if you are looking to budget.
Enhance Your Social Selling Strategy
Your client relationships are essential during a recession. Improve your current relationships and form new relationships with social selling. Social selling is the process of connecting with your followers, prospective customers, and current customers through social media channels. By doing this, you can build trust and loyalty. In turn, you'll be more likely to retain your customers and hopefully convert a few new ones along the way. It's also a great way to get your name and your company's name out there. LinkedIn is one of the best channels for B2B sales and marketing professionals as you can stay professional yet friendly.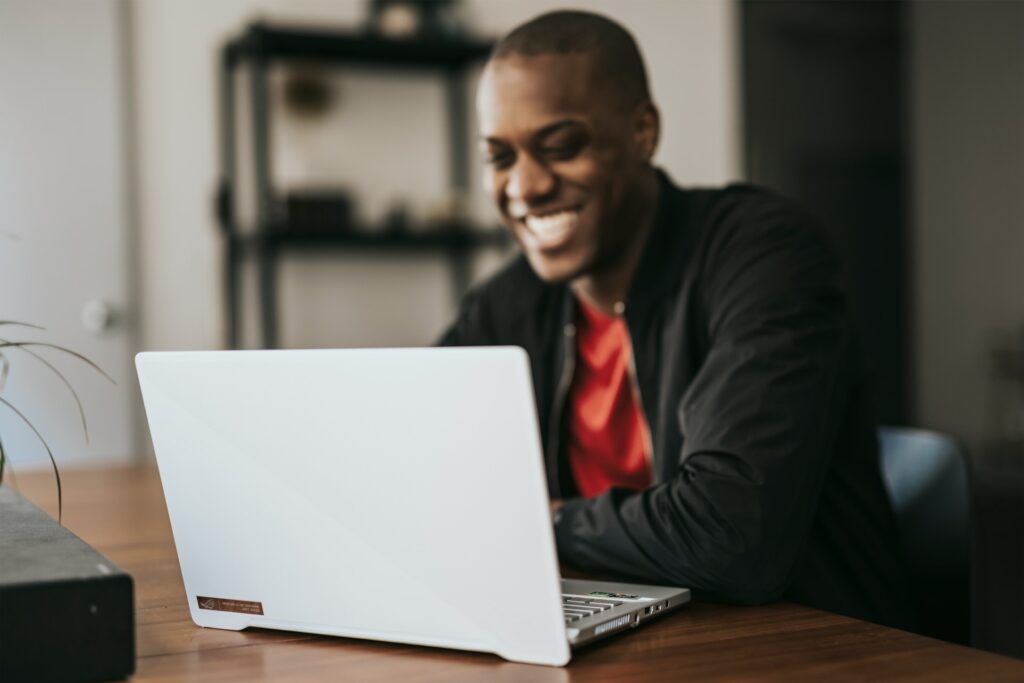 Focus on Organic Media
Not all forms of marketing need to be paid for. From organic social media to blogging, and everything in between, organic media can drive a lot of awareness. Organic social media is a pretty common form of free marketing, as it can go viral and get in front of the right people. Plus, it can make your company look more legitimate and professional. There are a ton of different forms of organic or free marketing that your company can choose from, depending on your industry and time.
Managing Your Team
Let's face it, marketing in a recession sucks. Some of your teammates may even be struggling financially in their personal lives as well. As hard as it may seem, you will want to stay positive and encourage your team. If your attitude is constantly negative, you and your team will feel more pressure, which will eventually lead to burnout. If you notice that some members of your team are starting to feel burnt out, offer to have a coffee chat with them and try to understand where they are coming from.
Align Your Marketing and Sales Teams
Marketing during a recession may put even more pressure and tension on your marketing and sales teams. And, we all know that they may already have a bit of tension between them. Aligning your marketing and sales teams can help bring in new ideas, generate more qualified leads, as well as make the workplace more enjoyable. In fact, companies that have well-aligned sales and marketing teams see a 208% increase in revenue compared to those that don't. If your teams currently have conflict, take a look at this article, 8 Ways to Resolve Conflict Between Your Sales and Marketing Teams.
Track Trends
Regardless of whether in a recession or not, tracking trends is essential. Staying on top of trends is how your company will stay relevant and competitive. As an example, TikTok may seem irrelevant for B2B companies. But, if done right, TikTok can be a great asset to your content marketing strategy. Mailchimp has over 23,000 TikTok followers, with some of its videos reaching over 325,000 views. This is a great way to get impressions. And, you can retarget to engagers. This is just one example of tracking and participating in trends that you can use for your company.
Stay Competitive
Knowing how your competitors are handling the recession can help you and your team navigate through these tough times. Take a look at their website, social media, as well as employee LinkedIn pages to see if there are any announcements, layoffs, or bad PR. Checking in once a week or every few weeks can give you the upper hand. Try to control your company's reputation as well, as I'm sure they will be checking in on you as well.
We enable B2B companies to identify the anonymous businesses that visit their website and personalize their experience. Your sales team can now follow up with the visitors that don't convert, while marketing can personalize your website based on firmographic information to drive up conversion rate.
Start your 14-day free trial today!
Focus on Your Current Customers
During a recession, many of your clients will take a look at their tech stack and services that they use with the idea of cutting some of them to save money. So, you'll want to ensure that your clients are happy and getting a strong ROI. Some companies may offer a price freeze for upcoming renewals or offer additional support. Another idea is to offer a referral program. Referral programs that are incentivized are a win-win for both your clients and your company. We have generated some of our best clients this way.
Manage Your Expectations
While you want to grow your company, generate leads, and exceed your goals, it's not always possible during a recession. If you have made your goals in advance based on last year's profits, it can be a good idea to re-evaluate your goals. Unfortunately, due to the recession, it may be difficult to grow your company based on previous projections. If you don't re-evaluate your goals, and you continuously miss the mark, your team might start to feel like they are not doing a good job, when they are working their hardest. Try to work closely with your team and manage your expectations to avoid this.
Know Your CPL
Knowing your cost per lead, or CPL, is always important. But, when you are marketing in a recession, knowing your CPL is vital. The term cost per lead refers to the average amount that you spend on marketing to acquire one new lead. This marketing metric is important to track, as you will see what channels are costing your team the most money per lead. And, when marketing in a recession, if some channels are more expensive than others, you may want to re-evaluate which channels you are focusing on. As an example, if your company regularly attends trade shows, but the average CPL for trade shows is $811, you may want to try out other lead generation tactics during a recession.
Generate More Leads for Less
Generating leads during a recession can feel impossible. Not to mention how expensive some lead generation methods are. But, with the help of Visitor Queue, your average cost per lead can be as low as 21 cents per lead. Visitor Queue performs a unique form of IP address reversal that can identify the anonymous companies that land on your website. We provide an overview of each company so you know what industry they work in, links to their social media channels, and more. Along with information on each company, we provide employee contact information, like email addresses, phone numbers, and LinkedIn profiles to help you reach out. Whether you want to add your new leads to your CRM or start social selling, we'll have your back. Start your free trial of Visitor Queue today and stop losing leads.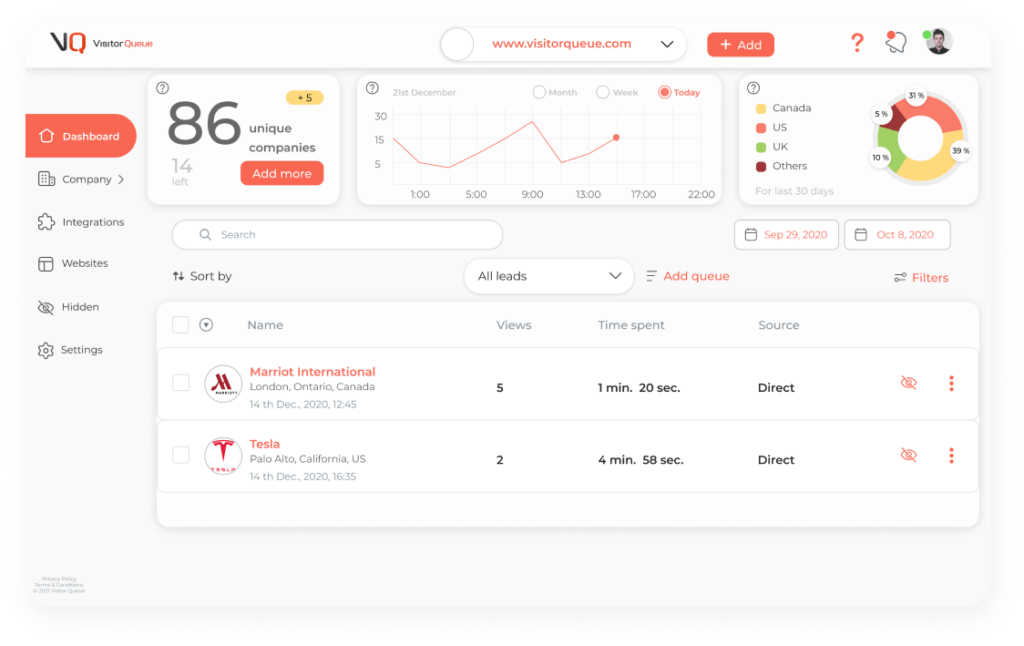 Closing Statements
There is nothing easy about marketing in a recession. But, the only thing we can do is prepare. If your team is prepared for a recession and knows what they are going to do in certain situations, you can continue to be competitive and successful. If you're not sure where to start, try to sit down and talk with your team to get their feedback on the situation at hand. If you have any questions about using Visitor Queue to generate leads, don't hesitate to reach out.