With a projected recession on the horizon, many businesses have been forced to re-think their marketing and sales budget. But, is decreasing your marketing and sales budgets to save money always the way to go? Or is there a way to get the most of your marketing so you actually make more money during a recession?
Let's see what the experts suggest when it comes to keeping your business afloat while keeping your marketing strategy intact.
Why Businesses Cut their Marketing Budgets During a Recession
Business owners are often inclined to cut their marketing budgets during a recession. This is because they often have less money coming in, but the bills still need to be paid. Since sales might have dropped, the idea is that cutting marketing costs will provide that money they need to stay in business.
But the question is – Why cut your marketing budget during a recession ahead of other expenses? Doesn't it make sense to invest more in your marketing in order to attract more customers?
Well, many businesses take this route because they consider marketing to be secondary to what they regularly offer. Marketing is often taken for granted when business is booming and is seen as an unnecessary expense when business is stagnant.
At the same time, a temporary halt in marketing doesn't necessarily mean a business will lose all of their social media followers or loyal customers. They have some wiggle room, so marketing may not seem like an immediate need.
Despite these reasons, decreasing one's marketing budget during a recession should only be a temporary solution. As eventually the business will need new customers coming in and existing customers might forget that the brand is still in business. With this in mind, a recession might actually be the ideal time to market your business in order to stay afloat.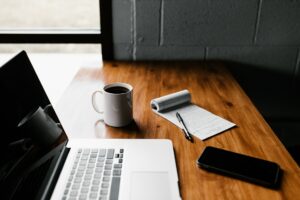 Reducing Your Marketing Budget Doesn't Help Your Bottom Line
While an economic downturn can certainly affect a business's profitability, there actually hasn't been evidence to show that cutting one's marketing budget has increased profitability.
According to marketing expert Stephen King, "Businesses that cut their advertising expenditures in a recessionary period lose no less in terms of profitability. Than those who actually increase spending by an average of 10 percent". In fact, companies that increased spending actually saw 4.3% in profit compared to those that cut spending (0.8% increase).
If you're tempted to cut your marketing or sales budgets, consider that you may, in fact, be hurting your business more than you are helping it. Or at least losing out on more opportunities.
Marketing During a Recession Could Lead to Growth
Several studies actually suggest that increasing marketing during a recession can lead to growth. They indicate that when companies continue to market themselves during a recession. They keep their brand in the minds of consumers. So, when customers do have money to spend, they're likely to turn to these brands because they are still fresh in their minds.
General Motors founder William Durant transitioned his company (of manufacturing horse-drawn carriages) into the automobile industry in 1904. But in 1908 – right in the middle of the 13-month Panic of 1907 – Durant decided to acquire even more automotive manufacturers. This strategy of launching GM as a holding company would serve them well, leading it to become one of the largest corporations in the world.
Brother Walt and Roy Disney made their first short animated picture (Steamboat Willie) in 1928 and later incorporated in 1929. Right as the Great Depression was starting. But the Disneys knew people needed entertainment then more than ever. So they began working on their first full-length animated feature, Snow White and the Seven Dwarves . Which would go on to kickstart their amazing success.
These three companies were all launched right before major economic downturns. Google and Salesforce before the dot-com bubble burst, and Facebook right before the Great Recession. But these companies held out and continued to provide services to people. They have since reached a combined $72.77 billion in revenue (2019).
A 1990 study by the WPP Group's Center for Research and Development found that companies that increased their marketing spend by 20 to 100% saw an average increase. The increase seen was .9% of the market share compared to the .2% gain by businesses that cut their spending.
The takeaway? That there is more evidence to suggest that increasing your marketing during a recession leads to business growth and profitability. Compared to cutting your marketing spend.
If your concern is keeping your business afloat (or even thriving) during a recession, then maybe your marketing shouldn't be the first to go.
"Whenever you find yourself on the side of the majority, it is time to pause and reflect". -Mark Twain
We enable B2B companies to identify the anonymous businesses that visit their website and personalize their experience. Your sales team can now follow up with the visitors that don't convert, while marketing can personalize your website based on firmographic information to drive up conversion rate.
Start your 14-day free trial today!
What About Your Sales Budget?
Similarly, you don't want to decrease your sales budget during a recession. This is because your sales team helps you turn those leads (generated by your marketing campaigns) into paying customers. You still need to have a system in place to convert these leads. So, you can get the highest ROI possible.
Consider auditing your sales processes to find potential bottlenecks. What tools could increase your team's efficiency? Could any of the steps be automated? What about a step-by-step process for reps to follow?
Again, your goal is to get the best results possible by working smarter, not harder. Getting more sales and customers doesn't always mean blowing through your budget and throwing more money at the problem; instead, increase efficiency and productivity where you can to increase your conversion rate.
How to Change the Way You Advertise During a Recession
Advertising your business during a recession is very different from marketing your business while the economy is thriving. Consumers might have limited budgets or different priorities; they might be more inclined to buy necessities over non-essentials.
This means you might need to adopt some different techniques in order to stand out, reach the right customers, and turn a profit:
Pivot Your Business. There are certain types of businesses that do well during a recession and those that struggle. Usually, it has to do with whether the company's goods or services are needed, i.e. are considered necessities. If your company offers goods or services that aren't "must-haves", you might consider shifting to offer essential services.
Update Your Online Profiles. Many platforms (like Google My Business) now give businesses the option to update their information. Let customers know whether they are still open for business. You can update your hours, change the offers you promote, offer discounts, and otherwise let consumers know that you're still open.
Hone in on Your Targeting. When marketing budgets are tight, it becomes even more important to have laser-focused targeting. So you're attracting the right audience and getting the best ROI on your marketing. This means fine-tuning and testing your Facebook Ads and Google Ads, targeting high-converting keywords on your website (Search Engine Optimization), segmenting your email lists, and retargeting users who visit your website.
Track Your KPIs. Take a look at your marketing analytics and key performance indicators (KPIs). To determine which campaigns are yielding the best results and which ones are underperforming. Then, focus your efforts on the channels that are generating the best results. Mass marketing on social media might not be the way to go. But following up with your existing email list, running targeted ad campaigns, or building your referral network may yield better results.
Change Your Tune. Consumers are likely to be more stressed during a recession and likely more sensitive to different advertising campaigns. It might not be the best time to promote luxury locations. But, perhaps highlight the appeal of meaningful "staycations" with family or friends. You might need to change your tune to appeal to how your audience is feeling during this stressful time.
In what ways could you pivot your marketing to reach more customers during this time?
Get More Customers Out of Your Website Marketing
Your business' website is one of the best assets you have during a recession. This is because you can channel traffic from a variety of platforms, while maintaining a strict budget during a recession.
As long as your website is generating traffic, that traffic should be working for you. That's why you should utilize website tracking tools to turn website visitors into leads and, eventually, loyal customers.
With your 14-day free trial of Visitor Queue, you can track who visits your website to follow up with them. That way, your sales pipeline stays full while you're able to get the best ROI on your marketing spend. Plus, it's a great way to help increase your sales, therefore your budget during a recession!