A reverse IP Address lookup will determine the location and additional information of any IP address. When you perform a reverse IP address lookup, the IP address will show you the exact geographic area the IP address is from. Along with the user data to who it's registered to. The process of a reverse IP address lookup helps in identifying the owner of a specific IP address. A single server can be configured to host multiple different virtual hosts from a single IP address. This is common in ISPs (internet service providers) and large organizations.
What is an IP Address?
Internet protocol address, or more commonly referred to as an IP address, is essentially a string of numbers that are attached to your network. Your IP address is linked to everything that you do online, and makes it possible to use the internet. If you are unfamiliar with the basics of an IP address, check out this article here. We are going to get into a lot of detail in this article. So, I would suggest taking a look at that article and then coming back here!
GDPR and CCPA Compliance
When you are performing an IP address reversal with the help of a website or software, you need to ensure that it is GDPR and CCPA compliant. If not, you will be charged hefty fees or other consequences. Additionally, we are expecting privacy laws to change, and more countries to add them over the next few years. If you're worried about being compliant, take a look at these articles for GDPR and CCPA.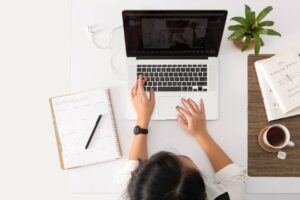 Why Use Reverse IP Address Lookup in Your Marketing?
Personal IP addresses are registered to your internet providers, like Bell or Rogers. This makes it very difficult to find out who the IP address belongs to. However, when a business sets up its internet, they register their IP address with their business name. When a business visits your website, you can then use a reverse IP address lookup software to identify who they were, what they were looking at, and other information about their visit. Obviously, knowing what businesses visit your website can greatly benefit your marketing efforts.
What Information is Available When You Perform a Reverse IP Lookup?
Often people will think that by performing an IP address lookup that their exact mailing address. Or, personal information will appear. This is simply not true. It is not technically possible to identify any "end-user" or their exact location. Aside from technical limitations, there are strict laws that prohibit identifying the end-user. When performing an IP address lookup, you will identify the city, region, and country their IP address resides in, and that is the extent.
In regards to the IP address of your personal computer or device, it will be reversed to the internet network address you are on. If you are at home and using your personal internet network. Your IP address will be that network's IP address and the reversal will be returned to that company. This means, if you use Rogers for your internet, your IP address will have Rogers attached. Whereas, if you were at your office, there is a likelihood that your company has registered its IP address. The IP address return would return that company's domain name. There are a few ways that you can reverse an IP address to identify the companies that visit your website.
5 Ways You Can Perform a Reverse IP Address Lookup
Through IP address reversal, Visitor Queue can identify the companies that visit your site. This is done by simply adding a tracking script to the header of your website, similar to Google Analytics. From there, you are able to sit back and watch the companies that visit your website appear in your account. You are able to see how the companies are acquired, the pages they viewed, and how long they spent on each page. Additionally, we provide employee contact information like email addresses, phone numbers, and LinkedIn channels to help you reach out. Send these leads straight to your CRM and automatically follow up. Visitor Queue provides the most information about companies, with the least amount of work. Plus, we are compliant with both GDPR and CCPA. Visitor Queue has a 4.4 out of 5 star rating on G2.
Start your 14-day free trial of Visitor Queue today and stop losing leads.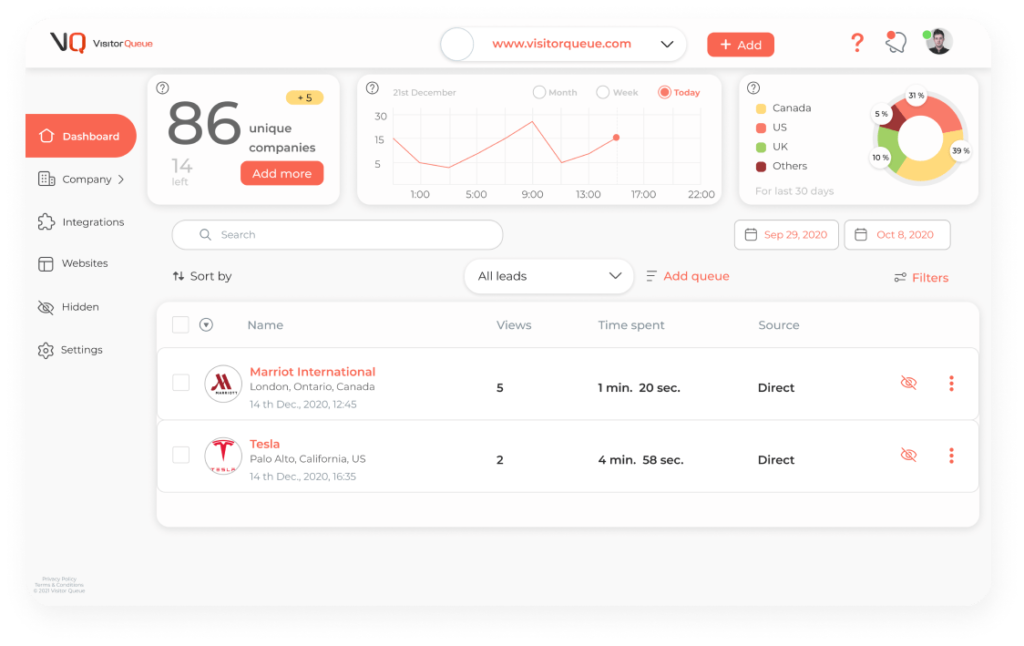 If you are a B2C company, Opentracker may be the tool for you. Opentracker allows you to track the visitors that are on your site. And, where they are from via their IP address. While you cannot gather contact information, you can see where your visits are located. This is helpful if you focus your attention on a specific area. Or, if you want to see untapped areas where you could expand to. Opentracker has 4.8 out of 5 stars on G2, keep in mind that they only have 3 reviews at the time of this article.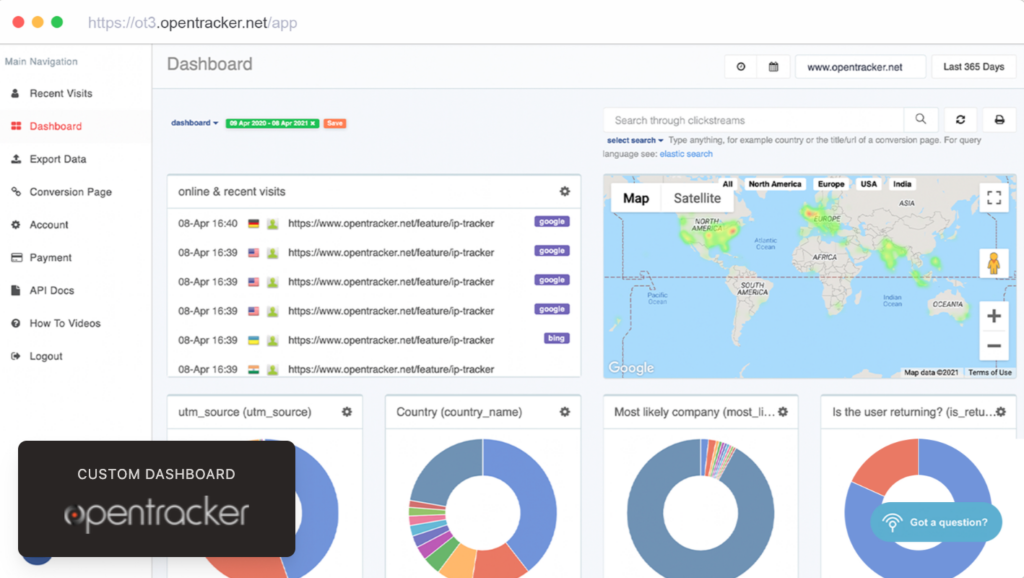 IP Tracker is a website that allows you to enter in an IP address and gives you the location for that IP address. This gives you a better understanding of your website visitors or a specific IP address that you're curious about. Plus, you can enter in your own IP address to see how much of your information is available to the public. IP Tracker is not on G2.
IPinfo will help you discover information about your own IP address. Also, IP addresses you know of and wish to track, DNS lookup, internet speed tests, and more. This is a great tool if you wish to learn about your internet footprint and how to protect yourself further. You are also able to learn more about the visitors you wish to track, their geographic information, and the ISPs they use. IPinfo has 4.7 out of 5 stars on G2.
5. Live Chat
Most live chat software will identify the IP address from the person you're chatting with. Live chat software like ZenDesk and Tidio will automatically perform a Reverse IP lookup and provide you with the user's geographic location. If you notice that a lot of your website visitors from a certain location have the same question, but other locations don't have this question, then you may need to change your targeting to that specific area to try and answer their questions.
We enable B2B companies to identify the anonymous businesses that visit their website and personalize their experience. Your sales team can now follow up with the visitors that don't convert, while marketing can personalize your website based on firmographic information to drive up conversion rate.
Start your 14-day free trial today!
What About a VPN?
A VPN is a virtual private network that gives you online privacy and anonymity while browsing the internet. If someone is using a VPN, their IP address, location, and any other information associated will be misconstrued or hidden. For most people, a VPN is not necessary. But, it can provide a sense of security for people who worry about being tracked online. But, if someone is using a VPN, you won't be able to perform an IP address reversal or find out any information about them as a user.
Final Words
IP address reversal is a great way to find more information about your website visitors, past what you see in Google Analytics. With the help of a website or software, you can get a unique insight on your website visitors, and use that information to improve your marketing efforts. As a reminder, before you start playing around with IP address reversal, ensure that you're knowledgeable on GDPR and CCPA. If you have any questions about how Visitor Queue can help you identify your website visitors, don't hesitate to contact us.