There is nothing more frustrating than logging into Google Analytics, seeing that you have hundreds of website visitors, but no conversions. They are on your website, so they must have an interest in your company, right? Absolutely! Thankfully, there is a way that you can identify those website visitors by turning an IP address into company information.
You can find the company and contact information for businesses that have visited your site as long as they have a public IP address. You can find this information by passing the address to a Domain Name System (DNS) server or by using affordable B2B lead generation tools. Before we dive into how to turn an IP address into company information, I want to go over what an IP address is.
What is an IP Address?
The term IP address refers to an internet protocol address. Essentially, an IP address is a string of numbers and periods that are attached to your internet usage. It has two main functions, the first being host or networking identification, and the second being location addressing. This means that it's able to track what you are doing online. Personal IP addresses are registered as their internet providers. So, you don't need to worry, we can't find out the exact websites you're looking at. However, businesses register their IP address to their company name, which means they are identifiable. This is important to remember as we go through the steps to turning an IP address into company information.
What is a Reverse IP Lookup?
A reverse IP lookup is a method for identifying hosts that have domain name system, or DNS, records associated with a particular IP address. Not only can you conduct a reverse IP lookup to find hosts on a single IP address, but you can use it to search hosts across a variety of public IP addresses.
How to Find Out Who Owns an IP Address
Every internet protocol (IP) address is registered to an individual host or company. Since many websites don't conceal their ownership, you can often look up this information to find the owner of the website. However, some owners prefer to remain anonymous, so this information is not easily found.
Websites like WhatIsMyIPAddress.com allow you to do a search for a specific IP address. As a result, you can see information such as their business name, contact number, and date of registration.
For example, an IP address lookup for "72.21.215.90" tells us that this IP address is owned by Amazon.com. Which is a corporate entity located in Ashburn, Virginia, USA.
This type of IP address lookup is typically referred to as an "IP-to-Company" lookup. It allows you to find out what company an IP address represents and where you can find their contact information. When you use a company's IP address, the company name, location, and more information is readily available. You can use this to then further research the company. It's especially helpful if a company has multiple locations, so you can target the exact one that is interested in your company.
This is highly useful to B2B businesses that want to know which businesses have visited their site. So, they can follow up with them as potential leads.
We enable B2B companies to identify the anonymous businesses that visit their website and personalize their experience. Your sales team can now follow up with the visitors that don't convert, while marketing can personalize your website based on firmographic information to drive up conversion rate.
Start your 14-day free trial today!
What if They Really are Anonymous?
As stated previously, some businesses (and individuals) prefer to stay anonymous. For the very reason that they DON'T want people contacting them to pitch their products or services.
If an IP address is on a private network, an IP address lookup will return an owner such as an internet provider (Bell, Rogers, etc) or domain host. If their ISP returns, it's not very useful for your company. To find the owner of a private IP address, you'll likely need to contact their network system administrator directly. Which can be nearly impossible.
So, How Do You Turn an IP Address into Company Information?
Main IP address lookup tools can be annoying to use. Especially if you have to look up every IP address that visits your website one at a time. To save loads of time, you should look to website lead generation tools. They collect data from businesses that visit your website. And, they can save you a lot of time and energy searching for IP addresses yourself.
These tools often used machine learning. Or, otherwise advanced technology to deliver a high-quality translation of an IP address into company data. With these tools, you can identify businesses of all sizes – from small businesses to massive enterprises.
To use these tools, you'll usually need to add a unique tracking script to your website. The tracking script must be added to the header of your website, similar to Google Analytics. This is because you'll want every page, including landing pages, to be included. Once the script is added to your website, it will start recording website data. Then, the tool translates this data into information you can use to follow up with website visitors.
Some tools even automate the follow-up process for you; they'll track who has visited your site, find their contact information, and send a follow-up email, automatically. This saves you loads of time and helps you capture more leads from your website.
Use Visitor Queue to turn an IP address into Company Information

As a B2B business owner, the success of your business depends on you generating new leads and closing more deals. And if you have been investing in your website marketing, you are likely earning traffic. But, is that traffic turning into leads? Competition is more competitive than ever before, and leads often research many options before they commit to one company. But, if you identify the company that was on your website
If you have visitors but don't have the ability to track this information then you may be missing out on opportunities to follow up with the businesses visiting your site. Combing through your analytics and doing an IP address lookup is tedious. So, we've created a tool to help you generate leads with ease.
Create an Account
The first step is to sign up for your 14-day free trial. Within this time period, our software allows you to identify the 98% of website visitors that haven't been converting into leads. There's no credit card required to sign up and you can start accessing company information right away. In the 14 days, you can get a feel for our software, and you can get any questions you have out of the way before you commit.
Add Tracking Code
Next, you'll add a unique tracking code to your website to start tracking website visitors and collecting their contact information. Setting this up is simple and only takes a few minutes. The tracking script is added in a very similar way to how you add Google Analytics to your website. Add the script to any type of website, even if your site is hosted by Wix, GoDaddy, and other hosting software. Our software records this data and turns it into information you can use to follow up with companies.
View Your Leads
Visitor Queue gives you access to your own dashboard. Here you can view your leads and see information about the companies that visited your website. You can see information about the business, like their location, industry, and history. Use this information to get familiar before you reach out to them! You can also access information on their employees, like email addresses, phone numbers, and social media pages like LinkedIn. From there, you can choose how you move forward with your leads. With this information, you save time since you don't need to do a manual IP address lookup to start contacting your leads.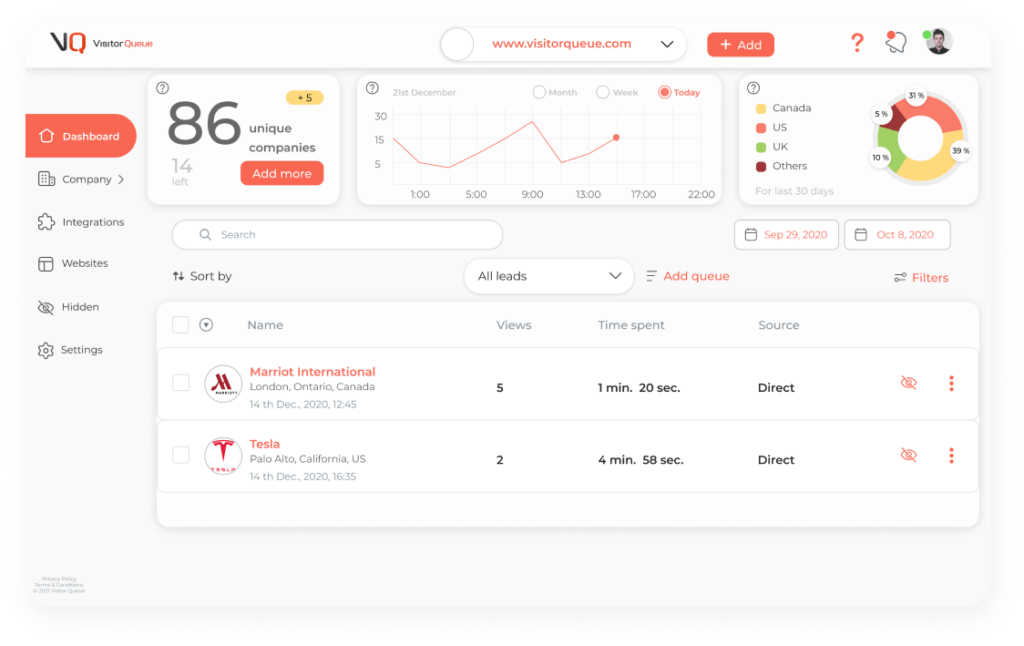 Customize Your Account
You can then use advanced settings to optimize your account and customize it according to your needs. These capabilities include being able to add account filters, adding additional users to your account, setting scheduled email notifications, hiding unwanted companies, and more.
Traditionally, you would have to comb through all of your website data to find the information that's relevant to your business. With Visitor Queue, you can see the companies you'd most like to connect with and start pursuing the best opportunities. We know that not every lead you see in your account will have use to you, that's why we have created features for you to hide companies without them counting towards your lead limit. Easily ensure all of the leads in your account are high quality and relevant to your company's goals.
In addition to being able to filter and customize your account, you're able to invite an unlimited number of users to your account. Sales, marketing, and members of management can all benefit from the data and information that Visitor Queue provides.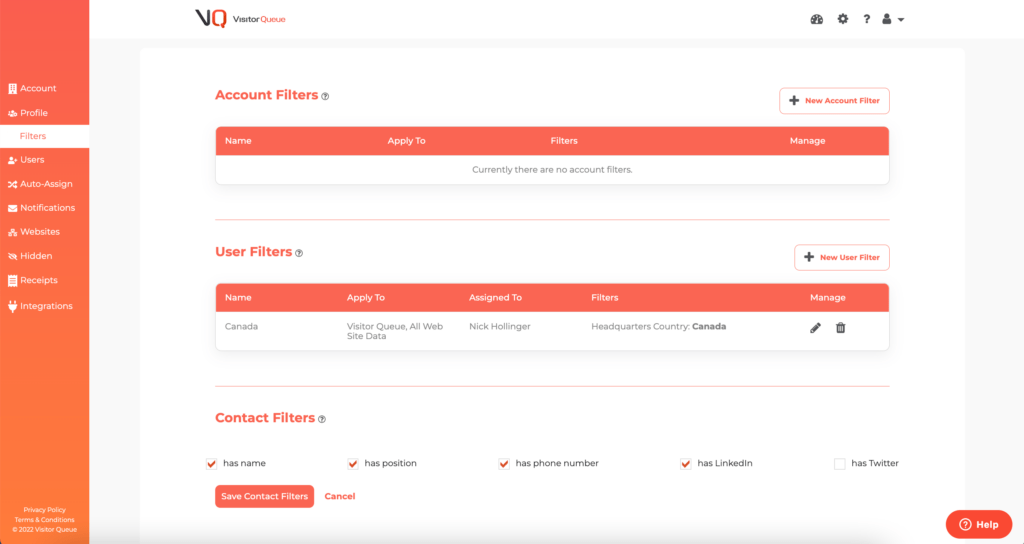 Add Multiple Websites or Become an Agency Account
Just like you can add an unlimited number of users to access your account, you can add an unlimited number of websites to your account. Ensure all of your companies thrive and generate as many leads as possible. You might also be thinking that website visitor identification may be useful for your clients, and you're absolutely correct. Easily manage your client's website in your account and impress them with all of their new leads. Learn more about our exclusive agency account here.

Cost Per Lead (CPL)
We understand that the cost per lead (CPL) is important to you. If you're unfamiliar with the term cost per lead, it essentially means how expensive it is for you to acquire leads with your marketing. It's an important metric because you will want to ensure your marketing leads to an influx of qualified leads who are willing to turn into paying customers. At Visitor Queue, our average cost per lead is $0.21. Yes, you read that right. 21 cents per lead. Even on the high end, our CPL is $0.25. We beat out every other traditional and digital form of advertising in regards to cost per lead. For more information on CPL, and comparisons to other marketing expenses, check out this article on Average Cost Per Lead for Different B2B Marketing Channels.
Close More Deals
Being able to turn website visits into leads will be a game-changer for your business. Now, you can follow up with the best B2B leads. And, close more deals with companies that have already shown an interest in your site.
This method is far superior to finding IP addresses, running a manual lookup, searching for the company's contact information, and following up on your own. With Visitor Queue, you automate this process so you can generate more leads, passively. This allows your team to save time and money. Plus, you'll be able to increase your revenue by 10-20%, what's better than that? Get started today with your free demo of Visitor Queue.