Google Analytics marketing attribution is the process of identifying the different sources and channels that lead to an outcome you have determined such as a sale, subscription, or other conversions you define. This process can become difficult to track when multiple different channels contribute to your desired outcome.

For example, multi-channel tracking makes things tough if a visitor views your product through Facebook, navigates to your website, then comes back directly (now knowing your website address), then finally returns through an email link and converts. You must then determine which channel is responsible for the sale.

One very popular way to set up marketing attribution is through Google Analytics by navigating to the "Attribution BETA". There are multiple different models Google provides that you can select from to ensure you have the tool that works best for you and your team.

Data-Driven Attribution Model
As many of us thought when we saw attribution in Google – "Finally!". This new feature has excited the vast majority of Google Analytics users (if not all of them). Data-Driven Analytics is a machine learning attribution model that will evaluate the conversions and non-conversion path to better give credit to the proper touchpoint.

Google will incorporate many factors in the attribution model such as device type, number of ad interactions, the order of ad exposure, and the type of creative assets. This model will also utilize a counterfactual approach where it contrasts with what could have occurred to determine which touchpoints are a key conversion driver.

Getting Started
Once you have linked Google Ads and Google Analytics (for those of you who haven't already) in order to view configured goals or eCommerce tracking and set your consistent URLs across all paid media channels, you are ready to get started.

We enable B2B companies to identify the anonymous businesses that visit their website and personalize their experience. Your sales team can now follow up with the visitors that don't convert, while marketing can personalize your website based on firmographic information to drive up conversion rate.
Start your 14-day free trial today!
Create a Project
1. Visit this page in your Google Analytics account or select "Attribution BETA" in the bottom left of your Google Analytics menu.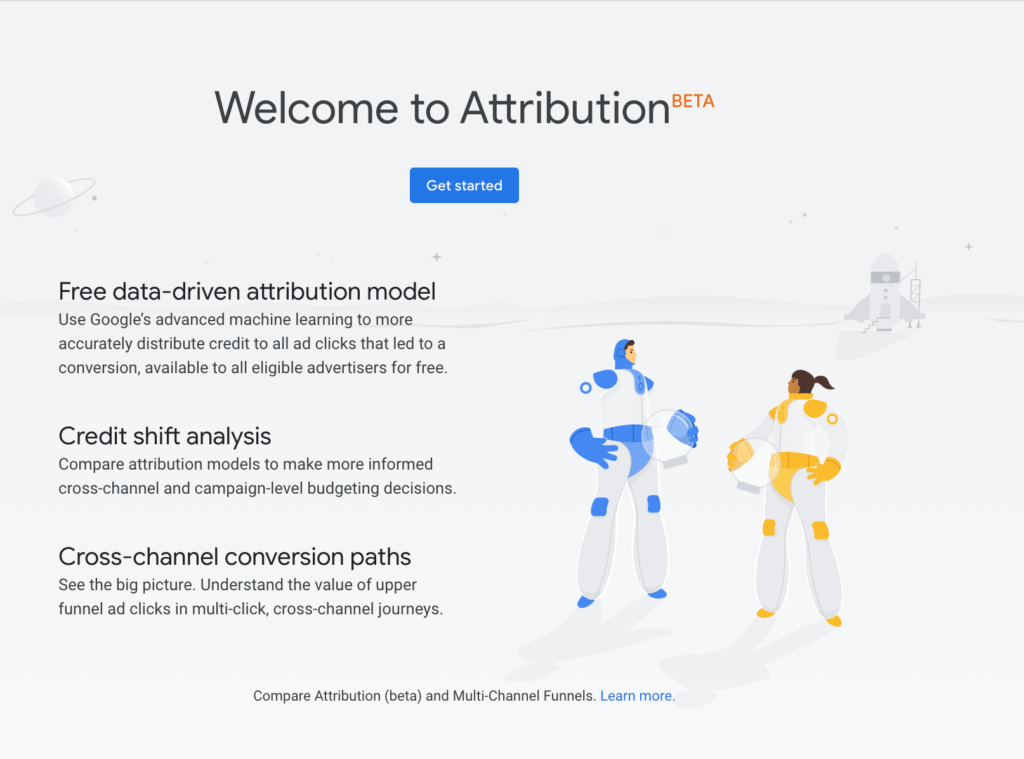 2. Select the account you wish to view, connect and start tracking.
3. Select your conversion type. If you haven't created any conversions/goals in the past, you will need to do this first. Here is a great resource you can use for how to create conversions/goals.
4. Click "Complete setup" in the bottom right hand corner.
5. Data will start collecting once you complete the steps above. This is where you can access and update any of your ongoing projects.
6. Now sit back and hang tight! Google makes your life easy but it isn't instant, there is still some work involved. You will have to wait 72 hours for the models to be created, then 30 days for all the data to be collected for what you all came here for"¦ The Data-Driven Attribution. When you reach this day count you will be able to do everything you would want to, like: conversion lag tracking, explore conversion paths, path length, and you can do all this with your feet up AND while comparing different models.
What Now?
Through the use of Google Analytics Attribution BETA you will be able to gather valuable insight on your marketing. Which methods of reaching your intended customers are working, which aren't, which are seen, and which are crucial to perfect. Keep in mind that this is still in its BETA testing period (shocking right, the name doesn't give it away). Ensure you really utilize the functionality it currently has and share your feedback with the development team so that we can get this fantastic feature nailed down. There are some limitations to the program as it sits right now, like the lack of custom channel groups in the different models and the lack of Google Ads cost data. We are sure these features are coming, but baby steps.

It's Almost Perfect
This service is almost perfect, almost. Could you imagine with all of this information at your fingertips? You could also see the names of the visitors that don't convert so you can contact them and get them back on their path to convert. You could understand your customers that do convert as well as the ones that don't, then follow up and help them convert – t them yourself, you would be unstoppable!
Thankfully, there is a way you can do this. Visitor Queue connects to your website through an easy to use tracking script to track the companies that visit your website and give you all of their visit information, company information and contact information. With all of this data you and your team will have at your fingertips. You will have the ability to know exactly what messages reach your customers, which work, and when some don't work, the ability to follow up with them.