Generating leads is a vital part of marketing for B2B companies. It's important to stay up-to-date with the latest lead generation and marketing strategies to ensure your company stays ahead of the competition, while generating leads that are high-quality and interested in what your company has to offer. If you're looking to learn all about lead generation in 2024 and beyond, you're in the right place. The first step in enhancing your lead generation is to review how you're currently generating leads.
How Are You Currently Generating Leads?
When you want to explore new lead generation in 2024, you'll want to be aware of how you are currently generating leads. Make note of the current ways that you fill your sales funnel, whether it be cold calling, LinkedIn, gated content, or other lead generation tactics. Then, find out roughly how many leads are generated monthly from each tactic, going back at least a year. If you notice a downward trend, then you should think about how you can improve that tactic. Or, if it's an outdated tactic, then it could be time to explore a new tactic.
Competitor Analysis
You always want to be aware of what your competitors are doing, including how they are generating leads. So, conducting a competitor analysis is an essential part of enhancing your own lead generation initiatives. Take a look at their website to see what kind of calls to action they're using on each page, if they have any gated content, live chat, contact forms, and other kinds of website lead generation. Then, check out their social media channels to see what tactics they are using. Find out how they are getting prospects to their website, what content they are sharing, and other tactics they are using. Being aware of what your competitors are doing can help you improve your lead generation tactics. And help you stand out from the crowd.
Content Marketing
The term content marketing is an all encompassing term that refers to multiple different types of marketing initiatives. The most popular forms of content are video, written, imagery like infographics, and blogging. And, content marketing is how you share this content with your audience. Whether it be on your website, organic social media, or paid social media. Content marketing is a fantastic and affordable way to get your brand in front of potentially thousands of prospects. And, pairing your content marketing with a strong call to action can generate website traffic, where they can then convert.
We enable B2B companies to identify the anonymous businesses that visit their website and personalize their experience. Your sales team can now follow up with the visitors that don't convert, while marketing can personalize your website based on firmographic information to drive up conversion rate.
Start your 14-day free trial today!
Website Lead Generation in 2024
Optimizing your website with lead generation in mind is extremely important. If done right, you are able to gather your website visitor's contact information. Then, you can follow up with them and hopefully convert them into a paying customer. Next are a few of the most effective ways to optimize your website for lead generation in 2024.
CTAs
Including a variety of calls to action, or CTAs, on your website can make a huge difference when it comes to generating leads. On all of your webpages, you should include a CTA based on the content that's on the page. As an example, you could have a CTA button to "Start Free Trial" on your case study pages. But, the same button wouldn't make sense on your Q&A page. It's also helpful to include CTAs in your header and footer, like "Start Free Trial" or "Contact Us". If you're between a few different calls to action, a tool called Google Optimize can help you A/B test which one drives the most leads, without getting a developer involved.
Live Chat
If you don't use a live chat on your website, you're not only missing out on leads, you're also not supporting your customers and prospects as much as you could. While you are online, you can easily answer any questions that your website visitors might have. On the other hand, when you are offline, your live chat can collect users' contact information along with their question, so you can answer their question. In a few days, if you notice that they still haven't converted, you can reach back out to them to see if they have any questions or need any help getting started.
Quiz or Calculator
Using a quiz or calculator on your website is a great way to catch the attention of your visitors. Since your company's goal is to solve others' problems, you can use a quiz or calculator to show your prospects exactly how you'll do that. As an example, here at Visitor Queue, we use a calculator to show prospects how many of their website visitors we can identify for them. In order to see their results, they have to enter in their contact information.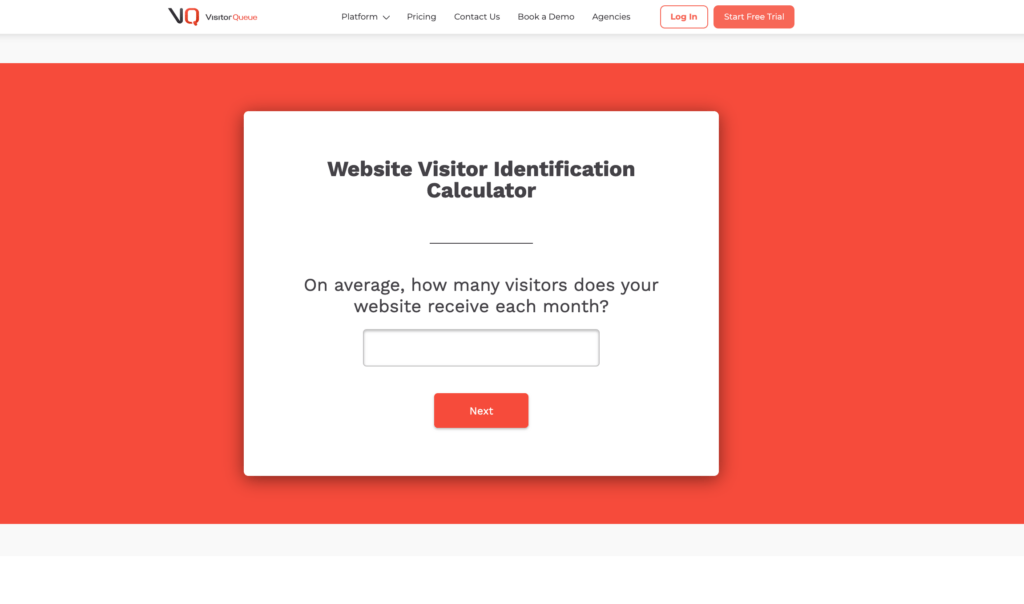 Lead Generation Software
While generating website leads is a great option that companies should explore, it can be time consuming to implement them. If you are wanting a way to easily generate leads, a lead generation software may be the solution for you. Here are a few of the top lead generation software on the market.
Visitor Queue is a B2B lead generation software that can identify your website visitors. Simply by adding a tracking script to your website, similar to Google Analytics, you will now be able to see the companies that visit your website. Along with a detailed description of the company, their industry, location, and more information to help you qualify them as a lead. See how they got to your website, the pages they viewed, as well as how long they spent on each page. But, it doesn't stop there. Gain access to employee contact information like email address, phone number and LinkedIn profile. With a rating of 4.5 out of 5 stars on G2 and plans starting at $39 USD per month, it's easy to see how helpful this technology is for B2B companies. Start a 14-day free trial of Visitor Queue today, and start identifying the 98% of website traffic that doesn't convert.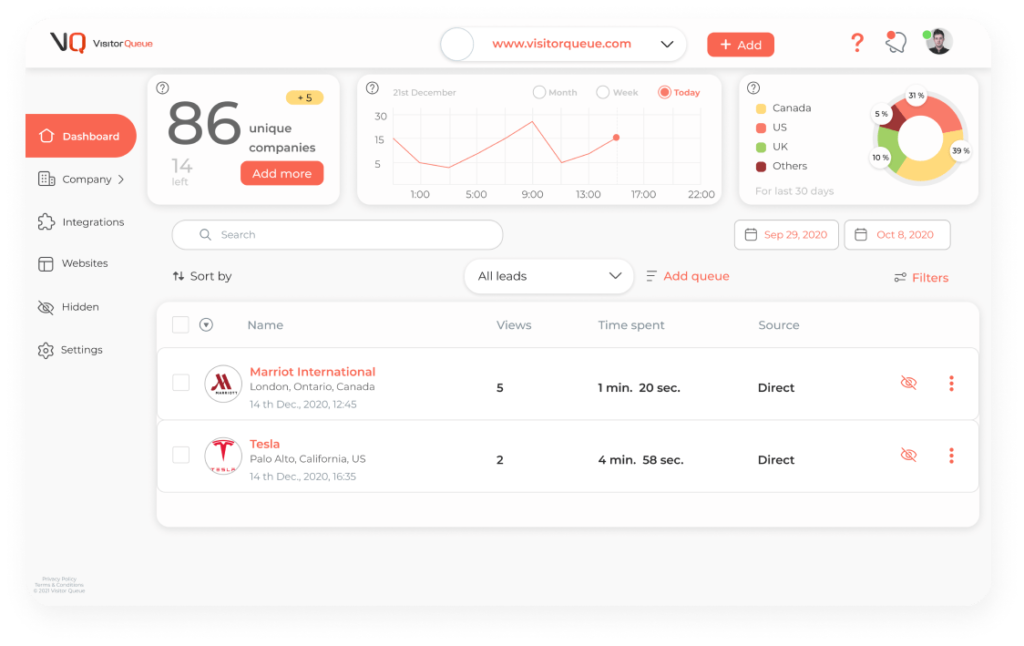 ZoomInfo is one of the largest lead generation and sales performance software on the market. This software helps sales and marketing professionals reach decision-makers. ZoomInfo allows you to search its vast B2B database of contacts based on the criteria you set. They offer a number of different lead generation options based on your industry, goals, and what you're looking for. Because of this, their pricing plans are based on what your specific company needs. ZoomInfo boasts a 4.4 out of 5 star rating on G2.
Lusha is a Google Chrome Extension that can help you prospect and generate leads from B2B websites that you visit. Once you have installed their Chrome Extension, all you have to do is open it while you are on LinkedIn or any B2B website, and instantly access your prospect's contact information including email address and phone number. Once you generate these contacts, you can send them straight to your CRM for follow up. Lusha has 4.3 out of 5 stars on G2, with paid plans starting at $29 USD per month per user.
Lead Generation Analytics
Just like any other form of marketing, tracking your lead generation analytics is essential. If you don't, it can be difficult to track the success of your lead generation in 2024. And, you won't know how or where you can improve. The metrics and analytics that you track will depend on the lead generation tactics that you use, but here are a few of the most common.
Leads Generated
Of course, one of the most important lead generation analytics that you should track is how many leads that you're even generating. If you are using a CRM, you can easily see how many leads that each of your tactics are generating as they can be imported with a tag. Additionally, you can track button clicks and landing page URLs with Google Analytics conversion tracking.
Free Trial to Paid User Conversion Rate
When you are generating more leads, you are likely going to increase the number of free trial users. But, if a lot of these free trial users don't turn into paid users, you might be generating the wrong leads. We commonly see this with B2B companies accidentally generating B2C companies through incorrect targeting. Other than tracking the numbers, it can be useful to set up an automation in your CRM to ask free trial users who don't convert if there was anything standing in their way.
ROI
The last lead generation analytic that you should be tracking is your return on investment, or ROI. ROI refers to the investment that you put into the tactic compared to the reward you get from it. As an example, if you use a lead generation software that costs $1,000 per year, then the revenue you earn from leads that you have found needs to be over $1,000 in order to have a positive ROI.
Use a CRM
If you are not already using a CRM, it's time to start. On the other hand, if you are using a CRM, ensure that you're using it to its full potential. This is because you are able to set up automations when new leads have been added. As an example, if you have an ebook on your website, your CRM will send them their copy, as well as following up afterwards. You can set up an automated email chain that will follow up with your prospect and ask for their feedback on your ebook. You can also include a call to action for a similar piece of content or to try out a free trial of your product.
Final Words
Lead generation in 2024 is an essential part of any B2B company's marketing strategy. As you can see, there are a number of ways that you can generate leads and track the success of each campaign. The best lead generation method for your company may be completely different from others in your industry. It can take a lot of trial and error to figure out what works for your specific company and what attracts the most high-quality leads who are ready to convert. If you have any questions about how Visitor Queue can help you generate leads for your company, don't hesitate to reach out.