In the tenth episode of What The Growth!?, Visitor Queue Chief Executive and Co-founder, Nick Hollinger, goes over how to reach out to podcasts to get your brand in front of their audience.
Everyone knows podcasts are incredibly hot right now but you may not have time to create your own.
So, the next best thing if you want to get your personal and company brand out there is to reach out to existing podcasts and see if they are in need of guests on the show.
This is a strategy that has led to Visitor Queue generating thousands of brand impressions and hundreds of free trials.
So, let's get started.
Build Your Profile
You want to start by building your podcast profile. When you apply for podcasts, they all ask you very similar questions.
So, write out your profile to keep this information in one place and help you answer these questions as you go. Some popular items to have in your profile:
3-5 characteristics about you
3-5 topics you'd talk about
What makes you different
A bio about yourself
Previous podcasts you've done
Your profile will also build over time as you get asked new questions when applying for podcasts you should add them to your profile.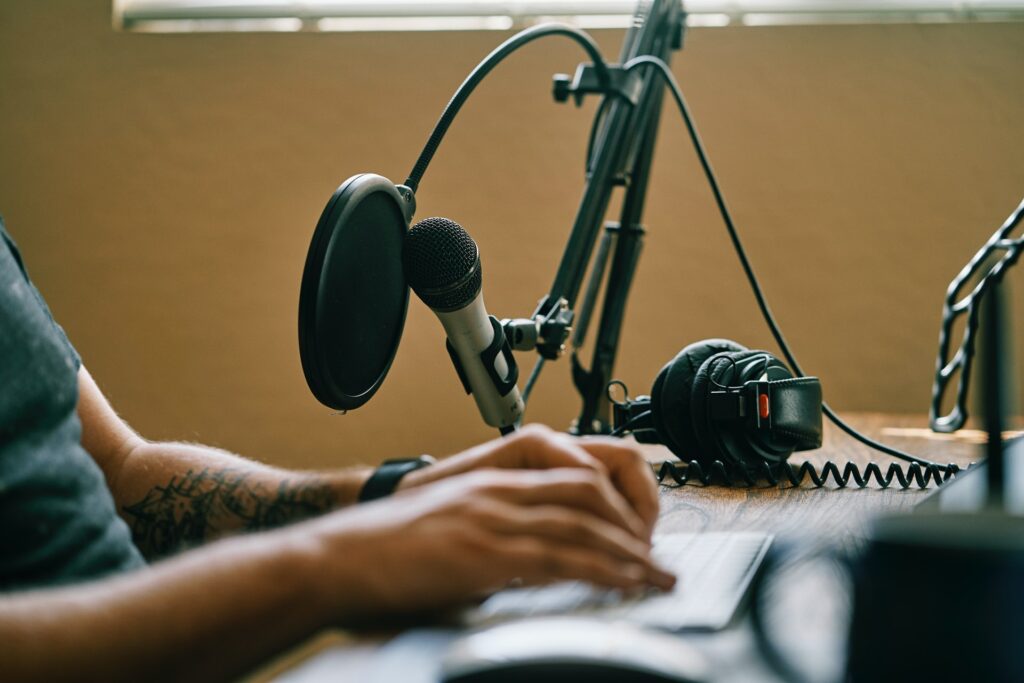 Find Podcasts You Are Interested In
Now, start looking for podcasts in your domain of expertise. You can do this by a simple Google Search.
Note, that you likely have to start small and build up. Gary V likely won't have you on his podcast if you've never done a podcast before. So, start finding smaller podcasts and build your street cred.
Once you've found one or a few, visit their website as they'll likely have a way to apply as a guest.
If they don't, you'll have to get creative, reaching out to the host or members of their team on LinkedIn or trying to find their email address.
In this reachout, introduce yourself, ensuring you provide information from the profile you built, ask if they are accepting applications for guest hosts and if so, if they'll send you the application process.
In your application to be a guest, focus on being unique and stick to 1-3 things you want to talk about. You don't have to be an expert on everything.
We enable B2B companies to identify the anonymous businesses that visit their website and personalize their experience. Your sales team can now follow up with the visitors that don't convert, while marketing can personalize your website based on firmographic information to drive up conversion rate.
Start your 14-day free trial today!
If you do get accepted, you'll likely be asked to pick a time slot and provide some more information.
Ahead of the podcast ensure you prepare by listening to previous episodes and refresh yourself on what you want to talk about.
Podcasts are great because they are raw so don't worry too much about practicing – enjoy yourself.
As you feature on more podcasts, people will eventually start inviting you to their podcast and you may get to the point where you no longer have to do the outreach!
That's all for this episode of What the Growth!? Ensure you check back next month for another growth tip. And as always, if you have a topic you want to see discussed, leave it in the comments below.
Don't forget to check out our podcast, Down, But Not Out
Nick Hollinger welcomes entrepreneurs on his podcast, where they share stories of business resiliency. We all love to hear success stories of how an entrepreneur accomplished greatness. While accomplishing this is unlikely, these stories are shared far and wide. What doesn't get talked about enough is when entrepreneurs make mistakes, or something changes in their business or industry, leading to impending doom for their businesses. These stories are meant to inspire future entrepreneurs while motivating current ones to keep fighting.

Listen here:
YouTube
Spotify
Apple Podcasts