Lead generation is one of the best ways to grow your company and increase revenue. However, there are a number of lead generation mistakes that marketers make on a daily basis that prohibit them from taking their company to the next level. What makes it worse is that you might not even know that you're making these mistakes. Luckily, we have put together this list of common lead generation mistakes and how you can fix them.
1. No Long-Term Plan
While short-term lead generation and marketing can be very enticing, it shouldn't be the only form of lead gen that you focus on. If you invest only in the short-term, then there is a good chance you end up spending more, and generating fewer leads overall. Pairing short-term and long-term lead generation tactics together will help your company see immediate results in addition to preparing for the future. If you're not sure about the difference between short term and long term tactics, take a look at this article.
2. Not Using a CRM
If you are focusing on lead generation, a CRM will be your best friend. A CRM will help you manage your newly generated leads, follow up with them, as well as manage your current clients. Let's say a lead fills out a form on your website, you can integrate the form builder with your CRM and automatically follow up with the lead immediately, and in a few weeks if they haven't converted or contacted you again. You won't have to set reminders of when to follow up, or check if they have converted, as your CRM will do this automatically. Even if you are a small company, a CRM is a great asset to your marketing stack as you can save a lot of time manually doing these tasks.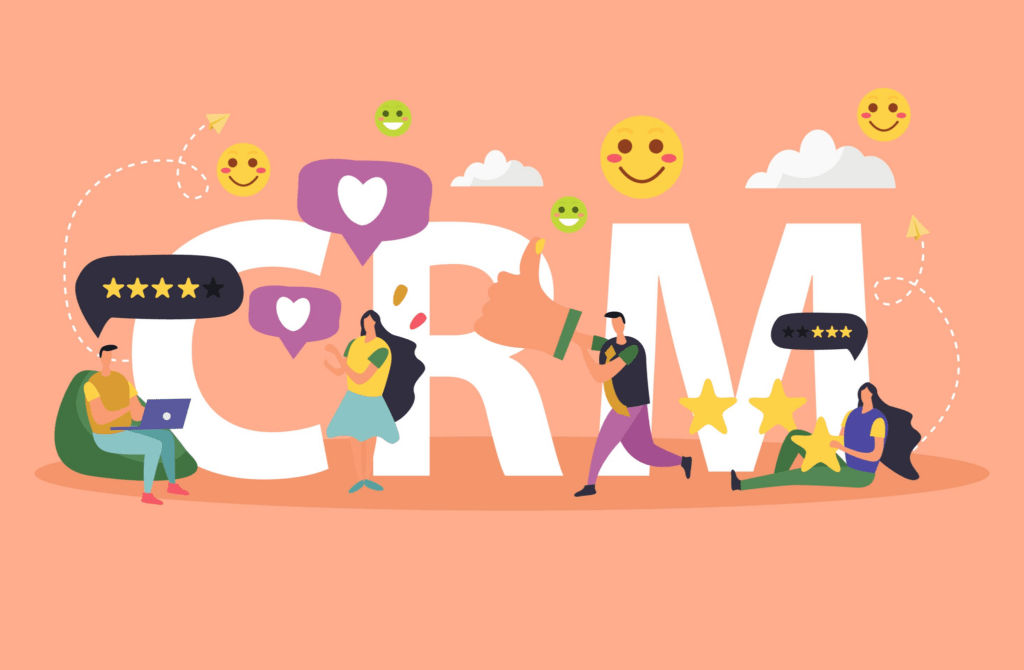 3. Lack of Consistency
One of the most common lead generation mistakes I see is a lack of consistency. Consistency in marketing is often referred to as omni-channel marketing. Essentially, it refers to aligning your marketing, sales, and lead generation tactics with your company's values, branding, and other recognizable assets. As an example, if your company's logo is in red and white, you don't want your pop up to be in hot pink, as it is confusing and not a complimentary color. As a result, the pop up probably won't get the same results as it would if it was more aligned with your branding. This is an important concept for everything that your company does, from webpages to social media content, and everything in between.
4. Relying on One Tactic
You don't want to put all of your eggs in one basket. We're seeing this first-hand with companies that are depending on third party cookies for their marketing efforts. With Google removing third party cookies, companies that have focused on using them are likely to see a decrease in sales, and they have to scramble to find other ways to use their marketing budget. If you have one outlet that you see the most results from, it's okay to invest more in it, but have a plan just in case something does change that negatively affects you. Marketers never thought third party cookies would be removed, but here we are.
5. Not Using Lead Generation Software
Lead generation software is one of the best ways to generate leads, and not enough companies take advantage of the options out there. There are a ton of lead generation software on the market. Here are a few of my favorites that I use on a daily basis to generate an impressive ROI.
Visitor Queue is one of the best lead generation software available. Setting up Visitor Queue takes just a few minutes, and then you'll be able to see the anonymous companies that visit your website. You can view how each company was acquired, what pages they look at, and how much time they spend on each page. In addition, you gain access to employee contact information like email addresses, phone numbers, and LinkedIn channels to help you reach out. You have the ability to send the company straight to your CRM to follow up and guide them down your sales funnel. Start your 14-day free trial of Visitor Queue today and generate 20% more revenue for your company.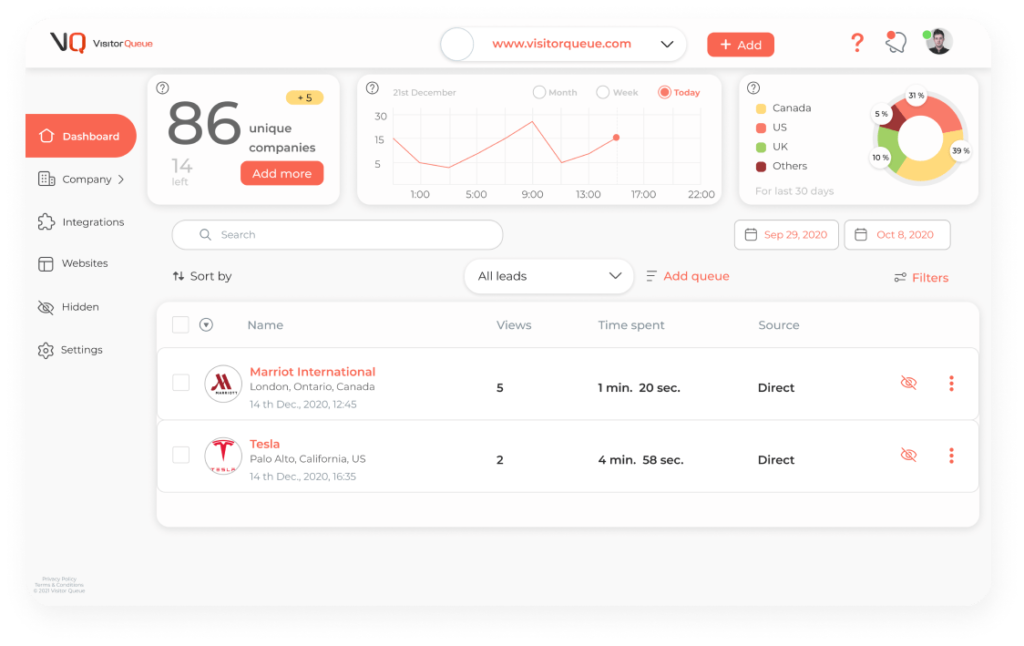 Leadpages proclaims that they are the best landing page builder for marketers looking to generate leads. They will help you build beautiful, functional, and optimized landing pages that will not slow down your website. Did I mention that you can do all of this without code? They use a What You See is What You Get (WYSIWYG) editor to help you build landing pages simply by dragging and dropping and typing in text boxes. You can add in pop ups and banners to catch the attention of your website visitors without needing to ask your developer for help. Leadpages offers a 14-day free trial so you can try it out for yourself.
Live Chat Software
Another great option if you're looking to generate leads is to use a live chat software. Zendesk and Tidio are two of the most popular options. Not only can you provide your website visitors with better customer service, but you can also generate email addresses to help you follow up. You can easily follow up right in your live chat account and provide them with a personalized response.
6. Not A/B Testing
A/B testing refers to comparing the success of two similar, but slightly different tactics. You can A/B test with pretty much any marketing or lead generation tactic. As an example, you can test out how successful different calls to action are on a LinkedIn ad, still using the same landing page and ad content. Even small changes like changing "Sign Up" to "Learn More" can make a huge difference in the long run. When you are testing different tactics, make sure that all of your settings, targeting, and schedule are the same to get the best results possible.
We enable B2B companies to identify the anonymous businesses that visit their website and personalize their experience. Your sales team can now follow up with the visitors that don't convert, while marketing can personalize your website based on firmographic information to drive up conversion rate.
Start your 14-day free trial today!
7. Not Using Gated Content
Not using gated content is one of the most common lead generation mistakes. So many companies think that they don't have the time to put together a piece of gated content for their website visitors to access. But, by investing a few hours into crafting an exclusive piece of content, you can drive an impressive return on your investment. Gated content can include an eBook, video, dataset, or other forms of content. When you create this content, ensure that it is exclusive to your company, and can't easily be found elsewhere. You also want to make sure that the content is high quality and very relevant to what your company has to offer. Going back to the consistency point, if your gated content targets B2C companies, but you're a B2B company, you probably won't generate a lot of relevant leads.
8. Buying Leads
Although you can buy reputable leads and email addresses, unfortunately buying leads often results in low quality leads and people that are not interested in what you have to offer. Or, buying leads can even result in emails that are not even active anymore. Buying email addresses and phone numbers can easily result in a lot of dead ends. And, it can be hard to generate any revenue and long-term customers from these cold leads. If you are looking to find contact information that is active and relevant, Visitor Queue and Hunter.io are your best bet.
9. Outdated Lead Gen Tactics
Just because your lead generation tactics have worked in the past, doesn't mean that they will always work. Or, that they can't be updated to be more effective. An example of this could be if your company has depended on pop ups to gather email addresses on your website. Instead of using a large pop up that can be a deterrent for website visitors, you could try website personalization instead. You are still using the same landing page and general idea, but website personalization will provide your visitors with a customized one-of-a-kind experience. With the help of Visitor Queue, you can show your website visitors a custom view of your website based on firmographic information like company size, geographic location, or even by their name. Start your free trial of Visitor Queue today and generate 10-20% more revenue.
10. Not Looking at the Bigger Picture
This is a common lead generation mistake that companies make. When you are generating leads, you want to look at the bigger picture. A good way to think about this is if the tactic will matter in a year from now. If it won't, then you shouldn't stress about it as much as tasks that will. If it will matter in a year from now, then you should ask your team for their opinion on how to resolve the problem or how to improve it. When you make your long-term marketing plan, it is a great idea to look at the bigger picture. Create a plan of what you want your business to look like in one year, five years, ten years, and even thirty years from now. While your ambitions may not be completely accurate, it will help you to have an end goal in mind.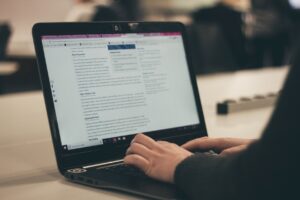 11. Not Automating Tasks
Automation is an amazing asset to any tech stack. In this day in age, we want to automate as much as possible because it can save your team a lot of time and money in the long run. Plus, you won't have to worry about those annoying and tedious tasks. A few types of automation that almost every business can take advantage of are marketing email automation, onboarding automation, live chat responses to commonly asked questions, and social media scheduling.
12. Giving Up Too Early
The final lead generation mistakes that is on this list is giving up too early. As an example, if you are running a pop up on your home page, and it doesn't get any sign ups after three days, this doesn't mean that all hope is lost. You never know if it will work if you give up on it too early. Or, there could be optimizations that could be made to the pop up that will make your visitors more likely to convert. As marketers, we are eager to see results quickly, but it doesn't always work like that. That is why it's so important for marketers to stay on top of their marketing metrics and compare the success of various campaigns.
Last Words
As you can see, there is a lot that goes into building a successful lead generation plan. When you are building this plan, there is a good chance that you'll make a few lead generation mistakes along the way. If you are just starting your lead generation journey, I would recommend starting out with a CRM so you can manage and track your leads throughout your sales cycle. Once you are familiar with your CRM, try out a lead generation software to help you fill your CRM with leads. If you have any questions about how Visitor Queue can help you generate hot leads, don't hesitate to reach out.