We all know that growing a company is no easy feat. It can take a lot of trial and error to figure out what works, and what doesn't. But, with the help of marketing software, you can take your marketing initiatives to the next level. Whether you are trying to generate leads, automate workflows, schedule tasks, or stay organized, this list of the 15 best marketing software will help you grow your company.
Visitor Queue comes in at number one on our list of the best marketing software to grow your company. We are a B2B lead generation company that can identify the companies that visit your website through IP address reversal. When a company lands on your website, we can tell you exactly who they are, how they got to your website, what pages they looked at, and how long they spent viewing each page. Plus, gain access to employee contact information including email addresses, phone numbers, and LinkedIn profiles to help you reach out to them. Knowing exactly what companies are on your site and what they're looking at is helpful for new business development and customer retention. Integrate with hundreds of software companies to ensure you get the most out of your Visitor Queue analytics. Don't believe us? We have a 4.5 out of 5 rating on G2 Crowd. Start your 14-day free trial of Visitor Queue today and stop losing leads!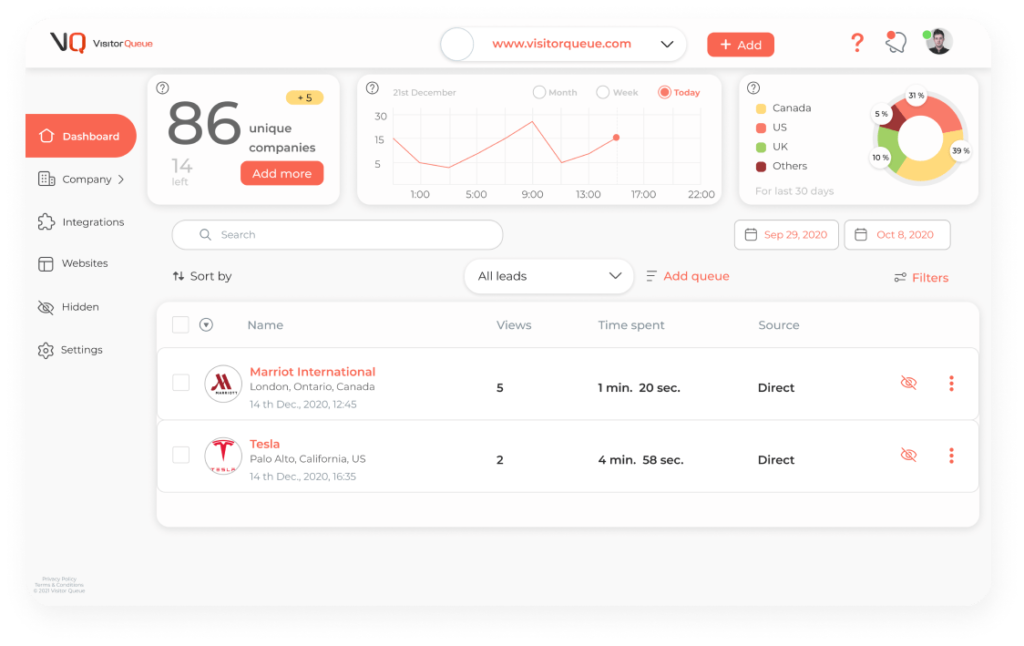 monday.com proclaims they are the new way of working for high-growth. And, they work with some of the largest companies in the world including Coca-Cola, NHL, Canva, and Hubspot. Whether you are B2B, or B2C, monday.com will have a solution for you. They offer solutions for marketing, project management, sales, CRM, and much more. monday.com has custom plans based on your company's specific needs so you get exactly what you're looking for. They have 4.7 out of 5 stars on G2.
Automation is everything. It will help speed up daily tasks, ultimately saving you time. And, we all know that time is money. However, not every software that you use will have native integrations. Zapier gives you the ability to integrate thousands of marketing software. The most common way that marketers use Zapier is to integrate their lead generation software with their CRM. As an example, if you use a form builder on your website that asks for an email address, you can automatically send the user a follow-up email, and add a tag to them so you know exactly where this lead was acquired. Zapier gives you pre-built automations that are commonly used, or you can personalize your own automation. Zapier has 4.5 out of 5 stars on G2.
It can be frustrating trying to find contact information for a company online. Hunter.io makes it easy to do exactly that. Simply by entering in a website, Hunter.io provides you with email addresses of employees that work at that company. It doesn't get much easier than that! Keep in mind, you'll have to know what companies may be interested in what you have to offer, but typing in keywords on LinkedIn can help you find companies that are in your target market. Hunter.io has 4.4 out of 5 stars on G2.
We are all aware of popular CRMs like Hubspot and Salesforce, but not every company wants or needs all of the bells and whistles (and price) associated with these software. Keap CRM is the middle ground, as it has most of the features that small to medium sized companies would need for their day-to-day CRM needs. This software also integrates with a lot of key software to ensure you're getting the most out of your software. Keap has 4.2 out of 5 stars on G2.
Google Optimize, formerly known as Google Website Optimizer, is a great tool to help you A/B test the success of different variations of your website. It allows marketers to test out pop ups, landing page variations, calls to action, and more, without having to go through a web developer. Even small changes, like changing where your CTA button is, can help you increase conversions, and therefore revenue. One of the best things about Google Optimize is how easy it is to use. But, if you do have any questions, Google has great learning resources to help you get the most out of their software. Google Optimize has 4.2 out of 5 stars on G2.
With the help of Zoho CRM, you can attract, retain, and impress your customers. And, being customer-centric is one of the best ways to grow your company. Zoho CRM has tools to help you improve your email marketing, phone marketing, as well as manage your accounting and recruiting. Zoho CRM integrates with over 45 other software to make your life a little easier. They have 4.0 out of 5 stars on G2.
ContactOut is a lead generation software that can be added to Google Chrome as an extension. And, it's used by 76% of Fortune 500 companies, so it must be good! Once you install the extension, simply go to a prospect's LinkedIn profile and click on the ContactOut icon that pops up. Then, you will be provided with their email address, phone number, and social media channels. This unique Chrome Extension can give you access to 75% of the world's professionals' contact information. ContactOut has 4.6 out of 5 stars on G2.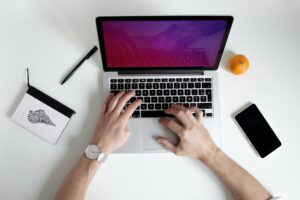 Mouseflow is a heatmap and session recording platform that can give you better insight on what your website visitors are doing on your website. I find the session recordings especially useful because you can easily see if there are any bugs on your website or if users consistently drop off in the same spot. Of course, the better user experience that your visitors have, the more likely they are to convert. Mouseflow has 4.7 out of 5 stars on G2.
To grow your online presence, you need to ensure that your website is optimized for search engines. But, it can be hard to tell what needs to be improved from the outside. That's where Screaming Frog comes in. Simply by entering in your website's URL, Screaming Frog will crawl your website, similar to how Google does, and look for aspects of your website that are not optimized. This includes missing image ALT text, metadata, page errors, URL errors, and much more. Then, you can make changes to your website where necessary that can improve your search rankings. Screaming Frog is ranked 4.7 out of 5 stars on G2.
Wisepops is a website popup builder that can help you increase email signups and conversions. You can easily build intelligent popups when a user takes a specific action. As an example, if a visitor's mouse moves up to the top of your site, with the intent to exit the page, a popup will appear showing them an enticing promotion. By showing your website visitors relevant popups, you are likely to increase retention, time on page, and provide an overall better website experience. Wisepops has 3.8 out of 5 stars on G2.
We enable B2B companies to identify the anonymous businesses that visit their website and personalize their experience. Your sales team can now follow up with the visitors that don't convert, while marketing can personalize your website based on firmographic information to drive up conversion rate.
Start your 14-day free trial today!
When you are trying to grow your company, you'll need to stay organized and on top of tasks. In addition, you'll want to know what exactly your team is working on. Asana is a project management software that you can use to create tasks, assign your employees, add deadlines, attach images and links, and much more. This will ensure that nothing gets left behind or forgotten. If you're not using a project management software, it is one of the most helpful marketing software mentioned on this list to grow your company. Asana has 4.3 out of 5 stars on G2.
GrowthBar is a unique SEO Chrome Extension that will help you understand SEO even better. They proclaim that they are the ultimate SEO and content marketing tool. With every Google Search you make, GrowthBar will show you the keyword difficulty, similar keywords, traffic that the top page gets, cost per click, and more. This insight is very useful for those looking to improve not only their SEO, but also SEM. And, pairing successful SEO with SEM is a game changer. GrowthBar has 4.9 out of 5 stars on G2.
Friday is a goal setting platform that will help your team set big picture goals as well as weekly tasks. Plus, your team can also use the platform to create private, personal goals if they wish to do so. You can set up check-ins to ensure everyone is on track and will meet or even exceed their goals. Friday is a very affordable option for goal tracking and organization. Friday has 4.6 out of 5 stars on G2.
SEMRush is one of the best search engine optimization and marketing software to help your company grow. You can enter in your website's URL, a competitor's website, or even a keyword to gain more insight. My favorite way to use SEMRush is to do a competitor comparison. Plug in your competitor's URL, and gain access to the top keywords they bid on, top linking websites, missed linking opportunities, and more stats to help you gain a competitive edge. The world's leading brands use SEMRush, including Tesla, IBM, and more. SEMRush has 4.6 out of 5 stars on G2.
Where Do I Start?
If you are already using multiple different software to help your company grow, then you should focus on a lead generation software, like Visitor Queue or Hunter.io, that integrates with your CRM. This way, you can focus on generating revenue as you already have a lot of the organization set up. If you don't use a lot of software, or any at all, I would recommend using a CRM and a project management software to ensure you and your team is organized and on the same page with tasks and goals. It will surprise you how much more productive your team is when they know exactly what needs to be done to stay on track.
Wrap Up
As you know, growing a company is very difficult. But, it's also essential to grow. With the help of marketing software, you can not only grow your company, but you can also stay organized, improve your website, and improve your relationships with your customers. If you have any questions about how Visitor Queue can help you grow your business, don't hesitate to reach out.